Excerpt from SCIENCE AND REVOLUTION, On the Importance of Science and the Application of Science to Society, the New Synthesis of Communism and the Leadership of Bob Avakian, An Interview with Ardea Skybreak
Bob Avakian–A True Scientific Visionary
| revcom.us
In the early part of 2015, over a number of days, Revolution conducted a wide-ranging interview with Ardea Skybreak. A scientist with professional training in ecology and evolutionary biology, and an advocate of the new synthesis of communism brought forward by Bob Avakian, Skybreak is the author of, among other works, The Science of Evolution and the Myth of Creationism: Knowing What's Real and Why It Matters, and Of Primeval Steps and Future Leaps: An Essay on the Emergence of Human Beings, the Source of Women's Oppression, and the Road to Emancipation. This interview was first published online at www.revcom.us.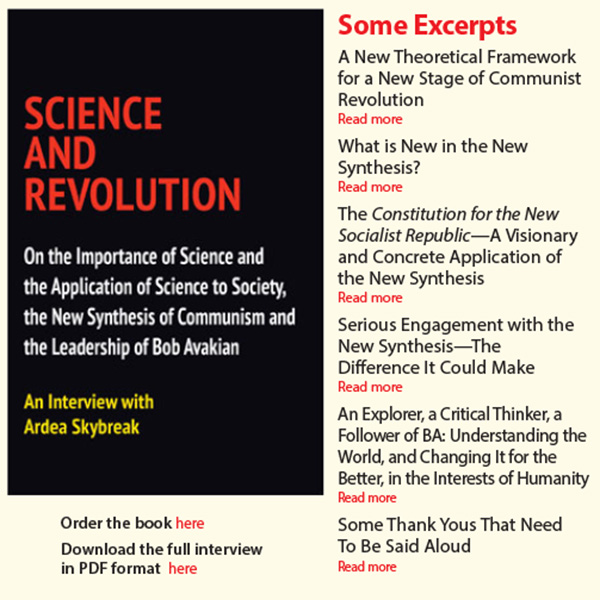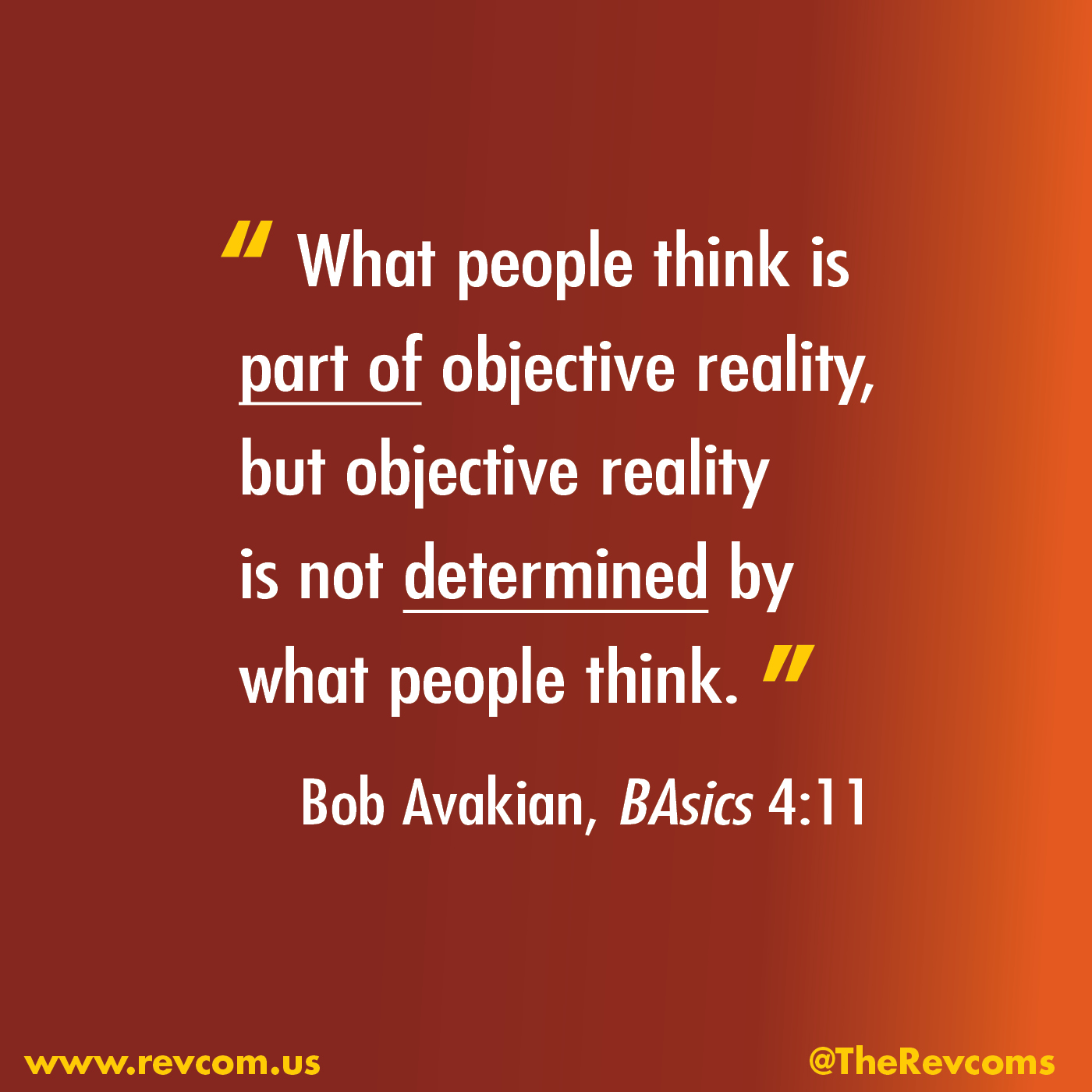 by the Revolutionary Communist Organization, Mexico
Question: One thing I wanted to zero in on a little bit on this point about what struck you in particular about BA—and I think you've definitely talked about some of that, but just to go a bit more at this point about BA's scientific method and leadership, which was in evidence during the Dialogue—I guess a way to put it is: For anyone who wants a fundamentally different world, or even people who are beginning to question why the world is the way it is and if it could be different, what lessons should people be drawing from the scientific method that BA was applying during the Dialogue and, obviously related to that, his leadership as it got expressed in that Dialogue?
AS: Well, if we're going to talk some more about scientific methods and leadership—using scientific methods and how BA actually concentrates that kind of scientific approach—we should be talking about truth and what truth is. Because I felt that this was modeled during the Dialogue. I believe BA quoted Malcolm X—and it's a quote I've always loved—I'm paraphrasing a little bit but at one point Malcolm X said something like, I didn't come here to tell you what you want to hear, I came here to tell you the truth, whether you want to hear it or not. I think that's pretty close to the exact quote. I love that quote, and I love the fact that BA embodies that same kind of approach and attitude. It's a very core part of his method. It makes his life more difficult, I'm quite sure, because it's always easier to pander to popular, fashionable views: what do people say, what do most people think, what do most people like or not like. A true visionary...I believe that Bob Avakian really is a true scientific visionary when it comes to the question of the transformation of human society, I think he's bringing in a lot that's new, he is building on the communist science and the development of communism through previous periods, but he's taking it a lot further and he's got some really important conceptions and methods that are putting the whole science of communism on a more sound foundation and a much more inspiring and hopeful foundation than at any time in the past. So I think there's a lot in his work to dig into.
And at the Dialogue, I felt that one of the things that came through is his commitment to truth. That might seem obvious in a leader—that, of course, you should be telling the truth—but it's not just that there are corrupt leaders who lie to people and manipulate the truth. Sure, we all know about that. But there are a lot of people, even well-intentioned people, who don't actually understand what the truth is in a scientific way. [laughs] There are actually people who function as if the truth is what most people think, or most people say. Well, if you stop to think about it for a minute, of course that's ridiculous, and Bob Avakian gave examples of that in the Dialogue, including in relation to religion. For instance, I remember the example he gave of epilepsy—that in times past and under the influence of old religions from thousands of years ago, when people didn't understand a lot of stuff, most people would have thought that epilepsy was caused by being possessed by the devil, and it's only in fairly recent modern history that people have understood that it's a disease and that it can be treated, and that it has nothing to do with devil possession or things like that.
But the point is that one of the things that BA consistently models, which is a hallmark of a good scientist, is being willing to go where the evidence takes you, and not looking at things superficially, but systematically and methodically digging into historical experience, and from many different directions—the historical experience of political forces, of revolutionary movements, of communist parties and movements, of the international situation—examining all that accumulated experience, and also drawing on other spheres, not just politics but also art and science and culture, all the many facets of human experience throughout history, in order to draw out the key patterns and the key directions of things and the key contradictions which come to characterize a phenomenon, or a particular phase of history, or a particular form of social organization. And then critically evaluating it, and figuring out on what basis it could be changed if it doesn't meet the needs of the people.
One of the things I'm struck by, as someone who was trained in the natural sciences, is how unscientific most people are! Even very, very educated people, people with Ph.D.s in different spheres or whatever, are generally incredibly unscientific. They just have knee-jerk reactions to things. Very often, very educated people come across, frankly, like blithering idiots when they try to analyze phenomena in society, and that's usually because they are basing themselves not on science but on populism, on what is the general consensus. I don't really care what most people think, if it's not right. You have to show me the evidence of why something is true. And if one person is putting forward something that is true (that corresponds to actual reality) and yet nobody else agrees with them, that doesn't make it not true! Show me the evidence. And, conversely, if great numbers of people believe something to be true—"everybody knows this" or "everybody knows that," there's a general consensus—I have to say that, as a scientist, I don't find that particularly convincing! You are really going to have to show me the evidence.
You can't just tell me the numbers, you can't play the numbers game, you can't tell me that something is true just because a lot of people believe it.
One of the things that really captures this from BA, and that can be found in the book BAsics, is the statement that I believe is a real concentrated expression of a scientific method on the question of exactly what we're talking about here: What people think is part of objective reality, but objective reality is not determined by what people think. That's worth pondering and reflecting on. That's the difference between subjective reactions to things and a real scientific method. Because what people think is important. It's either right or wrong, it should either be encouraged or discouraged, it should either be reinforced or transformed. But in any case it's part of objective reality and, so, of course, it's important. But objective reality is not determined by what people think, no matter how many people think it or how few people think it. You have to dig deeper, you have to dig and uncover those underlying features and patterns. And that's one of the things that is a hallmark of BA's work and of the new synthesis that he's brought forward. And it is in sharp contrast to what has too often prevailed in a lot of the political movements—even revolutionary movements, even communist movements—in past periods and even through today. It is shameful the degree to which there is not rigorous scientific pursuit of the truth among many people and many organizations. And it's a problem in the international movement, among international forces today. There is often an unwillingness to critically evaluate the past.
One of the things that BA has argued for a lot is that we have to be willing to confront the truths that make us cringe. If you're serious about trying to transform the world in a good direction, you have to be willing to examine past experience in a rigorous scientific manner. There are two parts to that: You have to dig deeply to understand what is correct in what was done before, in what was previously understood and what was previously accomplished; but then you also have to be willing to recognize where things went off track, or where there were shortcomings or mistakes made. That's how we learn, historically, that's how human beings accumulate knowledge, but it's also absolutely necessary for transforming things in the right direction.
And, you know, there are a lot of wrong tendencies epistemologically. Epistemology is the science of how you think about thinking, how you accumulate knowledge. That's what that is. And the question is, how do you know something is true? You should not be trying to determine what's true just on the basis of how many people believe it or don't believe it. You should also not be trying to say that the truth resides in superficial phenomena, like in an immediate narrow slice of experience or practice. You should not fall into pragmatism. Pragmatism is the view that if something works now, then it must be true. I was reading a good example about that in a very interesting piece that I would recommend people study. It can be found through the revcom.us website—it's in the online theoretical journal Demarcations, which can be accessed through the revcom.us website. In this piece, there is an important appreciation of Bob Avakian's new synthesis put out by the OCR, the revolutionary communists in Mexico, entitled "The New Synthesis of Communism and the Residues of the Past" by the Revolutionary Communist Organization (OCR), Mexico. It's about some of the line differences in the international communist movement, and it's an appreciation of Bob Avakian's new synthesis in relation to that. And there's a whole discussion of pragmatism in there, and how many people think that truth is whatever is kind of "convenient" for accomplishing certain objectives in a very narrow and immediate sense. The article gives the example of the thalidomide drug which was developed some time back to treat morning sickness and was touted as an advance in science. Well, it "worked" for that purpose and it got heralded, but it turned out that it hadn't been sufficiently, deeply analyzed in an all-sided way, and it also led to children being born with tremendous birth defects. The deeper truth turned out to be how harmful it was, not that it "worked." Well, that's an analogy for the same kind of mistakes that can be made in the political sphere.
And Bob Avakian insists that everybody should act like critical thinkers, and really that everybody should contribute to the process of actually analyzing what is true and what is false in various kinds of phenomena. It doesn't matter who you are, how much experience you have—you can be in the Party as a Party leader, or you can be in the Party as a new person and relatively inexperienced, or you can be outside the Party, you could be a critic of communism or you could be an adherent of communism—it doesn't matter who you are. If you have principled methods, and you are willing to actually try to get to the truth of things, your contributions would be welcomed in terms of trying to advance knowledge and understanding. Now, you also should be willing to be subject to criticism yourself, from others who might punch holes in your theories or analyses. That's what good scientists do. As a natural scientist, I had many good experiences that way, where I or other scientists would put forward some analyses of some things in nature and propose some experiments that could be conducted to uncover some of the deeper reality, and then you got your colleagues and friends together and they would spend the next hour or so trying to punch holes in your theories and questioning your underlying assumptions! That can be a very healthy and productive process (and fun too!), as long as it's done in the right spirit (free of snark and ego) and with the right method.
Volunteers Needed... for revcom.us and Revolution