#OUTNOW Is Born!
A New Cause for Hope for a World Free of the Trump/Pence Regime
| revcom.us
New York City—Some 200 people marched through the streets of New York and right up to the entrance of Trump Tower as part of a series of protests to inaugurate a new movement—the #OUTNOW movement—that will continue to hit the streets and grow until the Trump/Pence regime is removed from power. In front of the Tower, frequently illegitimately kept "off-limits" to protests, the marchers succeeded in raising four-foot high letters spelling the words: #-O-U-T-N-O-W-! for the whole world to see.
In a speech at the opening rally two hours before, Andy Zee, a co-initiator of RefuseFascism.org and the #OUTNOW Movement as well as the spokesperson for Revolution Books, addressed the stakes and urgency of the struggle being launched: "We are launching this movement to drive out this regime. This is not the easiest road, but it is the necessary road. We are in the middle of a political crisis of epic dimensions. It says in our call that the world that you have known is being torn asunder. It is not and cannot go back to what it was. Impeachment is a fight at the top of society. We can't just do this based on the people on top. It has to be a groundswell from below. That's what you're out here doing today… people… have to see a movement out there that starts with thousands today and tens of thousands in a few weeks, that grows to the point where we will not relent on this."
Cornel West—revolutionary Christian, author, academic and co-initiator of RefuseFascism.org—celebrated the diversity of views as well as the powerful unity of what brought everyone together: "We need a coalition. Christians. Muslims. Buddhists. Hindus. Agnostics. Atheists. This is a question of what kind of human being are you going to be at this particular moment when there are neo-fascists not just here but in other parts of the world… This is a profoundly human affair, and that's why we march. There is always a critical slice of folk who are full of deep love and courage and willingness to take a risk, that constitute a catalyst for the larger group, not just in this country but around the world."
Carl Dix emceed the rally where others delivered powerful speeches as well, including Juanita Young, Hawa Bah, and Andree Smith, all of whom are mothers whose children were murdered by police. Sharonne Salaam, a long-time activist and the mother of Yusef Salaam of the Central Park Five, also spoke. The Central Park Five—also now known as the Exonerated Five—were five very young Black and Brown teenagers demonized in national media and wrongfully convicted for a brutal rape of a white woman. At the time, Donald Trump took out full-page newspaper ads demanding a return of the death penalty with the intent that these children should be executed. Even after they spent many years in prison before being fully exonerated, Trump has refused to apologize and insisted that they should still be in prison. So it hit all the harder when Sharonne began her remarks by saying, "The first thing I want to say is Trump and Pence must go!"
The march that followed was spirited and loud, at times calling out to the throngs of people on the sidelines to join in on the spot and to come back again next week. Quite a few did join.
It truly was a high point when the march arrived at Trump Tower and prevailed in presenting its indictment and raising the #-O-U-T-N-O-W-! letters high in front of that hideous symbol of the Trump/Pence fascist presidency. They also presented symbols of the towering crimes of the Trump/Pence regime right at the foot of the Tower: children's shoes for the migrant children separated from their parents, bloody coat hangers for the women who are poised to die without safe, legal abortions, plastic bottles for the environmental devastation being accelerated by the regime, and more.
But even then, the rally was not over and people were not ready to go home. They marched a bit further and then gathered in a nearby park. Some had come from as far away as Cleveland, Washington DC, Boston, Detroit, and Philadelphia. Carl Dix reminded the crowd: "We're coming back week after week after week, and then it's on. From that foundation, we are aiming to bring forward a grassroots movement that will be in the streets day after day, going from thousands to hundreds of thousands, to millions, creating a political crisis that can lead to the ouster of this regime." To accomplish this great mission, everyone was called on to stick around and gather with others to get organized on the spot. Soon, the park was filled with different clusters – one for students, another for artists, another for out-of-towners, and one more for people who want to be part of street-team-promotion of #OUTNOW – where people were seriously strategizing and making plans to bring even more people back next week and in the days to come.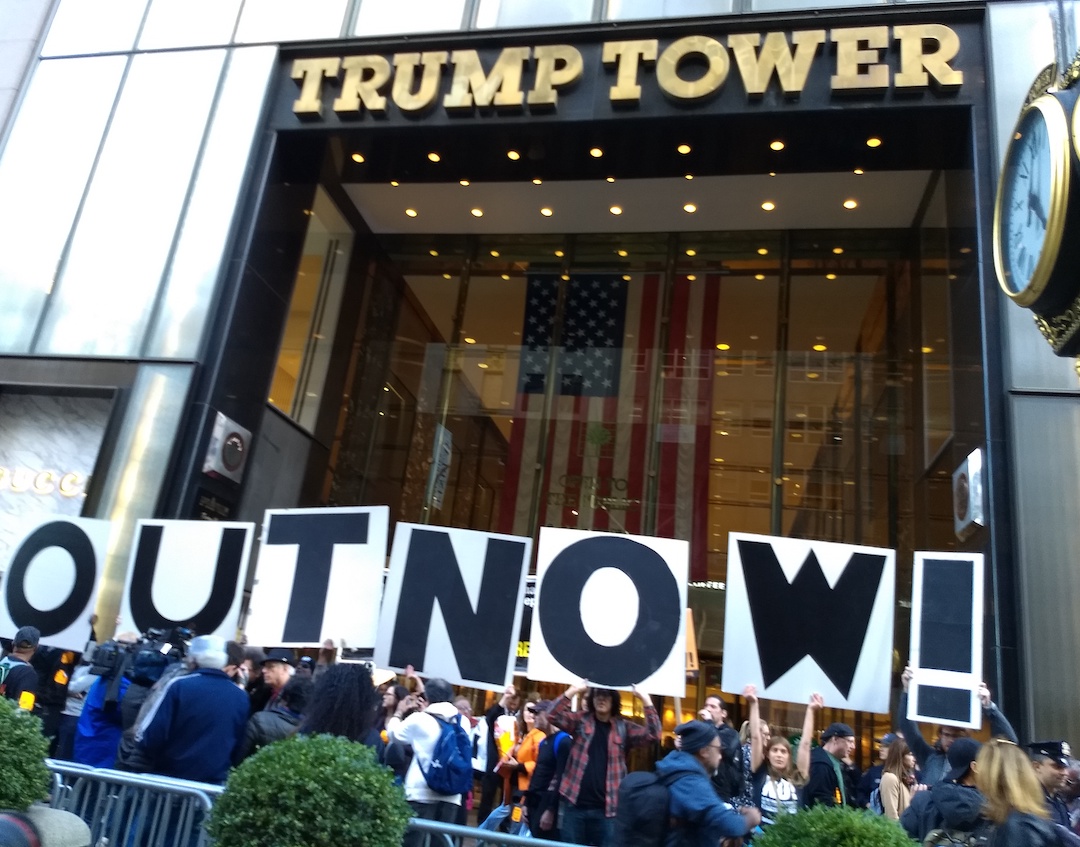 NYC: Marching from Union Square (below) to Trump Tower (above)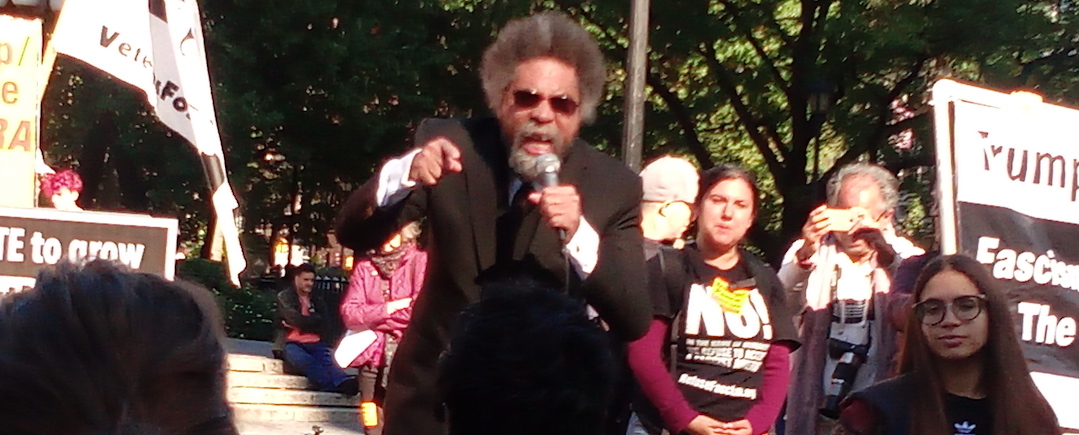 #OUTNOW
We demand:

THE TRUMP/PENCE REGIME MUST GO – NOW!
#OUTNOW! begins with five weeks of protest to launch, spread, and grow an unrelenting non-violent mass movement of protests that continue week after week to demand that the Trump/Pence Regime Must Go – NOW! From there, we will continue to grow and not stop until the Trump/Pence Regime has been removed from power.

Volunteers Needed... for revcom.us and Revolution