The Trump/Pence #OUTNOW! Movement—Bear Sprayed in LA—Begins Nationwide Protests: Saturday, October 26
| revcom.us
For immediate release October 21 2019
Contact: Refuse Fascism (917) 407-1286
RefuseFascism.org
Interviews Available
RefuseFascism.org Launches National Movement of Weekly Sustained Non-violent Mass Protests to Demand The Trump/Pence Regime Must Go—NOW!
• Los Angeles Protest Viciously Attacked with Bear Spray by MAGA Thugs
• NYC Protest Marches to Trump Tower with Dr. Cornel West
Andy Zee, a national spokesperson for RefuseFascism said today:
"This is the moment to take to the streets in cities and towns across the country in massive non-violent protest with the demand: The Trump/Pence Regime Must Go—NOW! The #OUTNOW! protests must sustain week after week until the regime is removed."
"We face a political crisis of epic dimension: this regime is rapidly advancing a fascist program. Trump's "America First" is a program of extreme danger—the vicious twitter finger of Trump is also on the nuclear trigger... The attacks on the #OUTNOW! protest in LA by fascist thugs evidence again the fascist movement that is unleashed by the words and deeds of this regime. We have already seen mass murderers inspired by this regime."
"Impeachment must not, as Speaker Pelosi has insisted, only be on narrow grounds which would legitimize the Trump/Pence agenda, and just symbolic—conceding defeat in the Senate in advance. Impeach and remove on all the regime's crimes. This requires a groundswell from below. That's what we begin #OUTNOW! this week. With massive sustained protest that which seems inconceivable today can become possible."
Dr. Cornel West—also a co-initiator of RefuseFascism.org said in the shadow of Trump Tower:
"We have culminated a magnificent march, we have initiated a historic anti-fascist coalition. I stand with those who are willing to put their bodies on the line and make their voices heard to make sure that there will never ever be a fascism in the United States of America."
"This is a profoundly human affair, and that's why we march. There is always a critical slice of folk who are full of deep love and courage and willingness to take a risk, that constitute a catalyst for the larger group, not just in this country but around the world."
Bo Login, Iraq war vet and member of Refuse Fascism, LA who was bear-sprayed @ #OUTNOW! protest on Santa Monica Pier:
"As an Iraqi war vet who has spoken out against U.S. crimes, I have been repeatedly targeted with violence and death threats. All this demonstrates so clearly the violence Trump/Pence regime is unleashing and why people should join us to prevent a fascist America."
RefuseFascism says:
"In the Name of Humanity, We Refuse to Accept a Fascist America"
Interviewees available:
Andy Zee; Cornel West; Bo Login, LA Refuse Fascism protester bear-sprayed
Los Angeles Press Conference - to be announced
"Man in MAGA cap arrested for attacking anti-Trump protesters with bear repellent," Washington Post, October 21, 2019
VIDEO: Trump Supporter In MAGA Hat Carries Out Vicious Pepper Spray Attack During Peaceful Liberal Protest
Puerto Rico and Hong Kong show us how: #TrumpPenceOutNOW!
#OUTNOW Call from Refuse Fascism
Facebook, Twitter, Instagram: @RefuseFascism
RefuseFascism.org is a movement of people coming from diverse perspectives, united in our recognition that the Trump/Pence Regime poses a catastrophic danger to humanity and the planet, and that it is our responsibility to drive them from power through non-violent protests that grow every day until our demand is met. This Nightmare Must End: The Trump/Pence Regime Must Go!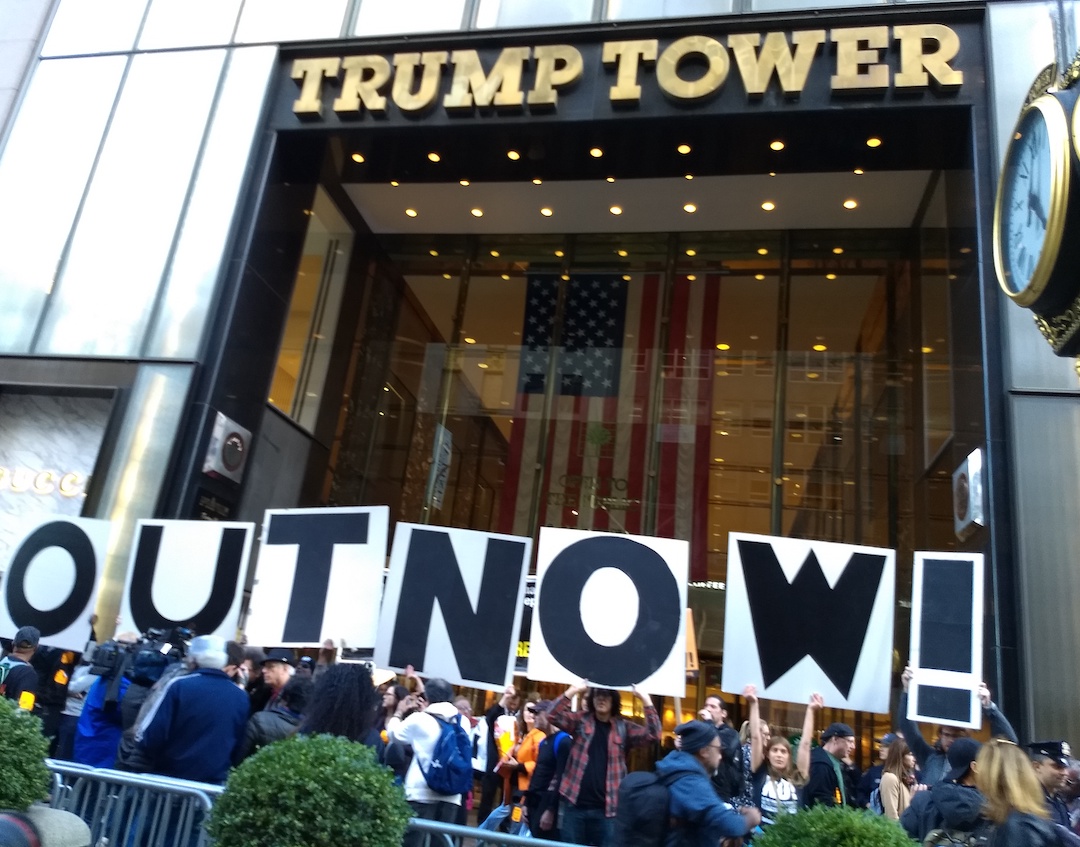 New York City October 19, 2019

Volunteers Needed... for revcom.us and Revolution