#OutNow Hits the Streets of Harlem—November 2
| revcom.us
From a member of the National Revolution Tour:
This Saturday the cry "Out Now!" reverberated through the streets in Harlem, New York City, as about 30 people gathered for a rally in Central Harlem followed by a march through Harlem and ended with a rally in Spanish Harlem (El Barrio). This event was sponsored by Refuse Fascism (RF), NYC, and the National Get Organized for an ACTUAL Revolution Tour. Some of the key points emphasized as a whole included: 1) this is fascism that we're dealing with, and people needed to recognize that and act accordingly; 2) the way to deal with fascism is to, as they did in Puerto Rico and are doing in Hong Kong, Chile, and other countries, take to the streets and stay in the streets; and 3) people need to go beyond liking the #OutNow protests to joining them and working to challenge others to join them too.
Some of the people in the streets of Harlem on Saturday had been at Revolution Books NYC the night before for a special forum: "Harlem Speaks Out Against Trump/Pence Fascism—The Regime Must Go NOW!" This event drew about 40 people. Speakers included Carl Dix; Brad Walrond, a poet who did a reading, including a poem he had written that day for the speak-out; John Reddick, a Harlem historian; Anna-Maria, a retired educator active with #OutNow; Sharonne Salaam, mother of Yusef Salaam of the "Exonerated 5"; Emma from Refuse Fascism; and a number of people from the audience who spoke extempore.
Luan from the Revolution Club and the National Get Organized for an ACTUAL Revolution Tour spoke and told people straight up: "fuck America" and what it has done throughout its history and today (who, she asked, was the first and only country to drop atomic weapons?). She painted a picture of what the system is doing to the environment: "California is on fire and Bangladesh is being submerged." She spoke of how Bob Avakian, with the new communism he has developed and his leadership, has "carved out" the path for humanity to get free and "to be caretakers, not destroyers of the planet." And she issued a challenge for people to come together to drive this regime from power AND to get into this revolution and join the Revolution Club—because revolution is the only way to end these horrors and for humanity to get free.
Through the range of voices, from different perspectives and viewpoints, what was forged was more solid conviction to be in the streets in Harlem on Saturday, to represent, to manifest! Several of the speakers issued a challenge to the audience: "Who here is going to be in the streets with us tomorrow?" The vast majority in the audience stood in response to this challenge, and some of them were out in Harlem when the rally began. The video of Yusef Salaam and Carl Dix talking about the need for people to join the #OutNow movement was a strong factor in moving people to respond to the challenge.
As we wound through Harlem, a number of people joined us in chanting "Puerto Rico showed us how, Trump/Pence Out NOW," "The system is outrageous. It puts our kids in cages, Trump/Pence Out NOW," and "Don't tell us it can't happen here, Don't tell us wait another year, Trump/Pence Out NOW." When asked why they wanted Trump out, most spoke of his lies, the children in camps, his racism. And the marchers challenged these people to not just chant with us—to join the march, and to come out next Saturday and the Saturday after that to join us in bringing people into the streets with the demand that Trump & Pence Must Go—NOW!
After the ending rally, about half of the marchers got on the subway and rode down to Trump Tower in midtown Manhattan, chanting the whole way. When we got there, we joined up with the marchers who had come up from a rally in Union Square. After a brief rally, we all got back on the subway and rode to Madison Square Garden, again chanting the whole way, where we protested Trump's appearance at an Ultimate Fighting Championship event into the night.
People gathered and marched in Harlem, November 2, and then at Trump Tower joined with the marchers from Union Square.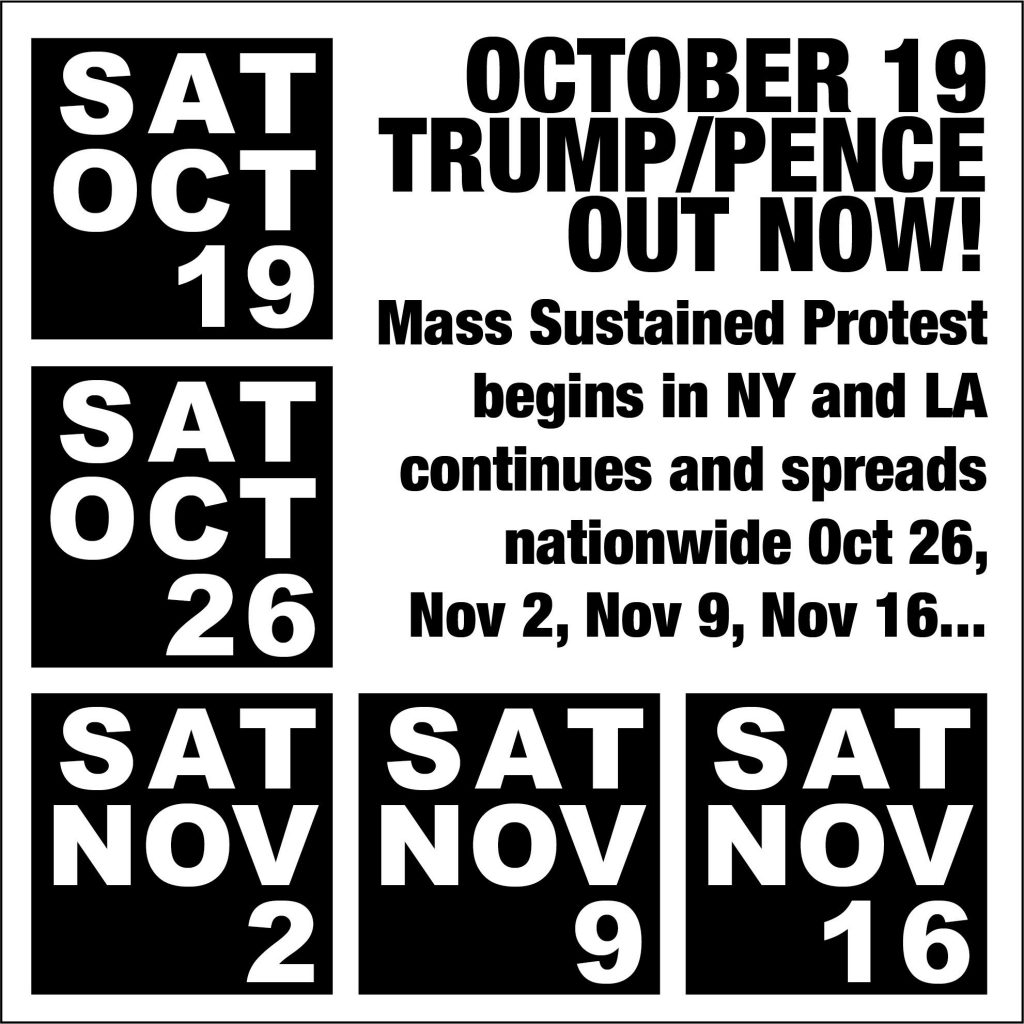 RefuseFascism.org
At Madison Square Garden, where Trump attended a UFC event, November 2

Volunteers Needed... for revcom.us and Revolution