The Art, and the Story, of Slave Rebellion Reenactment
Artist Dread Scott, hosted by Andy Zee, at Revolution Books
| revcom.us
The crowd lined up outside Revolution Books in Harlem last Friday with artist Dread Scott talking about his new artwork, Slave Rebellion Reenactment, a reenactment of the largest slave rebellion in U.S. history. Over 100 people from Harlem and from around the city: high school and college students, artists and writers, those horrifically oppressed by this system and society, long-time and new friends of Revolution Books. It was a special fundraising benefit for Revolution Books.
Dread Scott describes himself as a revolutionary artist creating "art to propel history forward." This came alive in Dread's talk, with slides and video. Dread began by recounting his first major artwork, What Is the Proper Way to Display a U.S. Flag?, and the controversy and polarization it stirred, with other works like Imagine a World Without America, inspired by a quote from Bob Avakian (BAsics 1:31)—then mainly focusing on and going onto Slave Rebellion Reenactment, reaching back to the history of this country and what we have to do, inspired by the past. This is work that "makes people uncomfortable, and that's a really good thing." This was the highlight of the evening, and it was incredible and inspiring.
The benefit evening with Dread and Andy was an expression of why Revolution Books is so special and so needed. And this is an important juncture in the campaign to Save Revolution Books: A Beacon in Dangerous Times. Revolution Books is setting out to raise $50,000, and this event raised significant funds towards this end. Dread Scott has contributed significant artwork as part of this initiative. Andy Zee, through his engagement with Dread Scott, and his fundraising pitch, brought alive the content, ethos, and spirit of Bob Avakian's new communism, a whole new framework for human emancipation which is at the center of Revolution Books—and why this matters, why this bookstore is so urgently needed at this moment in history.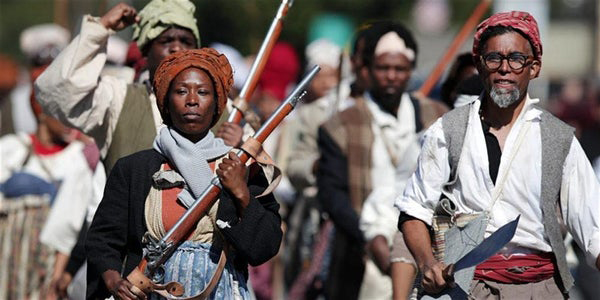 Watch the entire program

Volunteers Needed... for revcom.us and Revolution