Prisoners Resist Outrageous "Death From COVID" Sentences
| revcom.us
Editors' note: As Communiqué #5 from the Revcoms puts it, "We could be about to witness the death penalty being given to thousands of people in America's prisons. The 2.3 million people locked down in America's prisons (about 60 percent Black or Latino) are being forced to face the deadly coronavirus without consistent access to soap and water, without masks, with no ability to do 'social distancing.' Many whose crimes were as petty as drug use or stealing a bicycle, and many who haven't been convicted but just can't pay bail. And all of whom are human beings now facing mass death if things continue as they are."

In response to this outrageous injustice, prisoners and immigrants detained in concentration camps have been resisting. The following list of more than 30 actions in prisons, jails, and immigration detention centers and concentration camps gives a sense of the scope of this. Because of the need for reliable information (and not rumor), we have taken care to note the sources of the following reports. The research for this article was drawn from the important work of Perilous Chronicle, a "digital research project that seeks to document all acts of prisoner unrest across the U.S. and Canada from 2010 through the present."

Also this week, a number of political forces, including the Revolution Club Chicago, again protested the conditions at Cook County Jail, the largest single spot of COVID-19 infections in the US; groups and individuals supporting immigrants have also taken action; and many individuals have protested and/or called attention the situation. This inside-outside phenomenon is positive, and must be spread and built on.

As HOW WE CAN WIN: How We Can Really Make Revolution states:

"With every 'jolt' in society—every crisis, every new outrage, where many people question and resist what they normally accept—we need to seize on this to advance the revolution and expand its organized forces. We need to oppose and disrupt the moves of the ruling powers to isolate, 'encircle,' brutalize, mass incarcerate and murderously repress the people who have the hardest life under this system and who most need this revolution. We need to 'encircle' them—by bringing forth wave upon wave of people rising up in determined opposition to this system."

The list follows. If you know of more, please write us.
April 9—Lansing Correctional Facility, Lansing, KS—Between 124 and 160 prisoners took control of a medium-security cell block of a section of Lansing Correctional Facility on Thursday, April 9, damaging the offices and parts of the prison. An inmate told a local TV station, "None of the inmates are hurting each other, but they are just breaking stuff because they are angry... Because we're not getting the proper stuff to help with the coronavirus." On Tuesday, April 7, eight inmates and nine staff members had tested positive for COVID-19; by Thursday the numbers had risen to 12 inmates and 14 staff members. While the ACLU of Kansas and others organizations called for some inmates to be released, tension inside grew to a breaking point.1
April 9—Stewart Detention Center, Lumpkin, GA—Guards used "pepper spray or tear gas" and threatened the use of bean-bag guns against a group of detainees angered by being passed over for release. On March 26, detainees at Stewart had organized a hunger strike to protest the lack of action taken to prevent the spread of COVID-19.2
April 8—Federal Prison, Oakdale, LA—Following five COVID-19 deaths, several inmates resisted when guards tried to move them from quarantine back into the general population. At least 30 guards used tear gas and pepper-spray balls to quell the disturbance.3
April 8—Monroe Correctional Complex, Monroe, WA—Over 100 inmates rebelled in the yard over six positive COVID-19 cases at the prison. Several police agencies responded, using pepper spray, sting balls, and rubber pellets.4
April 7—North Portland Prison, OR—After two days without soap and denied masks, with eight COVID-19 cases spread across Oregon's prison system, inmates in two 80-person units at Columbia River Correctional Facility clashed with guards and forced them to retreat into locked offices.5
April 5—North Lake Correctional Facility, Baldwin, MI—Ten prisoners within the facility were on the fourth day of a hunger strike at this privately run federal prison for immigrants convicted of federal crimes. They believe the prison is so unsafe they have been put in prolonged solitary confinement; and the food is inadequate.6
April 4—Passaic County Jail, Paterson, NJ—A day after a prisoner tested positive for COVID-19 and was placed in quarantine, at least six other prisoners refused to return to their cells. Sheriff's deputies allege that the prisoners grabbed sheets and set a series of small fires, in a standoff that lasted five hours, when deputies stormed the area. 7
April 4—Donald W. Wyatt Detention Facility, Central Falls, RI—More than 60 ICE (Immigration and Customs Enforcement) detainees began a hunger strike on April 4, demanding release from the danger of a rapid spread of COVID-19 through the facility.8
April 3—Otay Mesa Detention Center, San Diego, CA—Over the past week hundreds of people at Otay Mesa Detention Center and at Western Regional Detention Facility, a private prison holding immigrants facing federal charges, or deportation, engaged in hunger strikes to protest conditions and express their concerns over the spread of COVID-19 in the facilities. In a press call joined by detained immigrants, elected officials, lawyers, medical experts and advocates demanded that ICE, Customs and Border Protection and the Bureau of Prisons free people from the rapidly deteriorating conditions in San Diego's jails and detention centers, where hundreds of immigrants are locked up.9
April 3—Philadelphia Industrial Correctional Center, Philadelphia, PA—Nine prisoners under quarantine at the facility threw commissary containers at the windows of their cells, allegedly trying to break the glass. Guards responded in riot gear and used pepper spray on the prisoners. As of April 3, the day of the disturbance, 31 prisoners in Philadelphia's jails and an unspecified number of guards had tested positive for COVID-19, making the rate of infection in the city's jails four times the rate of the rest of the city.10
April 3—Carl Robinson Correction Institution, Enfield, CT—Over 100 inmates have been transferred after coronavirus-related unrest at the facility. A group of prisoners were moved after they threatened to organize hunger strikes and work stoppages to protest the rules set up in response to the virus. And after a jailer was punched in the face trying to stop a fight, 86 prisoners were sent to prisons around the state as a "safety precaution."11
April 2—El Paso County Jail, Colorado Springs, CO—At least 17 prisoners at the jail have been put in isolation without having tested positive for COVID-19, while eight deputies have tested positive, four who work in the jail. A disturbance broke out for two hours between deputies and prisoners over the new conditions, leading to nine prisoners being labeled "instigators" and charged with attempted riot and delinquent behavior.12
April 2—Neuse Correctional Institution, Goldsboro, NC—A group of prisoners staged a protest after receiving news that two prisoners at the facility had tested positive for COVID-19. Prisoners from different dorms came outside and refused orders from staff and the warden to return to their cells.13
March 31—Immigration Centers of America, Farmville, VA—About 100 detainees at the Virginia ICE jail launched a hunger strike at the privately run center after multiple reports of a COVID-19 outbreak.14
March 30—Bristol County House of Correction, North Dartmouth, MA—Immigrant detainees organized a work stoppage to protest the prison's lack of protection from the threat of a COVID-19 outbreak.15
March 28—York County Prison, York, PA—Immigrant detainees at the prison launched a hunger strike demanding to be released from the facility in the midst of the coronavirus pandemic. They claim the virus was introduced by prison employees, and also the nurses do not have masks or gloves, risking spread of the virus among the most susceptible detainees.16
March 27—Northwest Detention Center, Tacoma, WA—On this day, 30 immigrant detainees began a hunger strike to protest the lack of adequate response to the outbreak of COVID-19. By the following day there were 80, and by March 29 between 300 and 500 detainees were on strike, called "Breaking Down Borders" because there are many different nationalities involved. About 60 women detainees at the facility joined the hunger strike on April 5.17
March 26—Stewart Detention Center, Lumpkin, GA—At least 350 immigrants detained at the for-profit center held a hunger strike demanding their immediate release: "We could be infected at any moment."18
March 25—Richwood Correctional Center, Monroe, LA—A group of detainees held in ICE custody at the facility organized a hunger strike demanding their freedom in the midst of a growing outbreak of COVID-19 in jails, prisons and detention centers in the U.S. According to a statement recorded by the Southeast Immigrant Rights Network and published by Latino Rebels, 60 of the 64 detainees in one housing unit are participating in the strike.19
March 24—Pierre Community Work Center, Pierre, SD—Nine women prisoners housed at the center walked out without permission after another prisoner in the same unit there tested positive for COVID-19. All of those who escaped were serving short sentences for nonviolent or low-level offenses. Without explanation, the warden, Wanda Markland, resigned the same day and immediately left her office.20
March 24—Pine Prairie ICE Processing Center, Pine Prairie, LA—A group of seven immigrant detainees at the center were pepper sprayed when they refused to leave their shared cell to go outside. ICE officials allege they became "physically combative" in the recreation area. The prisoners believed they were about to be mistreated by the guards. The Tennessean reported that Pine Prairie is one of three detention facilities in Louisiana with detainees who are being quarantined over fear of possible COVID-19 infection. Earlier in March a group of detainees from Cameroon organized a major hunger strike at the facility. 21
March 24—CBSA Laval Immigration Holding Centre, Laval, Quebec—Between 10 and 30 people at the immigration detention center near Montreal began a hunger strike to protest the inadequate measures to prevent their exposure to COVID-19. Their demands include immediate release as well as medical attention to reduce the risk of COVID-19 contamination. Three dozen prisoners sent a formal complaint to the Public Safety Minister on March 19, demanding their immediate release.22
March 23—Bristol County House of Correction, Bristol, MA—Immigrant detainees released two letters, one signed by 51 detainees, expressing their fears of COVID-19 contamination and demanding the release of some detainees. "We are trapped inside a storage and in fear for our life. Please help!" the detainees wrote, referring to their incarceration by ICE.23
March 23—LaSalle ICE Processing Center, Jena, LA—Immigrant detainees at the privately run center staged two protests last week in response to concerns over the potential spread of COVID-19 in their facility. Guards reportedly fired "pepper balls" at a group of 23 protesting detainees on the 23rd. On March 25 pepper spray was used on 75 detainees who had staged some sort of protest and ignored the guards' orders. BuzzFeed News was told by someone whose mother is being detained: "They are freaking out about it. She is saying 'help her,' she is begging for help."24
March 23—South Texas ICE Processing Center, Pearsall, TX—Approximately 60 immigrant detainees refused to return to their cell block, protesting the failure of the facility to respond to the threat of COVID-19. Guards pepper sprayed the protesters. An immigration attorney told San Antonio Express-News: "The detainees were upset because they've seen new people coming in without being screened for the virus.... They feel that they're not being cared for." ICE is bringing "disciplinary charges due to security violations" against nine detained migrants they say "instigated" the protests.25
March 23—Yakima County Jail, Yakima, WA—In the evening of March 23, 14 prisoners held at the jail escaped. The incident began when prisoners forced a guard who they felt was being disrespectful out of the unit. When guards used pepper spray, prisoners used a table as a battering ram, broke open a fire exit door and escaped. Those who escaped later told investigators that they left for fear of contracting COVID-19 in jail. The last escapee was captured four days later.26
March 22—Glades County Detention Center, Moore Haven, FL—On the evening of March 22, immigrant detainees began a hunger strike to protest the facility's negligence and refusal to take adequate measures to prevent the spread of the COVID-19 virus. Three days later, the number of hunger strikers had risen to 100. Detainees have told the activists that they are being forced to live and eat in unhygienic conditions that are even worse than usual. The strikers also claim that the detention center is no longer providing antibacterial soap to some detainees.27
March 21—Rikers Island, NY—Eight prisoners at the Anna M. Kross Center on Rikers Island refused orders to "lock in," demanding that their temperatures be taken after another prisoner, who had been delivering food to other prisoners, was removed from the unit with flu symptoms. The eight prisoners were pepper sprayed in the face by guards while waiting for treatment. The following day, approximately 90 to 100 prisoners at Rikers' Robert N. Davoren Center participated in a strike. The prisoners demanded immediate action in response to the growing COVID-19 epidemic inside the jail.28
March 20—Elizabeth Detention Center, Elizabeth, NJ—Prisoners went on hunger strike at the private facility in response to poor sanitary conditions after a medical staffer tested positive for COVID-19. At least 40 prisoners refused meals that day. A detainee told Vice News:"They're not taking any measures to protect us. We spent three days without soap.... There's a lot of fear, because if they bring in an infected person, we're all going to get infected."29
March 20—Etowah County Detention Center, Gadsden, AL—Detainees at the center staged a protest after three new detainees were brought into the facility with flu symptoms. (Other detainees live streamed the protest on Facebook, which was obtained by the Washington Post.) Two detainees can be seen standing on the upper tier of their dorm with bed sheets tied around their necks, evidently threatening to kill themselves if the facility failed to take measures to protect detainees against the spread of COVID-19. The protest ended when the sick detainees were moved to a different unit, though it was not clear if they were quarantined.30 ]
March 20—Northwestern New Mexico Correctional Center, Grants, NM—Approximately 300 prisoners participated in an uprising following the death of a prisoner. The prisoners had complained of the threat of a COVID-19 outbreak in the close quarters of the prison environment. Bean-bag rounds and paintball guns containing irritants were fired at to the prisoners to crush the protest.31
March 18—Hudson County Corrections and Rehabilitation Center, Kearny, NJ—Prisoners at the facility began a hunger strike on March 18 because of the heightened risk of contracting COVID-19. The hunger strike grew and by March 22 it had grown to 120 participants.32
March 17—Essex County Correctional Facility, Newark, NJ—A group of detainees at the for-profit facility organized a hunger strike demanding their immediate release as COVID-19 spread throughout New Jersey and the world. More than 50 people total participated between this hunger strike and one at the Hudson County Corrections and Rehabilitation Center.33
---
1. Prison uprising put down as US inmates demand protection from coronavirus, TheGuardian.com, 4/10. [back]
2. PerilousChronicle.com, 4/9 [back]
3. Inmates Revolted Against a Federal Prison's Coronavirus Response. They Got Tear-Gassed, Vice.com, 4/9. [back]
4. Inmates 'riot' over 6 coronavirus cases at Monroe Corrections Complex, K5.com, 4/9 [back]
5. Inmate Protest Over COVID-19 Response Forces North Portland Prison Into Lockdown, PortlandMercury.com, 4/8. [back]
6. Prisoners go on a hunger strike at Baldwin's North Lake Correctional Facility, WUOFM.com, 4/8. [back]
7. 6 Passaic County Jail inmates charged after beds were set on fire during riot, NorthJersey.com, 4/5. [back]
8. More than 60 ICE detainees on 'hunger strike' call for release from Wyatt, ProvidenceJournal.com, 4/7. [back]
9. Federal Government Must Release Immigrants Trapped In Deteriorating Conditions at San Diego Federal Detention Facilities During COVID-19 Pandemic, National Immigration Justice Center, 4/9. [back]
10. As the coronavirus gains strength in Philly's jails, panic and fingerpointing mark efforts to avert crisis by thinning inmate population, inquirer.com, 4/3. [back]
11. More Than 100 Inmates in Conn. Transferred After Coronavirus Unrest, NBCConnecticut.com, 4/5. [back]
12. Riot threatened at El Paso County jail to virus restrictions, CSIndy.com, 4/6. [back]
13. Prisoners Protest After Two Inmates Diagnosed With COVID-19, Indyweek.com, 4/3. [back]
14. URGENT: COVID-19 Hunger Strike at Virginia ICE Jail! Take Action NOW [back]
15. ICE detainees released from crowded Bristol County jail as tensions rise amid coronavirus crisis, HeraldNews.com, 4/6. [back]
16. 'Sitting ducks': Immigrants at York County Prison on hunger strike amid coronavirus, group says, YDR.com, 3/29. [back]
17. Immigrant Women Launch Hunger Strike in Tacoma, WA as COVID-19 Cases Rise in Immigration Jails, DemocracyNow.org, 4/6. [back]
18. Jailed Asylum Seekers Stage Hunger Strike, Demanding Release During Pandemic, DemocracyNow.org, 3/27; Detainees in US immigration jails living in fear as coronavirus spreads, TheGuardian.com, 3/29. [back]
19. Detainees in US immigration jails living in fear as coronavirus spreads, TheGuardian.com, 3/29. [back]
20. 9 inmates escape from South Dakota jail where there was a positive coronavirus test, NBCNews.com, 3/24; 155 inmates potentially exposed to COVID-19, paroles suspended in women's minimum-security prison, RapidCityJournal.com, 3/26. [back]
21. It's Still Too Painful to Put Clothes On: An ICE Detainee Reports He Was Pepper-Sprayed and Sent to Isolation, MotherJones.com, 3/25; Detainees in 3 Louisiana ICE facilities under medical isolation amid coronavirus fears, Tennessean.com, 3/25. [back]
22. Immigration Detainees Are on a Hunger Strike Over Coronavirus Fears, Vice.com, 3/26; Coronavirus: Four men continue hunger strike at immigration monitoring centre in Laval, GlobalNews.ca, 3/28. [back]
23. Federal Judge Releases ICE Detainees From Bristol County On A Rolling Basis Due To COVID-19 Concerns, WBUR.com, 4/8; Activists protest conditions in ICE detention centers, YaleDailyNews.com, 3/31. [back]
24. Immigrants Afraid Of The Coronavirus Outbreak Are Protesting Inside ICE Facilities, BuzzFeedNews.com, 3/26. [back]
25. Detained migrants pepper-sprayed for protesting amid coronavirus fears, ExpressNews.com, 3/24. [back]
26. Police searching for 6 of the 14 inmates who escaped Yakima County jail, SeattleTimes.com, 3/24; Yakima County jail official says inmates broke out because they were afraid of coronavirus, YakimaHerlad.com, 3/24. [back]
27. Florida ICE Detainees Start Hunger Strike Over Coronavirus Concerns, MiamiNewTimes.com, 3/26; Quarantines at Florida immigration detention centers rise as ICE arrests more migrants, MiamiHerald.com, 3/26. [back]
28. Trapped on Rikers': Jails and prisons face coronavirus catastrophe as officials slowly authorize releases, WashingtonPost.com, 3/23; Rikers Inmates Pepper Sprayed for Demanding Medical Care, Sources Say, TheCity.nyc, 3/23; If Coronavirus Deaths Start Piling Up in Rikers Island Jails, We'll Know Who to Blame, TheIntercept.com, 3/23. [back]
29. Immigrants Are Now on Hunger Strike in 3 ICE Detention Centers Over Coronavirus Fears, Vice.com, 3/20; "Everybody's Scared": Panic At Immigrant Detention Center After Positive Coronavirus Test, TheMarshallProject.org, 3/24. [back]
30. ICE detainees threaten suicide, stage protests over coronavirus fears, WashingtonPost.com, 3/25; Connecticut Immigrant Describes ICE Detention Amid COVID-19 Fears, wnpr.org, 4/1. [back]
31. Inmate injured during riot at men's prison, AbqJournal.com, 3/21; Authorities squash western New Mexico prison riot, DurangoHerald.com, 3/27. [back]
32. Immigrant describes shoddy efforts to fight coronavirus at ICE jail, NYDailyNews.com, 3/20; Coronavirus ICE detainees go on hunger strike in N.J amid coronavirus fears, lawyers say, NJ.com, 3/19; Immigrants Are Now on Hunger Strike in 3 ICE Detention Centers Over Coronavirus Fears, Vice.com, 3/20. [back]
33. ICE detainees go on hunger strike in N.J amid coronavirus fears, lawyers say, NJ.com, 3/19; Immigrants in NJ Detention Center Organize Hunger Strike; NYIFUP Condemns Egregious Conditions in Local ICE Jails Amid COVID-19 Pandemic, BronxDefenders.org, 3/18. [back]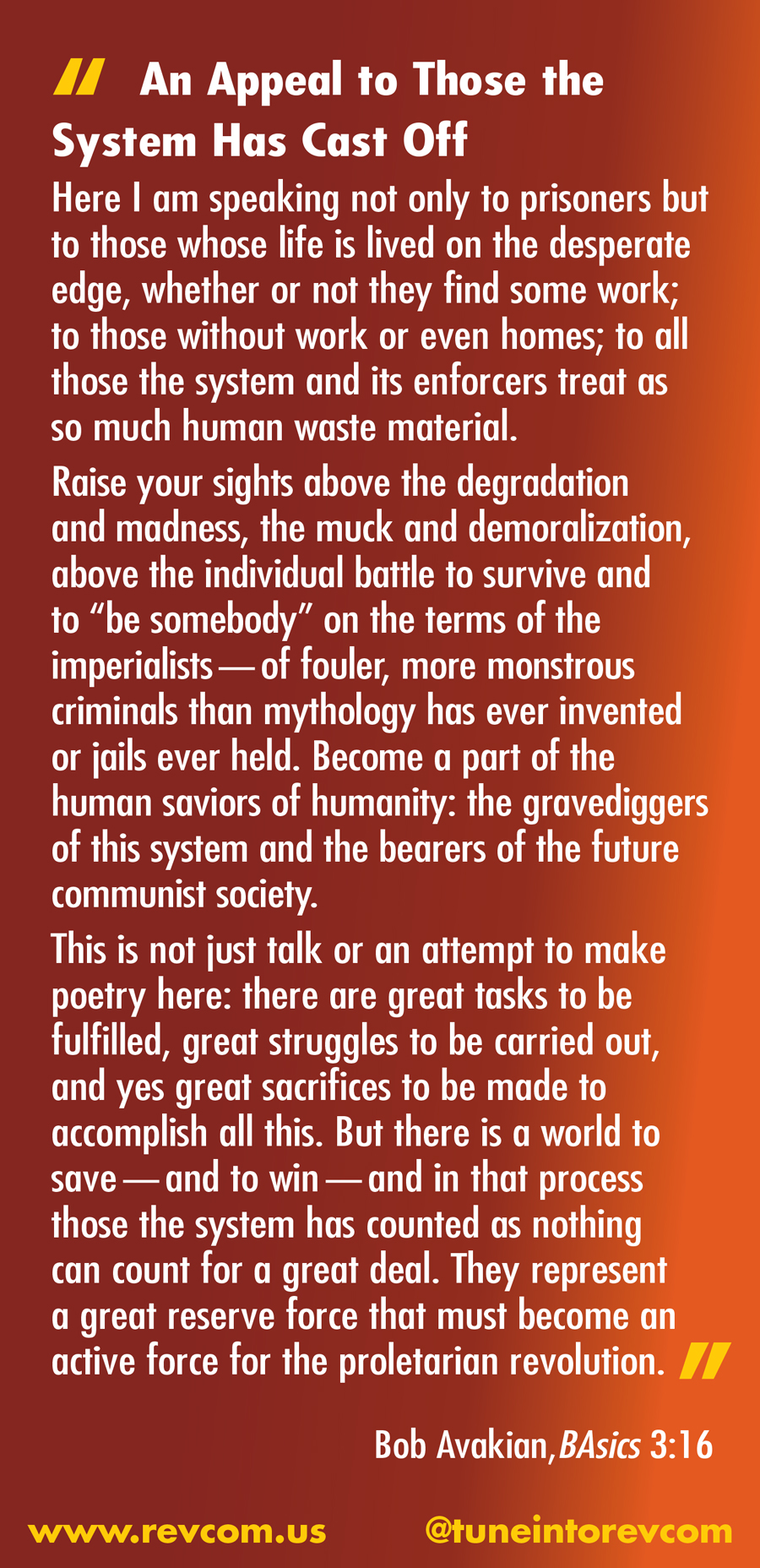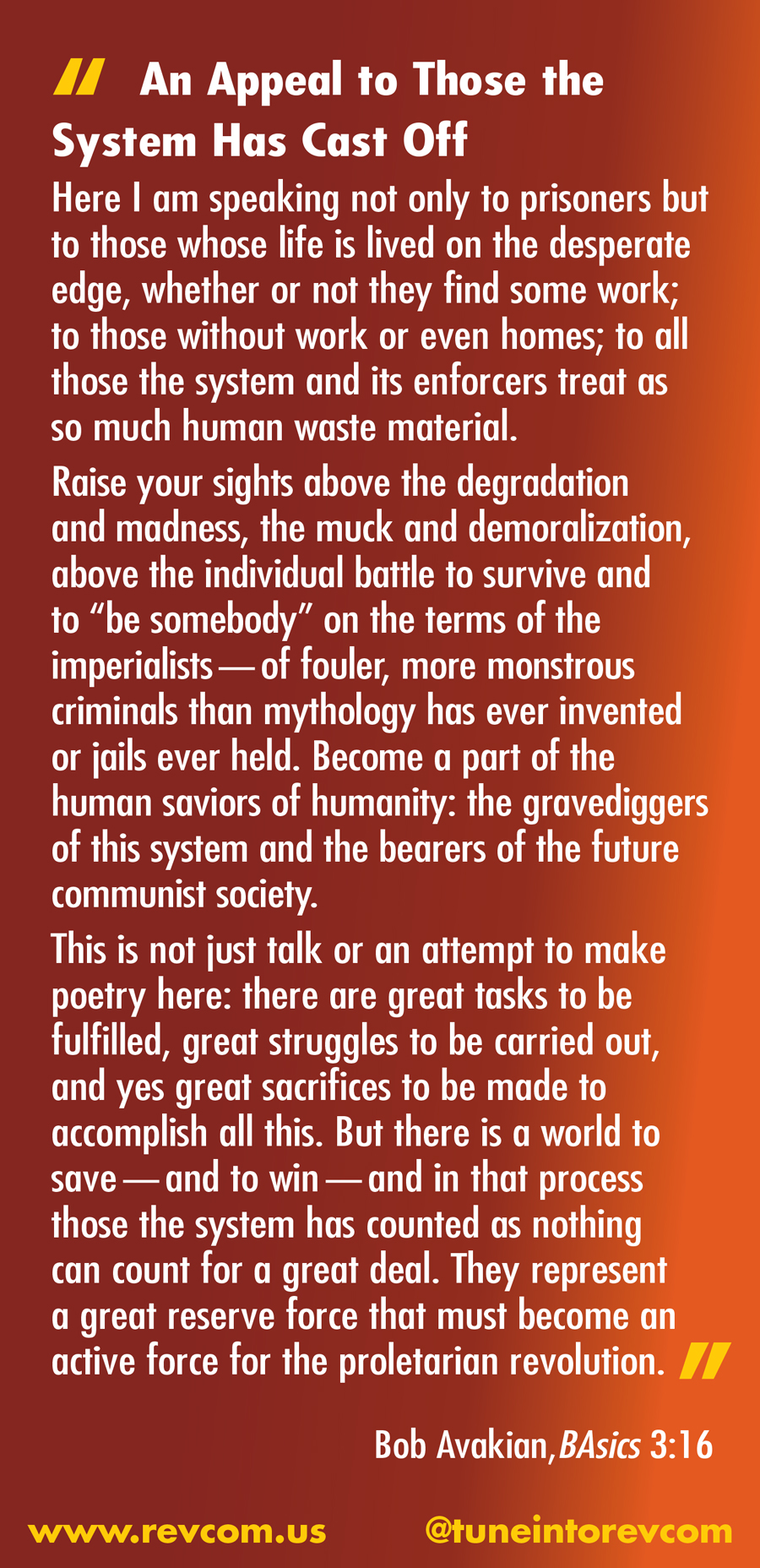 Episode 3 of The Revolution, Nothing Less Show
Science and the New Communism, Prisons and COVID-19
Episode 3 of The RNL Show—Revolution, Nothing Less! is now available on YouTube. Featuring: COVID-19 and prisoners; Bob Avakian's advance of the science for an actual revolution; and an update from Dr. Phil Rice, Chair of Emergency Medicine at North Shore Medical Center in Salem, Massachusetts.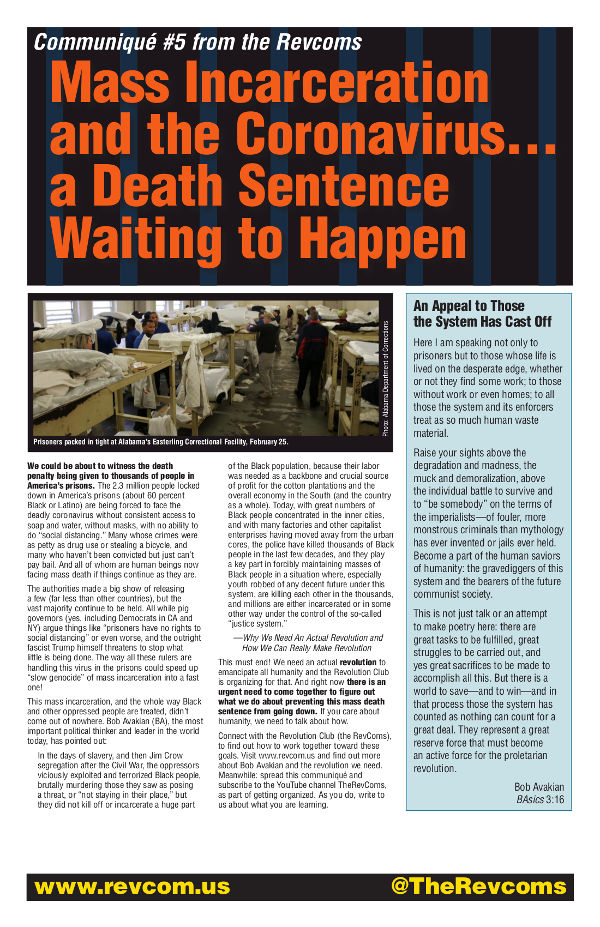 Read Communique #5 from the Revcoms
See Also: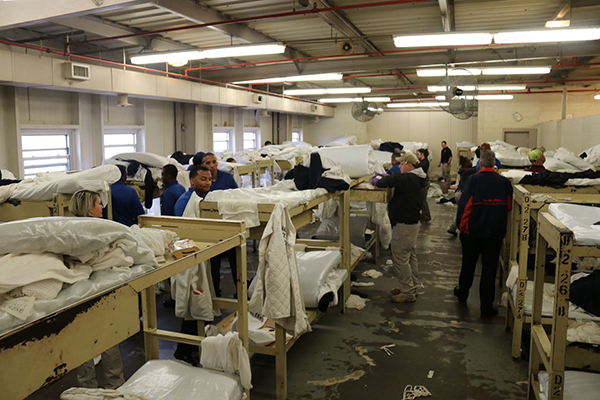 "Can you not see how a capitalist-run society makes such emergencies (like this epidemic) even worse!"

Volunteers Needed... for revcom.us and Revolution