"We Won't Be Pitted Against Each Other": Working to Forge Unity Between Black People and Latinos in LA
| revcom.us
From a member of the Revolution Club, Los Angeles
Two of us in the Revolution Club joined with a Latinos for Black Lives rally of maybe 50 or so mostly young people. We worked with the organizer to kick off a speak out. The organizer seemed like she hadn't led a protest before, said she had seen a lot of fucked up things online coming from Latino people speaking about BLM, and saying some backwards shit, so she decided to act on it and call for this protest and march together to the City Hall protest, and to call for unity and to oppose the racism that she had witnessed. She shared that her family member told her that if she went out and protested, that she should not return home. So she left, really hurt but recognizing the need to be out in the streets in this moment. 
Another young woman who was holding a sign she made, with written history of the oppression of Black people on it. She spoke to the outrage of the fact that people in Central America leave their homes to come to the U.S. seeking a better life, and then powerfully brought out that Black people were kidnapped and forcefully brought to this country and was forced to build the wealth of this country. She thought more Latino people needed to be educated on this history to recognize the oppression of Black people and not be played by the backward shit that many people are caught up in. 
There were a few people who saw themselves as showing up as an ally, and the extent of it for them was letting Black people speak in this moment and thought more Latino people and others needed to come out as allies and support. That wasn't mostly where people were coming from, a lot of people were responding when I spoke about the need to go to work on the fact that there is conscious efforts to de-legitimize the protests and try to pit people against each other, and the need to actually keep coming back with an even stronger movement, with much more Latino and other people coming out and standing with people in the streets. 
When I spoke I brought out some of what has been happening in Chicago where people are being pitted against each other and all the shit I've seen on social media. People were coming up to me during the march and expressing a lot of frustration because they were seeing the same things on social media and talking about their family members saying some ugly shit about black people and not supporting the protests, and repeating a lot of what they are seeing on TV which is that these are just criminals. Some people were digging the idea of a march through MacArthur Park (a large Latino neighborhood) but we didn't make any concrete plans.* A woman was there with her 2 daughters and was in tears thinking about her family that she said were ending relationships left and right because they were getting into arguments with her and her 2 daughters, saying some ugly shit about black people. She has been defending what is happening, saying people are right to be in the streets, people are tired of being treated like animals, and she expressed a lot of anger because these questions are tearing up families, but she knew she was on the right side. I asked her how she thought we needed to work on this problem, she thought we needed to have those kinds of arguments with everyone. She said she didn't mind losing ties with family members because she knew they had to be challenged and pick a side.
I learned a lot from what people were saying, the fact that people are forced to respond to what is happening, it cannot be ignored. One big problem, I've seen a lot of shit on social media saying shit like "Where were they when we needed to protest about children in cages" and calling on Latinos to, instead of being out saying BLM, they need to be in the streets "with our people." Pitting the struggles against each other. One thing I'm still not super clear about is what Univision and Telemundo are saying about the protest, I haven't had the time to watch anything on TV and hear what they are saying. I have seen a lot of things online where people are talking about how these two networks, in particular, are spreading anti-blackness. I saw one story by Jorge Ramos where he was reporting on the attacks on the media by the police. One thing he did do, which was AWFUL and untrue, was he said the police hadn't used force until "the looters" started the violence, and therefore, the pigs used violence on everyone including the media. As I'm sitting here writing this, Univision is airing a special called "No to racism" where they are talking about the protest and I haven't heard any backward shit so far. They haven't said anything on the looting, they are mainly focusing on the murders by police, and the brutality of the police on the protesters, and telling different stories of people who have been victims of police brutality and murder, and exploring "solutions" they had CHIRLA (Coalition for Humane Immigrant Rights, LA) on to talk about defunding the police and investing in communities, they had a pig talk about why the brutality from pigs keeps happening and if there could be discourse between pigs and the communities… BARF! But I haven't seen any backwards shit against Black people. What I was told and seen a lot of was that during the more intense times of the protests, when shit was on fire, they were running out some shit calling black protesters criminals and thugs, and a lot of people in Latino communities took up that narrative and kept repeating it.
So it was important what people came together to do, and there's some strategizing and talking the Club is doing together with some people about how to work further on the way Latino/Black people are pitted against each other. More to come soon!
&nbsp
---
* Since this was originally written, the Revolution Club and National Tour to Get Organized for an ACTUAL Revolution have joined with others to call for a march this Friday at 5 pm, starting from City Hall. [back]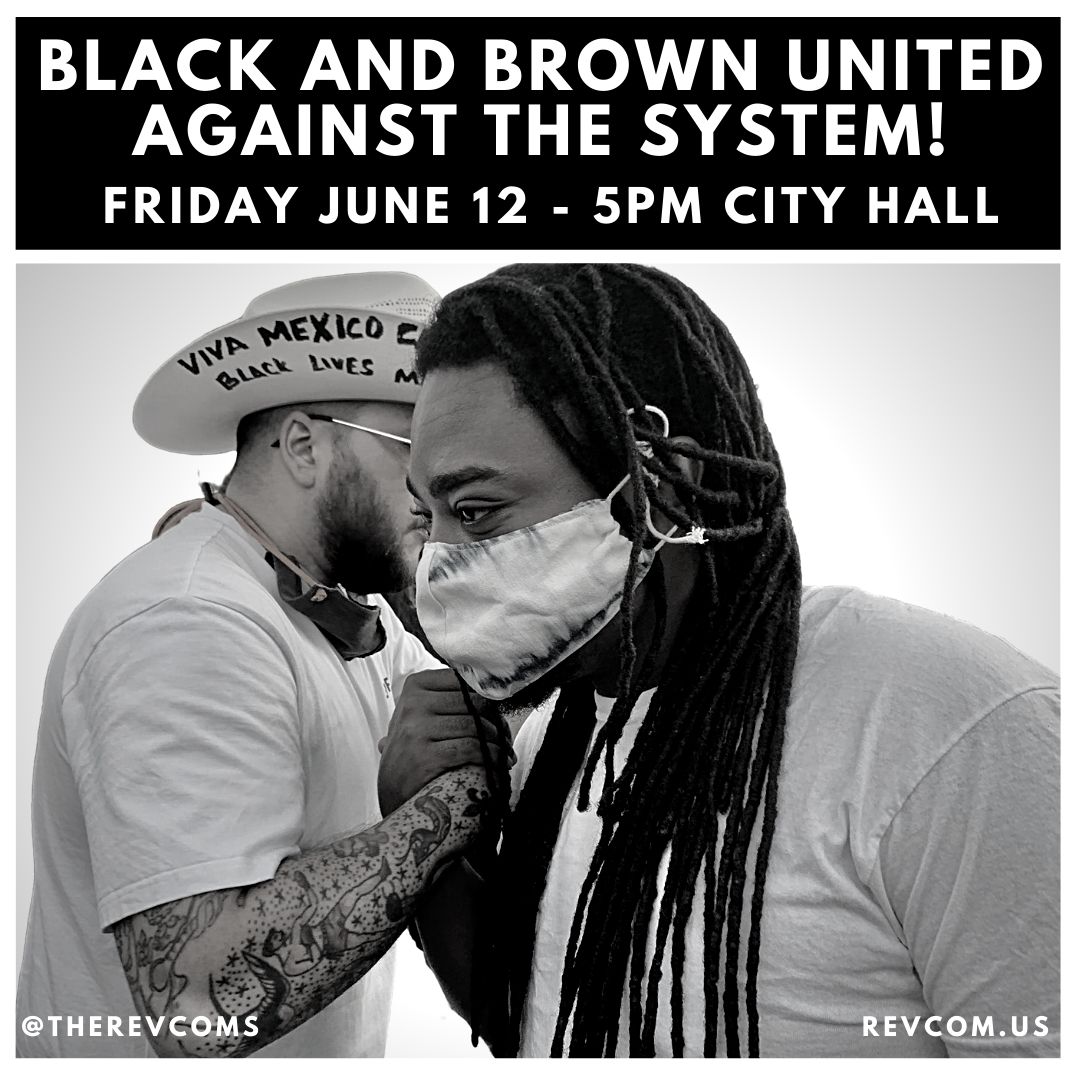 Volunteers Needed... for revcom.us and Revolution