Trump Gestapo Violently Assaults, Snatches
Portland Protesters
Not "Theater"—Part of Deadly Serious, All-Round
Fascist Escalation
| revcom.us
Around 2:00 am Wednesday morning, July 15, Mark Pettibone was taking part in a protest in Portland, Oregon. Suddenly an unmarked van drove up right in front of him and four men in military-style camouflage jumped out. They "just grabbed me and threw me into the van," Pettibone told reporters. "Another officer pulled my beanie down, so I couldn't see." Pettibone didn't know if they were police or right-wing vigilantes, and they never identified themselves or told him why they detained him for 90 minutes. "I just happened to be wearing black on a sidewalk in downtown Portland at the time, and that apparently is grounds for detaining me... It seemed like it was out of a horror/sci-fi, like a Philip K. Dick novel. It was like being preyed upon."
On July 2, heavily armed federal police forces—authorized and deployed by Trump—invaded Portland, Oregon. They have shot and tear gassed protesters, and carried out military-style operations where unidentified cops in unmarked vans snatch people off the streets.
This is intended to crush the protests against police terror and white supremacy in Portland—with the aim of repeating this clampdown across the country. It is also part of an overall effort by Trump to "impose" the federal fascist regime's "will" and authority over and against state and local governments that are controlled by Democrats, with very ominous consequences. While Democratic local authorities have been highly repressive against the recent protests, such as unleashing the NYPD to use excessive force as documented in the New York Times, Trump is attempting to exert his authority over them and insisting on even more brutal, openly fascistic means of repression. All of this is part of a major move to consolidate all-out fascism.1
Trump's Response to Black Lives Matter—Dispatching His Gestapo
The beautiful, powerful nationwide uprising against police murder and for Black lives triggered by the murder of George Floyd has deeply impacted the whole country. In response, Trump has repeatedly denounced and slandered the protesters and vowed to "dominate" them.
Portland has now become a focal point. As of Saturday, July 18, righteous protests had taken place for 52 straight nights, some involving protesters blanketing one of Portland's main bridges—the Burnside—lying down for eight minutes and 46 seconds, the time pigs had their knees on George Floyd's neck. And these protests have continued to focus on the Portland police and federal government buildings, which has enraged Donald Trump.
"First off, people here are really profoundly mad at their police department and they saw what Minneapolis got in terms of reform," investigative journalist Robert Evans of Bellingcat told the New York Times. "Here, they're not willing to take the minimal $25 million budget cut that they are offering police.... There's an understanding there's an opportunity to either accept how bad things are or you can go out every night and try to do something about it."
In June, Trump began deploying federal police forces from over a dozen agencies to different cities. Then on June 26, he signed an "Executive Order on Protecting American Monuments, Memorials and Statues and Combating Recent Criminal Violence." As a letter from a reader on revcom.us summed up, "This Order is a fascist call to arms, a frenzied tirade against the uprising, culminating in a concrete plan to suppress it."2
Among other things, the Order authorized the use of federal forces in local areas, without being requested by local officials. As the revcom.us piece reported, "Two days later, it was reported that these teams had been sent to a number of cities, including Portland and Seattle, while others were being pre-positioned to be able to reach anywhere in the U.S. within six hours!" (Letter from a Reader: "Trump Regime Escalates Fascist Repression in Response to the Beautiful Rising," revcom.us, July 13, 2020 )
The pigs who detained Mark Pettibone are part of "rapid deployment teams" organized by the Department of Homeland Security. These teams now include, according to the New York Times, 2,000 agents from Customs and Border Protection, Immigration and Customs Enforcement, the Transportation Security Administration, and the Coast Guard.
Think about it: For the first time, there is now a "rapid deployment" force at the command of the federal government that can be sent to suppress protest, or anything else for that matter! And this is being deployed and commanded by a fascist lunatic, heading into the next election.
Trump Vows to Quell "Out of Control Protests" in Portland
Trump has repeatedly and directly attacked and smeared Portland's courageous protesters as well as the city's liberal democratic establishment. On Monday, July 13, two days after federal forces, who'd been on patrol at least since July 2, seriously wounded a peaceful protester in Portland, Trump brayed, "We've done a great job in Portland ... Portland was totally out of control, and they went in, and I guess we have many people right now in jail. We very much quelled it, and if it starts again, we'll quell it again very easily."3
On Thursday, July 16, acting head of the Department of Homeland Security, Chad Wolf, flew to Portland supposedly to inspect damage to the Federal Building. "Each night, lawless anarchists destroy and desecrate property, including the federal courthouse, and attack the brave law enforcement officers protecting it," Wolf claimed. Never mind that the vast majority of the violence carried out in the last 50-plus days was done by the police, not the protesters. "Instead of addressing violent criminals in their communities, local and state leaders are instead focusing on placing blame on law enforcement and requesting fewer officers in their community."
Trump's Storm Troopers in Portland
While Wolf denounces protesters as "lawless anarchists" and a "violent mob," it's Trump's storm troopers, supposedly sent to guard federal buildings, who've been acting lawlessly and greatly escalating the violence.4
Federal forces have fired supposedly non-lethal munitions at protesters, including from inside the Federal Building. On July 11, one of them hit a protester—Donavan La Bella—in the head as he was holding up a sign. He remains in the hospital in serious condition with a skull fracture. "Federal police have also been witnessed shooting heavy clouds of tear gas into city parks, firing countless munitions at groups of people, and pinning down a person who appeared to be having a seizure," reports PortlandMercury.com.5
"It's like stop and frisk meets Guantanamo Bay," said attorney Juan Chavez of the Oregon Justice Resource Center. "You have laws regarding probable cause that can lead to arrests," he said. "It sounds more like abduction. It sounds like they're kidnapping people off the streets."6
The federal violence has been so naked that Portland's mayor and police chief, who themselves have been at odds over how to end the protests, refused to meet with Wolf.
"What is happening in Portland right now... it's as close up to the line as you can get to actual war without live rounds," Robert Evans, who has reported from war zones, says. "It's really hard for me to see how things go much further without people dying.... The federal law enforcement violence is unpredictable violence."
"Portland is being used as a bellwether to see what this administration can get away with," Evans concluded. ("50 Nights of Unrest in Portland," New York Times, July 17)
ACLU: "This is police escalation on top of police escalation"
The ACLU of Oregon has filed court actions against this Trump/Pence deployment as a blatant violation of the rights of people to protest, as has the attorney general of Oregon and other legal groups. These are very important refusals to allow the Trump/Pence regime's assault to stand.
The ACLU denounced the federal forces for "indiscriminately using tear gas, rubber bullets, and acoustic weapons against protesters, journalists, and legal observers," and its lawsuit "seeks to block federal law enforcement from dispersing, arresting, threatening to arrest, or using physical force against journalists or legal observers."
"This is a fight to save our democracy," said Kelly Simon, interim legal director with the ACLU of Oregon. "Under the direction of the Trump administration, federal agents are terrorizing the community, risking lives, and brutally attacking protesters demonstrating against police brutality. This is police escalation on top of police escalation. These federal agents must be stopped and removed from our city. We will continue to bring the full fire power of the ACLU to bear until this lawless policing ends."7
Liberals, Democrats Condemn Trump, Demand Fed Forces Leave
Oregon's liberal establishment and national Democratic Party leaders like Senator Chuck Schumer have denounced the deployment of federal forces to Portland and their brutality. Senator Bernie Sanders decried "unmarked federal agents ... pulling protesters off the street and jailing them without charge." Gov. Kate Brown condemned it as a "blatant abuse of power by the federal government." Portland Mayor Ted Wheeler tweeted that Portland does not "need or want [federal] help."
On Friday, Oregon's attorney general sued the Department of Homeland Security and the United States Marshals Service, asking a federal court to issue an order preventing federal agents from arresting people in Portland. She stated, "The current escalation of fear and violence in downtown Portland is being driven by federal law enforcement tactics that are entirely unnecessary."
Meanwhile, Portland Pigs Continue Acting Like... Pigs
Meanwhile, Portland's own police continue to act like—well—police serving this oppressive system that both liberals and fascists serve. "City police have continued to respond to protests with disproportionate violence," wrote PortlandMercury.com. "On Tuesday, a PPB officer was caught on film removing a protester's protective face mask to pepper spray a protester in the eyes. This morning, the public witnessed a gaggle of PPB officers chase and tackle a person who was biking down SW 4th in downtown Portland—despite that street being open to public use."8
On Thursday night, July 16, Portland police cleared two parks that have been hubs for protesters, including forcing out a barbecue stand—Riot Ribs—that's been giving out free food. Nine people were arrested. This ongoing pig violence is one reason protests are continuing, demanding changes in how the police oppress the people.
Portland Clampdown—Part of a Broader Fascist Assault
Oregon's Governor Brown claimed this federal deployment was "political theater from President Trump." Nothing could be further from the truth.
This is not only part of a serious campaign to clamp down on protests against police terror, it is also an assault on, and attempt to take over the authority for, handling—"dominating"—protesters and other matters from Democratic-ruled local, state, and city governments. It's part of an overall strategy that includes attacks on sanctuary cities, and using these same tactics in ICE raids to terrorize immigrant neighborhoods. Trump has also threatened to use this force in Chicago against Black communities, supposedly to "stop crime."9
Trump said as much in his speech Monday, July 13—vowing to "take over" liberal cities if the Democrats couldn't stop violence. "The radical politicians are waging war on innocent Americans. That's what you're doing when you play with the police....Things are happening that nobody's ever seen happen in cities that are liberally run."10
---
1. "Trump Regime Escalates Fascist Repression in Response to the Beautiful Rising," revcom.us, July 13;" N.Y.P.D. Says It Used Restraint During Protests. Here's What the Videos Show," New York Times, July 14. [back]
2. "Trump Regime Escalates Fascist Repression in Response to the Beautiful Rising," revcom.us, July 13. [back]
3. "President Trump Says Portland Protest Was "Totally Out of Control," but the Feds "Very Much Quelled It," Willamette Week, July 13. [back]
4. "Portland officials decry aggressive tactics of federal agents in their city," Washington Post, July 18; "Federal Agents Unleash Militarized Crackdown on Portland," New York Times, July 17. [back]
5. "DHS Director Decries "Violent Anarchists" Taking Over Portland," PortlandMercury.com, July 16. [back]
6. "Federal Law Enforcement Use Unmarked Vehicles To Grab Protesters Off Portland Streets," Oregon Public Broadcasting, July 17. [back]
7. "What is happening in Portland is an unconstitutional nightmare," adds Vera Eidelman, staff attorney with the ACLU's Speech, Privacy, and Technology Project. "This is not law and order. This is lawlessness. The ACLU will not let the government respond to protests against police brutality with still more brutality. We will continue to hold law enforcement at all levels of government accountable, just as we have nationwide." "ORGANIZATION SEEKS TO BLOCK FEDERAL LAW ENFORCEMENT ATTACKS ON JOURNALISTS, LEGAL OBSERVERS IN PORTLAND," ACLU, July 17. [back]
8. "DHS Director Decries 'Violent Anarchists' Taking Over Portland," PortlandMercury.com, July 16. [back]
9. "Federal officers are using unmarked cars to arrest Portland protesters," Guardian, July 17. [back]
10. This past week, acting U.S. Customs and Border Protection Commissioner Mark Morgan called the protesters criminals and threatened a broad assault on the Trump/Pence regime's opponents: "the Department of Justice is going to be involved in this, DHS is going to be involved in this; and we're really going to take a stand across the board. And we're going to do what needs to be done to protect the men and women of this country." President Trump Says Portland Protest Was "Totally Out of Control," but the Feds "Very Much Quelled It," Willamette Week, July 13. [back]
Militarized Federal Agents from a patchwork of outside agencies have begun policing Portland (in rented minivans vans) without the explicit approval of the mayor, the state, or local municipalities. This is what that looks like in practice: pic.twitter.com/losap4SsgI

— The Sparrow Project (@sparrowmedia) July 15, 2020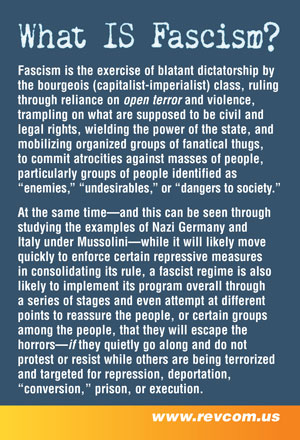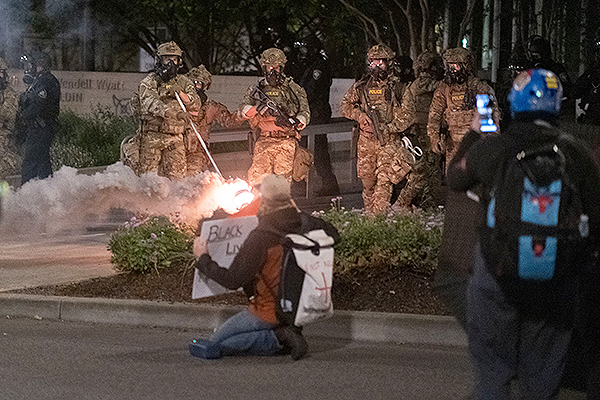 Heavily armed Federal police forces – authorized and deployed by Trump—invaded Portland, Oregon. They have shot and teargassed protestors, and carried out military-style operations where unidentified cops in unmarked vans snatch people off the streets. (Photos: Doug Brown, ACLU/Oregon)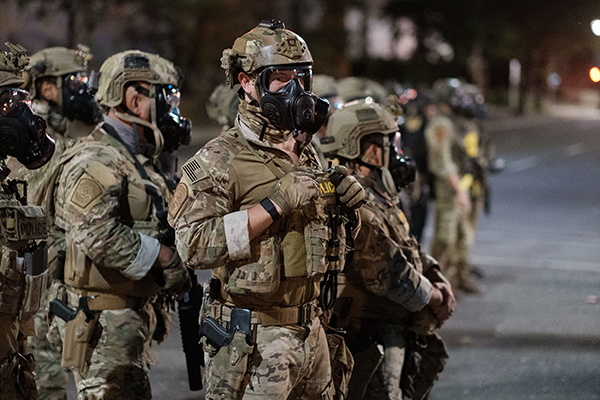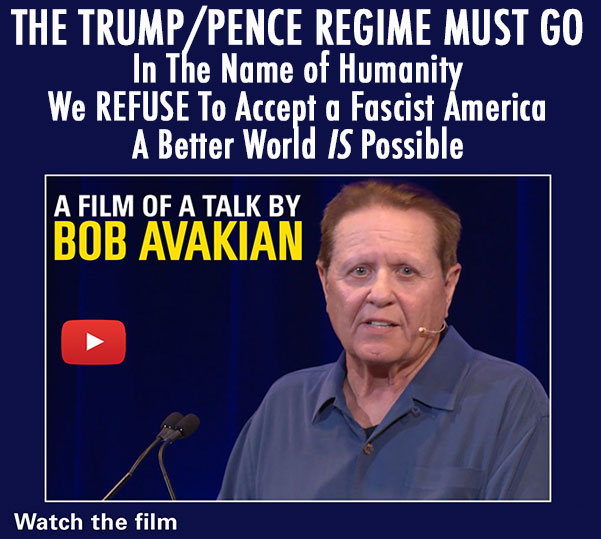 Volunteers Needed... for revcom.us and Revolution