Trump/Pence Regime Accelerates Fascist Juggernaut
Gestapo Raid on Immigrant Camp, Labeling Protesters "Foreign Agents," Undermining Mail-in Voting, and More
| revcom.us
The fascist Trump/Pence regime has been moving rapidly, aggressively, and in many dimensions to develop and implement fascism. Below are some measures taken or that came to light in the past week alone.
July 27—ICE Implements "Family Separation 2.0": Immigration and Customs Enforcement (ICE) refused to release at least 100 immigrant children imprisoned with their parents, despite a deadline set by a federal judge. The judge described family concentration camps as "on fire" with the threat of coronavirus, and at least 40 people in them have tested positive. A court had ordered that about 100 immigrant children in these concentration camps be released by July 27. But the order did not apply to parents. ICE has seized on the fact that no court has ruled that parents need to be released with their children to present the parents with an unbearable "choice": allow their children alone to be released, or have them stay in confinement together with their parents.
The Trump/Pence regime has waged a cascading series of relentless, heartless attacks on immigrants, including imprisoning and deporting infants and children, since the day the two fascists were inaugurated. In 2017, it launched a policy of forcibly separating immigrant children from their parents, which officially became known as its "Zero Tolerance Policy" in 2018. It was a contemptible effort to deter families from seeking asylum in the U.S., and was met with widespread protest and opposition. Now, with a virus raging throughout the country, and especially rampant in prisons, jails and detention centers, their cruelty has reached new depths. An immigration lawyer in Pennsylvania told Time magazine, "We've been calling this 'Family Separation 2.0,' ... either you stay in a burning building with your child or you give your child away...."
---
July 31—Border Patrol Raids, Ransacks Arizona Shelter for Immigrants: Heavily armed Border Patrol and BORTAC (Border Patrol Tactical Unit) agents pounced on an aid shelter for immigrants in the Arizona desert. They descended with an armored vehicle, three ATVS, two helicopters, and about 24 marked and unmarked vehicles. They arrested 30 immigrants receiving medical care, food, water, and shelter from the 100-degree heat. Earlier in the week, No More Deaths/No Mas Muertes, the group that sponsors the shelter, had released emails they obtained under the Freedom of Information Act, revealing the role that BORTAC and the Border Patrol's union had played in a 2017 raid on the same aid shelter. A few days later, BORTAC entered the aid shelter without a warrant, detained one person, and set up surveillance around the shelter's site. Then, on July 31, they staged their all-out assault on the camp.
Montana Thames, a volunteer with No More Deaths, told Democracy Now! that after hauling off the immigrants, the Border Patrol, "...proceeded to completely trash the camp. They slashed all of our tents. They slashed people's personal tents. They overturned anything that we had. They slashed open cots. A complete ransack of the place. They took all of our medical records and all of our phones that were in the office and on volunteers, for evidence. They disconnected the only water source that the camp has."
---
August 2—Stacking Pentagon Leadership with Fascist Flunkies: Anthony Tata, former U.S. Army general and frequent commentator on Fox "News," was nominated by Trump to be a top Pentagon official. Tata is notorious for his virulent contempt for Islam and Islamic people. In late July, he withdrew his name from consideration for the position, which required Senate approval, when it became clear that with his history of hateful, threatening statements, including against former CIA chief John Brennan, and Barack and Michelle Obama, he was unlikely to be confirmed.
After Tata withdrew from consideration, Kayleigh McEnany, Trump's press secretary, made clear that "the president still supports him." And this week, Trump did an end-run around Congress. He appointed Tata to a powerful and influential policy-making position in the Pentagon that doesn't require Senate confirmation, one rung under the job for which he was originally proposed. Under Senate rules, this "temporary" position can become permanent, without Senate confirmation, after 90 days in office, and Tata can slide into the original position. Tata's appointment is the latest in a series of moves Trump has made since his impeachment failed last spring to stack Pentagon leadership with flunkies completely in sync with his fascist program.
---
August 3—Homeland Security Investigates Protesters as "Foreign Agents": For over a year, Trump has tweeted that he wants government agencies to investigate the possibility of declaring "Antifa" a "... major Organization of Terror (along with MS-13 & others). Would make it easier for police to do their job!" ("Antifa" in fact is not an organization, but a word used by some to describe a broad grouping of people who are anti-fascist and anti-racist.) This week, The Nation magazine reported that it had obtained a Homeland Security (DHS) report titled the "Syrian Conflict and its Nexus [connection] to the U.S.-based Antifascist Movement." The DHS report states that "ANTIFA is being analyzed under the 2019 DHS Strategic Framework for Countering Terrorism (CT) and Targeted Violence," and contains personal information on several individuals. Steven Aftergood, who directs the Project on Government Secrecy at the Federation of American Scientists, explained the significance of the DHS investigation: "Once someone or (some group) is identified as an agent of a foreign power they are subject to warrantless search and surveillance in a way that would be illegal and unconstitutional for any other US person. The whole apparatus of US intelligence can be brought to bear on someone who is considered an agent of a foreign power."
This report leaked into public view as the Trump/Pence regime escalates aggressive moves to remove any restraints on its spies and pigs. Among them: re-organizing repressive forces under direct command of the regime and using them as storm troopers against protesters in Portland; firing people in key positions in the Justice Department and replacing them with Trump loyalists; signing an executive order to protect statues of racists and slave owners while U.S. Park Police and National Guard forces teargas and beat peaceful protesters, and much more. Now it is seeking to shred even further the civil and legal rights that are supposed to be protected by law in this country, and establish its ability to spy on protesters with virtually no legal restrictions.
---
August 4—Trump Sues Nevada, Calls Its Plan for Mail-in Ballots a "Coup": After the Nevada legislature approved a plan of sending mail-in ballots to all eligible registered voters in the state that maximized voter safety in the midst of the pandemic, the Trump campaign and the national Republican Party sued to block the plan. Trump called it a "catastrophe waiting to happen," and an "illegal late-night coup." Meanwhile, in Florida—where the fascist governor is a staunch Trump ally—Trump approved a similar plan, saying it is "tried and true."
This attack on voting in Nevada is part of a sustained effort by the fascist regime to discredit the upcoming election in their favor—an effort that contributes to the escalation of fascist consolidation. It is a serious and extremely dangerous attack on fundamental democratic rights, rights which for Black people were won only through great struggle.
---
August 5—Trump Accuses Obama and Biden of Treason: In the context of yet another pro-Trump Senate hearing into Hillary Clinton's emails from four years ago, Trump tweeted, "BIG NEWS! The Political Crime of the Century is unfolding," and "ObamaBiden illegally spied on the Trump Campaign, both before and after the election. Treason!"
This barely made the news, and to the extent it did, was dismissed as more of Trump's bluster, another of his lunatic rants. That is a deadly mistake. Trump's accusations that his bourgeois opponents committed a crime that can carry the death penalty indicates just how serious this regime is about installing fascism and obliterating any potential opposition to that, including from within the ranks of the ruling class.
***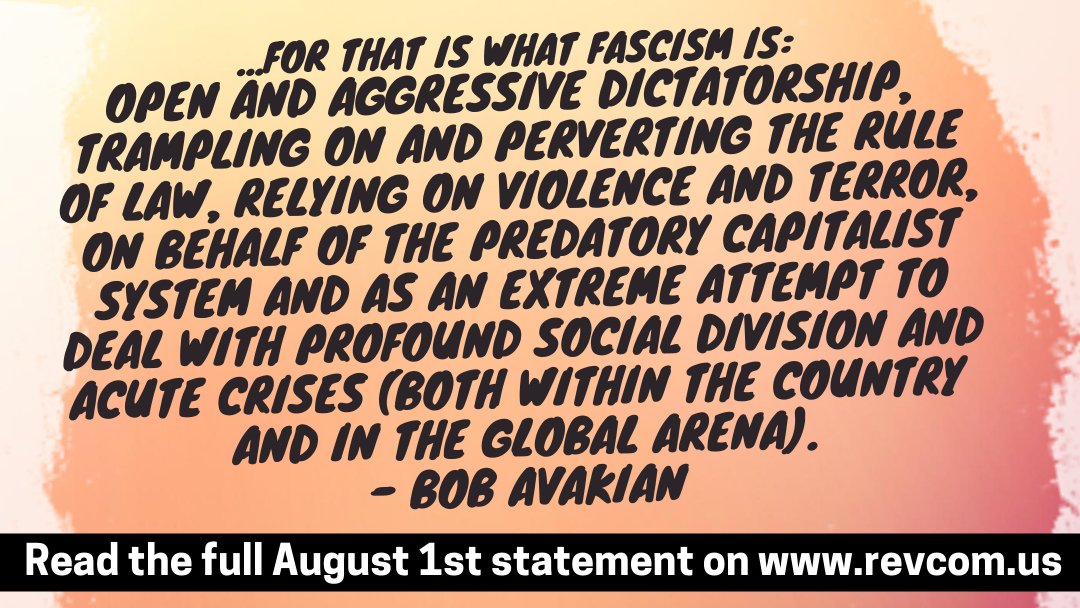 ---
August 5—Pence Begins Anti-Woman "Life Wins" Tour: This week in Florida, Mike Pence kicked off a multi-state tour. This tour is central to the Trump/Pence regime's efforts to mobilize fundamentalist Christian fascists now, and leading into the November election. Its core message—complete opposition to women's right to abortion, and a determination to end its legality altogether. Pence went to Baptist churches and fake women's health clinics called "pregnancy centers." These centers lie to and are intended to mislead women about their legal rights to abortion and the medical facts of abortion, and to block women from getting abortions. According to a website that promotes these phony clinics, "Pence's visit was historic as he is the first sitting vice president to visit a pro-life pregnancy center.... While the late President Ronald Reagan had often lauded pregnancy centers and former President George W. Bush visited a center after leaving office, Pence's is the first in-person visit while in office."
Theocratic patriarchy is a core element of the Trump/Pence fascist program. It aims for complete domination of women by men based on a literal fundamentalist interpretation of the Christian Bible and reinforced by law. And Mike Pence, a fundamentalist lunatic who has spent literally his entire political career working to restrict and control the reproductive rights of women and the rights of LGBTQ people, is now on this tour "promising ... to work every day" to achieve that horrible goal.
---
August 5—Attacking Science and Scientists: This week, Dr. Anthony Fauci told a forum sponsored by the Harvard School of Public Health of threats against him and his family. Fauci said, "Getting threats for me and my family and harassing my daughters to the point where I have to get security is just, I mean it's amazing." He said the threats could be attributed to "... a degree of anti-science feeling in this country."
Tens of thousands of people have died from the coronavirus because of the Trump regime. Trump has actively and consistently promoted disdain for science during this crisis and promoted quackery and superstition. He and many of his underlings have severely attacked Dr. Fauci and his credibility. The Union of Concerned Scientists documented 11 times that attacks on science from nine different federal agencies have undermined a response to the pandemic. The union's report states that "during the COVID-19 pandemic, where death counts have reached 150,000, there has never been a clearer example showing that the Trump administration's willful disregard of science comes at a fatal cost."
---
August 7—"Live and Let Die"—Trump's Contempt for People Suffering from Covid-19: As of August 7, there were 158,880 officially recorded deaths from the coronavirus in the U.S. Last week, in an interview with the website Axios that aired on HBO on August 3, Trump was asked about the high number of virus-related deaths. He responded, "They are dying. That's true. And you—it is what it is."
On August 7, Trump went to a factory in Ohio for what was essentially a campaign rally, and for the second time since the virus began raging across the country, the Guns N' Roses version of "Live and Let Die" blared over loudspeakers shortly before he began his speech. This June, Axl Rose of Guns N' Roses had tweeted that Trump is "... a truly bad, repulsive excuse 4 a person w/a sick agenda." Rose, along with many artists, including Rihanna, Neil Young, Pharrell Williams, representatives of the estates of Prince and Tom Petty, and many others, have denounced and attempted to prevent Trump's use of their songs.
---
August 7—Florida's "mini-Trump" Tells Health Officials to Keep Quiet About Whether It's Safe to Open Schools
Florida's governor, Ron DeSantis, aka "mini-Trump," delivered an edict this summer that all schools must reopen with in-classroom instruction. Since then, Florida has risen to be a global pandemic epicenter, with hospital ICUs filled to overflowing. Many school boards, despite fearing the consequences to students, teachers, and staff of opening in this situation, were told they would need Health Department approval if they wanted to keep classrooms closed.
But now the Palm Beach Post has reported that, based on a directive from DeSantis' head of the Department of Health, county health directors across Florida have been directed not to give school boards advice about whether to reopen schools as the pandemic worsens. Why? "'It's not up to the health department to say a yes or a no,' says the governor." They can't "tell school boards whether they believed the risks of opening campuses were too great." They can "only provide suggestions on how to reopen safely." This means that local school boards, facing the most difficult public health decision in modern history—whether to reopen schools in a worsening pandemic—are having the advice from trained health officials kept from them.
---
August 7—Trump Flunky Cuts Postal Service, Threatening Elections: In May, Trump appointed Louis DeJoy, a major contributor to his election campaigns, to be Postmaster General, in charge of the U.S. Postal Service (USPS). DeJoy immediately implemented a series of measures that slowed down mail delivery, including eliminating necessary overtime for postal workers even as 40,000 postal workers have had to quarantine from the coronavirus, shutting down post offices, allowing undelivered mail to stack up, freezing hiring, and others. Millions of people who depend on the mail for prescription medicine, paying utility bills, and other necessities have suffered the consequences of delayed or non-existent mail delivery. But in this election year a key impact of Trump's assault on the USPS is to potentially undermine and discredit it in advance of the November elections, in particular by attacking the process of mail-in voting. This Friday, DeJoy announced sweeping changes in the leadership and functioning of the USPS, removing top officials and demoting or displacing about two dozen others. The changes put more power in the hands of DeJoy himself and other Trump loyalists.
Trump has repeatedly threatened to postpone the elections, but he is also taking other measures to discredit and undermine elections, in particular with attacks on mail-in voting. Voting by mail is widely acknowledged to be common and secure—and with the COVID-19 pandemic continuing to rage, more people are looking to vote by mail. But he has tweeted that mail-in ballots for the presidential election will be "THE SCANDAL OF OUR TIMES" and threatened that only ballots counted on November 3, voting day, would be valid. The attacks on the USPS are part of systematic and comprehensive efforts by the fascist Trump/Pence regime and its supporters to undermine the integrity of upcoming elections in their favor.
---
***
An Impending Disaster and an Urgent Challenge
The above is some of the damage done by the fascist Trump/Pence regime—in one week! The consequences to humanity and the planet if this regime remains in power worsen daily, and will be disastrous if it isn't stopped.
As we have written, "All this underscores the urgency of confronting the fascist nature, program and danger of the Trump/Pence regime and of building mass political resistance to drive out the Trump/Pence regime from power, #OutNow, as struggles that strengthen and are mutually reinforcing with the Beautiful Rising against police murder and racism."
***
SOURCES
Family Separation 2.0
'Family Separation 2.0.' Parents in ICE Detention Have To Decide Whether to Keep Their Children or Release Them To Sponsors, Time, July 27, 2020
Despite judge's order, migrant kids remain in ICE custody, Washington Post, July 28, 2020
ICE Has to Release Kids From Detention. It Refuses to Let Their Parents Join Them, Mother Jones, July 27, 2020
Border Patrol Raids Arizona Shelter
Militarized BORTAC Border Patrol Raids & Ransacks Medical Camp on U.S. Border, Arrests 30 Migrants, Democracy Now!, August 4, 2020
Border Patrol Launches Militarized Raid of Borderlands Humanitarian Aid Camp, The Intercept, August 2, 2020
Military style raid: border patrol detains 30+ people receiving care at humanitarian aid station, No More Deaths, August 1, 2020
Border Patrol detains more than 30 in raid at humanitarian aid camp, KOLD, August 5, 2020
Stacking Pentagon With Flunkies
Trump loyalist gets Defense post as Senate nomination stalls, Washington Post, August 3, 2020
Faithful America Says Anthony Tata's Pentagon Nomination Is Proof of Trump's Toxic Christian Nationalism, Sojourners, July 30, 2020
Trump Puts Pentagon in Political Crossfire With Tata Appointment, New York Times, August 3, 2020
Trump loyalty purge roils Pentagon, Politico, June 18, 2020
Homeland Security
Homeland Security Is Quietly Tying Antifa to Foreign Powers, The Nation, August 3, 2020
Trump Wants to Declare Antifa a Terrorist Organization, Even Though Right-Wing Extremists Have Been More Violent, Newsweek, July 27, 2020
DHS Investigates Alleged Antifa Protesters as Terrorists Trained in Syria, Newsweek, August 3, 2020
Trump Sues Nevada
Trump campaign sues Nevada over plan to mail ballots to all registered voters, CNN, August 5, 2020
Trump campaign sues Nevada over mail-in ballots, asserting 'inevitable' fraud, Reuters, August 5, 2020
Trump's Accusing Nevada of Pulling an 'Illegal' Coup to Make Voting Easier, Vice, August 3, 2020
Trump backtracks on his condemnation of mail-in voting, says Florida is an exception, USA Today, August 4, 2020
Trump Accuses Obama and Biden of Treason
Our nation is in a free fall. But sure, let's talk about Hillary's emails again, Washington Post, August 5, 2020
'CRIME OF CENTURY' Trump accuses Obama and Biden of 'TREASON' as ex-acting AG Sally Yates says FBI went 'rogue' in Russia probe, The Sun, August 5, 2020
Pence Begins Anti-Woman Tour
On the Road with Pence's FAITH IN AMERICA Tour: 2020 Election Will Decide if 'America Will Still Be America', CBN News, August 6, 2020
Life is winning in America because of pregnancy help – Pence visits Heartbeat affiliate, Pregnancy Help News, August 7, 2020
Mike Pence emphasizes anti-abortion message in Tampa Bay visit, Tampa Bay, August 5, 2020
Live and Let Die
Watch the full "Axios on HBO" interview with President Trump, Axios, August 4, 2020
Cases in the U.S., Centers for Disease Control and Prevention
'Live And Let Die' Plays At Trump Ohio Speech And Twitter Loses It, Huff Post, August 7, 2020
Guns n' Roses 'Live + Let Die' Plays Before Trump's Ohio Speech, Loudwire, August 7, 2020
Attacking Science and Scientists
When Public Health Means Business, Harvard School of Public Health, August 5, 2020
Dr. Fauci says his daughters need security as family continues to get death threats, CNBC, August 5, 2020
'Just strange': Fauci says his family is still receiving death threats, Houston Chronicle, August 6, 2020
With string of attacks on doctors and experts, Trump takes aim at science: ANALYSIS, ABC News, August 6, 2020
150 Attacks on Science and Counting: Trump Administration's Anti-Science Actions Hurt People and Communities Nationwide, Union of Concerned Scientists, August 3, 2020
Florida's Mini-Trump
Health directors told to keep quiet as Fla. leaders pressed to reopen classrooms, Palm Beach Post, August 7, 2020
Health directors told to keep quiet as Florida leaders pressed to reopen classrooms, USA Today, August 7, 2020
Florida health directors reportedly told not to say whether schools should reopen, The Week, August 7, 2020
Post Office
New postmaster general overhauls USPS leadership amid probe into mail delays, The Hill, August 7, 2020
Trump-backed postmaster general plans to slow mail delivery, Fortune, July 24, 2020
Outrage as Trump Crony Now Heading USPS Moves to Slow Mail Delivery, Moyers on Democracy, July 17, 2020
Postal Service emerges as flash point heading into election, Washington Post, August 9, 2020
Trump claims foreign countries will rig election by printing millions of mail-in ballots, Market Watch, June 22, 2020

Volunteers Needed... for revcom.us and Revolution