Trump's "Law and Order": Pig Rampage Throughout the Country
| revcom.us
Editors' Note: We aim to keep readers informed about key dimensions of the overall fascist advance of the Trump-Pence regime in a timely way, driving home the urgency of ousting this regime.
Trump, from the beginning of his fascist regime, has encouraged police to be openly violent against the people. He told them not to be "too nice" to people they confront, assuring them, "We have your backs—believe me—we have your backs 100 percent." All this has escalated alarmingly in recent weeks.
On September 1, Trump spoke in Kenosha, Wisconsin, where pigs had shot Jacob Blake, a 29-year-old Black man, in the back seven times. Protests have ripped through Kenosha, and across the country, demanding justice for yet another Black man unjustly and viciously shot by police. Trump never mentioned the name of Jacob Blake. He declared that he "really came today to thank law enforcement ... what you've done has been incredible. It's been really inspiring..."
Earlier this summer, as people across the country were in the midst of a beautiful and courageous uprising against murder by cops, Trump told leading police officials that his regime promised to continue its "unwavering support of our nation's courageous police officers." Unions representing hundreds of thousands of pigs nationwide have enthusiastically endorsed Trump. A press release from the national president of the Fraternal Order of Police said, "The FOP is proud to endorse a candidate who calls for law and order across our nation."
What does their "law and order" mean? It means the "order" of fascism clamping down on people. It means even more people killed by pigs, like these people, just some of the victims of police murder in the past week alone:
Miguel Vega, a 26-year-old father of two, shot in the back of the head by Chicago pigs on September 1, and pronounced dead shortly later.
Deon Kay, 18, shot in the chest by police in Washington, DC, on September 2, while he stood with his hands by his side, apparently holding, but not raising, a firearm.
Steve D. Smith, 33, shot and killed by Syracuse, New York, police outside a gas station on September 4.
Dijon Kizzee, a 29-year-old Black man, shot and killed by Los Angeles County sheriffs on August 31, after he was stopped for a traffic violation on his bike.
Timothy Alan Clevenger, 53, shot and killed by Bettendorf, Iowa, police on September 3, allegedly for wielding a "sharp edged weapon."
An as yet unidentified man, shot "multiple times" and killed by Chicago police on September 5, after he allegedly "lunged" at a cop in the Garfield Ridge neighborhood.
As the recent series by Bob Avakian hammers at, Donald Trump is a genocidal racist. Trump and his fascist regime are deadly serious about allowing murdering, brutalizing pigs to act with even more impunity, especially against Black, Brown, and Native American people—and raising this oppression to a whole new, even more horrific and genocidal, level.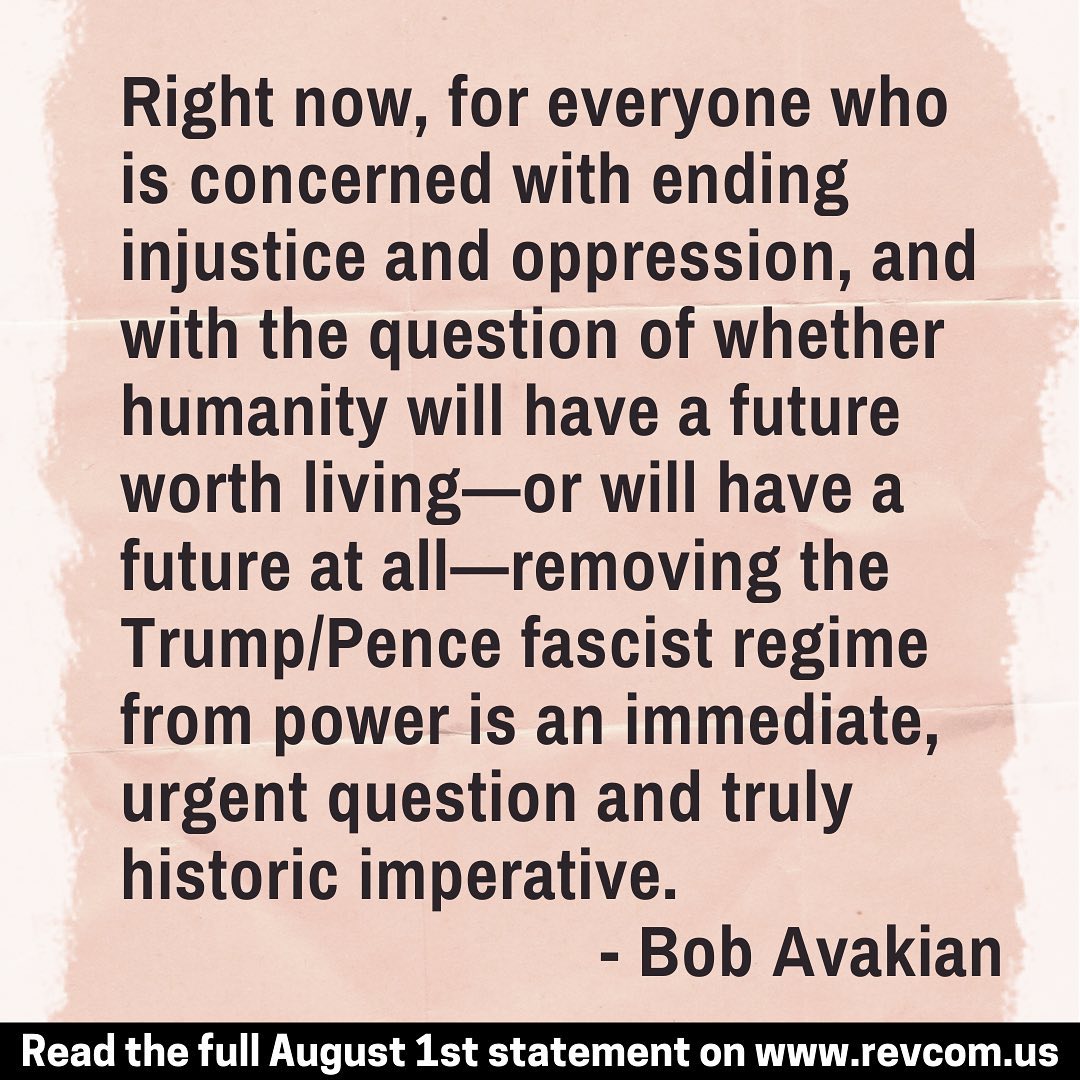 Read more
Read more at refusefascism.org

Volunteers Needed... for revcom.us and Revolution