Columbus, Ohio:
Pig Murders Black Man Opening Door to His House
This Must End!
| revcom.us
On the afternoon of Friday, December 4, Casey Goodson, a 23-year-old Black man, was shot in the back and killed as he unlocked a door to his home in Columbus, Ohio. Goodson was returning from a trip to a dentist and a stop at a Subway sandwich shop. A lawyer told CNN that the mortally wounded Goodson fell into his home's kitchen, holding the sandwiches he had brought for his grandmother and two younger siblings. Goodson was murdered by Jason Meade, a Franklin County sheriff's SWAT deputy assigned to a fugitive task force of the U.S. Marshal's office. 
Goodson was not being pursued by the marshals before Meade killed him, nor was he the subject of any police investigation. Peter Tobin, chief marshal for Ohio's Southern District, said Goodson "was seen driving down the street waving a gun, and that's when the deputy, at some point after that… confronted him and it went badly." Tobin claimed he "believes the shooting was justified" and at least one person had heard Meade command Goodson to drop his gun. 
Kaylee Harper, Goodson's sister, wrote on her Facebook page, "They are lying! My brother literally walked across the yard, walked into the back fence to get to the side door, had his subway and mask in one hand keys in the other, UNLOCKED AND OPENED THE DOOR and stepped in the house before shooting him. IF HE WAS SUCH A THREAT WHY DID YOU WAIT SO LONG TO SHOOT?! WHY DID YOU KILL A MAN WALKING INTO HIS OWN HOME?!"
CNN reported that no cops besides Meade witnessed the shooting, there is no body-cam footage, and no civilian witnesses have been identified. Columbus police released no information on this brutal murder until over a day after Goodson's death. Two days later, Meade still had not been interviewed by the Columbus Police Department team supposedly "leading the investigation." On Monday, Ohio's Attorney General turned down a request by the Columbus police to take over the investigation. A spokesman explained, "Not knowing all the reasons as to why so much time has passed before the case was referred to (state investigators), we cannot accept this case… Three days later after the crime scene has been dismantled and the witness(es) have all dispersed does not work."
A Columbus TV station reported that a statement from the Columbus police said "a gun was recovered from Mr. Goodson." It is not clear what gun these pigs allegedly found, and whose gun it was. Casey Goodson did have a current and valid concealed-carry license, and as the New York Times noted, "Ohio does not prohibit the open carrying of firearms." But the Franklin County Sheriff's Office outrageously tweeted, "the suspect's weapon was recovered at the scene." To be clear—these pigs are referring to Casey Goodson as the "suspect," not the murdering cop who shot him in the back! 
A family friend poignantly told a local reporter that "Casey was 23 years old; he never had any type of crimes. He was good, he worked at the Gap, he loved his family. He just enjoyed being a big brother and enjoyed being with his family—he loved them very much."
He was also a young Black man born into a white-supremacist system whose pig enforcers have a license to kill young Black men. 
How many more will die? How much longer will this go on?
Sources:
Questions surround death of Casey Goodson, Black man shot by veteran SWAT officer, The Columbus Dispatch, December 6, 2020
The police shooting of Casey Goodson Jr., who was killed in front of his Ohio home, explained, Vox, December 7, 2020
https://www.facebook.com/kaylee.harper.7524/posts/418053516271050
Man with handgun killed in officer-involved shooting on Northeast Side, The Columbus Dispatch, December 4, 2020
Feds to investigate after a sheriff's deputy killed a Black man entering his own home in Columbus, Ohio, CNN, December 9, 2020
Police In Ohio Say Slain Black Man Brandished A Gun; Family Says He Held A Sandwich, knkx, December 7, 2020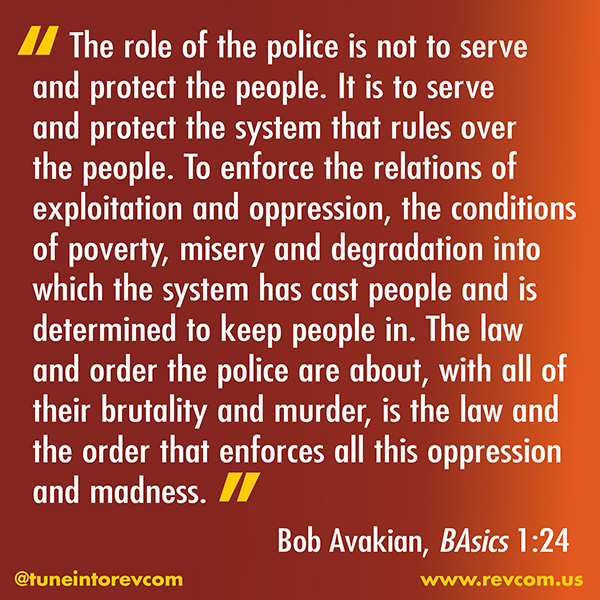 Volunteers Needed... for revcom.us and Revolution