Yemen Plunged Even Deeper Into Hell of Mass Starvation and Disease
| revcom.us
Yemen is a small country of 30 million people on the southern tip of the Arabian Peninsula. In 2015 it was bombed and blockaded into what most experts call the world's worst humanitarian crisis by Saudi Arabia's U.S.-backed war of aggression against Yemen's Iran-supported Houthi movement.
The war itself has killed some 130,000 people in Yemen—and in recent weeks, the humanitarian crisis has gotten even more deadly. The World Food Programme (WFP) warns Yemen is on the brink of "the biggest famine in modern history," with much of the country a "hell on Earth" of hunger and devastation. The WFP estimates that some 400,000 Yemeni children under 5 years old could die from acute malnutrition this year.
One UN aid agency says more than 16 million Yemenis face a significant risk of going hungry in 2021, that 500,000 already live in famine-like conditions, and that the danger of large scale famine "has never been more acute."
In 2018, the UN Security Council denounced the use of starvation as a weapon of war and demanded that access to water, fuel, and other goods needed for food preparation and medical care not be impeded. But Saudi Arabia continues to block ships carrying fuel needed to run generators and keep hospitals and other vital facilities in operation. As a result of the blockade, the World Health Organization says it will have to halt life-saving medical services impacting over 9 million people. Under Obama and Trump, the U.S. enabled Saudi Arabia to blockade Yemen's air, land, and seaports—and to date, the Biden administration has continued to do the same.
Sources:
"Hell on Earth": Yemeni Children Starve to Death as U.S.-Backed Saudi Blockade Devastates Nation, Democracy Now!, March 12, 2021
Famine has arrived in pockets of Yemen. Saudi ships blocking fuel aren't helping, CNN, March 11, 2021
'This is hell': UN food aid chief visits Yemen, fears famine, AP, March 10, 2021
Yemen's humanitarian crisis grows as UN warns of mass famine risk, Daily Sabah, February 28, 2021

The World Food Programme estimates that some 400,000 Yemeni children under 5 years old could die from acute malnutrition this year. This 7-month-old boy gets treatment for malnutrition at a food clinic. Photo: AP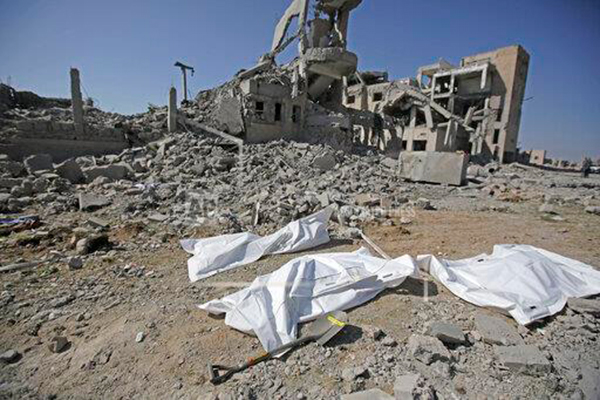 Bodies lie on the ground amid the rubble of a Houthi detention center in Yemen destroyed by Saudi-led airstrikes, that killed at least 60 people in September 2019. Photo: AP