| revcom.us
Episode 46 of The RNL—Revolution, Nothing Less—Show!
Get Ready for May 1st: WE ARE HUMAN BEINGS. WE REFUSE TO ACCEPT SLAVERY IN ANY FORM!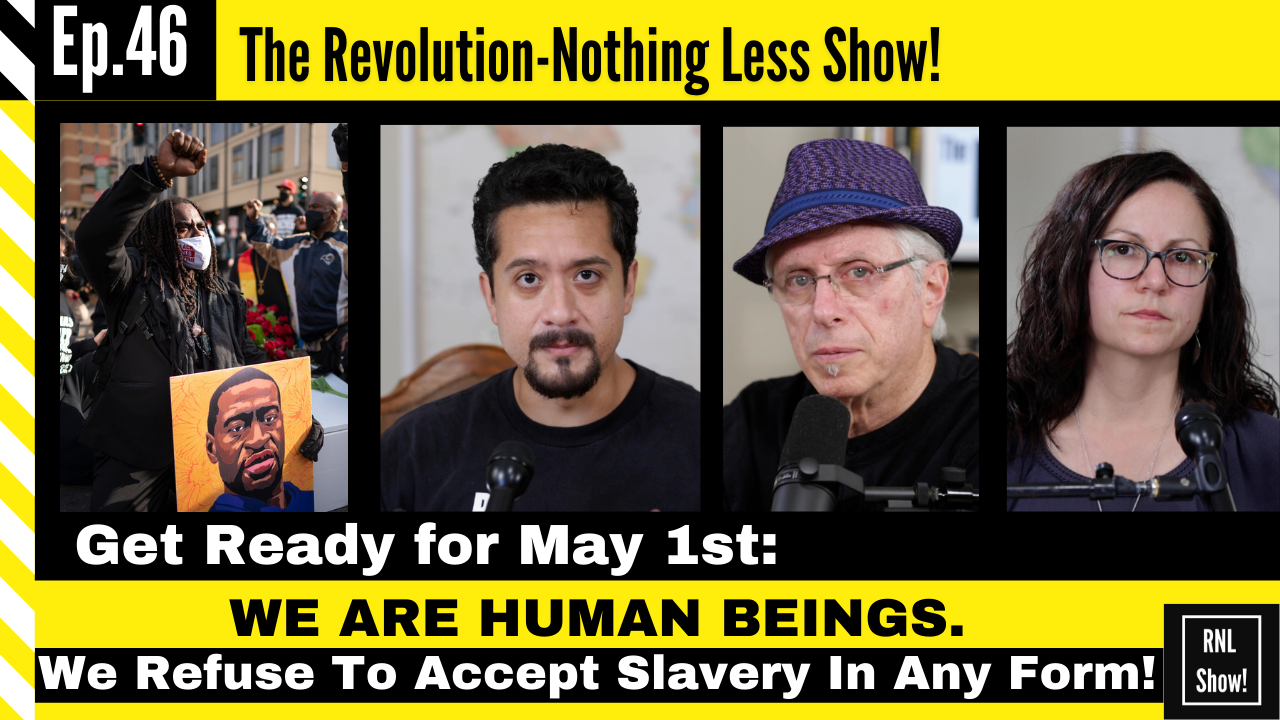 International Revolutionary May 1st is coming… and we've got an announcement and invitation for all who crave a different and better world.
Plus, after one of the biggest uprisings in U.S. history last summer, a trial is underway of Derek Chauvin, the cop who murdered George Floyd. This case concentrates this country's whole history and present reality of racial oppression. We need justice! A piece from Bob Avakian will speak to: "Why is police terror necessary for this system?" A conversation between our host Andy Zee and people's lawyer Michael Coard will help us understand some of the laws and stakes now playing out in the trial of Derek Chauvin. Most of all, we need to get organized for the only thing that can get rid of the source of this ongoing police terror: Revolution, Nothing Less!
*****
Segments and links for Episode 46:
2021 International Revolutionary May 1st Announcement given by Noche Diaz, Spokesperson for the Revolution Club and member of the National Revolution Tour, with host Andy Zee
Bob Avakian on "Why Is Police Terror Necessary For This System?" (An illustrated excerpt from the article "Racial Oppression Can Be Ended—But Not Under This System").
A conversation between Andy Zee and Michael Coard, people's lawyer, writer, and professor on the beginning of the trial of Derek Chauvin.
The New Jim Crow Georgia bill attacking voting rights and the romanticization of plantation days.
Bob Avakian on "Why Do People Come Here?" from the 2003 talk Revolution: Why It's Necessary, Why It's Possible, What It's All About
"Across the Borderline" by Outernational ft. Bob Avakian
 

Like, Share, and Subscribe: YouTube.com/TheRevcoms
Follow @TheRevcoms on social media 
Donate and become a patron at patreon.com/TheRevcoms 

Volunteers Needed... for revcom.us and Revolution