What Police Showed These Weeks of Derek Chauvin's Trial for the Murder of George Floyd:
How Pigs Approach People of Color with Default Moves That Kill
| revcom.us
Testimony in the trial of Derek Chauvin for the depraved murder of George Floyd began on March 29. In the 19 days that followed, police in the U.S. killed at least 64 people, with Black and Latino people representing more than half.
As a simple illustration of How Pigs Approach People of Color, With Default Moves That Kill, let's look at a video that has gone viral:
On April 10, Caron Nazario, a 27-year-old Black and Latino man, released video of cops pulling him over in rural Virginia in December, because his license plate wasn't visible. Cops approached his car, guns drawn, screaming at him. Nazario, a uniformed Army lieutenant, remained calm but told them he was "afraid" to get out of the car. One pig responded, "You should be." Nazario asked what was going on: the cop said "What's going on is you're fixing to ride the lightning,1 son." The cops pepper sprayed him—three times!—kicked him in the knees, knocked him to the ground and kicked him some more.2
Going further on How Pigs Approach People of Color, With Default Moves That Kill, let's look at another case:
On April 11, Daunte Wright, a 20-year-old Black man, was pulled over by cops in Brooklyn Center, Minnesota. Cops claimed "expired tags." Daunte called his mom, scared. Then he hung up, got out of the car. One cop started to handcuff him because he had missed a misdemeanor court appearance. Daunte jumped back in the car, and a 27-year-veteran cop shot him dead. The cop claimed that she thought she was "just" tasing him. This is hard to believe to begin with, but in any case, it is completely outrageous even to tase someone—which is potentially deadly—who is not threatening anyone in any way.
... And another damning case:
On April 15, Chicago police (CPD) released video of the March 29 killing of Adam Toledo, a 13-year-old Latino child. Cops claimed they had a report of "shots fired" in the vicinity. (Note, not that someone had been shot, and not who had done the shooting.) They pulled over Adam and an older companion. Adam ran and one cop chased him down an alley screaming "show me your hands. Drop it. Drop it." Adam stopped, turned, and was shot dead. Before the video came out, CPD claimed it was an "armed confrontation"; the video showed clearly that Adam was complying with orders: he stopped, raised his empty hands, and turned to face the cop ... who then murdered him.
Following is original research from revcom.us volunteers, a partial list of people killed by the police in the first two weeks of April, as best can be determined by national and local press:
AmeriKKKa April 1–13, 2021
Police murder is so normal in the U.S. that only the most outrageous cases, and for which there is video or eyewitness documentation, even come to public attention. But the killing grinds on day in and day out, and for every person killed there are dozens or hundreds directly impacted, and countless more who are terrorized by police violence that they survive and that goes unreported. (In Minnesota, for example, cops are not even required to report when they pull guns on people.)
On April 5, Iremamber Sykap, a 16-year-old Pacific Islander was killed when Honolulu police opened fire on a car he was driving, with five other kids in it. One of them—a 14-year-old—was severely wounded. Iremamber was much loved by family, friends and teachers, but he was desperately poor and reportedly had a history of robberies and similar crimes. Police claim the car he was in was stolen and had been used in some other crimes.
A week later, in Knoxville, Tennessee, cops shot 17-year-old Anthony J. Thompson in a high school bathroom. Cops claimed that Thompson shot one of the cops first, but it turned out that he was not wounded by the gun that the cops claimed Thompson had. At this point it is not clear if Thompson really had a gun, and if he did, whether it was fired or not.
Here is the known death toll for the first two weeks of April: Police killed 37 people—almost three a day.
| | | |
| --- | --- | --- |
| Date | Name | City, State |
| April 1 | DeShawn Tatum | Rock Island, Illinois |
|   | James Iler | Brighton, Illinois |
|   | Steven Ross Glass | Lakewood, Colorado |
|   | Unidentified* | Fremont, California |
| April 2 | Natzeryt Viertel | Salem, Oregon (22) |
|   | Noah Green | Washington, DC |
|   | Angel Nelson | Corona, California |
|   | Unidentified | Hurdle Mills, North Carolina |
|   | Lauren Archibeque | Long Beach, California |
| April 3 | Jeffrey Appelt | Corvallis, Oregon |
|   | Gabriel Casso | New York, New York |
|   | Jose Arenas | Phoenix, Arizona |
|   | Juan Carlos Estrada | Moreno Valley, California |
|   | Samuel Yeager | Douglas County, Colorado |
| April 5 | Iremamber Sycap | Honolulu, Hawai'i |
|   | Roy K. Jackel Jr. | Buena Vista, New Jersey |
|   | Silas Lambert | Anadarko, Oklahoma |
| April 6 | Devin Wyteagle Kuykendall | Redding, California |
|   | Tyler R. Green | Oneonta, New York |
|   | Stephanie Voikin | Miami, Florida |
| April 7 | Dominique Williams | Tacoma Park, Maryland |
|   | James Lionel Johnson | Tacoma Park, Maryland |
|   | James Alexander | Philadelphia, Pennsylvania |
| April 8 | DeShund Tanner | Georgetown, Kentucky |
|   | Raheem Reeder | Tallahassee, Florida |
| April 9 | Douglas C. Barton | Bethel Township, Ohio |
|   | Unidentified | Whitewater, California |
| April 10 | Unidentified | Metairie, Louisiana |
|   | Faustin Guetigo | Rockford, Illinois |
|   | Unidentified | San Fernando, California |
|   | Rescue Eram | San Marcos, Texas |
| April 11 | Daunte Wright | Brooklyn Center, Minnesota |
| April 12 | Pier Alexander Shelton | Bremen, Georgia |
| April 13 | Peyton Ham | Leonardtown, Maryland |
| April 14 | Marcelo Garcia | Houston, Texas |
|   | Lindani Myeni | Honolulu, Hawai'i |
|   | Jacob Wood | Mars Hill, Maine |
Of the 37 people killed by police in April:
9 Black, 5 Latino, 1 Asian, 7 white, 15 nationality not stated
According to the police: 15 were armed with a gun, 6 knife, 1 rifle, 1 airsoft gun, 1 toy gun, 1 tire iron, 12 no weapon named (including unarmed)
* People who are "unidentified" means that their names have not been made public in news reports
---
1. "Ride the lightning" is a reference both to tasering someone and to the electric chair. [back]
2. The Washington Post reports that when Nazario was a boy he watched the NYPD murder Eric Garner, a member of his extended family who he called "uncle." Afterwards, a cousin told him firmly that if confronted by cops "he had to stay calm, comply, never make them feel threatened." Maybe that was in his mind when police pulled out behind him; Nazario slowed down, put his turn signal on, but continued driving for a few minutes to find a public place to pull over. Maybe that's why he's alive today. [back]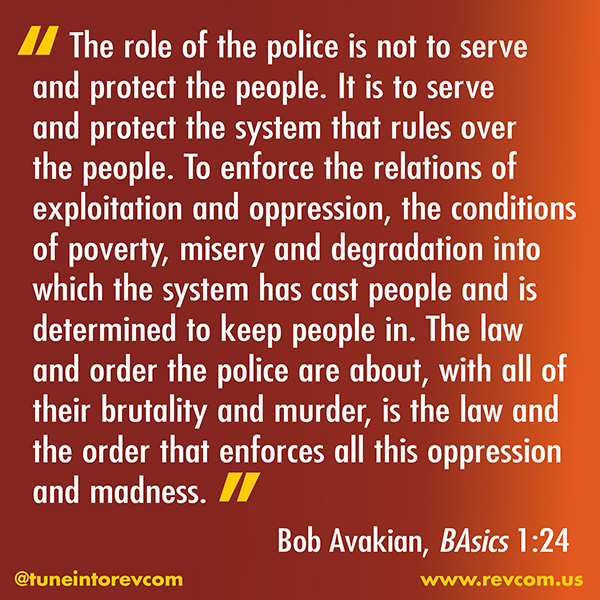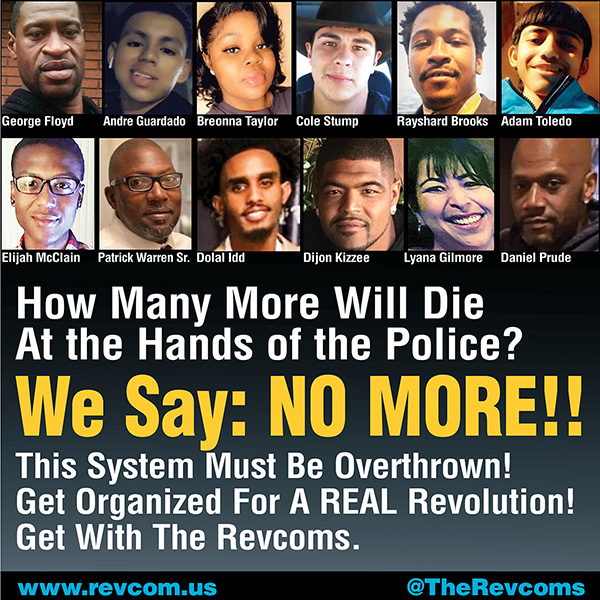 Volunteers Needed... for revcom.us and Revolution