People Await with Eagle Eyes on the Chauvin Trial
| revcom.us
Letter from a reader:
People have been intently watching, waiting—with a seething anger, as the trial of Derek Chauvin dug even deeper into what so many already knew: That this depraved pig murdered George Floyd with a stunning lack of even an ounce of humanity.
The deep wound felt by so many people who watched the video less than a year ago, not even scabbed over, was reopened and scraped bloody with each new video, each new detail that has come out in the trial about the last moments of George Floyd's life. This is such a moment of collective trauma, grief, outrage—and determination to see justice.
Coming from all over the country, people have been visiting, gathering at the spot where George Floyd took his last breath, maintaining a memorial with flowers, candles and signs. George Floyd's face looks out at you from posters and large paintings. Trash cans have been reborn as street art. And there are also the names of others who have died at the hands of police—Philando Castile, Breonna Taylor, Freddie Grey, Eric Garner. A small library has been set up in the parking lot of the now boarded-up Speedway and there is a food bank. The people are clearly in control here, the cops who nervously remember the beautiful uprising against the murder of George Floyd last May are, so far, staying away.
Periodically the air is pierced with demands for justice—"No justice, no peace... Say his name." And for 10 months now, people have occupied this intersection of 38th Street and Chicago Avenue, the scene of the crime etched in the minds of so many watching the trial.
Mileesha Smith, who brought her five- and eight-year-old sons, said, "It's hard to be both an activist and a mom. If somebody told me two years ago I'd basically be spending a year fighting for justice, I'd say you were crazy. We would rather be doing something else with our time. But sometimes it's not about what you want to do. It's about doing what you have to do."
People have also been gathering outside Hennepin County Government Center where the trial is taking place, letting the world know that the people will not accept anything less than a conviction for Chauvin, with the maximum penalty. Twenty-six-year-old Ashley Dorelus said, "We will be here every day and every night until we see some justice... This is a revolution, ladies and gentlemen. It is not a parade."
Seft Hunter, a community organizer, said, "What we cannot do is rest all of our hopes on the trial when, in essence, what we're talking about is a system that makes this behavior permissible in the first place. That system will remain intact after this trial is over, irrespective of what the outcome ultimately ends up being."
Watching the trial has brought back the flood of emotions from last year for Kyra Walker, who said, "I had a moment where I just felt broken and I started thinking about Ahmaud Arbery and Breonna Taylor and how in such a short time frame, it was like one Black death after the other, without a break."
Leigh Smith, who has watched the trial every day so far, said, "You catch a murder on camera and you're going to explain away to me that this man died of a heart attack? All this does is reaffirm the hatred and entrenchment of white supremacy and white domination over communities of color."
Meanwhile, authorities are preparing for repression against the people. The city spent at least $1million to erect barbed wire fencing and concrete barriers. Over 3,000 National Guard soldiers have been called in to join police and sheriff's deputies, standing by on high alert. Minneapolis Police Chief Medaria Arradondo, referring to the beautiful and so justified uprising of people after the murder of George Floyd, has made it clear that "We cannot allow that to happen again."
In response, people have found ways to go up against all this and make clear their determined demand for justice. It's become a people's ritual, coming up to the fencing and attaching ribbons, flags, signs. People are taking shifts to ensure the protest occupation never flails. The names of people brutalized, killed by the police are written on various types of locks and then attached to the fence, an initiative called "Locks 4 Stolen Lives."
People have also locked themselves to the fence in defiance. A high school English teacher, 48-year-old Kaia Hirt, who padlocked herself to the fence for nearly 24 hours, said, "This isn't about me at all. These fences that the city erected are representative of their inability to build a relationship with the community. If I have to sit out here with these silly chains on to get you to listen to me, I will."
The authorities can't even tolerate these heartfelt gestures by the people. They come in and regularly wash away chalkings people have put on the sidewalk and remove the locks—which people quickly replace with new ones.
Very few of the businesses that were destroyed in last May's uprising have been rebuilt, like Elias Usso's pharmacy. But Usso looks at the loss of his business from a larger perspective than a small-business mindset. He said, "That's the price we pay for justice. I really see it that way. If there wasn't a cry out for a Black man getting killed on the street, who would have heard us?"
Civil rights activist Frank Nitty, who came from Milwaukee to witness the Locks 4 Stolen Lives, said, "Anything that shows we want justice, they'll destroy. All the while they're keeping monuments that represent slavery and some of the most racist people in the country." Nitty also raises the whole question of whether this country will recognize the humanity of Black people, saying, "Of course we want people to go to jail for killing George Floyd, but we want to be treated fairly walking down the street, and it goes beyond. If we were out here protesting for dogs, they wouldn't have done that. They can sympathize for dogs, but they can't sympathize for Black people. And that's a telling part of what's happening in this country."
Trahern Crews of Black Lives Matter Minnesota said, "America hasn't been welcoming to the descendants of slavery since we've been in this country, and that's what this trial is all about... Will America respect our humanity and give us the justice we deserve, socially, politically and economically?"
---
Sources:
"'No justice, no streets': Still grieving, Minneapolis residents wonder how city will move forward after Derek Chauvin trial," by Trevor Hughes, USA Today, April 4, 2021.
"Protesters Are Chaining Themselves to the Fence Outside Derek Chauvin's Trial." by Samir Ferdowsi, Vice News, March 31, 2021.
"Chauvin's trial leaves many Black viewers emotionally taxed," by Noreen Nasir and Corey Williams, PBS/NPR, April 3, 2021.
"Why the Chauvin trial feels so momentous," by Sean Collins, Vox.com, April 12, 2021.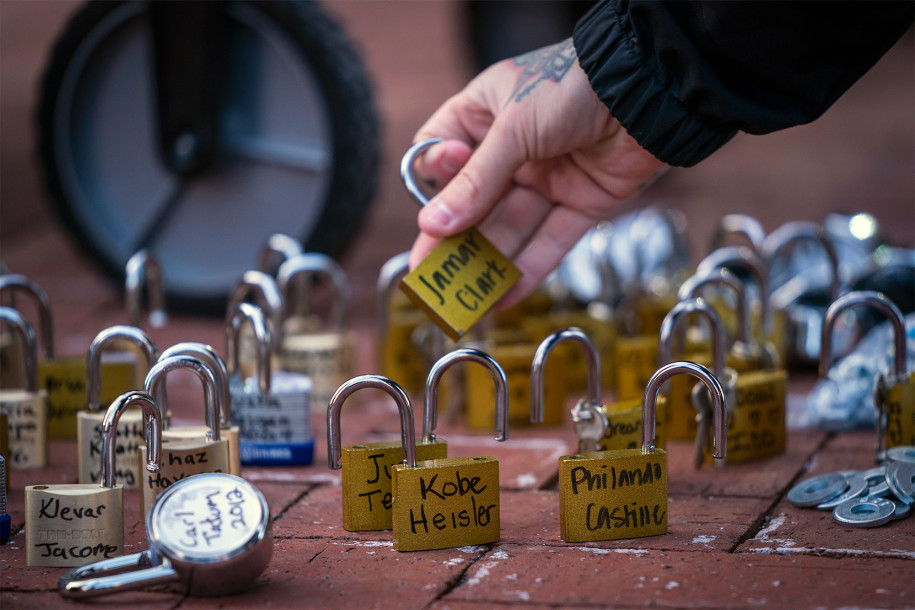 Volunteers Needed... for revcom.us and Revolution