Reporter's Notebook
Life in Occupied New York
A Cry for Justice
by Debbie Lang
Revolutionary Worker #996, February 28, 1999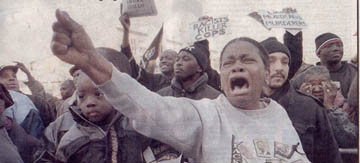 After the murder of Amadou Diallo, the New York RW bureau organized a multinational team of people, including a French translator, to go out to different neighborhoods and interview people. The following Reporter's Notebook is the result of this work:
"This is terrible for the whole world--the Black community, African, American, Hispanic, Puerto Rican, everything, everybody together. Everybody came here to cry because this made everybody sad. This made everybody sick. It's the first time that something like this happened where they killed someone in New York where the whole world has come to cry.
Immigrant from Senegal
at the site of Amadou Diallo's murder,
translated from French
A week after Amadou Diallo was shot in cold blood, 41 times by four New York cops, I went back to the site of his murder. The small hallway where he had been murdered was still filled with hundreds of flowers, dozens of candles, signs, cards and fliers announcing protests for justice. Throughout the day and despite bitter cold temperatures, hundreds of people came to pay their respects, as people had every day since Amadou Diallo was killed. Some brought flowers or handwritten notes to place in the narrow entryway where he had died. Others prayed. One member of our team said it reminded him of when people visit the concentration camps in Europe or the slave forts in Africa.
We watched as people walked into the entryway and looked at the shrine and the bullet holes. They were heartbroken and angry. Many wondered who might be next, especially since the cops that murdered Amadou have not been arrested or charged. They have been put on desk duty and in fact, were issued new guns after they murdered Amadou Diallo--because the ones they used to kill Amadou were taken for "evidence."
A brother from the Caribbean told us, "It's not fair what they did. Not fair at all. They shot him like an animal." Another Caribbean immigrant said, "These guys should be behind bars already. If I had walked up to a police officer and shot him, they would lock me up without any question. The color of my skin have me guilty. Why can't these guys be behind bars? That's all I want." A woman from the West Indies told us, "I watch my kids because I swear to god, I don't care nothing about these cops because they are wicked, they are brutality. We have to have justice." Two West African guys drove by and shouted, "Down with the New York City Police!"
Many people on the street in front of the shrine had tears in their eyes. A 40-year-old African-American man told us, "I just want to say this is horrible. They didn't give the brother a chance. It was a fusillade. I still can't comprehend how could they do that. I went in there, I had to come out 'cause I started crying. I couldn't handle it. `Cause it's a shame. I couldn't believe it, these people are still coming in looking. I had to come. Something compelled me, you know? I just had to come see how could they do this to somebody...
"This man was from Africa. I was born here. If you're a Black man you cannot even walk out on the streets. It's a shame the way they treat people in this country. The police, I can't believe how they did this man. I just can't express it. One man got shot that many times and he was a slight man. He wasn't even a physical man that would intimidate you by his presence. And he lived in a quiet community. They didn't have to do that. They emptied their guns. And it's such a narrow passage. He didn't even have a chance. It was an execution. He didn't have a chance at all. And he's not even from America. He came here to make a better life for hisself and look what happened to him."
A Black woman who works at John Jay College of Criminal Justice said, "As a concerned mother I am outraged. I have a 29-year-old son who's relocated to North Carolina. If I had to go there and pick up his body with 19 bullets and he did nothing it'd be unbearable. This breaks my heart. I had to come over. I was over last Sunday. I'm here again."
Many people brought their children to see where Diallo had been shot down. A Black woman told us, "My son's only 10. It could happen to him at 10 years old." Her son said, "I think it was kind of scary because only police shooting Black people, that's not right, and I would think that Black people should be respected as well as whites." We asked people who brought their children what it's like, wondering every time their kids walk out the door, if they'll come back. And we asked them what advice they gave their children. One Black woman answered, "Oh, it's terrible. For me to tell my son, I'm practically telling him to walk with his hands in the air. This is America. It's not right."
We spoke with a woman from Antigua who was there with her children: "I have my kids, I have my son, I have a daughter. And Diallo, it's really sad what happened to that young guy. It could happen to anybody. It could happen to my husband. It could have happened to my brother, my kids, you know? This country is a very corrupt country when it comes to Black people. And these policemen, they're very racist." She referred to a man who was arrested that day, charged with drunk driving, criminally negligent homicide and second-degree assault, and held without bail after his car hit and killed a cop: "Somebody just kill a cop today and that guy's in prison already. They don't lock up these guys where they killed him outright, you know? They should lock them up." She brought up something on the minds of lots of people we talked to--that there still has been no justice for Haitian immigrant Abner Louima who was beaten and sodomized by police with a plunger in 1997: "Abner Louima, that's awful. Really bad. If my kids go to prison, they gonna beat them, put that to them like that? Because of what? Because they're Black. They don't have no respect for Black people."
A Puerto Rican woman told us, "I think this is a travesty of justice. It's amazing what happened here. Forty-one times and they don't have the decency to think about it, you know? I mean you see them on the news, they're laughing. That's the worst thing about it. I think all of us have to finally get together and protest. I mean all the Hispanics, all the Blacks, we all need to get together and protest because if not, this will just keep on going."
Chuck is a young African-American brother who lives in the neighborhood. He gave the police the finger when they drove by so we went up to talk to him. "That's right. And that's how I feel. Fuck tha police...This is just a reflection of how the NYPD feels about Black men in general. They don't give a damn. They don't care about our lives. We're of no value to them and they feel they can do whatever they want and this is just one incident that's publicized of something that happens every day."
The authorities have targeted people in this neighborhood under the cover of the "war on drugs." One section of a street called Elder Avenue has been barricaded on every side with cops who demand I.D.s from anyone who wants to pass through. Chuck said, "The police presence has not helped in a way that would be positive...We've got to protest. We've got to make our presence felt. We've got to be out here protesting. We've just got to do something and it has to be something radical. I'm tired of just letting stuff like this happen. We have to be out here. That's why me and my man is here right now, 'cause we ready to do whatever. This is a revolution."
Broad Support
"If it had been just one bullet, this killing would have remained in the dark. We want justice. We want justice for all those who have suffered so this will never happen again."
Saikou Diallo, Amadou's Diallo's father,
quoted in Newsday
On Sunday, February 14, Amadou Diallo's family took his body home to be buried in Guinea. A motorcade of supporters with more than 600 cars made its way from 125th Street in Harlem to Newark International Airport to see them off. Hundreds of people filled the streets in Harlem to watch it leave. Thousands of miles across the ocean, crowds of Guineans met Amadou Diallo's family at the airport in Conakry, including many top government officials. Many young people wore T-shirts with pictures of Amadou. Hundreds lined the sides of roads from the airport to the center of the city to watch as the Diallo family passed by. After a funeral service at the main mosque in Conakry, Amadou Diallo was buried in his village of Hollande Bouru.
In New York, in the weeks after the murder, there has continued to be meetings, protests and prayer services all over the city--and many more are planned. In Washington, D.C., 400 people rallied in front of the White House to demand justice for Amadou Diallo. And many people who don't normally speak out against police brutality have begun to do so. In Harlem, 2,000 people attended a prayer service at the historic Abyssinian Baptist Church. As I came into the church I noticed leaflets for "A Day of Outrage and Mass Action" on a shelf. From my seat in the top section I could see almost every corner of the room. It was packed so full some people had to stand. Most who attended the service were African-Americans but there were people of many different nationalities. Some of the rabbis, imams and other religious leaders had brought people from their places of worship.
After a prayer for the families of the victims of police brutality, Reverend Calvin Butts welcomed everyone. He called for people to unite and said, "We can and will work together." Then he read names of people killed by the police, listed by the October 22nd Stolen Lives Project. Many religious leaders of different faiths spoke or offered prayers at the service. Rabbis from all over the city and upstate took part."
The System Protects the Police
"Justice need to be served on that and the police need to stop being judge, jury and executioner all at the same time."
30-year-old Black man in Harlem
On February 16, a grand jury was convened to consider whether to charge the four cops who murdered Amadou Diallo with a crime. The news media is already reporting that if they are indicted, the most serious charge could be second degree murder. Many people don't trust this secret process which is under the control of the D.A. and almost always lets cops who murder people go free.
The same day this grand jury convened, a protest was held nearby at the Bronx courthouse. A thousand people showed up, mostly immigrants from Africa and the Caribbean, with a mix of African-Americans, Latinos and white people. The official program included 45 minutes of speeches by elected officials and religious leaders. After the official program ended something really powerful happened. People stood where they were, turned to the people next to them and began to speak bitterness about the way they're treated under this system. It was an incredible sight--people from many different countries who had never met were talking like they had known each other for years, sharing experiences and realizing they had a lot in common--and a common enemy. They didn't have to "wait for the facts"--they had lifetimes of experience with police brutality and oppression under this system. People crowded around me to be interviewed and tell their stories.
The first person I talked to was an African-American woman who stood next to me during the rally. She had screamed in the face of police who told her she had to let the press stand in her spot. She was angry at the cops and angry that the mainstream media was telling lies to justify the murder of Amadou Diallo. She was close to tears when she told me, "I don't understand. I don't understand. And I'm angry. I have a son who's 27 and I'm scared for him! We're going back. This is Germany. It's Germany all over again, just a different color people. They want to get rid of us! No jobs, they don't need us! It's Germany. It's Hitler all over again." She said that in order to get justice we need, "All the people in the street. Everybody to come out. Everybody to be outraged. Don't wait until something happens to one of your family members. Everybody has to come out to stop it."
Parents Against Police Brutality had a contingent at the protest. They held pictures of their loved ones who had been murdered by the police. I asked Margarita Rosario, the founder of the group, what she wanted to say to people. She said, "The first thing that I wanted to do was to introduce all these parents that are here today and remember their kids who have been killed. That's what I was thinking of doing if I had a chance to speak and make sure that they were heard and seen." Evadine Bailey was also at the rally. Her son Patrick was shot by Kenneth Boss last year. Boss is one of the four cops who murdered Amadou Diallo.
The Bronx D.A. in charge of the grand jury examining whether to indict the cops who killed Amadou Diallo, is Robert Johnson. Margarita told me about her experience with him when her son Anthony was shot in the back by police three years ago: "I remember in my case, he made sure that Patrick Brosnan and James Crowe [the two cops who shot Anthony Rosario and his cousin Hilton Vegan] did not get indicted. So I believe that the only way that these four cops [who shot Amadou Diallo] are going to get indicted is if we keep the pressure this big. Because if there's no pressure, Robert Johnson will put in a judge and make sure that that judge lets these four cops go free." Margarita was referring to the fact that in New York people are allowed by law to choose to be tried by a judge with no jury and that cops always choose a judge, such as in the Anthony Baez case, because the judges in almost every case acquit the cops.
A woman from Guyana joined a discussion and interview I was doing with a man from Nigeria and another from Ghana. She spoke with great anger about Mayor Giuliani's response to the people's intense outrage at the murder of Amadou Diallo. Giuliani had just announced that the police would now be issued hollow point bullets. These bullets expand when they enter your body and cause more damage, killing you faster. Under this twisted logic, Giuliani argued, it's better to fire less shots and kill someone faster! What this really means is some people who would have been wounded with the bullets cops use now will die when shot with hollow point bullets.
The woman from Guyana walked up, listened a bit and then loudly interrupted: "Now he wants hollow bullets. And I don't care what you was doing, it not right for you fire 41. I mean this wasn't the gun! You cannot blame the gun! This was a person dead. It's not fair and it could have been my son. I have five and if they do that to any of them, I'll kill them. You understand? I don't care if he's white, brown, red, pink, purple. You have no right to kill him....This was a human being."
We noticed that a group of protesters had taken the street and marched off so we ran to catch up. They marched to the building where the grand jury was meeting, chanting, "We want justice! Justice for Amadou!," "Black Power!," "Whose Streets? Our Streets!" The "community affairs" cops tried to find out who was "leading" the march and stop it, but the people paid no attention to them. They took the street and blocked traffic. They looked up at the cops on the rooftops and yelled, "This is a police state!" Dozens of "Killed In Cold Blood by the NYPD"--RW posters listing the names of people murdered by the police--were distributed. Fliers announcing protests against the execution of political prisoner Mumia Abu-Jamal changed hands. As the group marched toward the subway station they faced off with the police and chanted "Murderers! Murderers! Murderers!"
We All Fit The Description
"I want justice to be done. What happened to my son could have happened to any one of us."
Kadiadou Diallo, mother of Amadou Diallo
in a phone interview from Guinea
with the Amsterdam News
Our team went to Harlem because a lot of African immigrants live there and it has been the scene of many protests demanding justice for Amadou Diallo. Like other places we went, our multinational team was welcomed by people of different nationalities. While we were on our way to a West African restaurant we met Danny, a young Black guy who was hanging with his friends on the street. There have been many "theories" floated out by the authorities and the media for why the cops fired so many times. These include that their own bullets "ricocheted" and they thought they were being fired on; that Diallo didn't fall down fast enough because the bullets passed through his body so quickly; and that one of the cops fell down which led the others to believe he had been shot.
Danny ridiculed the official story that the cops were looking for a rapist and Diallo fit the description: "I mean when you bring four white police from Nassau County and put 'em in the middle of Harlem when they probably don't like Blacks anyway, I mean, you understand what I'm saying? I mean let's be real about this....Then you see you give 'em these guns and badges and say yeah, okay, well go ahead down there and police the n*ggers. Okay. We looking for a rapist. What the rapist look like? He was Black, 5'7", with a skull cap on his head and a down coat and boots on. That's the whole neighborhood. But that's the mentality we're under. To them, all of us is either rapists or drug dealers or killers."
This made me think of something I saw in an article in the Amsterdam News. They reported that some cops in the Street Crimes Unit--which the cops who murdered Amadou Diallo were part of--had made T-shirts with this quote from Ernest Hemingway: "Certainly there is no hunting like the hunting of a man, and those who have hunted armed men long enough like it, and never really care for anything else thereafter."
The murder of Amadou Diallo is not an isolated incident. Between 1992 and 1996, the NYPD murdered 187 people, most of them Black and Latino youth in poor neighborhoods. Only in a few cases have cops even been charged with a crime.
There is an extremely intense outrage among broad sections of people that I haven't seen in a long time. As we talked to people in Harlem, I thought back to two women I had met during the week after Amadou Diallo's murder. One was an 18-year-old white student from the suburbs on Long Island who I met at the prayer service at the Islamic Cultural Center. She said she came because: "I'm just sick and tired of the way minorities are being treated in this country and people that are sympathetic to them get treated the same way and I just think it's ridiculous. I really do. I think something has to be done about it and the whole government, the whole system needs to change. It's not working. This government's not working."
The other woman was from the Caribbean. We met her outside the apartment building where Amadou Diallo was murdered. She said, "In the new millennium, we are not going to be treated like dogs. We are going to be standing up for our rights because we are human beings, too.... If we revolt against what's happening to us, I think that's the only thing that they could understand because we are being subservient right now and we're just dealing with things as they go along. If we were to revolutionize I think they would understand that this is what we're not dealing with anymore."
---
This article is posted in English and Spanish on Revolutionary Worker Online
http://rwor.org
Write: Box 3486, Merchandise Mart, Chicago, IL 60654
Phone: 773-227-4066 Fax: 773-227-4497
(The RW Online does not currently communicate via email.)