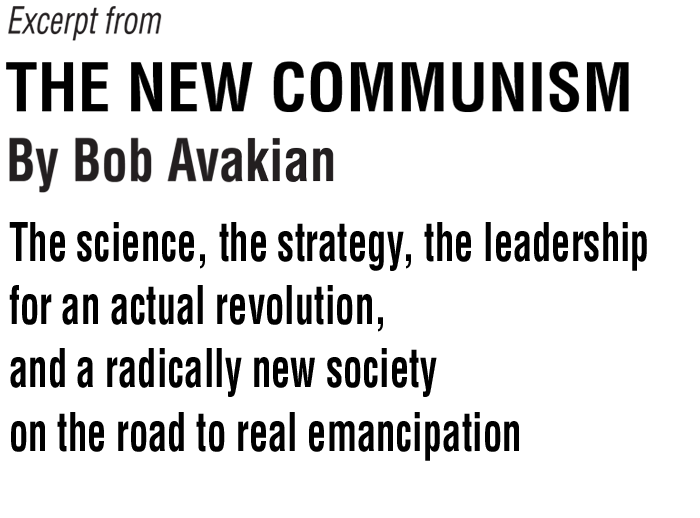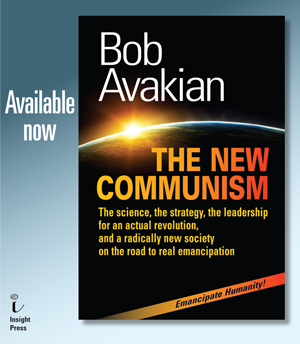 Download PDF of entire work
Editors' note: The following is an excerpt from the new work by Bob Avakian, THE NEW COMMUNISM. In addition to excerpts already posted on revcom.us, we will be running further excerpts from time to time on both revcom.us and in Revolution newspaper. These excerpts should serve as encouragement and inspiration for people to get into the work as a whole, which is available as a book from Insight Press. An updated pre-publication PDF of this major work—now including the appendices—is available here.
This excerpt comes from the section titled "IV. The Leadership We Need."
Excerpt from the section:


Working Back from "On the Possibility"—Another Application of "Solid Core with a Lot of Elasticity on the Basis of the Solid Core"

Here is something that needs to be very clearly and firmly grasped: It is a matter of strategic importance to develop a large core of experienced and tested leaders—not just "tens" but at least hundreds of such leaders, on all levels—firmly grounded in the line, above all the scientific method and approach of the new synthesis, and capable, on that basis, of taking initiative to lead, including in situations of sharpening contradictions and the intensification of repression and even attempts at violent suppression by the powers-that-be, throughout the process of advancing the "three prepares"; and then, when the conditions come into being, this core of tested leaders needs to be capable of giving direction to thousands, and in turn millions, to fight all-out, in a unified way, for the seizure of power. Whether or not such a cadre of leaders—in the hundreds, at least—is developed, will have a significant bearing on whether or not all the work we are doing now is really preparing for revolution, and whether there is a real chance of winning when the time comes.

So, in conclusion: makers of revolution, emancipators of humanity—that, and nothing less, is what we are called on to be, and to bring forward in greater and greater numbers. A vanguard of the future, not a residue of the past—that is the challenge that must be met, and the struggle that must be waged. Going forward from what we're doing here, back out into the world—the world of the movement for revolution and the Party as its leading core but, beyond that, the larger world, and its transformation, which is the scope and the purpose of what this revolution and this Party are, and must be, all about: bringing alive, applying in a living way, propagating and fighting in a compelling way for, what has been grappled with and learned here, and the revolutionary line and leadership it represents—to consistently build for an actual revolution, concretely accumulate organized forces for this revolution, and continue to further transform and strengthen the Party as the force at the core of this revolution. This is what we must be all about, what we must be determined to do.
Contents
Publisher's Note
Introduction and Orientation
Foolish Victims of Deceit, and Self-Deceit
Part I. Method and Approach, Communism as a Science
Materialism vs. Idealism
Dialectical Materialism
Through Which Mode of Production
The Basic Contradictions and Dynamics of Capitalism
The New Synthesis of Communism
The Basis for Revolution
Epistemology and Morality, Objective Truth and Relativist Nonsense
Self and a "Consumerist" Approach to Ideas
What Is Your Life Going to Be About?—Raising People's Sights
Part II. Socialism and the Advance to Communism:
A Radically Different Way the World Could Be, A Road to Real Emancipation
The "4 Alls"
Beyond the Narrow Horizon of Bourgeois Right
Socialism as an Economic System and a Political System—And a Transition to Communism
Internationalism
Abundance, Revolution, and the Advance to Communism—A Dialectical Materialist Understanding
The Importance of the "Parachute Point"—Even Now, and Even More With An Actual Revolution
The Constitution for the New Socialist Republic in North America—
Solid Core with a Lot of Elasticity on the Basis of the Solid Core
Emancipators of Humanity
Part III. The Strategic Approach to An Actual Revolution
One Overall Strategic Approach
Hastening While Awaiting
Forces For Revolution
Separation of the Communist Movement from the Labor Movement, Driving Forces for Revolution
National Liberation and Proletarian Revolution
The Strategic Importance of the Struggle for the Emancipation of Women
The United Front under the Leadership of the Proletariat
Youth, Students and the Intelligentsia
Struggling Against Petit Bourgeois Modes of Thinking, While Maintaining the Correct Strategic Orientation
The "Two Maximizings"
The "5 Stops"
The Two Mainstays
Returning to "On the Possibility of Revolution"
Internationalism—Revolutionary Defeatism
Internationalism and an International Dimension
Internationalism—Bringing Forward Another Way
Popularizing the Strategy
Fundamental Orientation
Part IV. The Leadership We Need
The Decisive Role of Leadership
A Leading Core of Intellectuals—and the Contradictions Bound Up with This
Another Kind of "Pyramid"
The Cultural Revolution Within the RCP
The Need for Communists to Be Communists
A Fundamentally Antagonistic Relation—and the Crucial Implications of That
Strengthening the Party—Qualitatively as well as Quantitatively
Forms of Revolutionary Organization, and the "Ohio"
Statesmen, and Strategic Commanders
Methods of Leadership, the Science and the "Art" of Leadership
Working Back from "On the Possibility"—
Another Application of "Solid Core with a Lot of Elasticity on the Basis of the Solid Core"
Appendix 1:
The New Synthesis of Communism:
Fundamental Orientation, Method and Approach,
and Core Elements—An Outline
by Bob Avakian
Appendix 2:
Framework and Guidelines for Study and Discussion
Notes
Selected List of Works Cited
About the Author