Dispatch from Harlem: 48 Hours After the Zimmerman Verdict
A Whole Scene of People of All Ages Watching Revolution – Nothing Less!
July 16, 2013 | BA Everywhere | revcom.us
In the midst of the outrage and resistance in response to the murder of Trayvon Martin, the BA Speaks: Revolution – Nothing Less! Van Tour arrived in Harlem. Just the night before, 200 people were out on 125th street in Harlem in response to the not guilty verdict of Trayvon Martin's killer George Zimmerman. People marched through Harlem while thousands gathered in Union Square in the evening for a march and rally that went to Times Square with hundreds of people continuing to march up towards Harlem into the night. The thousands who came out were largely youth, Black and white, that found this verdict unjust and intolerable. This is a moment of resistance and anger, of people standing up, not wanting to live in a world where there is no justice for Black youth, and furthermore a death sentence hanging over their head given a further green light by this system. It is this moment that the Van Tour touched down in Harlem.
Arriving for the welcome event, the Van Tour and protesters were greeted by another message from the state. Where yesterday people filled the public square to rally and protest, today the entire block was barricaded off and a heavy police presence was standing by. This was spoken to by a revolutionary as being not only an outrage but an exposure of what this state power is all about, that this is their answer to the protest of this injustice.
A rally and speak out welcomed the Van Tour with people from the day before coming to continue to give expression to their anger. The group welcomed the van with a call and response chant, "I say Trayvon you say Martin! I say Revolution you say Nothing Less!" It was announced in the middle of this that the goal for the BA Everywhere Indiegogo campaign had reached its goal of raising $20,000 in 20 days. People cheered at this news and two young journalists that intern at a Black publication made a point of telling us how impressed they were with this and that its objectively impressive- a news story in its own right that this kind of money was raised for this revolution and suggested that a press release be written about this.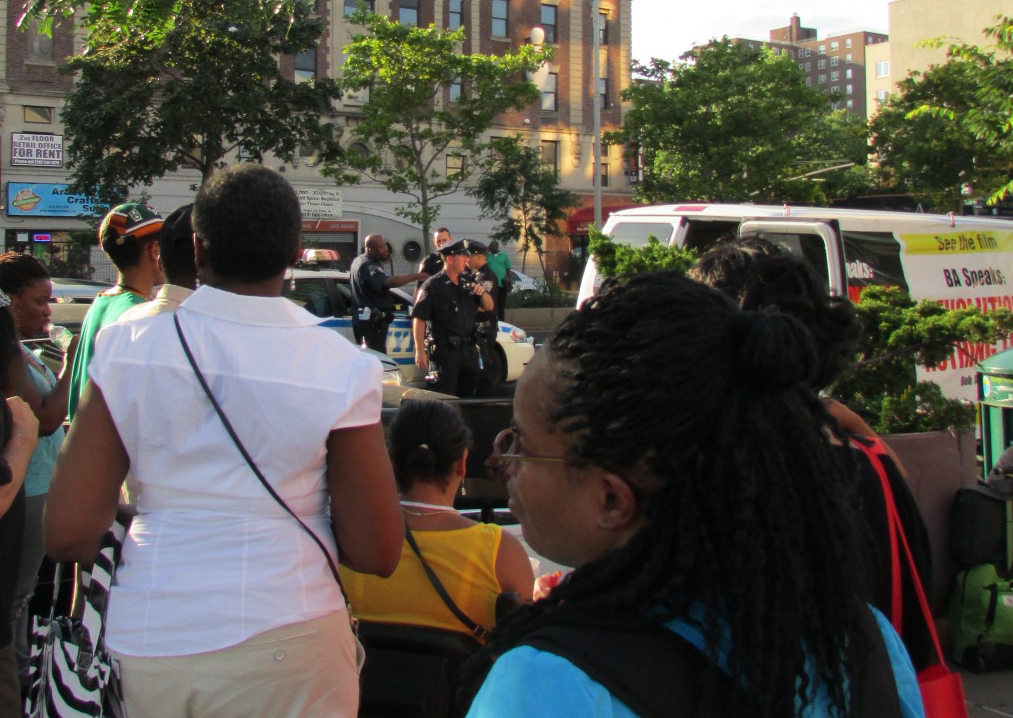 The Revolution Club called for people to march over to where the van was down the block and see the film. This was also important because a number of police cars had parked and pulled up near the van. So that's what people did, they gathered around the van and continued to speak out about what Trayvon Martin means to them and the outrage of the not guilty verdict, and why they came out. There were several fund pitches with someone from the masses who came calling on people to contribute to cover the cost of materials and to give to organizations like this that are leading people to stand up. Then BA Speaks: Revolution – Nothing Less! was introduced. People gathered around the large TV screen set up on top of a cooler on the sidewalk near the van, to get into it. There was a whole scene of people watching the film of all ages from little kids to older folks, people walking by stopping for a few minutes, and some sitting down and getting into it. This was a new and exciting development! A crowd gathering around to see and hear and get into BA and find out about the leadership we have to make a revolution and end all this, that's a new thing and a taste of what this Van Tour is going to do this week, making a leap in this movement for revolution being built at a critical moment.
The Van Tour had some food that was donated and a couple people volunteered to serve dinner to the crowd as people watched for about 40 minutes, with other folks coming by. People were called on to be part of the tour giving money, donating food and housing, and coming out with the van. One person bought the film and more donations were collected. People mingled and talked about what they heard in the film and then a number of people wanted to march so the group gathered up and marched down 125th street over to the projects where the Van Tour would be heading the next day. A lot of people were out and responded with their fists in the air and cheers when they saw the march so we ended by circling around to a playground where a lot of these folks were hanging out and going as a group to get fliers, revolution newspaper, palm cards for the film. We went and talked to people there about what they thought. There were a few groups of youth hanging out and then people with their kids in the playground. We had a banner with us and they came up and right away wanted to get their picture taken with it. Some of the guys were challenging their friends that were apprehensive about coming over , "Get over here! You're not too good. You're not too good to be in the picture." It was announced that the Van Tour would be there and people were invited to come see the film and get with it. Then an artist from Harlem who had joined the march was inspired to sing a song for everyone right there in the playground and the day concluded.