From Stop Patriarchy
Day 1 and 2 of the Week of Defiance
August 30, 2014 | Revolution Newspaper | revcom.us
The Week of Defiance kicked off in Austin, Texas on Monday, August 25. Stop Patriarchy and the Abortion Rights Freedom Ride identified this as a critical turning point in a nation-wide emergency and said: "Now is the time for resistance, for refusing to back down in the face of injustice. Now is the time to defend women's lives and women's rights. Abortion on Demand and Without Apology."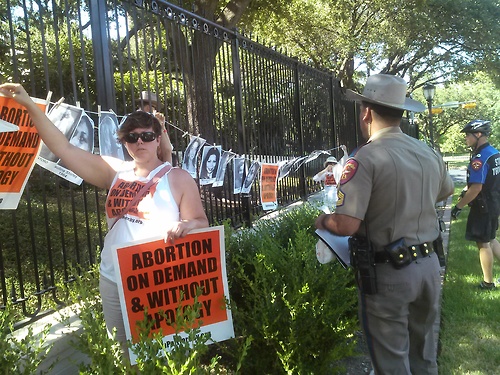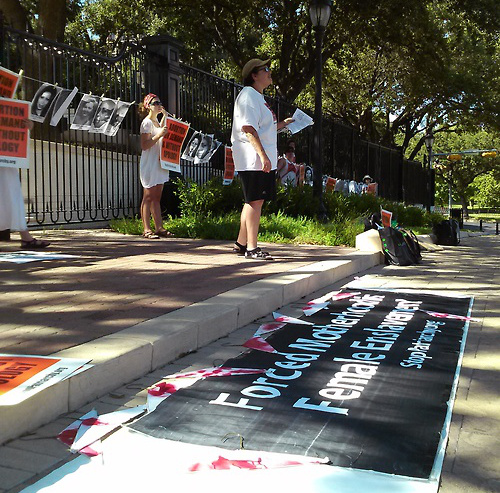 Governor's mansion, August 25.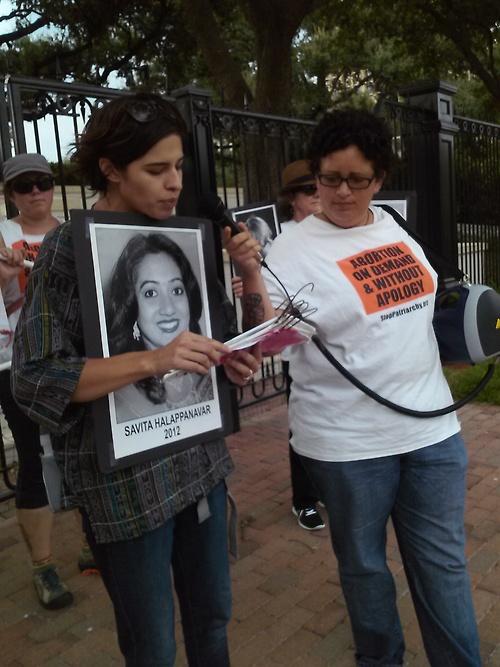 Day 1 of the Week of Defiance in Austin, TX.
We came together in front of Rick Perry's mansion at 4pm and assembled our installation of the images of women who died from illegal abortions, along with coat hangers with messages from people all over the country who do not want to see women slammed back.
This installation needs to grow daily, because it is the case that most people in this country do not want to see women forced to bear children against their will, and so we need these stories to pour forward, so others know they are not alone, so we can break the silence, shatter the stigma, and so that we can build up the strength to stop these attacks and defeat this war on women.
Day 2
Day 2 of the Week of Defiance, reaching out the students at UT Austin and then back in front of Rick Perry's mansion. We held a speak-out where we read aloud the messages sent in from people from all over the country. Dozens of stories have been gathered so far, both on the ground here in Austin, and sent in from New Mexico, New York, Oakland, Canada, and beyond.
We ended the rally, going around the group, speaking bitterness. A few women who were new to come forward in this fight, each spoke to their experiences of walking through this world, being treated as less than human, in all shorts of ways. An older black woman spoke about being the scapegoat of her family, discriminated against and abused for her disability, brutally beaten by police for no reason, and her experience having a coat-hanger abortion. Another woman, a young student, spoke about her frustrations with the complicity of her friends, coworkers, and her generation as a whole; not taking these attacks on abortion rights, seriously. Another woman, spoke about her children; her daughter who at age 9 is already being objectified by older students in her school, and her 8 year old son who is learning how to respect women as human beings, and is already being bullied for this.
The people who have come forward for this week of defiance, represent masses of people who have these stories, who are sick and tired of this society which takes the oppression of women as a given, and whose anger needs to be unleashed to stop this war on women.

Volunteers Needed... for revcom.us and Revolution
If you like this article, subscribe, donate to and sustain Revolution newspaper.