Burning Questions
Six Reasons Stop Patriarchy Is Going to Mississippi for Abortion Rights
by Sunsara Taylor | July 27, 2015
An Initial Report on Take Patriarchy By Storm, Mississippi 2015 – Abortion On Demand and Without Apology
by Stop Patriarchy | August 24, 2015
What Is an Abortion and Why Women Must Have the Right to Choose
by A.S.K. | Reprinted August 3, 2015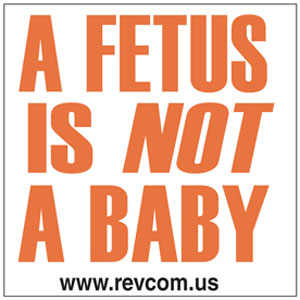 Read more
A Fetus Is Not A Baby! Getting Out the Truth in the Bible Belt
August 3, 2015
Read the article | See the brochure
Carl Dix Calls Out the LIE that Abortion is "Black Genocide"
Originally posted January 16, 2015
Abortion on Demand Is Liberating—Not Genocidal!
January 12, 2015
Black Women's Lives Matter! All Women's Lives Matter! Abortion on Demand and Without Apology!
June 13, 2015
STOP the Lies and Attacks Against Planned Parenthood! Abortion On Demand and Without Apology!
by Sunsara Taylor | July 27, 2015
The Invented Planned Parenthood "Scandal": A Right Jab and Left Sucker Punch on a Women's Right to Abortion
August 3, 2015
The Pink House and Its Defenders
Who Are the Women Going to the Last Abortion Clinic In Mississippi?
August 17, 2015
by Sunsara Taylor. Women are everywhere. They make up half of society. Half of the world's population. Yet, so much of what women are forced to endure daily is kept invisible. Right now, for example, a vicious war is raging against the right of women to decide for themselves when and whether to have a child, yet almost never do you hear the actual impact this is having on women. Already this year, more than 50 laws have been passed to further restrict abortion rights. Fascist lawmakers are clawing all over each other to be the most extreme in abolishing abortion—and even birth control—yet the women whose lives are being crushed by this are left completely out of the picture. Read more
Diane Derzis: "I am so proud to say I am an abortionist."
August 17, 2015
Read excerpts from the people's hearing
Revolution Interview: "This is one of the most special places I've ever been."
November 11, 2013
Diane Derzis, owner of the last abortion clinic in Mississippi, talks with Sunsara Taylor about legal threats to her clinic, her own abortion, anti-abortion violence, and the joy of serving women. Read the interview
Revolution Interview: Dr. Willie Parker, Doctor at the Last Abortion Clinic in Mississippi
October 25, 2013
In an effort to bring attention to the emergency that confronts the women of Mississippi, Sunsara Taylor conducted this interview with Dr. Willie Parker, one of the two heroic abortion doctors who regularly flies to Mississippi to provide abortions. Read more