Revolution #411, November 2, 2015 (revcom.us)
Voice of the Revolutionary Communist Party, USA
Please note: this page is intended for quick printing of the entire issue. Some of the links may not work when clicked, and some images may be missing. Please go to the article's permalink if you require working links and images.
---
Permalink: http://revcom.us/a/411/the-october-22-24-demonstrations-rise-up-october-en.html
Revolution #411 November 2, 2015
The October 22-24 Demonstrations—Rise Up October
An Important Step Forward in the Fight Against Police Terror—That Must Now Be Taken Further
November 2, 2015 | Revolution Newspaper | revcom.us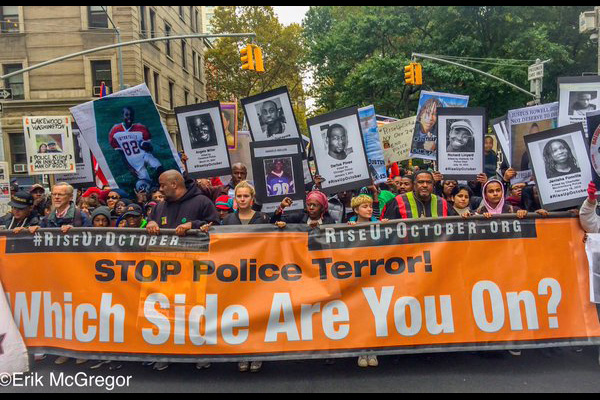 Rise Up October, October 24, 2015, New York City. The front of the march. Photo: Erik McGregor
The demonstrations on October 22 to 24 against police murder and terror said in unmistakable terms that THIS MUST STOP. The thousands who testified, resisted, and marched through the streets made clear that there was a force, a movement, that is determined to draw a clear line, challenging everyone, throughout the country, to RISE UP against this.
Last fall, the exoneration of the blue-coated murderers of Michael Brown in Ferguson, Missouri, and then Eric Garner in Staten Island, New York, provoked thousands to pour into the streets for weeks and weeks, and then in Baltimore in the spring people rose up in righteous rebellion. In response, the powers that be acted to both repress and derail the movement. The people needed to come back into the streets, determined to STRUGGLE to end the genocidal madness of rampant police murder and mass incarceration, and determined to reach out broadly to do so. The dual tactics of outright attack and the sugar-coated poison of misdirection actually intensified in the days leading up to and through these demonstrations. (See "Cops Can't Do Their Job on Video—Then What IS Their 'Job'?!" "No, Mr. President! Aiding and Abetting the Slow Genocide of Black People Is a Crime Against Humanity," and "Reality Check on October 20 Events in East Harlem, NYC: The REAL Problem," which goes into how an incident with an NYPD cop just days before Rise Up October was used as a pretext to attack the protest.)
In the face of all this, all kinds of people came out. This included the force of over 100 family members who had lost loved ones to police murder, fighting through their pain to let the world know what happened and expressing a determination to put an end to this terror and murder. It included voices of conscience who joined with those parents and, in some cases, came under attack for doing so. It included students coming from scores of different colleges and high schools, often having made this a question on the whole campus. It included those, again sometimes in groups and sometimes alone, coming from the neighborhoods where the police terror goes on daily and where mass incarceration scars the lives and destinies of whole peoples. It included people from the suburbs, clergy and religious people of different faiths, artists and scientists and teachers, who refused to turn their heads or be silent. It included people from all the different regions of this country. And it also included the Revolutionary Communist Party and the Revolution Club: bringing out the full picture of WHY this was happening, pointing to the solution to this through revolution and the leadership of that revolution in Bob Avakian, and showing how this struggle contributed to that, and—at the same time—giving leadership and coherence to a movement that is capable of uniting with everyone who could be united right now to demand that this genocidal murder STOP.
As people testified in Times Square and sat in at Rikers Island prison and then poured through the streets on October 24, the full dimensions of the horror began to emerge. Its roots in the system of white supremacy and the centuries-long and ongoing oppression of Black, Latino, and Native American peoples in this country were exposed. And the legitimacy of this system's violence began to be put on trial. What happened at these demonstrations, and the voices of some of those who came, are highlighted in this issue. (See "No More Stolen Lives: Say Their Names," "A Shout-out to the Courageous Fighters Who Put Their Bodies on the Line to Shut Down Rikers Island Prison," and "Thousands in the Streets of NYC for #RiseUpOctober: STOP POLICE TERROR! Which Side Are You On?") The key to the agitation and organizing that led to this was to sharply lay out the reality to people and squarely put the challenge to them: WHICH SIDE ARE YOU ON?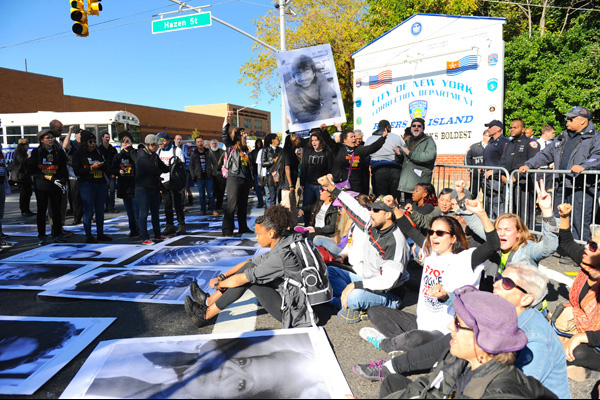 Protesters blocking the entrance to Rikers. Photo: revcom.us
The outpouring hit with real impact. There were page-one pictures and stories in some of the major New York City papers, as well as broader coverage nationally and internationally. (See the Stop Mass Incarceration Network website, stopmassincarceration.net, for the national and international media coverage of Rise Up October). Then, directly after the demonstrations, forces in the police (including NYPD Commissioner Bratton) and the media (especially but not only FOX News) not only attacked the demonstrations but also specifically targeted film director Quentin Tarantino for coming to the demonstrations and calling out murder by the police. The movement hit back, and through all this began to pose the challenge to even broader sections of society: WHICH SIDE ARE YOU ON? Now, in a certain sense, the struggle has been joined on certain terms—you're either for keeping this shit, in some form or other, or you're against it.
Now we all have to carry forward this whole "Rise Up! Which Side Are You On?" standard of uniting ALL who want to struggle to stop police murder. This means defending Quentin Tarantino in that context, mobilizing people against further outrages as they happen, and really getting people out there for the November 22 day of action to forcefully demand the indictment of the cops who murdered 12-year-old Tamir Rice for playing with a toy gun. (See "Voices of Conscience Step Up in Defense of Quentin Tarantino and Condemn the Police Union Threats and Boycott" and "November 22: Justice for Tamir Rice!"; and go to "Breaking News and Outrages" for news of ongoing outrages, like the videotaped police brutalization of a high school student, a young Black woman, in South Carolina.)
These three days in October were just a foreshadowing of the movement that we actually need and which in fact is possible. The thousands who came out, their spirit of militant STRUGGLE, and their determination to CHALLENGE ALL OF SOCIETY TO TAKE SIDES marked the emergence of what could be and what must be something new. The fact that at least in a beginning way new people worked and sacrificed to make this happen—donating money, throwing themselves into organizing and helping to lead—provides a foundation for this to really go forward in a more powerful way. The program of struggle called for by Carl Dix and Cornel West ("A Message from Cornel West and Carl Dix on October 24") gives a focus. In the days to come, the movement needs to both dig into what we did right and what we did wrong—our strengths as well as our shortcomings and mistakes... but even more, it needs to do this in the spirit of going forward, united in even more powerful expressions, until this is actually STOPPED.
What we said in our editorial in September, applies to the task before us now:
There is a place for you in this. Your ideas, your support, your efforts are urgently needed... In fact, this can only happen on the scale that is absolutely necessary if many, many people throw in on this, now—people who have been fighting this, as well as people who are just now coming to the fight. You are needed. We face a decisive moment, a crossroads, where terms are being set as to what is legitimate, what will be tolerated and what will be opposed. Lives are at stake. Be part of determining the outcome.
WHICH SIDE ARE YOU ON?
---
Permalink: http://revcom.us/a/411/u-s-boots-on-the-ground-in-syria-en.html
Revolution #411 November 2, 2015
U.S. "Boots on the Ground" in Syria:
Turning Up the Flames in a Hellish Clash of Criminals
November 2, 2015 | Revolution Newspaper | revcom.us
On October 30, Barack Obama ordered 50 U.S. troops into Syria. To listen to the news and politicians in America you would think the only problem with Obama's move is that it puts 50 Americans "in harm's way." Here's a reality check and a morality check: American lives are not more important than other people's lives. Obama's move will intensify the living hell for millions of people in Syria and beyond, and ratchet up a whole set of deadly and dangerous conflicts.
The current multi-sided war in Syria has killed over 200,000 people in four years, and—as of 2014—driven over 11 million people from their homes. Seven and a half million are refugees within Syria. Another four million have been forced out of the country. This year the situation has gotten worse—Syrians make up the single greatest source of humanity risking their lives to cross vast expanses of land and sea to seek refuge on the cruel, unwelcoming shores of Europe, or risk ending up dead at the bottom of the Mediterranean Sea. And the most defining factor in the whole complex set of forces that created this horror is the United States.
How Did We Get Here?
In March of 2011, in the midst of "Arab Spring" uprisings in countries like Tunisia and Egypt, protests broke out in Syria against the Assad regime. The U.S. rulers saw this as a moment to make a move against a regime that has been aligned with rival powers—Russia and Iran—it sees as a threat to its "turf" in a strategic part of the world. And so the U.S.—that self-proclaimed "champion of freedom and democracy"—enlisted, unleashed, or set loose a murderous collection of reactionary Islamic fundamentalist, anti-Assad military forces in Syria—including affiliates of Al Qaeda. These reactionary forces quickly pushed any other opposition to Assad out of the way. The military forces fighting Assad today have different agendas and regional backers—including Saudi Arabia—with sometimes violently conflicting interests. But none of them are any good. And none of them are too thuggish, or too dark-ages reactionary, or even too tightly aligned with Al Qaeda, that the U.S. won't declare them part of the "moderate opposition" when and to the extent it serves their interests.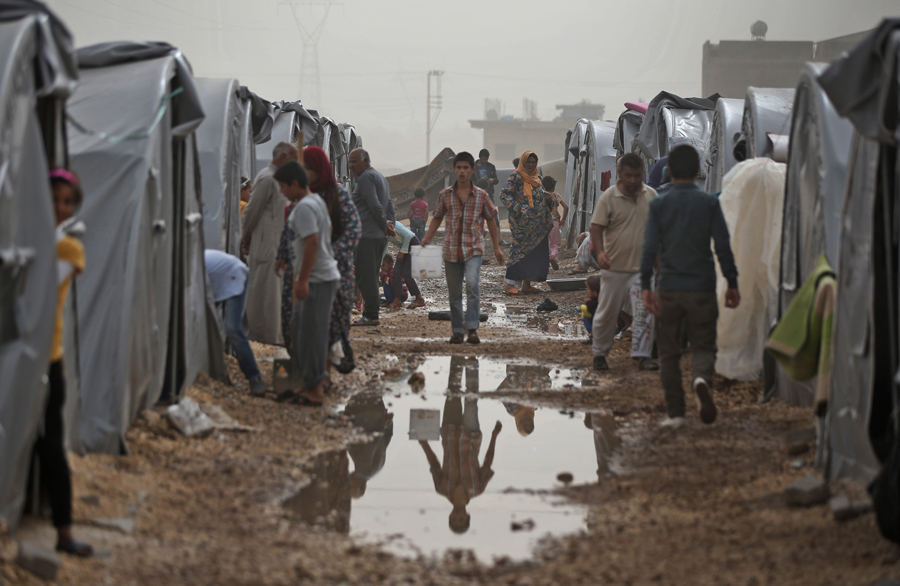 The escalation of imperialist violence in Syria is bound to force more Syrians to flee their country. Refugees from places where the insane workings of imperialism have made life impossible do not, overwhelmingly, make it to Europe. Instead they end up trying to survive in camps in other poor countries. Above: Syrian Kurdish refugees at a refugee camp in Suruc, at the Turkey-Syria border. Photo: AP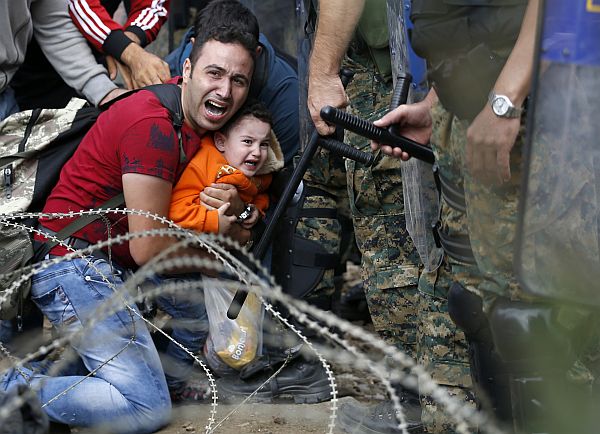 The waves of refugees who do enter "Fortress Europe" are facing harassment, discrimination, and organized hate campaigns created by many of the ruling forces in Europe. Above: Migrants attempting to cross the border from Greece into neighboring Macedonia, August 21. Police at the border fired tear gas and stun grenades to drive them back into Greece. Photo: AP
In 2013, when the tide of the war seemed to be turning in favor of Assad and his backers, the U.S. threatened to massively escalate direct military involvement. Those threats came in the midst of accusations that the Syrian government was using chemical weapons. The accusations might have been true, and the Assad regime has committed massive war crimes. But according to human rights agencies, all sides in the conflict, including the forces backed by the U.S., have been carrying out kidnapping, torture, and summary assassinations of their opponents and civilians. Human Rights Watch reports that "non-state armed groups opposing the government also carried out serious abuses including deliberate and indiscriminate attacks on civilians, use of child soldiers, kidnapping, and torture in detention." Many of those non-state armed groups are backed by the U.S.
The devastation, chaos and power-vacuum that war created are fueling the growth of more and more virulent jihadists, and ISIS has been able to take advantage of the situation to seize power in large sections of the country. Meantime, the U.S. has not been able to cobble together anything close to a force on the ground it can count on to serve its agenda. The U.S. and other powers have found themselves in a situation where every move they make ratchets up the conflicts they face, increasing the suffering of the people, and increasing the danger of a whole other range of conflict and war.
In late July of this year the U.S. and Turkey made an agreement where Turkey, a reactionary regional power and U.S. ally, would cooperate more with the U.S. in exchange for a U.S. okay for Turkey to bomb Kurdish forces in Syria and Turkey—even as the U.S. is enlisting many of these same Kurdish forces to fight in its interests in Syria. That set off a devastating Turkish bombing campaign against the Kurds in Syria and ferocious violent repression against Kurdish people in Turkey.
At the end of September, in response to the increasing vulnerability of the Assad regime, Russia launched air strikes against forces fighting Assad. And Russia and Iran have stepped up their on-the-ground role in the fighting. Obama's action to send in U.S. troops "sees" Russia's move and ups the ante, increasing the potential for a direct clash between the U.S. and Russia, or an escalation in the role of other regional powers including Israel and Saudi Arabia. And Obama's injection of U.S. troops directly into Syria—accompanies new negotiations over who will emerge in the best position to carry out more and worse crimes in Syria and in the region and beyond.
Needed: ANOTHER WAY
All of the forces fighting on the ground in Syria are reactionary and fighting to entrench or expand the interests of global or regional exploiters and oppressors. But nobody in this conflict is more responsible for the horrors than the United States and its allies. One way or another this new escalation of U.S. involvement is bound to make things worse.
How to break out of this hellish cycle? The situation—where there is not visible and determined opposition to the crimes of "our government"—MUST CHANGE. The more a movement of opposition to the crimes of "our government" isin the streets of the United States, the more basis there is for the world to see that the real interests of humanity lie completely outside capitalist-imperialist powers or Islamic fundamentalist Jihad. And to bring forward another way—a real and liberating alternative to these horrors.
---
Permalink: http://revcom.us/a/411/bob-avakian-breaking-out-of-a-deadly-dynamic-en.html
Revolution #411 November 2, 2015
Breaking Out of a Deadly Dynamic
An Excerpt from:
Unresolved Contradictions, Driving Forces for Revolution
by Bob Avakian
Excerpt republished November 2, 2015 | Revolution Newspaper | revcom.us
The following is from Part 1 of Unresolved Contradictions, Driving Forces for Revolution, an edited transcript of a talk given by Bob Avakian, Chairman of the Revolutionary Communist Party, USA, Fall 2009. The entire work is available online at: revcom.us/avakian/driving
I want to begin by briefly speaking to the continuing relevance and importance of the "two historically outmodeds" analysis in today's world—that is, historically outmoded strata among colonized and oppressed humanity up against historically outmoded ruling strata of the imperialist system, with a particular focus on U.S. imperialism. As we have, for good reason, repeatedly emphasized, the greater harm done and the greater danger to humanity is by far embodied in the imperialist "outmoded," and in particular U.S. imperialism. And because of this, it is criminal to (at least objectively) support U.S. imperialism and its many monstrous crimes in the name of opposing the other "outmoded." Even with the very real horrors committed by Islamic fundamentalists—against women in particular, but against the masses of people more generally—it must never be forgotten, or covered up, that these very forces and the crimes they commit have, in a fundamental sense, been fostered by the imperialist system itself, directly and indirectly, through conscious efforts to support and build them up in certain circumstances (for example, U.S. support for and massive aid to such fundamentalists in Afghanistan during the Soviet occupation of that country) and through the overall functioning of the imperialist system with the massive dislocation and upheaval and brutal oppression and suffering it causes for masses of people in the countries of the Third World under imperialist domination.
Breaking Out of a Deadly Dynamic
It is also very important to emphasize yet again that these "two outmodeds" do, in fact, reinforce each other even while opposing each other; and that therefore supporting either of these "outmodeds" leads to the strengthening of both and the continuation of this deadly dynamic and a disastrous dead-end for humanity. This is something which many people have difficulty, for various reasons, grasping or coming to terms with. To put this another way, many people have a hard time understanding how it is we got to where we are today.
There is, ironically on the Fox channel, an interesting TV program called Lie to Me, whose main character (played by Tim Roth) is Dr. Cal Lightman, a scientist who is supposed to be the world's leading deception expert. As presented in this program, Lightman is able to study people's body language and facial expressions, etc., and tell much more accurately than a lie detector when they are lying or covering something up, or what emotions they are feeling, even when this may be manifested in ways that are difficult to discern by the ordinary person without the necessary training. Well, whether it is really possible, scientifically, to determine things like this in this way—or to what degree that might be possible—may be of interest, but it is of secondary interest in regard to the point I am emphasizing here. More interesting, in this regard, is an exchange that took place in one of the episodes of this program (Lie to Me) where the FBI had gone in and bugged some Islamic mosques, and at one point, as a result of doing this, they were supposedly able to prevent a crime from having been committed—another "terrorist act," although on a lesser scale than September 11, 2001. And then in the aftermath of this, at the end of this episode, there is an exchange between Lightman and an FBI agent (played by Mekhi Phifer), where Lightman says: Well, you may have prevented a specific act, but you've created a lot more Islamic fundamentalists by the way you did it—because you went in and committed this outrage against a sacrosanct mosque, you invaded this holy place in this way by bugging it. And the FBI agent comes back with: Yes, but we prevented this horrible act from taking place. In response to this, Lightman insists that you have to think about the longer term effects—to which the FBI agent replies: that's a problem for tomorrow. And then Lightman comes back with the punch line, which "caps" the exchange: How do you think you got to today?
This, in its own way, captures what a lot of people don't understand. You keep this dynamic going—whether it's Israel or the U.S.—you go and you obliterate whole sections of a country, as was done in Lebanon and then in Gaza by Israel with the full backing of the U.S. (including Obama, by the way, in the middle of his campaign in 2008) and, with every bomb that falls, with every small child that's buried in the rubble, you are creating a new generation of thousands and thousands of Islamic fundamentalists. Now, of course, there is a role—a very important role—for people who are genuinely, and from a much better place, against the imperialist system and opposed to what Israel represents in the overall framework of the imperialist system and as an occupying colonial settler state in Palestine; it's the responsibility of such people to actively resist this, and it's our responsibility to unite with people in opposing this and work to win them to our revolutionary viewpoint. But when people, especially those in the imperialist countries themselves, support, or passively acquiesce in and do nothing to oppose, the acts of war and wanton slaughter, torture and so on, carried out by their governments, which today are aimed largely against people in the Middle East and other countries where Islam is the dominant religion—and whether this support or acquiescence is justified in the name of "modernity," in the name of ending horrible oppression of women, or is rationalized in some other way—this only serves to reinforce the dynamic where the imperialists have a freer hand to carry out these acts, and as a consequence new legions of Islamic fundamentalists are being created. So that tomorrow and tomorrow and tomorrow there are more and more people willing and determined to engage in acts of "terrorism against the West"—while, in the name of opposing these acts, and the forces who commit them, you are supporting imperialism or Israel or other reactionary forces in the world—while the dynamic goes on, and on, and the terms become increasingly worse.
People need to be confronted with that question: How do you think we got to today—and what do you think is going to be the dynamic if we don't actually stand up and oppose the crimes committed by U.S. imperialism, by our own government, in our name—or, even worse, if we actually support these crimes in the name of the horrors committed by the other "outmoded," by Islamic fundamentalists and other similar reactionary forces?
All this emphasizes, once again, the need to break out of, and fully rupture with, this whole framework and dynamic. Unless and until this is done, the people whose actual interests don't lie with either one of these reactionary forces, either one of these "historically outmodeds," will have no initiative, no way in which their real interests can actually be expressed in the powerful way they need to be.
So, it is crucial that revolutionaries and communists—but others as well who genuinely abhor these crimes committed by the one outmoded and the other, and who want to see a different kind of world where these crimes are not endlessly perpetrated and perpetuated—step forward and resist this. And this is all the more so, in recognition of two things, if you're in the imperialist countries and in particular the U.S. First, it is in reality the imperialist "outmoded," and in particular U.S. imperialism, which by far has done the greatest harm and poses the greatest danger to humanity. That's an objective fact. I challenge anyone to look into the facts objectively, and if you do so you cannot but come to the conclusion that this is true.
And secondly, in recognition of the fact that you live in this country, that this government acts in your name and justifies its acts on the basis of "protecting" you and acting in your interests. This only gives a further dimension to the need to step forward and oppose this imperialist "outmoded" in particular while, at the same time, working to break things out of this whole framework—opposing both "outmodeds" and the ways in which this deadly dynamic goes on where they mutually reinforce each other even while opposing each other.
---
Permalink: http://revcom.us/a/411/the-police-attack-on-quentin-tarantino-en.html
Revolution #411 November 2, 2015
The Police Attack on Quentin Tarantino – and the Urgent Need to Stand Against It
November 2, 2015 | Revolution Newspaper | revcom.us
by Annie Day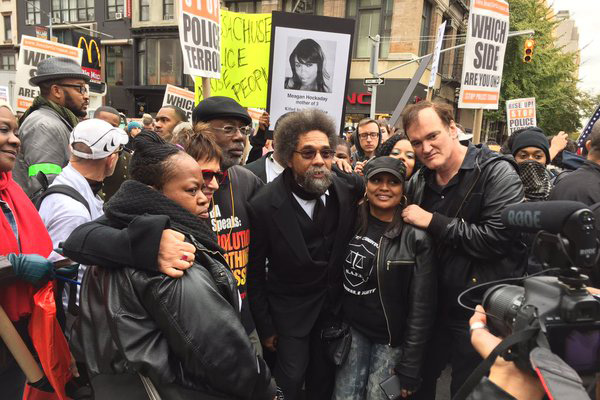 Eve Ensler, Carl Dix, Cornel West and Quentin Tarantino in march on October 24 with families of people murdered by police. Photo: Special to Revolution
On Saturday, October 24, the prominent filmmaker Quentin Tarantino stood before a protest of thousands as part of Rise Up October to Stop Police Terror/Which Side Are You On? and stated: "I am a human being with a conscience and when I see murder, I cannot stand by and I have to call the murdered, the murdered and the murderers, the murderers."
For this, he has faced an intensifying and vicious attack with high stakes and big implications for all of society.
The following day, Patrick Lynch, head of the NY police union (PBA), issued a statement: "New Yorkers need to send a message to this purveyor of degeneracy that he has no business coming to our city... It's time for a boycott of Quentin Tarantino's films." The nationally prominent police commissioner of New York City, Bill Bratton, said, "Shame on him... basically, there are no words to describe the contempt I have for him and his comments." A number of commentators on Fox News, including the notoriously racist ex-cop Mark Fuhrman*, have gone so far as to say that police should make it impossible for Tarantino to film in U.S. cities (denying him permits, refusing to redirect traffic, etc.). Police unions across the country have joined the chorus, including from Los Angeles, Philadelphia, Chicago, New Jersey state, and more. Now, the National Association of Police Organizations (NAPO) has called for a boycott, distorting Tarantino's comments and the protest: "As a high-profile figure, Tarantino's language is utterly irresponsible, particularly at a time when the nation is seeing increasing and persistent calls for the killing of officers. Anti-police rhetoric like Tarantino's threatens the safety of police and citizens alike." They added, "We ask officers to stop working special assignments or off-duty jobs, such as providing security, traffic control or technical advice for any of Tarantino's projects. We need to send a loud and clear message that such hateful rhetoric against police officers is unacceptable!"
What these fascists and police organizations actually find unacceptable is that someone with the prominence and stature of Quentin Tarantino had the courage and morality to speak out against unjust police violence which goes unpunished time and time again.
Which Side Are You On?
At the same time, people have pushed back and defended Quentin Tarantino. This includes those who have been directly victimized by – yes – police murder; as well as other prominent artists and voices of conscience.
Nicholas Heyward, Sr., whose 13-year-old son was murdered by the NYPD while he was playing with a brightly colored toy gun, said: "I need to give a big shout out to the brave and noble man, Mr. Quentin Tarantino... Unlike far too many who see this injustice going down on a nationwide level, Mr. Quentin Tarantino could no longer stand back and not say anything... because he did what many are afraid to do and say, the police unions in New York, Los Angeles, Philadelphia and others are going to boycott his movies, in a cowardly stand which is saying to all others like brother Quentin Tarantino with celebrity status that if you speak out against the injustice of this system, the system will target you to bring you down... I am asking that everyone who believes in truth and justice to please stand up and support Mr. Quentin Tarantino for standing up and being unafraid to say: enough is enough..."
Lsana D'Jahspora, father of Cinque "Q" D'Jahspora who was murdered by police in Jackson, Tennessee in 2014, said: "...First you kill our loved ones and deny us justice, you criminalize us and our families, and then you incriminate any like Tarantino who dare to stand with us and call it what it is. The police call for boycott is a throwback to the blacklist of the '50s and '60s, and dares anyone to stand on behalf of people of color. Tarantino stood with us, stood with those suffering profoundly from the terror; he connected with the families as we sought to connect with each other. Stack up Quentin Tarantino's moral stand and authenticity against the government-sanctioned criminal terror raging across this nation, and it is clear who is on the right side of history."
Several challenged others in Hollywood to have the courage that Tarantino had in speaking out. Alicia Kirkman, mother of 17-year-old Angelo Miller who was murdered by Cleveland police on March 23, 2007, said: "I loved that Quentin Tarantino stood with the families! It showed he cares. Even though he is a famous person – he is on the front lines with us – saying he won't put up with murder by police either. He put himself in our shoes. He walked with us. It's not like he's too famous and can't be touched – no, he walked together with us and we feel good about it. More celebrities need to support us like he did. It's not like others who watch police murder our children on TV, but then don't come out because they are scared about their image. It's what they are trying to do to Mr. Tarantino – boycotting his movies, attacking him for doing right – that other celebrities are afraid of. Don't be afraid. Treat us like human beings like he did..."
These are tremendously significant, and more voices of those who face these attacks should be coming forward in support.
There have also been statements from other prominent voices of conscience, including Cornel West, filmmaker Charles Burnett, First Amendment lawyer Martin Garbus, musician Arturo O'Farrill, actor Peter Coyote and others. The National Coalition Against Censorship called out the dangers of "this disturbing message" from Lynch and others. The novelist Joyce Carol Oates tweeted: "It should not require unusual courage to protest police brutality as Quentin Tarantino has done but, evidently, it does." Burnett – one of the most prominent of independent Black filmmakers – said that "I can't say enough about Tarantino. He said what needed to be said. I hope his rage encourages all of us to speak out against genocide. When his new film opens, I will be there to show my support."
These statements against the attacks on Tarantino are important and have garnered some media coverage. But there need to be scores of people speaking out against these attacks – prominent actors and directors, musicians, writers and intellectuals of all nationalities have a responsibility to stand up against this kind of dangerous threat and intimidation. When artists come under attack in this way, when their livelihood and ability to create their work are threatened, other artists and prominent voices of conscience need to stand with them and make it known that they are not alone.
Why the Police are Attacking
People have seen video after video of Black and Brown people being brutalized, beaten, tazed and murdered – in their cars, in their homes, walking down the street and now in their schoolrooms – and the police are exonerated almost every time (even if they are fired or suspended in a case which sparks widespread outrage and protest, they almost never end up on trial, let alone convicted). In the face of this increasing exposure, and in the face of resistance against these crimes, sections of the ruling forces in society are trying to put this protest on the defensive. They do not want the brutality of the police forced into the light of day any more, and they are very afraid of those who do not experience this terror directly standing with those who do. Tarantino came under attack for his role as part of a group of artists and other voices of conscience who stood with the loved ones of police murder victims at Times Square on October 22 and (in the case of Tarantino) again two days later at the big demonstration in NYC demanding police terror STOP. Attacking Tarantino in this way is a sign of their tremendous weakness and their fear that other voices of conscience will also bring their platforms and spotlights onto the reality of what this means for the victims. Stung by the exposure of their ongoing, constant and illegitimate brutality, the police are hitting back harder, attempting to bully people into submissive silence.
Carl Dix, co-initiator of Rise Up October and representative of the Revolutionary Communist Party said, "The police threats against Quentin Tarantino amount to a mafia-style protection racket, only the payoff being demanded is toeing a political line, not cash. 'Don't dare criticize police who kill people, or we'll make it impossible for you to work in our towns.' It is aimed at sending a message, not just to Tarantino, but to anyone whose voice carries great weight in society: if you speak out, we will come after you, threaten your livelihood and attempt to scare you back into silence. They want the people who suffer the brunt of this brutality alone and ignored..."
Those are heavy stakes, and people cannot allow that – silence is complicity, and Quentin Tarantino must be defended. This is far more important than narrow self-interest, individual career-above-all-else or even real, but in this context secondary, differences with those who are unjustly under attack. And if we DO step forward... if we DO defeat this attempt at isolation, pillorying and censorship... we can actually open up new space for people to step out and speak out. And that would be very good indeed.
---
---
Permalink: http://revcom.us/a/410/scenes-from-rise-up-october-en.html
Revolution #411 November 2, 2015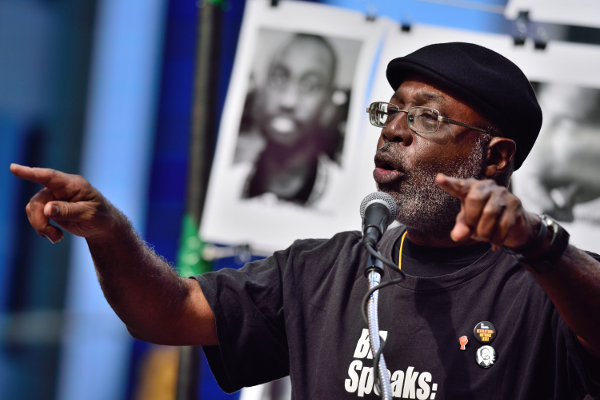 Photo: Eino Sierpe

Listen here
Carl Dix at the October 24 Rally: "Let's do all that we can to stop the horror of police murdering our people. And then let's do even more because we gotta stop this.
The following is a rush transcript.
Okay, Okay. You have seen the faces of the lives that have been stolen by the police. Beautiful lives that were cut down too short. This is unacceptable and our demand is very simple: police terror, police murder must stop. Not be reduced a little bit. Must stop!
Now sometimes people say well, your demand needs to be more concrete than that, Carl. So let me give you a concrete demand:
Indict, convict, send those killer cops to jail. The whole damn system is guilty as hell!
[chanting with crowd:]
Indict, convict, send those killer cops to jail. The whole damn system is guilty as hell!
One more time.
Indict, convict, send those killer cops to jail. The whole damn system is guilty as hell!
Now look, that's a simple and just demand. But we need to be very clear that when we raise that demand we gotta fight for it. Because there is a whole system that's behind those killer cops. It ain't just a few killer cops on the beat with some rogue DAs, or corrupt DAs, district attorneys. It's a whole system all the way up to the top, that arrested people en masse when we protested these killings over this last year, that demonizes our people, especially the young people to try to justify these murders.
Now when I say that, some people might be thinking, well wait a minute Carl, didn't Obama say he was going to do something about this a couple of days ago? Didn't he say that he supports Black Lives Matter? Well, let's be clear. The Obama who said something about Black Lives Matter six months ago said that the youth of Baltimore were thugs and criminals when they rose up in response to the police murder of Freddie Grey. So let's not get twisted by that. He's trying to rope us back in. He also said along with saying I'm gonna do something, it has to be incremental. Now what does that mean? It's gotta be small, slow steps to change things. That ain't going to cut it. This has got to stop. We don't want no small reduction of the people they warehouse in prison or the people that they kill. We want it stopped.
And look, we are going to fight to make that happen. Ain't no body going to do it for us. And we are doing that today. We've been doing that this week. Thursday, No More Stolen Lives/Say Their Name. Thursday afternoon, march and rally for the National Day of Protest to Stop Police Brutality. Yesterday, some of us put our bodies on the line to pose the demand, Shut Down Rikers Island—that debtors' prison and torture chamber. And that's what we're doing to do today and we're going to keep doing that.
---
October 24: Voices of Loved Ones of People Murdered by Police
Before and after the Rise Up October march through NYC on October 24, dozens of family members and other loved ones of people murdered by police shared the terrible loss they suffered, the outrage of lives stolen by police, and their solidarity with all victims of police murder. And over and over they declared their determination to continue to fight for justice—for their own loss, and to STOP all police terror. Following are just a few of those voices.
Lsana D'Jahspora is the father of Cinque "Q" D'Jahspora, killed by Jackson, Tennessee police, on November 6, 2014: Remember the name: Cinque, we called him Q. Q is here today I guarantee you. This young man's spirit was connected to mine even before he was born, and trust me, he is here. Cinque was gunned down—I say executed—in Jackson, Tennessee, just three months after Mike Brown. Lying on the ground, face down, and shot in the back. And not only that, Cinque caused so little threat these cops actually went to the car and then came back and shot him—in the back. You can see the execution on video. But even until this day they are in denial. They have even lied about the cop who fired the shot, this is how layered the conspiracy is, the cover-up. So I say to you families, I'm glad to be part of this justice train. I will go anywhere to stand with any family, but bring this justice train to the plantation in Jackson, Tennessee. Those of you who can, November 6 is the one-year anniversary. We got to take this train all around the country, but come to the plantation, because we need you there brothers. It's as bad as it was in the fifties and sixties.
Yolanda McNair, mother of Adaisha Miller, killed by an off-duty Detroit cop at a party at his house, July 2012: No investigation into my daughter's death. And they waited 25 minutes to call 911. They never checked him for alcohol or drugs. They stopped short of saying she shot herself. She had no gunshot wounds on her. She was shot in her lungs and it went through her heart. I don't think her going out that night to celebrate her life, her upcoming birthday, was her plan to end up dead. The last thing I told her was that I loved her. And I thank God that I got to hear her say 'I love you' back because I gotta keep that, I gotta remember that, for the rest of my life. But I'm here to fight for my daughter. I'm here to fight for everybody's child, parent, and grandchild. I'll be their voice. I'm gonna be here. And the police officer in Detroit who killed my daughter, I will be there when you go down too.
Venus Anderson, mother of Christopher Anderson, shot to death by Highland Park, Illinois, police in the hospital, November 3, 2014: My son was shot down in an emergency room by the Highland Park police station. Now my story might be a little bit different from y'alls considering my son did have a weapon on him, but it took them about two-and-a-half hours to realize he was armed. My son never pulled a gun out on the police. He was in the hospital for two-and-a-half hours before they discovered he had a gun on him. My son went walking through the hallway with his hands in the air saying 'Don't shoot, I surrender.' They put him back in a room and gave him forty-four seconds to put the gun down before opening fire on him, in 1.7 seconds, nine bullets at my son in a small closed in room in a curtain. My son was shot in cold blood. He fell over off the bed, and while his body was dead, they put handcuffs on him. And when they rolled him over, ladies and gentlemen, the gun was still beneath him indicating he never pulled a weapon on the police. This is injustice. So whether they have a gun or not, you have to look at the circumstances. My son didn't deserve to die that way, like none of your family, none of your kids deserved to die like this. We pay the police to serve and protect us, they are no longer hiding behind white sheets, ladies and gentlemen, they are hiding behind their shields. These are the new age police. Let's shut em down!
Thousands in the Streets of NYC for #RiseUpOctober:

STOP POLICE TERROR! Which Side Are You On?

October 24, 2015 | Revolution Newspaper | revcom.us | More to come, check back...

Revolution/revcom.us greatly appreciates the many photos, videos and reports we received of Rise Up October. While we may not be able to post all of them we really encourage people to keep sending us these valuable contributions.

October 24:
Thousands in the Streets of NYC for #RiseUpOctober:


STOP POLICE TERROR! Which Side Are You On?

Thousands took to the streets of Manhattan today to demand STOP Police Terror. And to pose to the world: WHICH SIDE ARE YOU ON? The march was the culmination of three days of Rise Up October. The people were fired up with righteous determination. This is a beginning snapshot of what happened.

Carl Dix led the crowd chanting, "I am a revolutionary!" Cornel West challenged people: "When you love folks you hate that they're being mistreated!" Eve Ensler declared "I am tired of living in a country where state violence has created a terror state for Black and Brown people, it is unacceptable!" Between the beginning and end of the march, scores of family members and representatives of victims of police murder shared their pain and outrage and challenged everyone to fight. They led the march. People defied police attacks that seized five people near the end of the march, and six more youth out of a group of a couple hundred youth and others who took the message into Times Square. The march posed to the world: Which Side Are You On?

A contingent carried posters of women murdered by police and prison authorities—#SAY HER NAME! Faces of those murdered by police were everywhere, on signs and banners—calling out for justice and an END to the horror. Unitarians demanded JUSTICE and LGBT activists called out sadistic police brutality that targets trans people. There was a striking mix of all nationalities, and representatives of people around the world. There was a sea of signs: RISE UP! STOP POLICE TERROR! The Revolution Club manifested fight the power, and transform the people, for revolution. A chant erupted up and down 6th Avenue: "Indict, convict, send the killer cops to jail, the whole damn system is guilty as hell."

Students came from around the country—from the Truman State SDS chapter in Missouri to students from California to Prairie View A&M University in Texas. They came from Sarah Lawrence College, and Hofstra University's NAACP chapter. A grad student and teacher told Revolution, "They're killing my students with slow genocide." Youth and others came from the communities of the oppressed, from the East, South and Midwest as well as from NYC. An example: a contingent from Waukegan, IL representing the struggle for justice for Justus Howell and for all victims of police murder.

Unitarian-Universalists came from the Upper West Side of Manhattan and a contingent marched from the Holy Ghost Upper Room Filling Station Ministry in the oppressed community of Jamaica, Queens. St Mary's Episcopal Church in Manhattanville, NYC carried a banner that declared, "We are not afraid!" Film director, Quentin Tarantino spoke: "When I see murder I cannot stand by."

At the end of the march Carl Dix declared "You should feel good about what you did but not so good you're ready to go home, pat yourself on the back, and go back to normal, because normal is the police murdering people, especially Black and Latino and Native people. We have been acting to stop it and it goes forward from today."