Hook up with the revolution
Coming Events at Revolution Books
Events for Revolution Books stores in New York and Berkeley are listed here, including online events co-sponsored by both stores. Listed below are contact numbers for distributors of Revolution newspaper and followers of Bob Avakian in other cities.
---
The following online events are co-sponsored by Revolution Books New York and Revolution Books Berkeley:
March 22, 12 noon, through March 29, 11:30 pm
Special Video Tour of "Marking Time: Art in the Age of Mass Incarceration" by Dr. Nicole Fleetwood to benefit New York Revolution Books. Nicole Fleetwood and MoMA PS1 (the Museum of Modern Art's contemporary art affiliate in Queens) are making available as a benefit for NY Revolution Books, Dr. Fleetwood's video-guided tour of the art exhibition she curated (on view until April 4 at MoMA PS1): "Marking Time: Art in the Age of Mass Incarceration." Dr. Fleetwood offers the video tour as a way for viewers to experience this wonderful exhibition during the pandemic and to support Revolution Books.
The exhibition presents powerful works created by 44 men and women living in the hellish conditions of the U.S. prison system—where two million+ people are caged, more than any other country in history... in the "land of the free."
Donate at Eventbrite now, and on Monday, March 22, you will receive access to view Dr. Fleetwood's 56-minute online video tour any time through March 29. Tickets start at $15, but give as generously as you can so that Revolution Books can be sustained and supported as an even more powerful and accessible resource to bring about a world where the chains are no more.
Dr. Nicole Fleetwood is a noted art scholar and Professor of American Studies and Art History at Rutgers University, New Brunswick.
---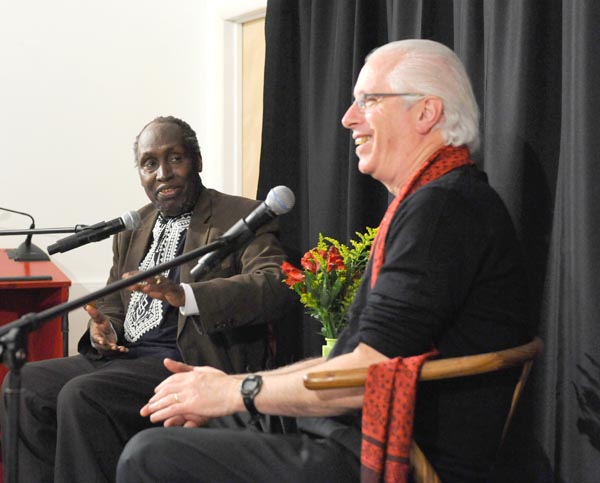 437 Malcolm X Blvd./Lenox Ave.
212-691-3345
revbooksnyc@yahoo.com
revolutionbooksnyc.org

Announcing the new Revolution Books online bookstore, making the books needed to know and change the world available to everyone. The store is now reopened for pickup of book orders at the front door. Hours are Mondays 3-6pm, Thursdays 5-8pm, Saturdays 4-7pm. When you select titles here online, you will see if your choices are in stock and select the option of picking up in-store. Or continue to order from the even bigger online selection with shipping directly to your address. You can also now order by phone at 212-691-3345.
---
2444 Durant Avenue
510-848-1196

revolutionbooksberkeley@gmail.com
www.revolutionbooks.org

Please support the store by ordering your books on its new website. The store is now also reopened for pickup of book orders. Hours are Tuesday, Friday, and Sunday, 1pm-6pm. Or call 510/848-1196  to order and arrange to pick up a book.
---
Contact followers of Bob Avakian and distributors of Revolution newspaper in the following cities:
Chicago: revbookschi@yahoo.com, or 312-241-5409.
Los Angeles: revolutionbooksla@gmail.com, or 323-463-3500.
Mailing address: 4001 Wilshire Blvd., #183, Los Angeles, CA 90010.
Honolulu: revolutionbookshonolulu@gmail.com, or 808-944-3106.
Boston/Cambridge: info@revolutionbookscamb.org, or 617-388-0133. Mailing address: Revolution Books, 955 Massachusetts Ave., Box 321, Cambridge, MA. 02139.
Seattle: revolutionbookssea@gmail.com.
Cleveland: revbookscle@hotmail.com.
Detroit: revbooks313@gmail.com.
Atlanta: revbooksatl@hotmail.com.
Houston: revolutionhtown@yahoo.com, or 832-865-0408
P.O. Box 230112, Houston, TX 77223
---
If you like this article, subscribe, donate to and sustain Revolution newspaper.