Today's Message from the Revolution
August 25, 2018 | Revolution Newspaper | revcom.us
HOW WE CAN WIN—How We Can Really Make Revolution says, "Thousands need to get organized into the ranks of the revolution now, while millions are being influenced in favor of this revolution."
Be part of those thousands across the country. Check here every day. Spread these on social media. Join in with the Revolution Clubs on the ground and on social media. Report back with your thoughts, responses and suggestions at revolution.reports@yahoo.com.
August 25, 2018
1. The youth cast off by this system and killing each other need to be told the truth about the reality they're in and how to fight to radically change it.
Bob Avakian bringing the truth.
Watch and share.
2. An Appeal to Those the System Has Cast Off
"Here I am speaking not only to prisoners but to those whose life is lived on the desperate edge..."
From Bob Avakian, the leader of the revolution, BAsics 3:16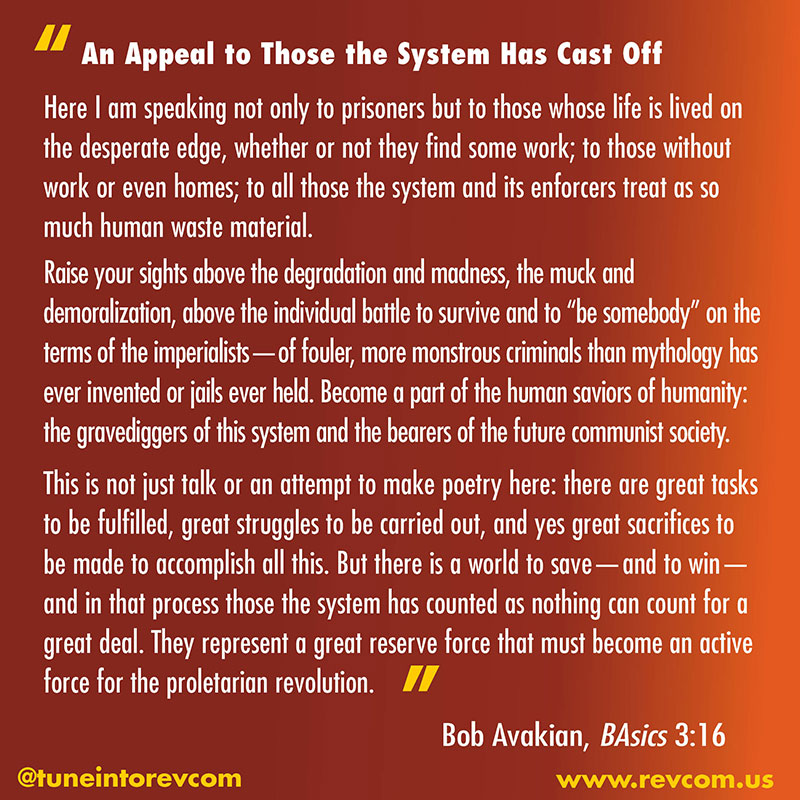 3. On the heart-grinding shootings and killings in #Chicago—and the future we must fight for
Hear Joe Veale, revolutionary communist and former Black Panther on what is the root of this violence and what is really worth dying for.
See the whole video at https://youtu.be/l8k6vHSjw0w.
Share on Twitter
Share on Facebook
Share on Instagram
---

Volunteers Needed... for revcom.us and Revolution
If you like this article, subscribe, donate to and sustain Revolution newspaper.