Today's Message from the Revolution
September 5, 2018 | Revolution Newspaper | revcom.us
HOW WE CAN WIN—How We Can Really Make Revolution says, "Thousands need to get organized into the ranks of the revolution now, while millions are being influenced in favor of this revolution."
Be part of those thousands across the country. Check here every day. Spread these on social media. Join in with the Revolution Clubs on the ground and on social media. Report back with your thoughts, responses and suggestions at revolution.reports@yahoo.com.
September 5, 2018
1.  The confirmation of Kavanaugh is an EMERGENCY. A linchpin in the consolidation of fascism.
And what's behind this? An "unholy alliance" between Trump and Christian Fascists.
Bob Avakian breaks it down. Watch the whole film at revcom.us
2.  Christian fascists in power. These people have no right to rule!
Read, comment, share.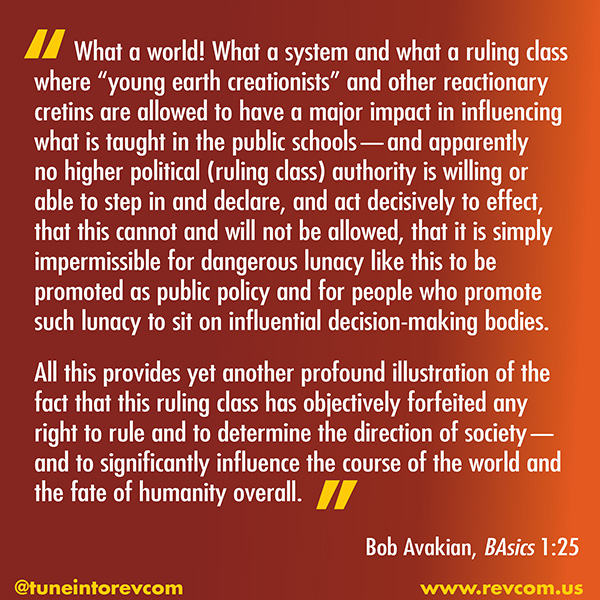 3. Wednesday and Thursday. Pack the courtroom!
Drop the charges vs the #Freeway9 Refuse Fascism Los Angeles AND Revolution Club Los Angeles
RSVP for court support Wednesday AM here: https://www.facebook.com/events/577263129355952/
Wherever you are, call 213.978.8100
Demand THEY DROP ALL THE CHARGES NOW!
If you're in LA, be in court, 8AM both days.
Share on Twitter
Share on Facebook
Share on Instagram
---

Volunteers Needed... for revcom.us and Revolution
If you like this article, subscribe, donate to and sustain Revolution newspaper.