Today's Message from the Revolution
October 5, 2018 | Revolution Newspaper | revcom.us
HOW WE CAN WIN—How We Can Really Make Revolution says, "Thousands need to get organized into the ranks of the revolution now, while millions are being influenced in favor of this revolution."
Be part of those thousands across the country. Check here every day. Spread these on social media. Join in with the Revolution Clubs on the ground and on social media. Report back with your thoughts, responses and suggestions at revolution.reports@yahoo.com.
October 5, 2018
1. How Long?! How Many More Times Do the Tears Have to Flow?
Two of the most wounding words: "justifiable homicide." This is what the families of those so wantonly killed by police are repeatedly slapped in the face with. "...in these situations, we run into prosecutors who forget how to prosecute when it's the cops on trial." Sound familiar?
See full clip from speech by Bob Avakian on revolutiontalk.net
2. How do we go to work today for revolution?  
Bob Avakian lays out some principles to build towards a situation where the all out struggle for power is possible.
Read, comment, share.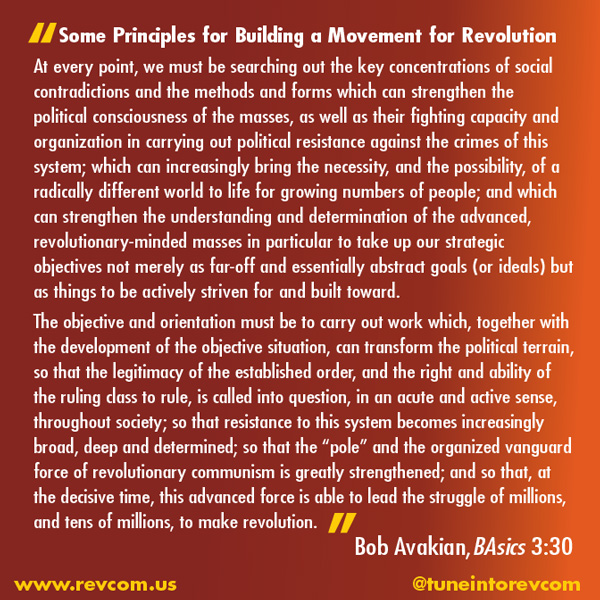 Share on Twitter
Share on Facebook
Share on Instagram
3. Carl Dix and Cornel West Call on You: Add Your Voice to Call for Justice for Laquan McDonald
IF Van Dyke IS found guilty, CELEBRATE the struggle that achieved this.
IF they free the Killer Cop THE CITY MUST STOP! 
Business-as-usual NEEDS TO BE SHUT DOWN.
https://revcom.us/a/563/call-from-carl-dix-and-cornel-west-en.html
Share on Twitter
Share on Facebook
Share on Instagram
---

Volunteers Needed... for revcom.us and Revolution
If you like this article, subscribe, donate to and sustain Revolution newspaper.