Today's Message from the Revolution
October 17, 2018 | Revolution Newspaper | revcom.us
HOW WE CAN WIN—How We Can Really Make Revolution says, "Thousands need to get organized into the ranks of the revolution now, while millions are being influenced in favor of this revolution."
Be part of those thousands across the country. Check here every day. Spread these on social media. Join in with the Revolution Clubs on the ground and on social media. Report back with your thoughts, responses and suggestions at revolution.reports@yahoo.com.
October 17, 2018
1. Reach 1,000s—post on social media about the Oct 19 release of the film of Bob Avakian's speech.
This speech—on the map, at the center of organizing forces for revolution, & engaged & debated broadly throughout society—can change everything.
RSVP "going" on Facebook https://www.facebook.com/events/142259063395786

2. Take the time to discuss this quote—the whole quote—and reply on your thoughts provoked by reading this.
Read, comment, share.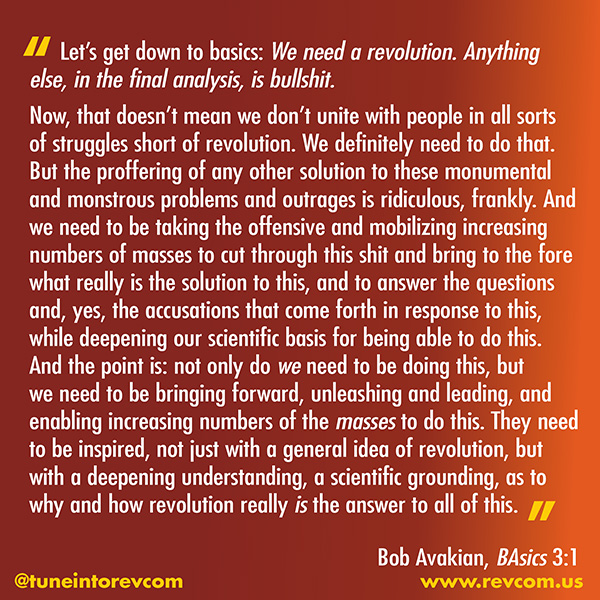 Share on Twitter
Share on Facebook
Share on Instagram
3. NYC Revolution Club and Revolution Club, Los Angeles heading out to campuses
to spread the word of the online premiere of "Why We Need Actual Revolution And How We Can Really Make Revolution," a film of a speech by Bob Avakian. 
Agitating, getting out palm cards, signing people up, & connecting up the leadership we have by showing the trailer of Bob Avakian's new film. 
Be part of 500+ getting word of this film out to others on October 19th and beyond.
Revolution Club NYC spreads word of October 19 premiere
Revolution Club Los Angeles heading to USC campus letting people know about 10/19 premiere
Share on Twitter
Share on Facebook
Share on Facebook
Share on Instagram
---

Volunteers Needed... for revcom.us and Revolution
If you like this article, subscribe, donate to and sustain Revolution newspaper.