Today's Message from the Revolution
September 21, 2019 | Revolution Newspaper | revcom.us
HOW WE CAN WIN—How We Can Really Make Revolution says, "Thousands need to get organized into the ranks of the revolution now, while millions are being influenced in favor of this revolution."
Be part of those thousands across the country. Check here every day. Spread these on social media. Join in with the Revolution Clubs on the ground and on social media. Report back with your thoughts, responses and suggestions at revolution.reports@yahoo.com.
September 21, 2019
1. What's it going to take to STOP the FASCIST Trump/Pence regime?
Puerto Rico and Hong Kong show the way– thousands becoming millions– in protest until the demand has been met: This Nightmare Must End! Trump/Pence Must Go!
It's past time to act.
2. Bob Avakian brings to life how people exist as individuals and yet their lives are shaped essentially by social and most fundamentally production relations...
"there is a great diversity and richness to human society"
3. Refuse Fascism:
Uniting all who can be united
Defeating the "Divide and Conquer"
We demand Trump/Pence Must Go– NOW!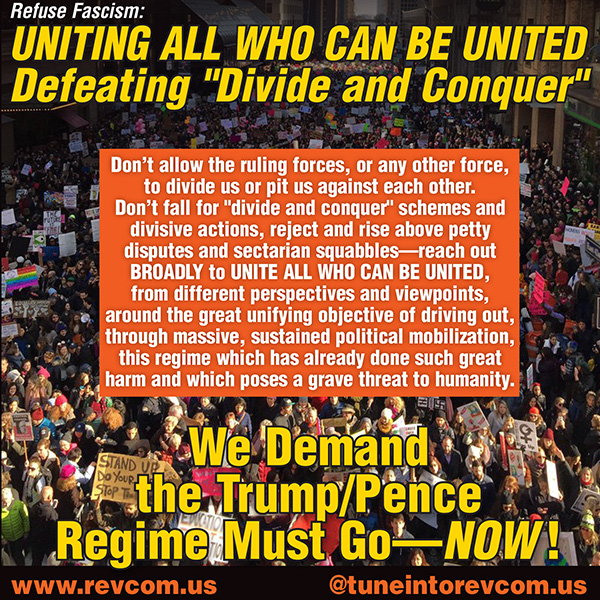 Volunteers Needed... for revcom.us and Revolution
If you like this article, subscribe, donate to and sustain Revolution newspaper.