A Shout-out to the Courageous Fighters Who Put Their Bodies on the Line to Shut Down Rikers Island Prison
Updated October 24, 2015 | Revolution Newspaper | revcom.us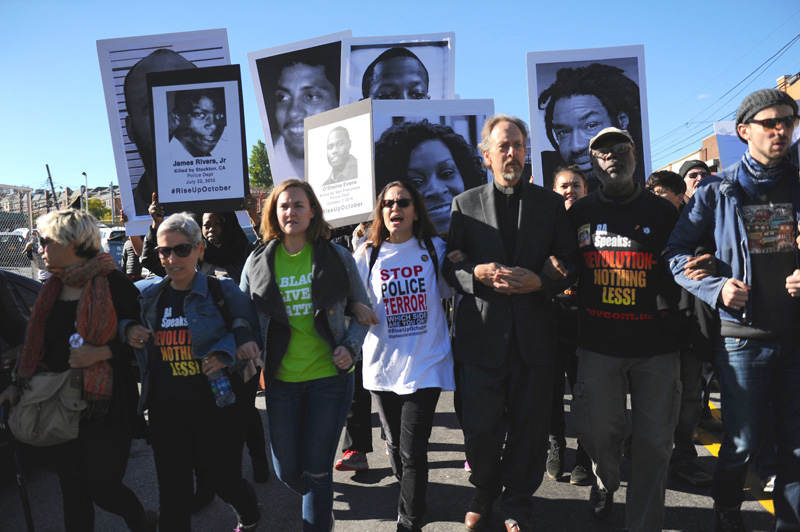 See photos of the action and statements from courageous resisters HERE
Watch the rally and action at Rikers
The torture chamber and debtors prison known as Rikers Island was, for about an hour, shut down on the morning of Friday, October 23! Seventeen courageous freedom fighters, in a demonstration of civil disobedience, sat and laid in front of the only entry to the dungeon and were arrested. And about 100 others gathered around them chanting, "We Are Kalief Browder," "Rikers, Rikers, Shut It Down! This audacious and historic action made a powerful statement: we're not going to stop until the epidemic of systematic mass incarceration and police terror end.
An incredibly powerful rally on the street leading to Rikers fueled everyone's determination to shut it down. The reality of this prison: where 85 percent of the prisoners have not been convicted on their charges, but waste away for months, even years in Rikers awaiting trial, as happened to Kalief Browder; the people who died because of the actions and inactions of prison authorities; the torture, cruelty, and indifference routinely meted out to prisoners and their families. All this and more was exposed and condemned.
But even more, speaker after speaker—students who agonized over committing civil disobedience for the first time, and decided they must; "Raging Grannies" who sang a song of protest against mass incarceration; families who lost loved ones to police murder and traveled from across the country to contribute to Rise Up October—expressed a fierce determination to STOP this shit, and challenged others in society to take a stand.
The people committed to civil disobedience laid down in front of the gate to Rikers. In front of them, beautiful enlarged portraits of people killed by police, including 11 who had died at Rikers; around them, about 100 witnesses, determined to carry forward the fight for Rise Up October and to shut down Rikers. Rikers Island is an abomination, an atrocity. It is a concentration of the horrific abuse this system routinely, daily inflicts on Black and Latino youth. The heroes who sat in and laid down at the gates of Rikers have put a challenge in front of anyone with a conscience and a sense of justice
Reverend Jerome McCorry, a leader of Rise Up October and a witness to the Rikers Island civil disobedience, said, "I think this is fantastic. It's going exactly the way it should have gone. The people are sick and tired of being sick and tired. And today all this changes. This dynamic weekend, this Rise Up October, will always be remembered as the October that change is made. And it's going to happen exactly like this."
All of those arrested were released late Friday night. Call the NYC Mayor's office at 212-788-1400 and Queens County DA Office at 718-286-6000 to demand the dropping of all charges on the protesters.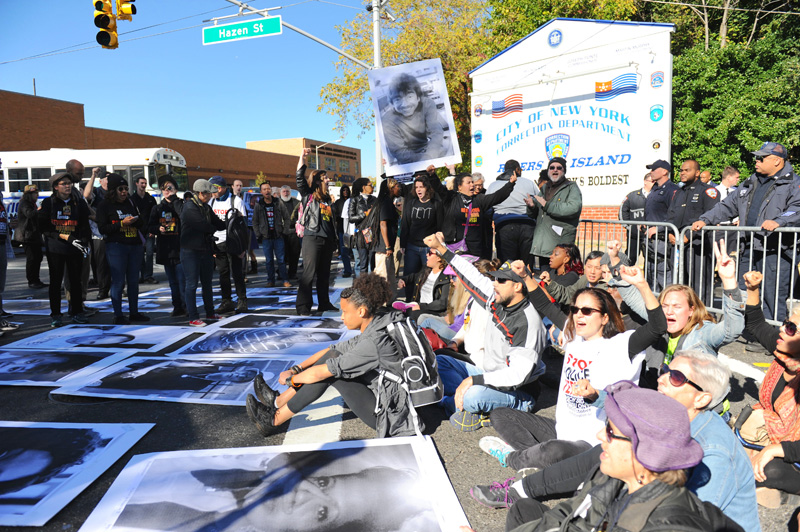 All photos: Special to Revolution
Volunteers Needed... for revcom.us and Revolution
If you like this article, subscribe, donate to and sustain Revolution newspaper.