In Response to Call from Students Against Police Brutality:
NYC High Schools Walkout
December 1, 2015 | Revolution Newspaper | revcom.us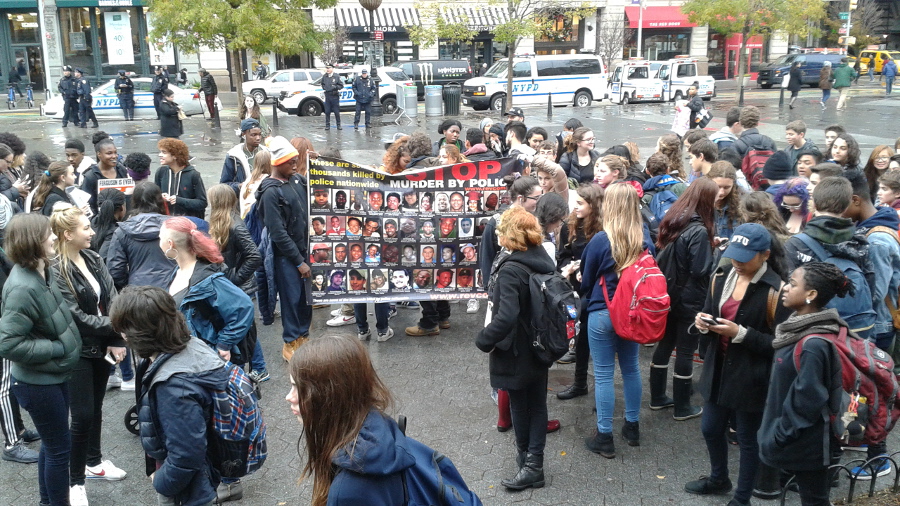 Students from Bard and Brooklyn Friends High Schools walked out in response to a call from Students Against Police Brutality.
Bard H.S. & Brooklyn Friends H.S. had a walk-out today to commemorate the one-year anniversary of their first walk-out and because "People of color are consistently targeted, brutalized, raped and murdered for merely existing. That's not normal. Yet in the past few months we've begun to accept this as normal. We see videos of cops beating children for being in a white neighborhood and we aren't surprised. Some of us even scroll past because it's no longer news. We can't accept that. So on December 1st, 2015 Students Against Police Brutality is calling to you all to walk out of your jobs, schools, homes and take back the streets. Remind everyone that there is a problem and we need to fight for a solution." (per their FB event page).
About 75 students walked out despite warnings and threats from authorities. Everyone gathered at Union Square in very high spirit. Fliers of Carl Dix's statements "Justice for Laquan McDonald—Send the Murdering Pig to Jail!" and "Justice For Jamar Clark! Condemn the Racist Assault on Protesters in Minneapolis!", RevCom.us posters that read "Ferguson is Everywhere! Justice for Michael Brown and Eric Garner. Police Brutality and Murder MUST STOP" and posters by the Stop Mass Incarceration Network "Which Side Are You On? STOP POLICE TERROR" and "FERGUSON IS EVERYWHERE. STOP POLICE BRUTALITY & MURDER" were immediately distributed throughout the crowd. And an enlarged Stolen Lives Banner with revcom.us was held up throughout the entire demonstrations by several students taking turns. Whistles got into everybody's hand and several signed up to stay connected.
Immediately the police tried to intimidate the crowd of students. They said (something along the lines of): "All of you are under 18. You're suppose to be in school getting an education. We're bringing a bus to take you back to school." There was a tenseness in the crowd so I began to agitate that they had no right to tell us what to do and that everyone there was in the right place (because of what made them walk-out in the first place). I continued to do some agitation to bring the crowd back together and to give everyone the moral backing they needed to continue to stay together and demonstrate. This unleashed everybody: chants continued to ring out and a speak-out ensued. Several people talked about what made them walk-out: "the fact that there is a genocide"; "innocent Black people being brutalized at the hands of the police"; "because they can't look away at a society that criminalizes people of color"; etc.
This crowd was extremely open to the revolution: copies of Revolution newspaper and BAsics quote cards were distributed amongst the crowd. At a certain point we realized that we were isolated from the crowd and were agitating to the police so we all took off on a march around Union Square (all the shopping booths set-up). While the shopping area wasn't busy there was a lot of support from amongst vendors and customers: students distributed flyers, palm cards, and continued to chant as we circled the square several times.
Finally, we stopped for an 11-minute moment of silence for the 11 times Eric Garner said "I can't breathe!". Immediately after the names of those killed at the hands of the police were shouted out: "Mike Brown"; "Aiyana Stanley-Jones"; "Eric Garner"; "Akai Gurley"; "Freddie Gray";... The Revolution Club led everyone in a collective reading of BAsics 3:16 and called on everyone to get with the club and into BA. The student organizers of the walk-out called on everyone to join the Stop Mass Incarceration Network this THURSDAY for "One Year Later - Still No Justice! Justice for Eric Garner!" and to go revcom.us, stopmassincarceration.net, and Students Against Police Brutality on Facebook.
This was a very lively protest. A multinational generation skipping class to protest police terror and murder. Everyone there had an amazing time and relied on each other to collectively figure out the next steps forward (throughout the rally, march, and speak-out). There was a real seriousness and excitement to be back in the streets. Initial thinking began to get unleashed for the national stolen lives tour in February for Black History Month.
Volunteers Needed... for revcom.us and Revolution
If you like this article, subscribe, donate to and sustain Revolution newspaper.