Clyde Young on Meeting, and Joining, the Revolutionary Communist Party
June 6, 2016 | Revolution Newspaper | revcom.us
Clyde Young came up as a Black street youth in the early 1960s. In an interview conducted in 1990, he talked about becoming a revolutionary, and finding the Revolutionary Communist Party. At the time of his death in 2014, Clyde Young was a member of the Party's Central Committee. The following excerpts from the interview speak specifically to how Clyde Young met and took up the line and leadership of the RCP. Read the entire interview here.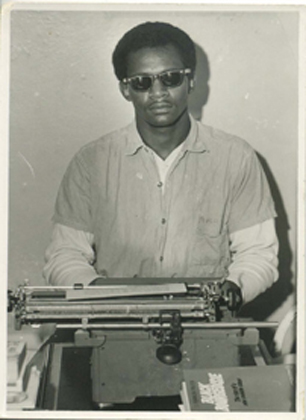 When I was in prison in the early '70s, there was this group called the SLA. They were a group that was formed by some ex-prisoners and their political line was one of urban guerilla warfare. They kidnapped Patty Hearst and that became a whole national and international incident. So the revolutionaries in prison were checking out what all the radical groups were saying about it. And the thing that struck me about it at that time was that a lot of so-called revolutionaries were just condemning it, talking about how terrible it was that Patty Hearst had been kidnapped and condemning the SLA and that particular act.
Now it wasn't often that I was able to get a lot of revolutionary newspapers when I was in prison because of the censorship, but I did happen to come across a copy of Revolution—which was the newspaper of the Revolutionary Union, the organization that later formed the RCP—and there was a whole piece on the SLA in that issue. By that time I was really disgusted with a lot of what the other people on the left were saying and how they were summing it up and analyzing it. But the way the RU dealt with the whole thing really struck me as different, and I have never forgotten it, the way it was taken up. The RU had some big differences with the strategic approach of the SLA and the tactical approach they were taking also, but far from condemning the SLA out of hand, the RU aimed their fire first and foremost at the imperialists and united with the spirit of wanting to find a way to bring imperialism down as soon as possible. They made a lot of exposure of what the Hearsts were and their whole history that I thought was really rich. And at the same time there was some criticism that this was not the correct strategic approach that needs to be taken to making a revolution in this country.
At that time that kind of urban guerrilla warfare thinking was the currency. In other words, a lot of revolutionary people thought that if you were going to make a revolution in this country, you'd do it like they do it in the Third World. You would do it in an urban setting but adopting the same road of taking liberated territories that were used in the Third World. And this article by the RU was the first time I had ever seen something that was attempting to put forward what would be a correct strategic approach for revolution and the armed struggle in an advanced imperialist country like the U.S.
***
[Question:] Was it controversial among your friends that Bob Avakian, Chairman of the RCP, is not Black?
Yes, that question came up in a big way! But I can remember playing the May Day speech that the Chairman gave back in 1979 for members of my family and many other people. And the thing I can remember is people just being blown away by that, that he was speaking to shit that they had felt all their lives, but he was putting the shit together in a way that they had never heard it put together before. And more recently I have heard of cases where people have been checking out Bullets, the silver book of quotations by the Chairman, and being really blown away by what he was saying and then turning to the front of the book and seeing his picture and seeing that he is white and not being able to put that together with the powerful shit that he was saying in that book. I actually heard a funny story a few years ago, where after reading something by the Chairman or hearing an old tape of one of his speeches, someone who is Black asked if he was "raised by a poor Black family."
So the point is that this question came up and it still comes up, and we have to fight through on that question with revolutionary people coming forward who, because of nationalism, might find that difficult to deal with or whatever. On one level it is not so surprising that questions like this come up even from the oppressed among our people. After all, the oppression of whole nations and peoples is a fundamental pillar of this imperialist system. H. Rap Brown used to say that "violence is as American as apple pie," and borrowing from that statement I would say that "racism and white supremacy is also as Amerikkkan as apple pie."
But let me say this: I have fought with many people over this question over the years but I have never been defensive about who our Chairman is or that he is white. And there is absolutely no reason to be defensive about that. It has certainly been a disadvantage that this brother has not been able to function openly, hasn't been out there in a public way, though his voice and his leadership is definitely on the scene. But the fact that he is not out there in that public way and in fact is in exile1 just shows how goddamn serious we are—serious about slam-dunking this whole putrid system, serious about winning.
In one of his recent articles, "Some Thoughts, Some Further Thoughts," the Chairman comments in paraphrasing Mao that what most stood out about Lenin wasn't "his political acumen or strategic and tactical sense, nor even his important theoretical developments and contributions in terms of revolutionary science... but instead the fact that HE GAVE HIS HEART TO THE MASSES, to the oppressed." On a personal note, having had the opportunity to work with the Chairman in the past in a number of situations, including going into housing projects with him when he could operate more freely, I can say without exaggeration—and I'm sure other comrades would join me in saying this—that our Chairman too has given his heart to the masses, to the oppressed, not just in this country but the world over. And this comrade is thoroughly intoxicated with the revolution. His leadership has been decisive at key turning points in the revolutionary movement in this country—going back to the '60s—and it is crucial today and looking ahead to the future. As we have said, our ideology is Marxism-Leninism-Maoism,2 our vanguard is the RCP and our leader is Chairman Avakian.
I realize a lot of the youth today, Black youth in particular, are looking back to things like Malcolm X and the Black Panther Party for direction, and it is not surprising, nor a bad thing, that many of the Black youth who are awakening to political life are attempting to learn from the revolutionary legacy of the '60s. It also seems that there is a broad sentiment that another BPP or Malcolm X is what is needed. Now, revolutionary nationalist leaders exist today, and it seems likely that as the situation sharpens new revolutionary leaders will emerge from the struggle of Black people, and I can only say right on to that. But what OUR people, the oppressed of ALL nationalities really need—what we already got in our Chairman and in our Party—is REVOLUTIONARY COMMUNIST/PROLETARIAN INTERNATIONALIST LEADERSHIP. Mao said, without a party, without a party based on Marxism-Leninism-Maoism, the masses of people have nothing at all! Well, that kind of party already exists and the question is that proletarians of all nationalities have to step forward and join it and help build it and help prepare for all-the-way—stone to the bone!—revolution. And ain't nothing soft about that!
---
1. In 1979, the decision was made that BA should leave the U.S. in order to disrupt what were clearly mounting attempts by the powers-that-be to move against him. For more on this see the BA Timeline. [back]
2. At the time of this interview, the science of revolutionary communism was referred to as "Marxism-Leninism-Maoism." [back]
Volunteers Needed... for revcom.us and Revolution
If you like this article, subscribe, donate to and sustain Revolution newspaper.