Victory in the $25,000 Fund Drive for Revolution Books, NYC
Thanks To All Who Contributed and Volunteered…And Let's Take it Higher
August 24, 2016 | Revolution Newspaper | revcom.us
Above, at the reading by novelist Yaa Gyasi (shown here in conversation with RB spokesperson Andy Zee), August 19 at Revolution Books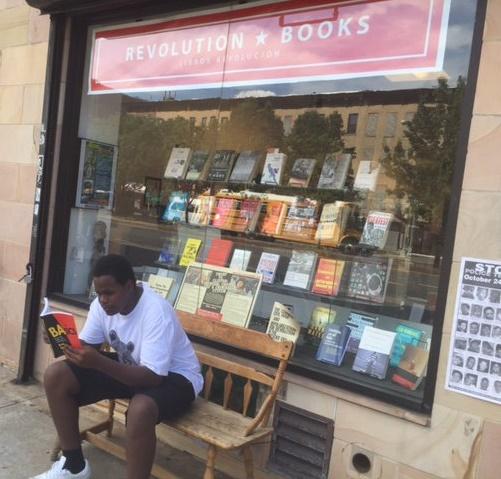 Late Tuesday afternoon, the Revolution Books on-line Indiegogo (IGG) campaign reached its goal of $25,000. And by midnight, on this last day of the fund drive, another $2500 was raised.  This is truly something to celebrate! We send a warm thanks to all who volunteered, who contributed funds, and who helped spread the word of this campaign and Revolution Books.  
We launched this Indiegogo fund drive in mid-July. Over the course of 6 weeks, the campaign drew close to 300 backers... from different walks of life…from all over the country…making small and large donations. 
The scene around this fund drive was full of vitality and illustrates that a store that has revolution and communism at its core can take hold and impact people and society. Young volunteers working at RB made videos about what the store means to them in these urgent times. Others spoke of how life-changing it has been to get into Bob Avakian and the new communism, how they learned that there is a scientific way to understand and change the world, and why they want to let others know. RB hosted several author events during the fund drive at which audiences were able to experience how the application of this new synthesis of communism opens up rich discussion with non-communists in the arts.
All of this, and more, indicates the real and growing basis—and the real and growing reservoir of support—for a vibrant bookstore with a breadth of books that matter… precisely because this store, RB, is at the center of a movement for an actual revolution to bring about a radically different world.
In these times, Revolution Books is needed more than ever. As we said on the IGG site for the $25,000 campaign, the funds are "going towards new books, AC, a stage, and front window signage. This is part of a larger plan to raise $40,000 and accomplish the "3 doubles": double foot-traffic, sales, and monthly sustainers. ... Achieve this and RB can become more self-sustaining and an ever greater resource for the people of the world. 
Let's build on this victory as we head into what promises to be a critical fall season.
We are now launching the new Revolution Books Educational Fund, Inc., a 501(c)3 corporation that will sponsor the educational programming at RB. If you didn't get to donate to the Indiegogo fund drive, this will be an important and ongoing opportunity to support RB. We hope you will become a monthly sustainer of Revolution Books. And you can make a donation to RB here.
Again, sincere thanks to all of you who helped make this victory possible.
Humanity Needs Revolution
The Revolution Needs Revolution Books
And Revolution Books Needs You
Volunteers Needed... for revcom.us and Revolution
If you like this article, subscribe, donate to and sustain Revolution newspaper.