Police Murders, Uprising in Charlotte, Spark Protests Across the U.S.
September 24, 2016 | Revolution Newspaper | revcom.us
NOTE: This is compiled from early reports. Updates will continue to be posted to this page when available.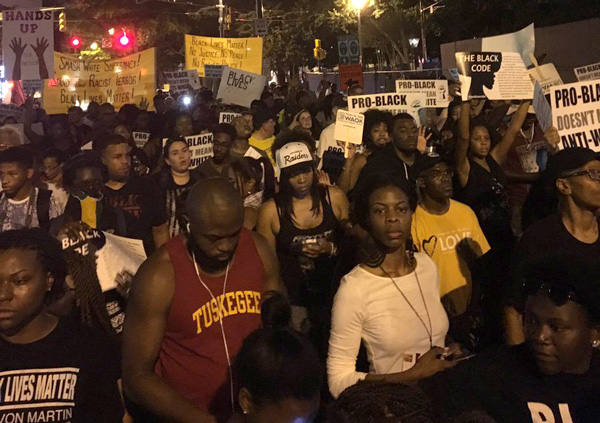 Above: Atlanta. Credit: Twitter/@AUCShutItDown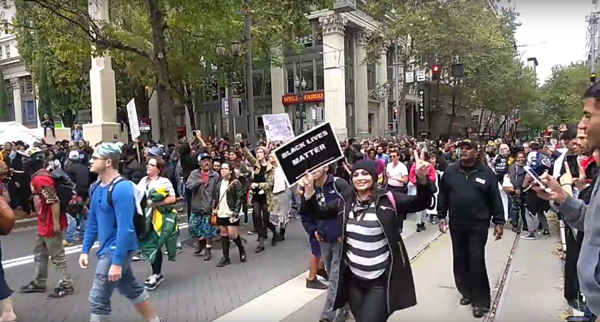 Above: Portland Oregon. Credit: YouTube.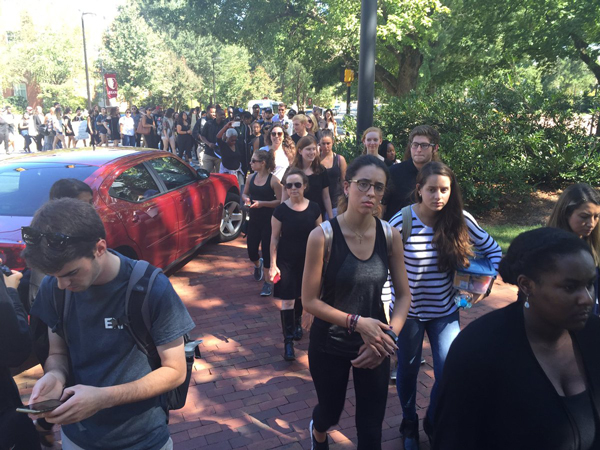 Above: Elon University, North Carolina. Credit: @chris8video.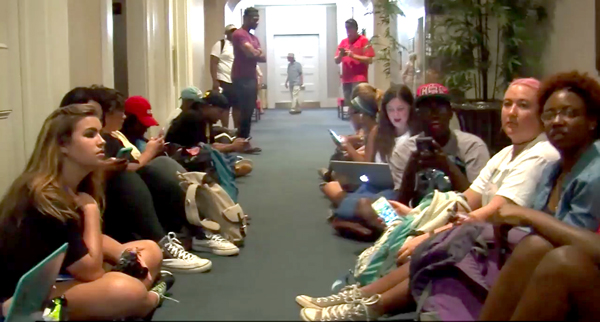 Above: Sit in at Ole Miss. Credit: Twitter/@NewsWatch_UM
Across the U.S. on Friday, many hundreds came out for protests against the police murders of Terence Crutcher in Tulsa, Oklahoma and Keith Lamont Scott in Charlotte, North Carolina. Protests have been taking place all week. These are a few of the actions which took place today.
Between 500 and 1,000 came out in Atlanta for a #MidNightInAmerica march organized by the NAACP that ended with a sit-in at the Atlanta Police Department. "The reality of the situation is that tomorrow, you could all be marching in my name," one organizer declared. Chants included, "Indict, convict, send the killer cops to jail."
In Portland, Oregon, 100's marched downtown, through a shopping mall and into City Hall, blocking traffic and chanting "No justice, no peace. No racist police," "Black lives matter," and "Hands up, don't shoot." Dozens gathered In Hartford Connecticut to protest the police murders. "Not one more," they declared.
At Elon University in North Carolina, "Not a word was uttered as hundreds of students and university employees marched across campus, dressed in black, protest signs in hand," reported the Times-News, "Other students walking and riding their bikes across campus stopped in their tracks, some holding up their phones and others simply observing the display of solidarity."
In the Charlotte area, students at Mallard Creek High, Hopewell High, Olympic High, Vance High and Charlotte's Northwest School of the Arts each held protests, some drawing hundreds of students.
At "Ole Miss," the University of Mississippi, students held a sit-in in the main administration building to protest a racist social media post and racist culture overall.
Volunteers Needed... for revcom.us and Revolution
If you like this article, subscribe, donate to and sustain Revolution newspaper.