Support revcom.us correspondents at the #DAPL protest encampment at the Standing Rock reservation in North Dakota!
October 28, 2016 | Revolution Newspaper | revcom.us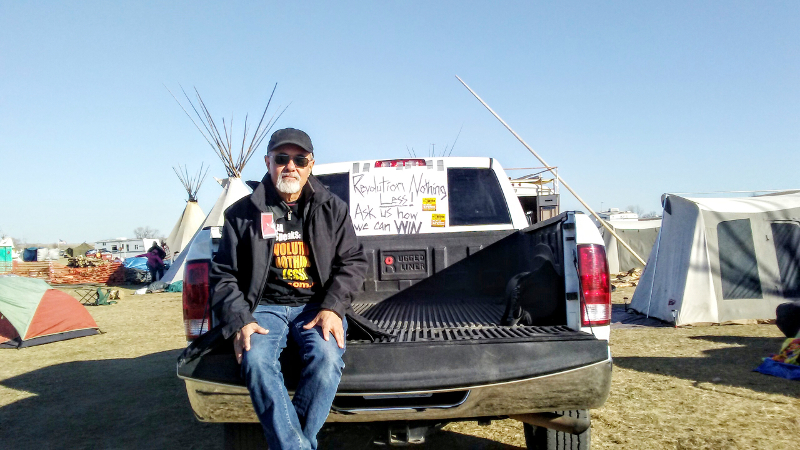 Travis Morales at Standing Rock

Riley Ruiz at Standing Rock
Travis Morales, and Riley Ruiz from the Revolution Club, are at Standing Rock. They left in a hurry, responding to the need, took time off work, and borrowed money to go. Read a letter from Riley below. Donations for their trip can be made:
1) Cash donations earmarked for "revcom.us correspondents at the #DAPL protest" can be taken to Revolution Books, 437 Malcolm X Blvd., New York, NY 10037; 212-691-3345

2) Checks made out to RCP Publications, with a notation "for the revcom.us correspondents at the #DAPL protest" can be mailed to RCP Publications, PO Box 3486 Merchandise Mart, Chicago, IL 60654-0486

3) Donations can be made online via Paypal (at right)
We received this letter from Riley:
My name is Riley, and I am writing this letter today calling on you to fill an urgent need and donate towards sending myself and my comrade Travis Morales to the Standing Rock Sioux tribe reservation in North Dakota, to report on what is happening on the ground in this intense struggle to protect the Native people's land from the Dakota Access Pipeline. Ultimately this is a fight over the future of the planet itself, and revolutionaries need to be in the midst of this struggle bringing the real problem and solution that is urgently needed.
As I write this letter, forces of violent repression are encroaching on the people of the Standing Rock Sioux tribe for standing up against the Dakota Access Pipeline. The tribe has continued to insist that this is completely going against a treaty that was made with the capitalists over 100 years ago, and they are demanding that this pipeline not be drilled on their land. It is incredibly courageous and matters a great deal that people have been standing up against this, putting their bodies on the line, in defiance of this pipeline which would devastate their land, contaminate their only water source, and could lead to the utter destruction of their entire tribe. This struggle is getting sharper by the minute, and it needs to continue, and there is now more than ever a need for revolutionaries to be on the ground uniting with this struggle, and struggling with people there to get into Bob Avakian and the movement for revolution.
All that being said, again I am writing this letter, to call on you to donate the needed funds towards this trip.
So who am I?
I am a revolutionary, a communist, a follower of Bob Avakian, a member of the Revolution Club, and an emancipator of humanity.
So what does all this mean!?
It means I am taking responsibility for getting the seven billion people on the planet free, in the fullest sense. It means I am serious about digging into the science, the strategy, and the leadership for an actual revolution that Bob Avakian and the RCP USA are providing; that I am taking that out into the world, spreading it, applying the strategy, and contributing as much as I can to the advancement of it. It means I am fighting for a world without classes, without masters and slaves, without borders, without backwards, enslaving ideas, without any form of oppression and exploitation. It means I want to fight through all the way through, and not stop when obstacles and contradictions come up, because there is a basis in reality to actually make that vision real. It means I want to win!
It also means that when people stand up against oppression, I am standing with them; whether I am there physically or not, I am standing with those people, and leading others to stand with them, but if this is as far as it goes, if this struggle isn't connected up with a scientific understanding of the problem and the solution, it will be kept within the confines and framework of this system which is the source of all this madness. So while I will be uniting with this struggle I will also be challenging people to get into Bob Avakian and the scientific approach to making revolution that he has developed and to dig into it and take it up RIGHT NOW because the world cries out for fundamental change!
So when the question was posed to me, whether or not I wanted to go to Standing Rock, I immediately and enthusiastically said "OF COURSE!" But we need a lot of funds in order for myself and my comrade to be able to take the time off work, to get there, and function while we are there.
And so again your funds are urgently needed. Be part of filling a great need. Donate towards sending revolutionaries to Standing Rock to unite with this historic struggle, to report back on what is happening on the ground there, and to spread the revolution that is urgently needed to actually resolve this question of the oppression of the Native people, and to get to a world beyond all this; a radically different and far better world, for all of humanity.
Riley Ruiz
Volunteers Needed... for revcom.us and Revolution
If you like this article, subscribe, donate to and sustain Revolution newspaper.