Black Church Burns in Mississippi,
"Vote Trump" on Wall, This Must STOP!
November 3, 2016 | Revolution Newspaper | revcom.us
On the night of November 1, a Black church in Greenville, Mississippi was hit by an arson attack, leaving this historic 100-year-old church largely gutted. And the attackers left behind a message: the words "Vote Trump" spray painted in white on one wall of the burned out church.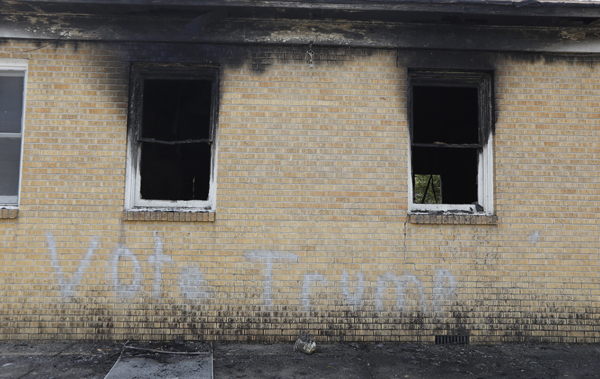 AP photo
Nobody was killed in the attack on the Hopewell Baptist Church in Greenville—but this despicable act brings back memories of the bombing of the 16th Street Baptist Church in Birmingham in 1963 that killed four girls, the thousands of lynchings, and the countless other incidents of racist violence against Black people in the history of Amerikkka.
And this torching of the Mississippi church takes place in the situation today where Trump has whipped up a whole ugly climate of racist threats and vitriol against Black people and other oppressed people, as part of the overall fascist program he and the powerful ruling class forces he represents are promoting. The Trump campaign issued an official "condemnation" of the arson attack. But this is the same campaign that has been riling up followers against Black people, immigrants, and other people of color, with one aim being to intimidate them from voting. And fascist groups have responded, vowing to act on Election Day. This kind of racist intimidation has a whole ugly history in this country—and Trump now threatens to take this to a whole other place.
Everyone of conscience must make clear that this racist, reactionary shit is intolerable. And take a deep look at where this is coming from—and what it's going to take to stop it for real.
Volunteers Needed... for revcom.us and Revolution
If you like this article, subscribe, donate to and sustain Revolution newspaper.