CCNY, November 3. Photo: Special to revcom.us
Rally at City College of New York:


STOP the Arrests and Attacks on the Revolution Club!
Drop Orders Barring Revolutionaries from Campus!

November 3, 2016 | Revolution Newspaper | revcom.us

Today, members of the New York City Revolution Club, joined by Carl Dix and other supporters rallied in front of the North Academic Center, in the heart of the CCNY campus, to denounce last Friday's arrests of four members of the Revolution Club—the CCNY4—for bringing revolution to the campus, and then the University's outrageous orders barring two of the revolutionaries from campus.

Carl Dix began the rally saying: "In today's world—with tens of millions of people driven into exile by wars for empire, the environment being ground up, police getting away with murdering Black and Brown people, women subjected to degrading treatment, immigrants hit with massive deportation raids and more - students need more than anything else to be connected with the way out of these horrors. That way out is by the revolutionary leadership of Bob Avakian and the new synthesis of communism he's brought forward." He exposed how the CCNY administration is attempting to suppress engagement with revolutionary ideas on campus through barring revolutionaries from coming onto the campus under the threat of arrest. Dix challenged students to stand with revolutionaries to defeat this attack. Nicholas Heyward Sr., whose 13-year-old son Nicholas Heyward Jr. was murdered by the NYPD in 1994 for playing with a toy gun, challenged the students to confront the reality of police terror, and expressed his support for the Revolution Club being at CCNY. Other statements of support were read, including from Prof. James Vrettos of John Jay College of Criminal Justice. Today, another 20 or so students joined the 100 people who had already signed the petition "Support @NYCRevClub."

After the rally people marched to the administration building to deliver a statement to CCNY's Interim President, Vincent G. Boudreau, demanding the order barring two members of the Revolution Club be lifted and that the administration and the NYPD stop arresting and jailing people with the Revolution Club for coming on campus. Afterward Carl Dix concluded by putting CCNY on notice that this battle to lift the order barring revolutionaries from the campus was not over, and the revolution was NOT going away.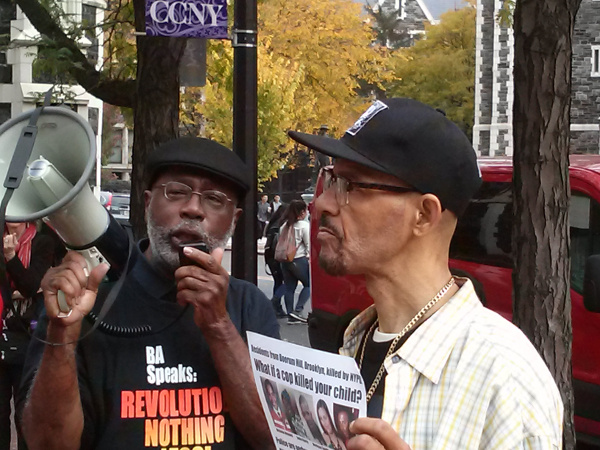 Carl Dix and Nicholas Heyward Sr. at CCNY rally, November 3.
Photo: Special to revcom.us

Volunteers Needed... for revcom.us and Revolution
If you like this article, subscribe, donate to and sustain Revolution newspaper.