Arturo O'Farrill at Revolution Books…
A Full House, A Night of Defiant Music, A Time to Support RB
December 5, 2016 | Revolution Newspaper | revcom.us
Revolution Books (RB) was packed with over 75 people Friday night, December 2. Arturo O'Farrill, the great Afro-Latin jazz musician, came to do a benefit concert for RB's first anniversary at its new location in Harlem. The store was stocked with its new holiday book and gift offerings, and the concert kicked off a month of holiday fund-raising.  Copies of The New Communism by Bob Avakian, as well as Science and Revolution, an interview with Ardea Skybreak, were on prominent display, and the shelves brimmed with all kinds of works from other viewpoints bringing to light all kinds of dimensions of the world we live in… the world we need more urgently than ever to learn about, and transform.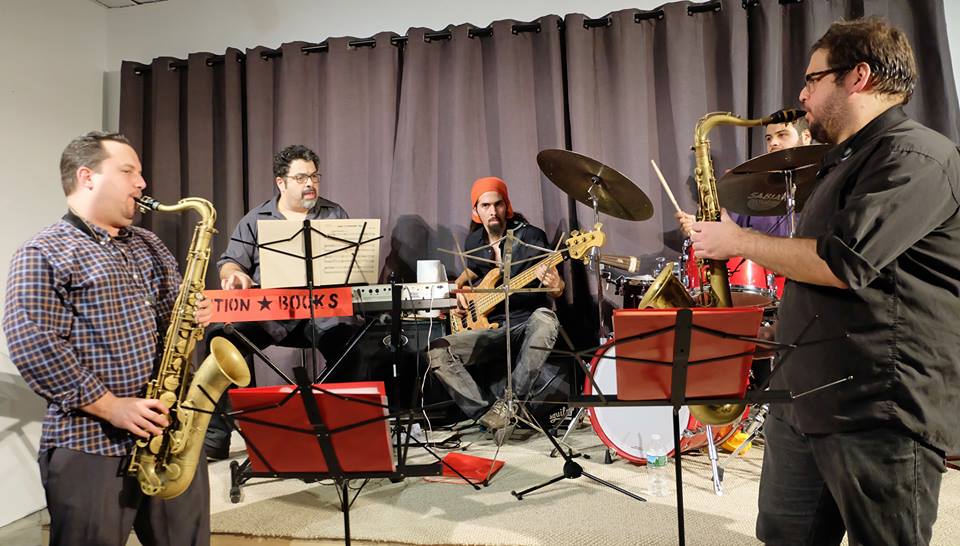 Arturo O'Farrill and his group at Revolution Books NYC, December 2. Photo: Deanna Gorzinski
People came from Harlem, around the city, and beyond to hear Arturo and support RB. Spirits soared. Arturo and his band played their hearts out in two electrifying sets—inaugurating Revolution Books' new performance space. He performed several of his own compositions, Horace Silver's "Peace," and one of his tunes that he retitled "Trump, Fuck Trump." The joy and defiance of the music were infectious. Arturo himself was inspired and played more than he had planned to.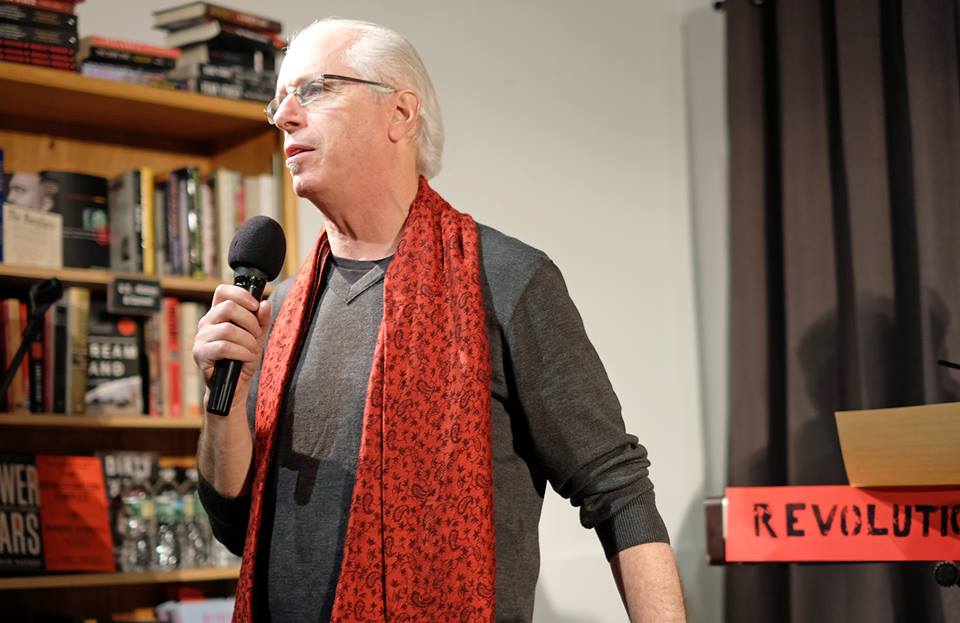 Andy Zee, Revolution Books spokesperson, December 2. Photo: Deanna Gorzinski
Arturo and RB spokesperson Andy Zee made brief remarks. Both spoke to the enormity of the new situation since the election of the fascist Trump—and the need for massive resistance. Arturo gave a real sense of the stakes—of the "millions of people" who could be killed by a Trump regime. Andy Zee stressed that people must simply have a place that bases itself on Bob Avakian's revolutionary analysis of the problem we confront AND the solution to it—and from that foundation reaches out to and embraces a wide range of scholarly, scientific and artistic works and thinkers—the political, intellectual and cultural center of the movement for revolution. People then broke into animated groups, discussing the evening's concert, the situation and what we're gonna do about it, and the store—while browsing the shelves, eating delicious food donated by area restaurants and sipping wine donated by a neighboring liquor store.
Significant funds were raised and some new sustainers signed up, and there was a sense of a "site of resistance" in an increasingly chilly time. Of immediate importance: Zee announced a number of important programs for December, as part of the store's "65 Days of Resistance," building to and then going beyond Trump's inauguration. For a list of these, go to revolutionbooksnyc.org.
Volunteers Needed... for revcom.us and Revolution
If you like this article, subscribe, donate to and sustain Revolution newspaper.