Update from Standing Rock, December 6:
Immediately After Government Backs Off, Urgent New Threats
December 6, 2016 | Revolution Newspaper | revcom.us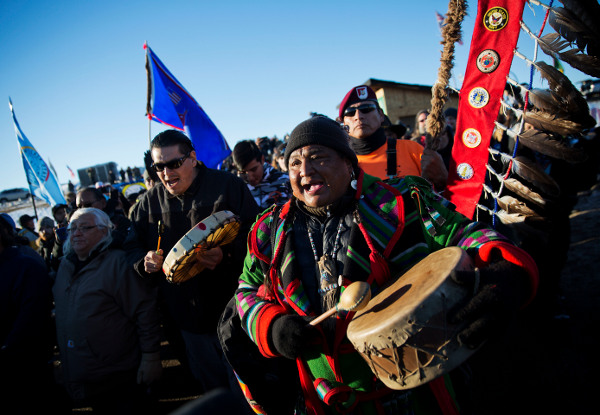 Procession through the Oceti Sakowin camp after it was announced that the U.S. Army Corps of Engineers won't grant easement for the Dakota Access oil pipeline, December 4, 2016. (AP photo)
Monday, December 5 was the day both the federal government and North Dakota authorities had threatened to evict thousands of protesters from the Oceti Sakowin camp, just outside the Standing Rock Sioux reservation. Native people and supporters have been camped there since September, resisting attempts by Energy Transfer Partners (ETP) to complete the $4 billion Dakota Access Oil Pipeline (DAPL). DAPL endangers the water supply of the Standing Rock Sioux, violates their treaty rights, and if completed will be a major contributor to global climate change.
By Monday, in response to the threats, the camp had grown—to 10,000 or so people. There are people who have been at Standing Rock for weeks, or months. There are representatives of hundreds of Native tribes. There are people from all walks of life and perspectives.
Over the weekend, hundreds of U.S. military veterans mobilized by Veterans Stand with Standing Rock had joined the camp and declared they will form an unarmed human shield to protect the people from the violence of the authorities. In a ceremony with tribal representatives, Wesley Clark Jr., one of the leaders of the veterans' mobilization, said:
"Many of us, me particularly, are from the units that have hurt you over the many years. We came. We fought you. We took your land. We signed treaties that we broke. We stole minerals from your sacred hills. We blasted the faces of our presidents onto your sacred mountain. Then we took still more land and then we took your children and then we tried to make your language and we tried to eliminate your language that God gave you, and the Creator gave you. We didn't respect you, we polluted your Earth, we've hurt you in so many ways but we have come to say that we are sorry. We are at your service, and we beg for your forgiveness."
Government Backs Off for Now—Urgent New Threats Loom
The day before the threatened eviction, in a dramatic turn of events, the U.S. Army Corps of Engineers announced they would "not approve an easement that would allow the proposed Dakota Access Pipeline to cross under Lake Oahe in North Dakota." Lake Oahe is a Corps of Engineers reservoir on the Missouri River, and that decision effectively blocked, for now, the completion of the pipeline on its current route.
During the day, people at Standing Rock celebrated, but they and their supporters immediately raised concerns about what the ruling actually meant. The announcement includes language that might provide a pathway for approving the pipeline (see "Resistance at Standing Rock Forces Gov't to Back Down for Now... The Struggle Continues").
On Monday, Energy Transfer Partners arrogantly denounced the Army Corps of Engineers' decision. Their statement declared they are "fully committed to ensuring that this vital project is brought to completion and fully expect to complete construction of the pipeline without any additional rerouting in and around Lake Oahe. Nothing this Administration has done today changes that in any way."
News reports indicate ETP is expecting the incoming Trump regime—which is headed by and led by rabid climate change deniers including Steve Bannon and Trump himself—will find a way to reverse the Army Corps of Engineers' ruling. On Monday, Jason Miller, Trump's communications director, said, "We support construction [of the pipelines and] we'll review the full situation when we're in the White House and make the appropriate determination at that time."
People in the camp are discussing and debating how to respond. A 65-year-old woman in the camp from Connecticut told her hometown newspaper, "Come January we have a [expletive] coming into the presidency who is very likely to turn this around." And, "I can't absolutely verify but I am willing to bet that many of the people living at camp do not have the intention of packing up and going home."
Revolution correspondents at Standing Rock report similar sentiments. A young woman from Oakland, who just arrived on December 4, told them, "I am planning on staying for at least two weeks. This announcement is just a ploy. They aren't going to stop." A woman from Germany, who has been travelling back and forth from her home to Standing Rock for over a month, said, "This isn't over. We aren't going anywhere." And a youth who was brutalized by police on November 20, said, "This (announcement) doesn't change anything. We're staying." And our correspondents report there is significant sentiment among many of the frontline fighters that they do not plan on leaving until they see the pipeline dug up out of the ground.
As we wrote on Sunday, "The eyes of the whole world will continue to be watching in the next days, and months, to see what the people of this country are going to do. The U.S. government has broken every treaty it has ever made, and the only promise they ever kept was that they promised to take the land of the Native peoples and they took it. At the same time, the fact that the Army Corps of Engineers decided to back off for now, and everything that led up to that, DOES show the potential strength of the masses of people. And it reveals as well the vulnerability of the system to both determined struggle and to the costs this was incurring to their national AND international legitimacy.
"The risks, and stakes, remain high."
Volunteers Needed... for revcom.us and Revolution
If you like this article, subscribe, donate to and sustain Revolution newspaper.