Late April to Early May:
100s of 1,000s Protest Crimes of the Trump/Pence Regime
May 8, 2017 | Revolution Newspaper | revcom.us

Tens of thousands rally across from the Capitol in Washington, D.C. for the March for Science. (Photo: Special to revcom.us)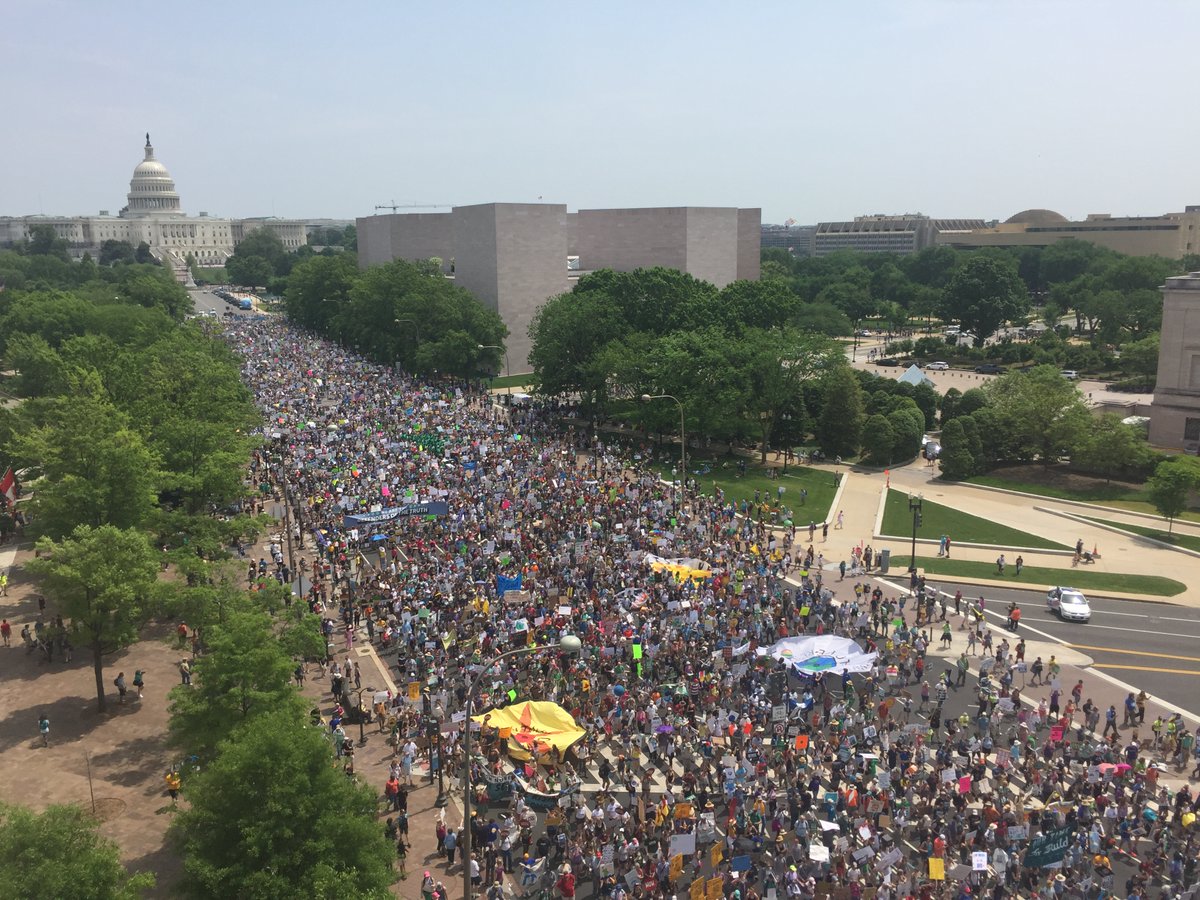 People's Climate March, Washington DC, April 29. (Photo: Twitter/@SierraClub)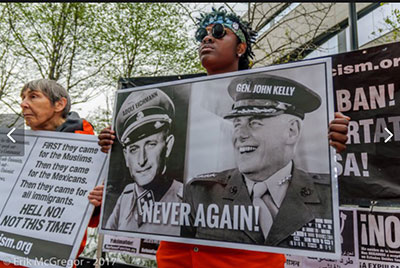 Holocaust Remembrance Day, New York. Credit: @RefuseFascism
WATCH THIS MAY 4 EVENT HERE: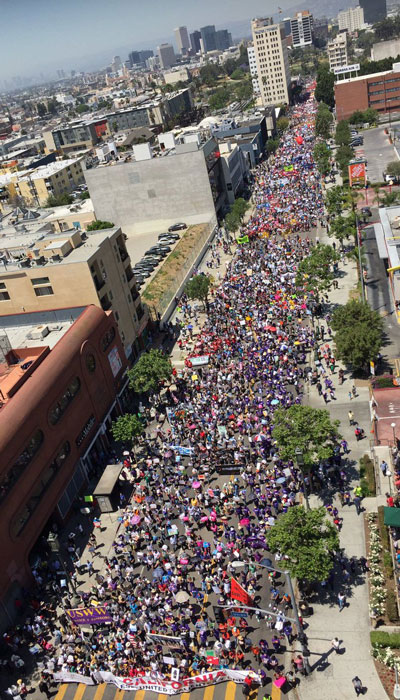 Thousands marched and rallied in downtown Los Angeles on May Day.

Isabel Cardenas speaks at May Day 2017 in Los Angeles.
April 27, 2017, sponsored by RefuseFascism.org
The last week in April, and the first week in May, saw hundreds of thousands of people, in the U.S., and around the world, taking to the streets in response to crimes of the Trump/Pence regime.
Fighting Back Against a War on Science and the Environment
On April 22, in the face of a fascist war on science, hundreds of thousands around the world stepped out in a March for Science. Nothing like this has ever happened before. Tens of thousands marched in Washington, DC, along with people in over 600 places across the United States and around the world—on every continent, including the North and South Poles. In different ways, from different perspectives, they defended contributions science makes to people's lives, and exposed the implications of imposing dark-ages celebration of ignorance. They protested with humor—one chant was, "What do we want? Science! When do we want it? After peer review!" And they protested with passion and determination—Albert Yu-Min Lin, chief science officer for National Geographic Explorer, said about standing up for science: "It won't be easy.' And it is not for the faint of heart. From Galileo to Jane Goodall, many of our best scientists have put their lives on the line as rebels, risk-takers and adventurers. As my friend Bob Ballard likes to say, 'science is a full-contact sport.' And at this juncture in our history, the gloves must come off."
The April 29 People's Climate March protested an agenda, and a regime, hell-bent on radically accelerating the environmental crisis in ways that pose a serious threat to the very existence of humanity and life on Earth. The climate crisis is having devastating effects right now, especially in the poorest regions of the world—tens of millions driven from their homes because of extreme drought and other effects of climate change.
On the 29th, more than 150,000 took part in Washington, DC, and there were more than 300 "sister marches" across the U.S., from Chicago, Seattle, Los Angeles, New York, and other larger cities to smaller communities like Kalama, Washington, and Ft. Myers, Florida. People marched in different countries across the globe, from Rio de Janeiro in Brazil, to Amsterdam in the Netherlands, Manila in the Philippines, and many other countries.
Resisting Fascist Thugs, Taking on Fascist Ideologues
In the face of Trump's promotion of anti-Semitism, and echoes of Hitler in the regime's attacks on Muslims and immigrants, Refuse Fascism called for actions on April 24, Holocaust Remembrance Day. These actions sounded an urgent alarm about the dangerous course of the Trump/Pence regime and sent out the message: never again must we allow another Holocaust to happen to any group of people.
Anti-fascists stood up to Neo-Nazis in Kentucky. On Saturday, April 29, dozens of neo-Nazis and white supremacists, many of them armed, staged a rally in Pikeville, Kentucky. They were confronted by at least an equal number of defiant anti-fascists who went up against moves by the authorities to intimidate and suppress them, and calls by some local forces to back down in the face of Nazi threats.
On May 4, Refuse Fascism sponsored an event in Berkeley: Why it's Right, and Righteous to Drive Fascists Off Campus, Out of Berkeley... and Out of Power! There have been repeated attempts by fascists like Ann Coulter to speak on campus. And controversy over whether her message should be protected as "free speech." That message is characterized by genocidal, racist rants like "We know who the homicidal maniacs are [referring to Muslims] ... We should invade their countries, kill their leaders and convert them to Christianity."
The Refuse Fascism presentation, by Sunsara Taylor, was a critical intervention in the struggle over legitimizing, normalizing, and imposing fascist propaganda in intellectual discourse and on campuses. In addition to speaking at UC, Berkeley, Sunsara Taylor spoke to high school students and others. Check out and spread the video and stay tuned to revcom.us for more, soon, on the impact of this significant event.
Standing Up to the War on Immigrants
The racist vilification, targeting, and persecution of immigrants and refugees have been a leading edge of the Trump/Pence fascist program. On May 1, tens of thousands stepped into the streets in many cities and towns across the U.S. to oppose those assaults, and in opposition to Trump and his regime.
In large part, it was immigrants­—along with others—that responded in the streets on May 1st. In Los Angeles, more than 30,000 people converged downtown. Thousands marched in Milwaukee,Grand Rapids, Michigan, Chicago, New York City, and in the San Francisco Bay Area, as well as rural locales like Homestead, Florida, where 1,000 farmworkers left the zucchini, bean, cherry tomato and okra fields and marched on city hall. Seventy women at ICE's Northwest Detention Center near Tacoma, Washington, chose May Day to join an ongoing hunger strike by other detainees there.
Earlier, on April 24, twenty students, clergy, and other activists were arrested when they linked arms, and blocked the entrance to the Suffolk County House of Correction in Boston to protest the detention and deportation of undocumented immigrants. As they were arrested they sang, "Listen, my people, my condor, my eagle, no human being can ever be illegal."
Outrage Over a Killing Assault on Health Care
The Republican's attacks on Obamacare are aimed at shredding what is already utterly inadequate access to medical care. The poor, and disproportionately Black, Latino, and Native American communities that already face desperate healthcare crises are in the crosshairs. Access to all forms of birth control including abortion is under siege from fascists, and the Trumpites are fighting to restrict access to cervical cancer screening that would save women's lives.
After the House voted to repeal Obamacare, protesters outside the Capitol chanted "Shame on you!" At a town hall meeting, protesters confronted Idaho congressman Raul Labrador: "You are making a mandate that will kill people."
Refuse Fascism: Drive Out the Trump/Pence Regime
The protests, and the resistance over the past couple weeks have been absolutely necessary. But humanity is up against a fascist regime. Within many different manifestations of outrage and protest, Refuse Fascism was in the mix with their "NO!" message—struggling with people to confront the enormity and stakes of the danger to humanity posed by Trump. This message reached thousands in protests, attracted sections of people who find the Trump regime intolerable, and reached into society through mainstream news and social media.
On April 27, Refuse Fascism sponsored a deeply incisive and sharply challenging national teach-in: Fascism in America—Could It Happen Here? Is It Happening Here? What Is the Danger that the Trump/Pence Government Poses? This teach-in explored, from different perspectives, the essential nature of the Trump/Pence government, the relevance of the history of fascism, the threat it poses to humanity and the planet itself, and the dangers of normalization. It is a highly current resource for understanding and acting on the dangers the Trump/Pence regime poses to humanity. This video is available at refusefascism.org and revcom.us, and includes presentations and Q&A with:
George Prochnik, author, New Yorker contributor
Rita Dentino, Dir., Casa Freehold of National Day Laborers Organizing Network
Kierán Suckling, a founder and Executive Director of Center for Biological Diversity
Andy Zee, Refuse Fascism co-initiator, Revolution Books NYC spokesperson
Andy Zee ended his presentation at the teach-in with this challenge:
Each of us must put a lot on the line. There is no business as usual. There is no protest as usual. The Trump/Pence fascist regime must be driven from power. And no one but the people are going to create the conditions where that becomes possible. No, it is not how things have usually gone in this country. But there is nothing usual about what we face.
We must organize NOW with all the creativity and determination we've got to prepare for a time when millions of people can be moved to fill the streets of cities and towns day after day and night after night, declaring this whole regime illegitimate—demanding, and not stopping, until the Trump/Pence Regime is driven from power.
Volunteers Needed... for revcom.us and Revolution
If you like this article, subscribe, donate to and sustain Revolution newspaper.