Excerpt from SCIENCE AND REVOLUTION, On the Importance of Science and the Application of Science to Society, the New Synthesis of Communism and the Leadership of Bob Avakian, An Interview with Ardea Skybreak
What Does It Mean, What Difference Can It Make, To Have A Party Organized on the Basis of the New Synthesis?
December 18, 2017 | Revolution Newspaper | revcom.us
In the early part of 2015, over a number of days, Revolution conducted a wide-ranging interview with Ardea Skybreak. A scientist with professional training in ecology and evolutionary biology, and an advocate of the new synthesis of communism brought forward by Bob Avakian, Skybreak is the author of, among other works, The Science of Evolution and the Myth of Creationism: Knowing What's Real and Why It Matters, and Of Primeval Steps and Future Leaps: An Essay on the Emergence of Human Beings, the Source of Women's Oppression, and the Road to Emancipation. This interview was first published online at www.revcom.us.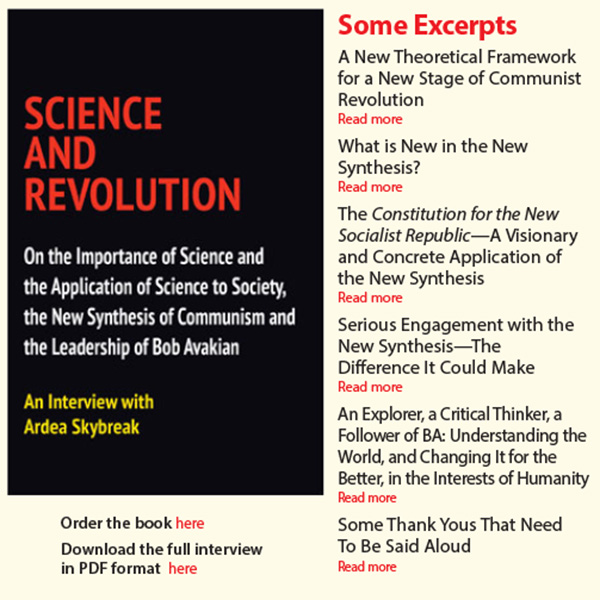 AS continues: Once again, think of the real difference it could make if the new synthesis were to spread, were to be broadly engaged with, throughout society, and were taken up by revolutionaries everywhere. Many of the revolutionary communists today are people who came out of the great upsurges of the 1960s, including Bob Avakian himself. This was a very rich period. But there's a tremendous need now for younger generations to take up this new synthesis, to work with it, to contribute to further advancing it, and to spreading it around the world. Again, I would use the example...besides the U.S. itself, I'll use the example of the Middle East. What a difference it would make if significant numbers of people, including young people in these Middle Eastern countries that are in such turmoil...if, instead of choosing between either promoting American-style democracy and aspiring to either move to America or to build up a similar system in their own country (with all the horrors that are involved with that), or joining in with these nut-case Islamic fundamentalists and all  their horrible ways of trying to restructure society–if, instead of choosing one or the other of those no-good options, there were some significant blocs of people, including significant numbers of young people, who were delving into the new synthesis of communism, studying it, debating it, really grappling with it and figuring out how to apply it in the context of their own countries–this could provide a real alternative, a genuinely positive alternative. They would, of course, have to figure out what it means concretely to apply the new synthesis to the particular conditions of their particular countries and societies. But the key methods and principles of the new synthesis would apply anywhere. They could take that up, and it would provide a positive alternative to both those bad alternatives. It could become a rallying point in places of the world that are in turmoil, of which there are many.
Q: Continuing with the point you just made about the difference, the tremendous difference, it would make if younger generations took up this new synthesis, I did want to ask specifically what you think  it means that  there's this vanguard party,  the Revolutionary Communist Party, led by BA, that bases itself on the new synthesis of communism that BA has brought forward, and the need for that party to grow and for people to join that party.
AS: Well, again, I would refer people to the website revcom.us, where there are some articles that get into why a vanguard party is needed. Why you can't make a revolution without one. I think people would get a lot out of digging into some of that. And your question is a good question, because I think  it's a question that  people don't discuss  a lot, or not enough. How are you going to help make an actual revolution without being really disciplined and really organized into a revolutionary organization, in other words, a revolutionary party?  It's not going to be enough just to function as atomized individuals or even to just get together with handfuls of like-minded individuals in a somewhat disorganized manner.
There's a statement on the revcom.us website, Get Organized for an Actual Revolution. If you understand what an actual revolution is, what it involves–that it actually does require getting to the point where you can dismantle the existing state apparatus and replace it with a completely different state apparatus, different organs of power, that you have to seize power and organize society on a new basis with new institutions–how are you going to do all that without a very tightly cohered and organized body of people, who are very committed and dedicated to doing that and who are willing to function in a very disciplined and organized way? Many people would probably recognize the need for tight and disciplined organization later on, when things get to the point of military struggle, or things like that–people think about disciplined armies, and so on. But what about for the current phase  of things, where what's mainly  involved is political  struggle, fighting the power primarily politically for now, working to unite people on that basis, and working to transform the thinking of the people, but doing so in a way that will lay the basis for being able to "go for the whole thing," for the actual  seizure  of power, when the conditions exist for doing so? Even now, under the conditions of today, you'd better not just function in an individualistic way, or in a scattered way, like a bunch of disorganized individuals who sometimes work together and sometimes don't, and who are constantly pulling in different directions and end up undermining even their own best efforts. Making revolution is a complex multi-faceted process which needs to pull together many different components of the struggle and keep them all pretty much on track and advancing in a certain direction. So you'd better be as unified as possible, you'd better all be pulling  in the same basic direction, and you'd better be recruiting more people and constantly expanding the ranks of the disciplined, organized body that can provide ideological and political strategic guidance and direction to ever broader people in society.
Q: And what does it mean  to have a party that's based on the leadership of BA and this framework of the new synthesis?
AS: Well, a party is obviously made up of a lot of individual human beings, and not all of them see eye to eye on everything or understand things the same way or function all at the same level. And, as I said before,  I think  there's a tremendous "gap" between Bob Avakian and pretty much  everyone  else. He's like "miles ahead  of even the best of the rest," as someone once said, in terms of people in the RCP as well as people outside the Party. That's just objective  fact. But OK, we can work with that–first of all we can learn to more deeply value and appreciate what it is that BA has developed–that he has come to concentrate and that he is constantly modeling for others–which objectively puts him so far ahead of the rest of the pack, so to speak. We can do our best to learn from him, in particular by closely studying his whole method and approach to things. And we can work to at least significantly "narrow"  the gap, in an ongoing  way, including by having a good attitude about being led and learning from advanced leadership, and by actively contributing ourselves to continual grappling with the new synthesis and how to apply its key principles and methods in an ongoing way to further developing and advancing the movement for revolution.
People should understand better both what it means to be willing to lead, and what it means to be willing to be led. It should be a two-way street of mutual and inter-dependent responsibilities and the furthest thing from a passive or one-sided process. Being provided leadership, if it's good leadership, doesn't mean  that  you're just being bossed around or given orders all the time! [laughs] That's not leadership. Good leadership consists primarily in training people in overall orientation and method and approach, and in this way giving them the tools to contribute as much as possible themselves to the advance of the overall larger process and objectives, and to in turn train others to do the same.
And again, a revolutionary party has to function as a unified  body, which is why there's a concept, democratic centralism, that people can read about in the Constitution of the Revolutionary Communist Party. Democratic centralism is not just a question of people following orders or being disciplined, although it is that, too, for instance in relation to things like carrying out assignments and responsibilities. But, democratic centralism involves much more than that. Democratic centralism is, most fundamentally, a scientific concept about epistemological discipline. It doesn't mean  that  people are slavish. But it means that when analyses and syntheses are developed at leading levels, and strategies and methods for a particular period of work and for prioritizing things are being developed, then the Party as a whole should function as a unified body to take this out to the best of their ability into the world. Like good scientists who are working in a coordinated and disciplined way on a scientific  project. In this case, they're working  on the project of transforming society, transforming the thinking of blocs of people, of fighting the power around egregious outrages, all in a disciplined and unified way along with the broadest numbers of people that can be united to do so, and doing all this in a coherent way. And then,  if Party members have differences and don't agree with certain things, they have a responsibility to raise their questions or disagreements, in a systematic way, through the appropriate channels. This, too, is part of the scientific method and process.
You function in a united, unified way, but then internally people discuss and wrangle and debate and raise questions or disagreements and modifications, and so on, so that there is actually  a genuinely collective process. You know, there's that  formulation of the RCP, that  the Party's collectivity is its strength. It is of course being given centralized guidance: Guidance is being provided regularly to the Party and to the people around the Party who are interested in learning about this guidance and orientation. So, yes, the Party is being guided, it is being led. It is being guided by BA, including through his works, and it is being guided through the website revcom.us, through Party documents, and so on. So there's definitely guidance, there's definitely leadership, being provided. At the same time, people are not–and should not be–passive. People in the Party, at every level, as well as people outside the Party, should definitely be raising their own thinking, their questions, their disagreements, but in a substantial way, and in an appropriate manner. In a manner that will likely contribute in a positive way to the overall process. This doesn't mean  that  you have to have a whole deep analysis of something before you can raise a question or possible disagreement, but whatever you raise should at least be with the right spirit. What I mean by saying that this should be raised in a substantial way and with the right spirit, is that it should not consist of a bunch of "nyaa-nyaa, crotchety-crotchety, complain-complain, I don't like this, I don't like that."  You know what I mean? That doesn't get anybody  anywhere. Even if it's a simple question or a simple disagreement, it should be raised in the spirit that we're all trying to get to a better world, and that's what we should all be doing together.
That's why, once again, I feel that  in the Dialogue,  Bob Avakian and Cornel West set a good example that other people should follow. They have some substantial disagreements, which they made clear. But they also identified substantial points of unity, and manifested a sort of joint moral conscience, in terms of fighting oppression. And so they could find the way to work together while still talking to each other and talking to the general public about what some of their differences are, and challenging people to grapple with that, not being afraid of seeing people grapple with that.
Q: So the Party enables people to collectively, in a unified way, apply the new synthesis of communism to reality, to grapple over that new synthesis and its application, and to further develop it.
AS: Right. Like a good team of scientists, with BA in the position of team leader, overall team leader, and with other people playing their roles to the best of their abilities, in accordance with their experience and understanding, and with the development of their ability to grasp and apply the scientific  method. It's very much  as if you were trying to solve a huge scientific problem in the natural sciences–for instance, if you were trying to find a vaccine for Ebola, or trying to cure cancer, or trying to figure out how to turn back global warming, or trying to stop the deforestation of rain forests–and, in order to increase your chances of succeeding, you set about organizing and unifying a whole bunch of scientists to work together, at different levels, with different abilities, different levels of experience, but all united in their willingness to: work coherently together, using the best possible scientific methods; study and build off of the accumulated knowledge in their field so far; bring their own creativity and initiative to bear; and follow the lead of a team leader, who is best able to provide overall guidance and direction for the project as a whole, and who has demonstrated, and models for others, an especially advanced and developed level of knowledge, expertise, and methods relevant to the particular field, and to the problem to be solved.
Well, in the "field" of applying scientific  methods to "solving the problem" of emancipating all of humanity from the bone- and soul-crushing system of capitalism-imperialism, the person today who is best imbued with these qualities and most able to assume the responsibilities of team leader  is clearly BA. Again, this isn't just my personal opinion–I believe this is a clearly demonstrable fact. There's simply nobody else today working at quite this level. So we should consider ourselves lucky to be able to work with, to take guidance from, the person who happens to currently be "the most advanced expert  in the field," and we should take full advantage of his overall guidance and leadership if we are serious about making revolution, in the right ways, and with a real chance of succeeding.
But everyone  does need to pitch in. Look, you go out into the world and you're trying to transform material reality,  you're trying to transform society, and of course sometimes you're not sure what you're doing, or you run into obstacles or you start going off track, or whatever. But you can learn  from all that,  too. Don't step over it. If you do go off track, or if you run into problems, don't just try to skirt it, ignore it, finesse it or just move on to the next thing. Instead, leave your ego out of it [laughs] and confront it, face it, figure it out. There are bound to be lots of problems and lots of mistakes made, and the problems you are having are probably shared by quite a few others. So let's just talk about  it, let's collectively learn from it, in order to keep getting better at what we need to do.
And if, on the other hand, people are doing things that are making breakthroughs, are making advances, don't keep this to yourself  either. Don't just think,  "Oh, how cool!" and then keep it to yourself. Report on what you are encountering, on what you are learning out in society, on what is actually advancing things and connecting with things. Because there will be important insights and new experiences that come from every level, including from people at the base of the Party and from the people outside the Party who work closely with the Party. But knowledge of this needs to be shared. You don't want to squander any of that.
So, again, there's the responsibilities of leadership and the responsibilities of the led, at whatever level. The responsibility of leadership at every level is to lead. The responsibility of the led is to take leadership, to follow leadership, with the orientation of not being slavish but of fighting oppression and working towards the emancipation of humanity. And, in the course of taking leadership, learn to be a leader yourself and spread that leadership and that revolutionary consciousness and organization throughout society.
Q: So, with the Party there's a basis for this new synthesis to become  a material force in the world in a way that  wouldn't be possible without this Party.
AS: Yeah, without an organized party, without an organized revolutionary movement, it would just end up being small numbers of people talking to each other behind walls.
Q: Returning to the work and the leadership of Bob Avakian, and the role he plays in the world, as you have said, this is very contended. There are some people who really love Bob Avakian and what he's brought forward and represents and the role he plays in the world, and there  are some people  who really don't like this. And I wondered if you could get into that further.
AS: I think that's actually  a very important thing  to dig into more deeply, because there's a lot you can learn  from digging into the reasons why so many people do love Bob Avakian and his work, and, at the same time, the reasons why so many people hate Bob Avakian and his work–or at least hate Bob Avakian, because, again, many of the "haters"  hate him without really knowing  his work–they typically don't really study his work, they don't really get into the specific arguments, they don't really engage the analyses and the syntheses, they don't come up with serious, substantial criticisms. What prevails, at least these days, among most of those haters is more in the nature of petty slanders, insults and personal attacks. It's very low-level, low-minded kinds of attacks, and there's a real shortage among most of those haters of any kind of substantial analyses of the societal problems that are being tackled and the solutions that are being proposed.
With a few exceptions, you don't see people writing  papers or giving speeches that are really engaging what Bob Avakian is saying about the strategy for revolution, how to develop a revolutionary movement in the United States, why revolution is necessary and possible, how we could have a realistic chance of winning, what kind of society we could build up, and just how would we go about  it. You know, there's a whole body of work that Bob Avakian has developed, over decades, with very substantial documents and analyses of these questions, and he's done a tremendous amount of work to make this readily available. And yet these haters are not so much, in this period at least, characterized by people who really develop counter-arguments and substantial counter-analyses. It really is much more gutter talk and snark. And this has something to do with the prevailing culture. There are many people in the culture generally these days who seem to make it a hobby to tear down other people with petty slanders and insults. It's all over the internet and stuff. But, with regard to Bob Avakian specifically, this takes the form of a tremendous amount of passionate vitriol against him. And you have to ask yourself: Why would some people so passionately hate someone who has spent his whole life dedicating himself to trying to serve the people, and to the emancipation of humanity? You can agree or disagree with his specific arguments and analyses, you can have substantial differences, and so on, and you can debate these and discuss these in a principled manner. But why on earth would you be trying to personally attack and tear down someone who has not been trying to promote himself or sell you anything or feather his own nest, or anything else of that  nature? Quite the contrary, he's dedicated his entire life to serving the people and trying to come up with solutions to the horrors of the system and to being able to bring into being a new society that would be better for the vast majority of people in this country and the world. So why would anyone actually have such passionate hatred for someone like this?
And it's important to make a scientific assessment of those kinds of tendencies, besides just recognizing the prevailing culture of snark, which is a disgusting feature in society more generally these days. Again, I feel you have to further explore why some of these haters, most of whom today don't even bother to familiarize themselves with BA's extensive body of work or engage it with any seriousness, are nevertheless so bent on spewing so much hateful vitriol in his direction. Why is that, really? And I think that, to get at what's really going on with this, you have to ask those people  some pointed questions: What's YOUR analysis  of the problem? What's YOUR analysis of the solution? What are YOU putting forward, and arguing for? What kind of resistance are YOU organizing? What are YOUR strategic objectives? What kind of new society are YOU proposing and how are you proposing to get there? If you don't think  this system  needs  to be overthrown and dismantled through revolution, then what program and solutions are YOU proposing? What is YOUR plan for getting rid of the incessant outrages and abuses generated by this system and built into its foundations, such as the police murders of Black and Brown people and the slow genocide of mass incarceration; the patriarchal culture of rape, degradation and dehumanization of women and denial of the right to abortion; the wars of empire, armies of occupation and crimes against humanity perpetrated on a regular basis by imperialism; the closing and militarization of borders and brutalization and dehumanization of immigrants; the accelerating and multi-faceted degradation of the global environment that is being driven by imperialism towards a literal tipping point of no return. What is YOUR solution to all this? What do YOU propose?
We should be confronting those haters with such questions. We shouldn't let them  get away with spewing hatred to try to tear down and diminish BA, and by extension everyone working with BA, just because they themselves have nothing much of substance or value to propose. If they don't like what BA and the RCP are analyzing and proposing, why don't they just go do their  own work on solving the problems of humanity!
I think some of these people just want to keep one foot in the system, you know? Why are they kicking and screaming at the prospect of going towards a new society that could benefit the vast majority of people? Would they actually prefer to keep things as they are? This is particularly characteristic of some of the petit bourgeois strata, in other words, the people in the middle classes. Not all of them, of course, but some of the people in the middle strata want to keep at least one foot...Look,  by definition, that's what the petite bourgeoisie is, right?  It's the class that  sits in between the proletariat and the most oppressed at the bottom of society, on the one hand, and the ruling  bourgeois, the ruling  capitalists, on the other  hand. So they're kind of in an in-between limbo, and it's pretty common for many of them  to hedge their bets and try to keep one foot in both worlds–one foot in the current system,  because, if they're being honest, they still kinda like living under this system, from which they still derive quite a few advantages and privileges; and one foot which, at least in their better moments, might be willing to step into the future, because many of them do recognize that this system is a horror for the people at the bottom especially, and many, again in their better moments, would sincerely like to get to a more just and equitable society. But they are often reluctant to upset the applecart and do what needs to be done to get there. So they remain torn. Some of them end up playing very positive roles and contributing  in various ways to the overall process aimed at emancipating the oppressed, the exploited, and ultimately all of humanity. But some of them get downright nasty and try to hold back, and tear down, those people and forces that are actually going forward and working on getting organized for an actual revolution and a fundamental change in the system running society. So judge for yourself.
And we can talk about  that  some more. But, I guess I'd like to ask people to think  for a minute about respect and about disrespect; about people who prove, over and over again, that they have principle and integrity, and a generous and broad-minded spirit, and who are trying to change the world for the betterment of humanity, versus, on the other hand, people who seem to spend a great deal of their time mainly tearing other people down, and spreading petty, snarky, vindictive slanders and insults and launching personal attacks while themselves having very little to offer people in terms of a viable and realistic way out of the horrors of the system, and very little to offer people in terms of a concrete plan for how to remake an entire society on a basis free of institutionalized exploitation and oppression. So, please, people, think about this contrast. Because it is burdensome and damaging when there are people who are always kind of nipping at your heels, trying to get in the way, and especially trying to get in between Bob Avakian and the people he's trying to speak to–constantly nipping, nipping, back-biting, trying to tear down. Is this really what should be going on?
Have some principle, have some integrity. If you have disagreements on matters of substance, by all means write them up, make speeches, make analyses, make them known. If you have alternative programs and approaches, by all means bring them forward. But do it in a principled manner, with principle and integrity. Don't go down in the gutter, nipping at people's heels and trying to get in the way, trying to prevent them from connecting to the people they are trying to reach.
Volunteers Needed... for revcom.us and Revolution
If you like this article, subscribe, donate to and sustain Revolution newspaper.