The Fascists Are Moving To Take Away Reproductive Rights...
But Where Is The Fight To Defend Them?
| revcom.us
Forced Motherhood Is Female Enslavement.
This is what is at the heart of the struggle over abortion—and birth control—that is sharply posed right now for every female, and for everyone who cares about what kind of world we are going to live in. There is a ferocious fight to make half of humanity be subordinated to the mandates of a system that enshrines patriarchy and domination.
Think about it. What does it say about this system that women have had to fight for the freedom and the right to decide whether or not to have a child, and that this has right now become such a ferocious fight? This basic right is tightly linked to the overall degradation and patriarchal domination of women that has deep roots in and is an integral part of this system, and it is not possible to resolve this basic question so long as we live under this system. If we don't make revolution to end this system, this will be a fight that has to be fought over and over again. We need to make revolution and to see this fact as a driving force for revolution.
Right now the question of the basic right to choose to have an abortion, the right of a woman to decide if and when she will become a mother, is under attack in an escalated way as part of the overall cohering of the fascist Trump/Pence regime. Women have already been forced by different laws to have babies against their will, but there is an overall full court press to make that the law of the land right now. Legal initiatives centered on taking away any legal protection for women to control reproduction—specifically preparing for the overturning of Roe v. Wade1—have accelerated in these past few months. This goes hand-in-hand with offensives to promote public opinion that abortion is murder, to establish as truth the bogus religious concept that each human life is begun at conception by a creator (God), and to insert that religious criteria into the laws regulating the choices women can make.
In the first three months of this year, there have been 304 new bills introduced in state legislatures either imposing new restrictions on the right to abortion or making abortion illegal, period.
These include:
* So-called "heartbeat laws" that would make abortion illegal if a fetal heartbeat is detected, which could be as early as six weeks into a pregnancy. In simple language, this means that before a woman may even know she is pregnant, a safe legal abortion would be off the table. Some of these laws would make both the woman and her provider liable for jail, up to 10 years if an abortion were provided after a fetal heartbeat is heard.
Just this past week, both houses of the Georgia state legislature passed such a law, which now sits on the governor's desk to sign–which he has said he would do. Other states are following suit, and the governor of Mississippi just signed a law like this in a state where there is only one abortion clinic.
* "Trigger laws" in a number of states (including Louisiana, North Dakota, Arkansas and Iowa) outlaw abortion outright and are on the books even though under the Supreme Court standard of Roe v. Wade, these are considered unconstitutional. They are intended to be able to go into effect if the Supreme Court rules on a case in such a way that Roe v. Wade is overturned.
* Multitude of laws restricting access to abortion are being passed, both to undercut the protections provided by Roe v. Wade state by state, and also with the hope that one of these laws will make its way to the Supreme Court, and will be the one that will overturn Roe v. Wade, now that the balance on that Court has been shifted against abortion with Trump's appointment of Gorsuch and Kavanaugh.
* Planned Parenthood, which provides not only abortion, but also counseling on birth control and actual medical means of birth control, is threatened with the withdrawal of federal funds for these services so long as they also provide abortion services—even though no federal money is used under current restrictions for the abortions Planned Parenthood does provide. But now Trump is going to divert $5.1 million of federal funds from Planned Parenthood to the non-profit Obria Group, which describes itself as being "led by God" and which receives millions of dollars in funding from groups associated with the Catholic Church—one of the most hardcore anti-abortion, anti-birth control institutions here and all over the world.
All of these taken together are a multi-pronged assault explicitly intended to force women to have babies whether they want to or not. They are part of an offensive that started over 40 years ago, when the Roe v. Wade decision established the constitutional right for a woman to choose to end a pregnancy for any reason. This unleashed an anti-abortion movement that has been fueled by reactionary religious doctrine about the role of women in society as mothers being their most fundamental role. This has now been given great backing and a green light from the Trump/Pence regime, aided by Senator Mitch McConnell—with the courts being packed by nutcase reactionaries committed to outright outlawing abortion, on the Supreme Court and on lower levels.2
Forced Motherhood Is Female Enslavement
The misogyny and degradation of women that is bound up with imposing these conditions on all women comes from the system itself, but it has been a principal objective of the Christian fundamentalists for decades, and they now form one key pillar of the Trump/Pence regime and are a major part of the energized fascist social base backing Trump–and Pence.
The Democratic Party has conciliated and conceded the terms of this fight, with its "safe, legal and rare" declarations, ceding the moral ground to those who have been on the offensive against the right to abortion, including attacks on clinics and the murder of abortion providers. This is a major factor in how we have gotten to the situation we are in today.
It is outrageous enough that these limits and outright banning of abortion will force those who have decided they do not want to—or cannot—carry forward with their pregnancy, to use dangerously unsafe means in an effort to abort the fetus growing inside her body. But it is also the case that if any woman does not have the ability and legal right to decide whether or if she will have a child no matter the circumstances—if that is taken from any woman—then all women are subject to being relegated to being in a subordinate category of human being–as sex objects and incubators.
This is not the world we want to live in, and must be ended by making revolution and winning the full emancipation of women as part of the emancipation of all humanity.
Women are not incubators.... they are full human beings.
---
1. The 1973 Roe v. Wade Supreme Court decision legalized abortion nationwide by recognizing women's right to privacy to decide whether or not to have a child up to the third trimester of pregnancy. Before Roe v. Wade, thousands of women in the U.S. were seriously injured or died each year from unsafe illegal abortions. Countless others were forced to bear children they did not want. Roe v. Wade was decided in the context of a tenacious fight by women and others during the social upheaval of the 1960s and early 1970s—as well as the huge economic and social changes affecting the family and the role of women. [back]
2. Twenty-five of 30 appeals court judges appointed by Trump are on the ultra-reactionary Federalist Society list; 85% of his circuit court nominees are members of the Federalist Society; 92 out of 177 Trump federal judge appointees have been confirmed so far; 5 of 12 circuit courts are now composed of 25% Trump appointed judges. [back]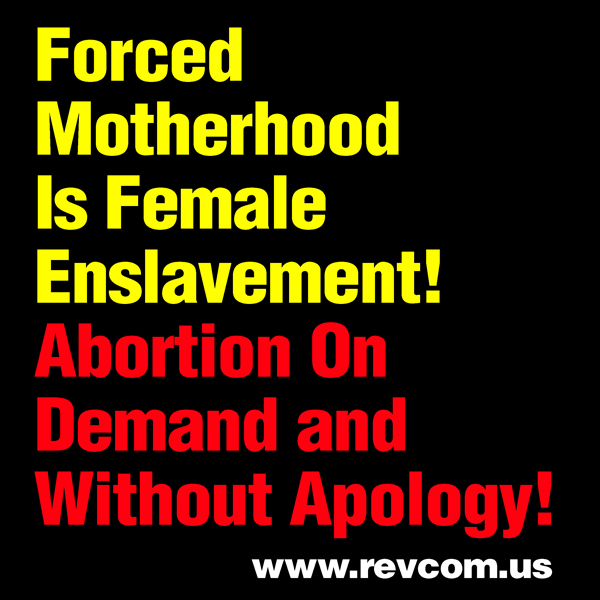 Spread on social media
See also:
A "Wave"—of Hype and Delusion?
Or What Humanity Needs: an ACTUAL Revolution!
To all those who have come out to the Women's March angry and anguished about what is happening to women and to all the billions of people all over the planet…
You are being played. This march will take you nowhere—at least nowhere good. We do not need a "wave" that will end up washing our anger and desire to fight back into the confines of the very system that causes the problems in the first place. We need an actual revolution.
All over the world, women aspire to break free from the shackles of male domination. They increasingly demand to be treated as full human beings in every sphere. Yet they are being slammed back on every front, and misled and misdirected by those claiming to stand for them.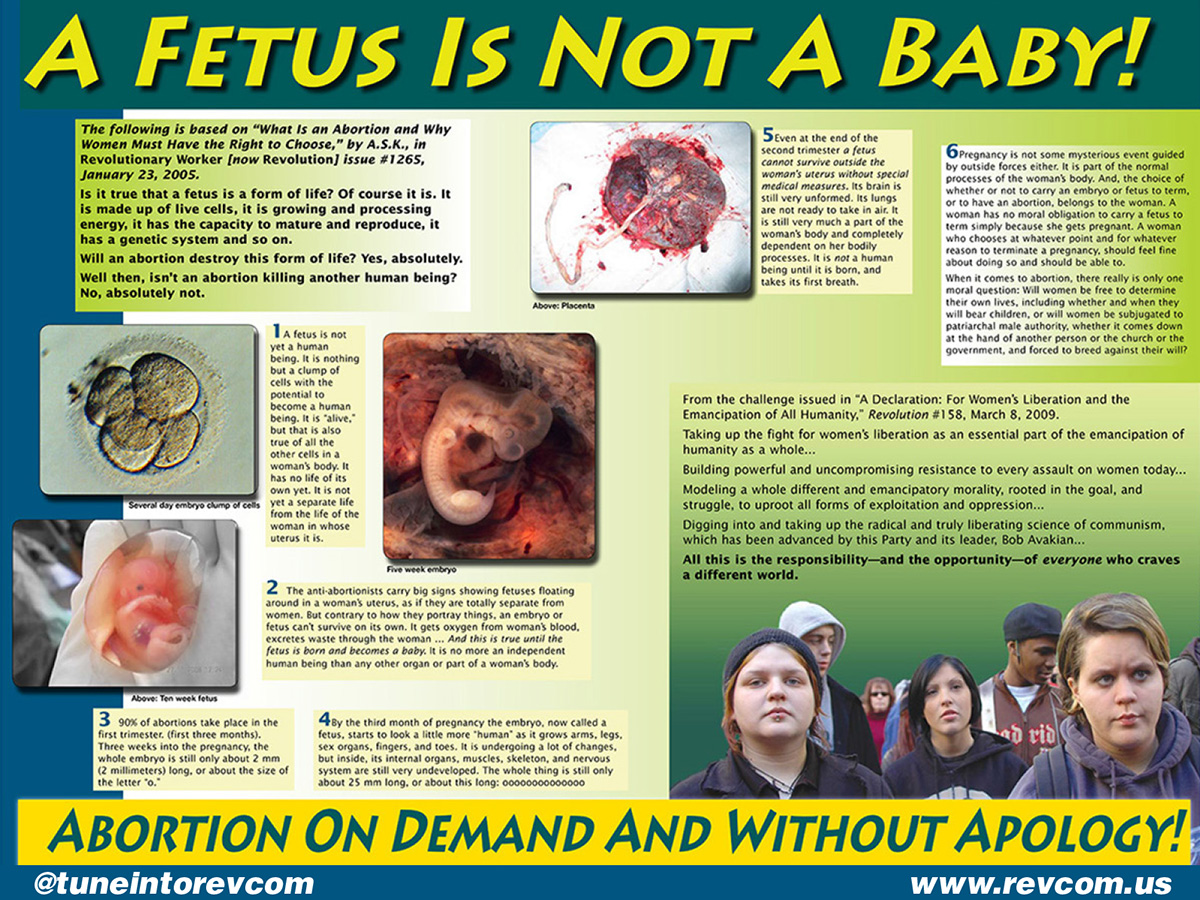 Volunteers Needed... for revcom.us and Revolution