Revolution Club Corner
| revcom.us
Note to readers: In this regular feature on our website, Revolution Club Corner, we share letters, correspondence, and reflections from members of the Revolution Clubs on different questions, experiences, events, or discussions. These are being shared with the aim to open up the scientific percolation, to invite and involve people who come to revcom.us in a process of working together to grapple with, and contribute to solving, the problems of the revolution. These are not intended to be "full or final" on any subject but instead to further stimulate thought, and some things may be shared that reflect different "takes" or assessments on the same things, but are nevertheless important contributions to the overall process of getting to a scientific understanding.
***
NYC: In the Streets Against the Fascist Crackdown in Portland
From members of the Revolution Club, NYC:
About 200 people came out Saturday, July 18, in New York City in response to a call by Refuse Fascism and the NYC Revolution Club to stand up against Trump's fascist escalation in Portland and demand "No To A Fascist Police State! Trump/Pence Out Now!" The Club had originally been planning a protest against NYPD repression but decided to change our plans and broaden our scope when we saw what was developing on the political terrain.
Some high school students protested earlier in the day and they invited the Club to participate—so a couple of people went out to that—even as we were very stretched. This included one new person who took a big step to represent for the NYC Revolution Club with just one other Club member. We wrote a statement that we shared with them on Instagram too—saying we stand with them and highlighting a quote by BA on "No more generations of our youth, here and all around the world, whose life is over..." (BAsics 1:13) and bringing to people the need for an actual revolution.
Read more

At the Union Square rally, people of diverse backgrounds came out, including people who are directly under the boot of the police. It was inspiring to see people come back especially in the face of the brutal repression that people faced here in NYC last week, including one person tased and hospitalized, 20 arrested at a counter-protest of a "blue lives matter" protest. Youths and others told us that this was so beautiful to see because they were beginning to lose hope because the numbers have been dwindling and because of the repression. People chanted "Fuck the system, Make Revolution!" "NO Fascist Police State! Trump/Pence Out Now!" "November is too late. Trump/Pence Out Now!" and "We out here, this shit ain't funny! No Fascism in 2020!" "No Fascist Police State—We Stand With Portland."

One Black woman said at the speak-out, "I have so much love for you all out here. We are one race, one people. If I cut you, what color would you bleed? The same color." Another new young member of the Revolution Club spoke about being Jewish and how we say never again—but we have to act on it. The history of this country, genocide, slavery and war, and the seeds of fascism have been here. And she spoke powerfully to how they have thrown everything at us—tear gas, bullets, the police. But if they cut off our heads, three more need to grow back. We aren't going to stop. At the end we marched to "Abolition Park."

Two members from the Revolution Club both made compelling agitation—about the crossroads we face, the line from the Confederacy to the fascist in the White House, letting people in on our strategy, and straight up recruiting people into the Clubs for this and why we can't rely on the elections to stop this. Refuse Fascism also did compelling recruiting on the spot: "You are leaving a protest going home. Black van pulls up and 4-5 guys in fatigues jump out, grab you and throw you in the back of a van... What's different from that and what they did in Nazi Germany?"

And Refuse Fascism did a great job recruiting people into this—"Do you agree with stopping police murder of Black people? Do you agree with stopping the destruction of the environment? Do you agree with stopping the attacks on immigrants? Do you agree Trump/Pence must go? Then you have to join Refuse Fascism."

We marched from Union Square over to City Hall at what is now "Abolition Park" (where people have been camping overnight and demanding that New York City defund the police). We were part of a second rally/program there, uniting with people there to say "No Fascist Police State!" There was a moment of silence for John Lewis, a musician with Black Joy Experience singing "I love being black!," and people were dancing and singing together. There was also a beautiful performance by a drag queen around the terror and sorrow of trans lives being cut down and losing your friends.

The Revolution Club gave another speech down there, and put out the role of the police quote and challenged the deadly notions of abolishing the police and the idea of reforming the system, and why we need leadership and science to get out of what we are in. Unlike our previous outing there, there wasn't hostile pushback—we learned through some active social investigation in the days leading up that people were feeling demoralized by the repression and the fact that powers that be did not meet people's demands, and one person said he felt very torn—between continuing to fight for this or more trying to go for revolution. They're leaning more towards revolution but "is that really even possible?" And "how could we do it?"

Going into Saturday, some of these discussions were happening with different forces who were levers to others, as part of our active social investigation—letting people know about the strategy for revolution, the leadership and why from our perspective and our strategy of dealing with encirclement, it was necessary to call people out into the streets and this was also working in conjunction with what had just happened in Portland.

New members of the Revolution Club read the Points of Attention for the Revolution and it was well received. One person, who is one of the organizers, made the points, if you are anti-racism, you have to be anti-fascist, if you are you anti-fascist, you have to be anti-patriarchy—really pulling together a different morality.

One young man who recently joined the Club was telling people in a very basic way, "You don't have to know everything, I'm not really into all this politics and reading and stuff. But I'm learning. All you have to do is want to be part of making a change and you can join this. So don't feel like you don't know enough to step in. You know enough. If you want this to end. You can join up. And all I know is I'm seeing Black people hanging from trees in 2020—and I know that's enough for me to step in and do something about this."

A member of Refuse Fascism led people in chanting, "This is what community looks like." New people joined the Revolution Club and we got messages of support from people who were impressed and moved by what was brought together. When we marched into City Hall, people were cheering. On the basis of what we had done and putting before people an ending to the white supremacy and a celebration of standing up in the face of this oppression—this was a whole different spirit and people coming together that was different than even 3-4 days ago.

There was a sense of "we are all on the same team" in ending white supremacy and institutionalized racism, nothing less, and an end to ALL the abuses people face. Even as there were differences in how people identified the fundamental problem and solution, this sense of team was on the foundation of Bob Avakian's method and approach; including the application of what some of us discussed in the George Floyd uprising article, about how to identify what's principal and what's secondary in any given struggle. What to unite over and where to struggle. And there was struggle in the lead up to this, in particular over "ownership" of the movement or "involving as many people as possible" and this was done through propagating our strategy and what it will take to get free by making revolution.

And it was on the basis of us very boldly putting forward who we are and what we are, and this system needs to be overthrown, and we are organizing now for this. There was also a positive synergy between Refuse Fascism and the Revcoms—I have to think more on why this is so but I think it's part of the "two way street" and making the revolution not feel like some far off abstract thing and even now with this repression from Trump.

A big part of how the new members of the Club are being trained is on the strategy for revolution, and they're beginning to get a grasp of impact, accumulate, impact further. And unite all who can be united and struggle where we need to.
***
"Why We Die" — A response to the killing of youth in Chicago and everywhere — A Poem
***
Washington, D.C., July 4: Burning the Flags Right Near the White House
From a member of the Revolution Club, NYC, and a member of Refuse Fascism:
In Washington, DC, we hosted two separate actions—one, a rally and speak-out with Refuse Fascism (RF) on Black Lives Matter Plaza and another, the #flagburningchallenge as close to the White House as we could get on the same street. The rally/speak-out portion was hosted by people from RF, who both spoke about the urgent need to drive Trump and Pence out of office, while calling out the hypocrisy of the celebration of this country, echoing the RF July 4th statement. The speak-out design was an 8 ft x 12 ft American flag laid on the ground with a microphone on top. People enthusiastically danced over the flag—there was a speaker/PA system so some music—e.g., "F Donald Trump," and "This Is America"—was played between speakers to build an audience and encourage participation, and about a dozen people spoke, while 60-100 people gathered throughout the 3-hour long program.
Read more

Most of what was shared was bitterness towards the country & the President, the lack of "real" accountability and action by the government, corporations, and other leaders—the insufficiency of performative activism. For example, one woman on the mic pointed out that all these cities now have BLM murals on the ground but offer no real solution to eradicate oppression of Black people in their communities. Another was upset that her dad grew up as a sharecropper and she works in social services—both giving so much of themselves to this country, but she'll never afford to own property. And yet another, a 11-year-old Black kid who rapped about learning to deal with police. Some of it was heavy, some more joyful moments, and overall—standing on the flag was established as optional, but majority expressed feeling liberated, and were happy to do so. In one instance someone who didn't want to speak while standing on the flag addressed the crowd to the side. Other people as they walked by stopped to dance to the music or wipe their feet on the flag. During the RF demo, Jamel from the Revolution Club came up to agitate for the need to drive out Trump and Pence from the perspective of making a revolution to end the oppression of Black and Brown people—and to take up the #flagburningchallenge today as part of properly displaying an American flag—and getting with the revolution.

Later in the evening at around 7:30 pm, Jamel addressed the crowd that had formed in prep for the #flagburningchallenge—some were just hanging around from the RF event, and others were there to hear Jamel and watched as he demo'd a mini flag burn at the end of his agitation. He talked about the crossroads we face with a fascist white supremacist at the helm, Mt. Rushmore, the diverse people who have taken up BLM, the exposure of the hypocrisy of this flag and the celebration of July 4th—and the need to get with the movement for revolution . As Jamel spoke, the crowd grew larger and media attention was significant.

We led the crowd of about 50 people in a small march from BLM Plaza over closer to the White House. Everyone following our group was given the fold and tear flyers, ready to fold and burn the half with the American flag. We lined up in two single file lines, and people pulled out their lighters. And throughout there were the chants of "1,2,3,4 slavery, genocide and war, 5,6,7,8, America was never great!" and "overthrow this f'ing system" as people burned flags. This was quickly met with resistance from a group of young Black men with "GOOD" written on their T-shirts, who had music set up at the gate in front of the White House. As the group marched up chanting—"1,2, 3,4 slavery genocide and war, 5,6,7, 8, America was never great"—you could hear the DJ say, "We are because of the same for the same thing."

As the group approached the White House fence and lined up ready to light the flags—you can see this group quickly moved in to stop what was happening. They specifically targeted our group, with Jamel at the center. We called for people to form a circle around Jamel and protected him from attack by this group who claimed we shouldn't "give the media what they want." This other group acted like pigs themselves, stomping out the fires and snatching papers out of our hands, claiming that "we didn't have any Black people" (to us, both Black). They pushed and shoved us and others, and one point nearly knocking a young Black woman over. People were upset by this, and we made flag burning and their behavior a mass question, called on people to do what they know is right—and torch that rag. People continued to burn their fold and tears and small flags we distributed in groups and circles everywhere near the front fence. Despite the contention building, and once all 300 flag flyers we distributed were burned, folks were eager to also burn the 8' x 12' flag that was left behind where the rally and speak out were happening.

Organizers of the disruptive group came up to try to talk or negotiate to stop or move us from the front of the White House. We told them to check their people—and asked them, Why are you defending the American rag? We asked them, Why are you defending this rag that flies over concentration camps and on the badges of murdering police? Why are you defending that flag? One organizer came on—and was barely able to get a word in edgewise without talking down to, especially the women, in the crowd and in our group. "You should willingly silence yourself," he told one of the young women who volunteers with RF Yonkers. We told the GOOD organizer to explain why and handed him the megaphone…. There were arguments breaking out everywhere at a certain point not just about flag burning, but where this movement needed to go, and what kind of movement it was actually going to take—and it wasn't just a matter of just listening to Black people. What kind of a world are you fighting for?

And so folks grabbed the BIG ASS flag, brought it to the center of action, and burned that too. which was majorly covered in press and media—CNN, BallerAlert, The Hill, etc. DC Police watched as it all went down from a relatively close perimeter but didn't interfere. Before torching the big flag—we agitated to the crowd again with Joey Johnson's call—talked about Supreme Court case Texas v. Johnson—and we raised our fists and chanted the "1, 2,3 4…" chant.

Overall it was a spirited 6-hour day of protest—RF and Revolution Club actions included. And most of it was a full expression of bitterness towards Trump, this country and the system that holds Black and Brown people down in all sections of society. Where there was contention with the flag—either for it being on the ground, or set aflame by dozens, that was met with strong reaction from organizers and real opposition that didn't back down. People were courageous and steadfast in both actions—defending the movement for revolution, for driving Trump and Pence out of office, and redefining the July 4th holiday through protest.

The core of volunteers from RF Yonkers was very attracted to the movement for revolution—flag burning and July 4th—and are seeing the need for driving out Trump and Pence as part of making a revolution to bring into being a society that could ensure that Black lives matter. This collectivity has also been forged through struggle and contention—as we have been out in the streets together over the past couple of weeks in DC and NYC—bringing "Trump Pence Out Now" to BLM protests with contention. Gonna leave this here for now.

~~~

In talking with revcom.us, Jamel of the Revolution Club put it this way: "Today, on July 4 we took up the call from Joey Johnson, the flag burning challenge in the face of the White House and in the face of Trump's military style celebration at the White House. We expected to be met by resistance from pigs, but found it instead from some in the crowd. We righteously both challenged and invited people to be part of what it would actually take to create a world where Black lives matter. And to imagine this. And that starts with imagining the end of America and burning that rag."
***
LA, July 4th: Torching the Flag at Trump's Walk of Fame Star
From a member of the Revolution Club, LA:
The protest in Hollywood was about 40 people. Besides our own people, it was mainly people we directly organized to come. There was media who came to cover the press conference with Joey Johnson and the protest, including Reuters and a photographer for the Los Angeles Times. There wasn't a lot of actual coverage, though. ABC showed some footage of the flag-burning and there was an article in a San Diego newspaper. A local TV station (KCAL) featured Jamel in DC. The LA Times ran a 4th of July article that didn't talk about the Hollywood protest (it mentioned the Olvera Street protest, which it said was 400 people), but included a good picture (a Revolution Club member centered, a Revolution—Nothing Less! T-shirt visible), and a caption, "Protesters march in Hollywood in the 'Demonstrate How to Dishonor the American Flag' event put on by the Revolution Club. The group burned a flag at President Trump's Walk of Fame star." There weren't other trends there or groups of fascists. And it seems we were censored by the main group that popularizes protests in the city (inthistogetherla did not list our protest), though there were individuals and smaller groups posting it.
Read more

Joey Johnson and others spoke at Sunset/Cahuenga, and we marched to the star and burned three flags (American flag, Confederate flag, and the pro-pig "blue lives matter" flag). Then, since there was more freedom, we burned a second American flag and invited others up to disrespect the flag or burn a couple smaller ones there. Mainly people were observing, though a woman in a Revolution—Nothing Less! shirt came up to burn a flag and said something like "fuck U.S. imperialism." Joey said a couple things and we wrapped up pretty quickly.

A number of people who were at the protest came to MacArthur Park afterwards, and other people who didn't go to the protest or missed it also came to the park. In addition to our people at the park, there were about 25 people. There was a nice display of the American Crimes from the revcom.us series and a good speech by Noche, then a speak-out element of people talking about why they were there/why they wanted to burn the flag, and we played two BA clips from the Trump/Pence Regime Must Go! speech and the Tulsa massacre video from the RNL Show—Revolution, Nothing Less! There were lots of small-group and one-on-one discussions happening in a good way. Then there were some people that hadn't been part of the action earlier and wanted to burn the flag and we gathered people up to do that. A couple who heard about it on the Michael Slate Show decided to burn the husband's American flag-themed shoes and did so.

I think the accumulating aspect of the day was very significant. There were people who had worked with us to make the flag-burning happen that really took responsibility and saw that through. There were people who showed up to be part of the day, some in Revolution—Nothing Less! T-shirts. There were people we met in Santa Ana who came to be part of the protest and the MacArthur Park gathering. A group of young women at the park, who have been following us on social media and were excited to be with us in person, went through the 5-2-6, and two of them put on T-shirts.
***
Chicago, July 4: "This flag stands for imperialism, this flag stands for the genocide of Black and Brown people"
From a member of the Revolution Club, Chicago:
The Revolution Club, Chicago joined Refuse Fascism's July 4 protest held in Chicago's Logan Square neighborhood. Logan Square is on the northwest side of Chicago. The area where the protest was held is a predominantly white and middle class area filled with millennials, many with small children. A bit farther west, the neighborhood includes lots of Latinos.
Club members coming up from the South Side remarked at how few American flags were flying on July 4th in the neighborhood and how many "Black Lives Matter" signs were posted in windows of the houses and flats in the Logan Square area.
Read more

Refuse Fascism posters and posters from the Revcoms (Tulsa, BA's "Nothing Less!" and RNL Show promotionals) were put up all over the area in the days before. By the time of the march, most had been systematically removed. As the rally gathered, a well-dressed white woman wearing gold jewelry came up to one of the Refuse Fascism (RF) organizers and showed her photos of a "crazy guy who was cutting down all your posters." She apologized that she was on her way to lunch with her visiting sister so she couldn't stay but hoped we had a great protest.

Before the rally began, a group of drummers from Degenerate Artists Against Fascism and RF performed as a call to people in the area to join the protest. About 50 people, predominantly white and young, including people from the neighborhood, gathered at the rally site, enjoying the music.

Before the rally, Club members distributed their leaflet calling on youth caught up in killing and dying on the streets of Chicago to lift their sights and get into the revolution. The people in the crowd were generally receptive to this and some said they could consider joining the protest the next weekend in the South Side neighborhoods where the violence is raging. One young woman said, "I have been with you all at a number of protests and I want to help with this," giving her contact info to a Club member. A bit later in the day, a Filipino youth spoke with a Club member about this, saying what you are trying to do is really important but also really, really hard. There is nothing for these Black youths who are trapped in these horrific conditions in these neighborhoods on the South Side.

The rally was short and was MC'd by Void from the Revolution Club. One of the drummers performed his song "The Trump Regime Has Got to Go." Lou from Refuse Fascism and Niko from the Revolution Club spoke. The rally was closed out by Paul Street leading people in taking the RF pledge.

In the midst of the rally, a young man wearing a helmet and holding an upside down American flag jumped on the "stage," an elevated section of the monument where the rally was held. Holding a bullhorn, he proceeded to disrupt the speakers. Monitors were able to move him away from the stage and stop him from using his bullhorn so the rally could conclude. It was unclear initially where he was coming from but this became clearer as the day went on.

After the rally, the crowd, which had grown to about 75 people, took off on a spirited march through the neighborhood. There were few people out on the streets but as the marchers passed houses, families came out on their porches to show their support, holding up their Black Live Matters signs from windows and taking photos from the sidewalks as they waited for buses. Chants of "No Trump, No KKK, No Fascist USA," "1, 2, 3, 4, Slavery, Genocide and War, 5, 6, 7, 8, America Was Never Great," "No White Supremacy, Silence Is Complicity," "Drive Out the Trump Regime," "This System Is Outrageous, It Puts Our Kids in Cages," "Trump/Pence Out Now" and more rang out from the march. Police on bikes followed the march. They did not interfere with the march taking the streets but they kept one lane open for traffic.

A press release sent that morning announced that the Revolution Club would be burning an American flag at the rally site at 4 pm. A news van from Channel 7 was seen circling the area around this time but did not return to cover the action. There was no press at the rally, march, or flag burning.

When the marchers returned to the rally site, some culminating points were conveyed by Refuse Fascism, and the MC announced that the Revolution Club would be taking up the call issued by Joey Johnson to burn a flag. Chanting "1, 2, 3, 4, Slavery, Genocide and War, 5, 6, 7, 8, America Was Never Great!" two Club members, surrounded by a security perimeter of other Club members, set the flag aflame. The crowd cheered and many, many came in close to take photos. As it burned, Niko from the Revolution Club called out, "This flag stands for imperialism, this flag stands for the genocide of Black and Brown people." A second flag was also burned.
***
NYC: Acting on the #FlagBurningChallenge at Trump Hotel and Tower, Bringing New People into the Revolution
From a member of the Revolution Club, NYC:
About 60 people took part in the #July4BurnFlag challenge called by the Revolution Club in New York City, with many burning flags of their own outside Trump Hotel in Columbus Circle and again at Trump Tower.
Carl Dix and a member of the Revolution Club spoke about the whole history of America, of why this was nothing to celebrate, and everything America stands for and what it does in the world, drawing from BA's new statement and also doing this as part of going up against the bloated bag of fascist feces in the White House, to repudiate him and invite people to imagine a world without America, without everything it stands for and does in the world, and to make this real, people were called to not only burn this flag but to get into the revolution. Many people eagerly took up the flag-burning challenge, and I mean eager, and spoke about why they themselves felt compelled to come out. Including being sickened by video after video of police murder, disgust at what the U.S. does to people all over the world, and the recent murder of Vanessa Guillen, a Latina military member who was bludgeoned to death. ...
Read more

...What was notable was how many people were expressing a coming to terms with the lies that they had been told about America and how they have been inspired by what has been happening so far and are getting some hope that things could be different and seeing things that they never thought they would see happen—but at the same time feel that things still haven't really changed in a fundamental way.

One young man expressed that he felt weird going to celebrate the 4th of July, but he couldn't really articulate it—when he came to the protest he said, wow, this was exactly how I was feeling.

And people spoke to how they have been heartened by people standing up against all of this, and inspired by people together to indict all the 5 STOPS and the need for unity. We spoke about and united about the deep desires that people have to be rid of this and called on people to go deeper; what people need now to put an end to this is science and leadership and what those things mean—and what we have in BA, who has done over 50 years of work in analyzing where this white supremacy came from and how it could be gotten rid of, and to think about what this means that we have a leader like this. And then called on people to act on that desire to see this ended by becoming a member of the Revolution Club to act now to organize thousands into this movement for revolution. We read the Points of Attention and called on people if they agreed with these points to come to the front and get a Revolution—Nothing Less T-shirt. About seven new people did—including people who have been working with the club and reading BAsics.

And then we marched to Trump Tower with great ferocity, hands clapping and chanting "1, 2, 3, 4, Slavery Genocide and War, 5, 6,7 ,8, America Was Never Great! and Revolution—Nothing Less."

It was intense, beautiful, and moving. And you actually felt that people were getting cohered around revolution—even while there was an unevenness in the understanding. New people took the mic and led the chants. And plans were made for an open-air revolution meeting. A small cluster of people afterwards talked together about the strategy for revolution and some new members took materials down to go to the Occupy City Hall.
***
Reaching for the "Power of Science" in Turbulent Times
Editors' Note: Below are edited excerpts of wrangling and reflections from a newer member of the National Revolution Tour. They have been part of the Beautiful Rising protests, inspired by people "putting their individual interests of fear aside and actually feeling a stronger calling to fight back against these oppressors after experiencing the violent attempts at repression," while at the same time grappling with the ugly, violent—and inhumane—repression of the police, the fascists and others.
The comrade began by recounting experiences in the recent uprising following the lynching of George Floyd:
"People took to the streets standing together to demand, 'Black Lives Matter' and with the heart and spirit set heavy with a determination to end the way Black people are indiscriminately dehumanized, and lynched by the police. Thousands of people had been out around the country and soon after around the world. This continues in a mass and sustained way although the demonstrations have ebbed a little. In the first few weeks there was heavy repression by use of force by the police. Rubber bullets, tear gas, batons, flash bangs. Some people were very frightened by this. I was pretty frightened by the potential physical harm. But like many people I talked to, standing beside comrades and beside strangers with a common sentiment, the sentiment of NO MORE lynchings, no more murder by police, no more institutionalized racism, standing shoulder to shoulder with people who were willing to put aside what individual risk there was to stand for something bigger I found strength. ...
Read more

I felt the strength of righteousness—standing on the right side, and the kind of force used against us gave me more confidence in the position we took. 'These fucking pigs.' I have a lot of disdain. I took a lot of footage of the lines being held. Their line, armored and weaponized and ours, righteous and determined, half cowed at times with the fresh masses being very new to protests thinking that by cowering and cooperating the pigs would be nicer. With this footage you can see the kind of contempt these pigs have for us. Some are smirking, flexing, twitching, jaws clenched. Maybe some are scared. I wonder and muse and try to see if there is empathy, if the indoctrination isn't fully set. Who might come to our side. Part of me keeps pleading with them after arrest. In my head mostly. I say a short stint out loud. 'Do you see which side you are on? How can you live with yourself? You are shooting at, beating and arresting kids. Do you see what side you are on? Are you not human?' My outrage is an expression of disbelief that there can be such cruelty in this world and people who carry it out. It's a part of my feet being in many places at once.

"The protest went on in a sustained way after this. People who were interviewed by the RNL Show stated that the fear of repression wouldn't keep them away, like I expressed above, a lot of people were feeling that same sentiment of putting their individual interests of fear aside and actually feeling a stronger calling to fight back against these oppressors after experiencing the violent attempts at repression. The lines drawn of 'which side' became sharper...."

The comrade went on to reflect further:

"[Reflecting on] the bulk of horrendousness and unnecessariness of 'it all' the question surfaces, 'Why are there mean people in the world?' Why is there so much ugliness? I think it's okay to start there, with those questions however it would be wrong to sit atop all that pain and ferment in it for too long as I have before, just woe-ing. Something I have gained in my interacting with the Revolution Club and the new communism is the inclination to pursue and investigate with a purpose, to find truth, to try to locate the source and begin a process of working to change things with a new confidence and sense of direction in that undertaking. I'm not completely set or trained in this but that night I was falling into it a little, I was reminded of the tools and the way to move forward. I think about the process we are trying to involve others in, and the process I am taking up, using a scientific and materialist approach to examining reality and changing it for the better, in the interest of humanity. It's a kind of hope and lifeline and tool that humanity really needs.

"I'm really digressing, but to round this out, early into joining up with the tour I was feeling fucked up about thinking about the opposing forces in a kind of flat way, not specifically the situation with the pigs suppressing the protests but before that, thinking about the lynchings and other manifestations of the 5 Stops like rape and people who take joy and find power in hurting others. I was initially taking it as this 'cycle of abuse' that is 'nurtured' into people, but also almost thinking about the ways these behaviors materialize as a result of 'human nature' and not external contradiction. That is where the 'hopeless and defeated' pain came from—trying to understand why there is some kind of 'inherent cruelty' in people. Why and how is there a world where other humans want to inflict pain on each other 'just because.'

"It wasn't that much of a scholarly leap to pull myself to a more reasonable and scientific approach. Partly because I was being quite a 5-year-old in my initial emotional response to the fucked-up-ness of the world. 'Why!?' with a big sad face. Then there was the part of me telling myself to stop being a baby & figure it out. Look at the way society has developed. What kind of necessity posed itself. With what tools did people set out to understand the world and secure the means to live and reproduce? In the past due to limited technology, understanding and preparedness there was scarcity and insecurity of the resources to live and reproduce and societal structures formed in a way. Hand to mouth, to agrarian societies, to feudalism to capitalism. This is a cheap way of putting things, I know this isn't a thorough or super accurate analysis but as I'm trying to work through this it may fall short. Anyways, at some point humans developed better tools and technology to secure ways to reproduce the means to live. The models of scarcity are imposed on masses because of an outmoded system of capitalism-imperialism that runs on exploiting masses that can and should be done away with. It's long, long past its time. This was a helpful and less defeatist way of approaching reality.

"I didn't have to turn to god or sin or whatever. There is a lot of power to science. Even as I'm just learning about dialectical materialism, I kind of have a love for it. It feels like a lifeline. The point is to get better at using the tool of dialectical materialism and struggling with, inviting and empowering others to take up a process of examining reality in this way. I can relate this further to the two-part talk by BA on revcom.us under collected works/audio: "The Material Basis and the Method for Making Revolution." He goes into the need for ideological struggle and the importance of working with the masses. He goes into the Enriched What Is To Be Done-ism 6 paragraphs. I want to write more about this tomorrow. I took a lot away from a summary of Lenin's WITBD and relating it to the way we (Rev Club) take up both ideological struggle with the masses and the—often on my end—neglected need to get further into theory and history. Neglected due to prioritizing 'tasks' and trying to make revolution based on that flatness, being task oriented and lacking initiative or bowing down to spontaneity or necessity. I'm not sure which one of these is most accurate but I mean taking up some kind of 1-1 approach and feeling kind of dragged around without proper planning. With these uprisings posing urgent necessity and demand on time we have re-evaluated often in hindsight.

"Re-evaluating in hindsight or summation is good but there should be an advance in what we learn from these observations and how we act in the future. There is a balance between needing to be flexible in a quickly changing environment and needing to plan more than one or two days in advance."
***
Taking "Revolution—Nothing Less!" into March Demanding Justice for Andres Guardado, Killed by Police
From the Revolution Club, Los Angeles:
As the powerful protests for Black lives shake society demanding an end to racist murders by police, sheriffs in Gardena, California, ruthlessly murdered 18-year-old Andres Guardado on June 18. They shot at least six bullets into him at the auto body shop where he worked as a security guard and then ripped out the security cameras at the shop. Three days later, the day after Trump's racist, violent, fascist speech in Tulsa, Oklahoma, about 500 people took to the streets in Gardena and Compton in a powerful march and protest demanding justice for Andres.
Read more

People and organizations came into the streets who have been part of the ongoing upsurge, and others came into the streets from the neighborhood for the first time.Some people traveled from far-out areas, full of outrage and deciding they could not sit this out. Andres' family and friends marched together with Salvadoran flags in a contingent with a banner in Spanish saying, "Justice for Andres Guardado." A network of people took part who have been uniting with the protests for Black lives and demanding "free our kids" from the cages this government is locking immigrants into. The organizers of the march explicitly expressed unity between Black and Brown people, and this was beautifully seen as the mainly Latino march made its way through Compton and Black people came out to watch and support, some with fists up.

As the marchers gathered at the memorial site, members of the Revolution Club spoke about the need to finally put AN END to this, not continue with cycles that keep it going, and then handed the mic to the brother of Anthony Weber who talked about his 16-year-old brother being shot in the back 16 times two years ago and said: We are people and demand to be treated as such.

The Revcoms carried a banner, "This System Cannot Be Reformed, It Must Be Overthrown," and an enlarged quote from Bob Avakian (BA), "The role of the police is not to serve and protect the people. It is to serve and protect the system that rules over the people.…" During the march we would at times form a horizontal line behind the banner, drawing everyone's attention to this formation in "Revolution—Nothing Less!" T-shirts, which included new people who had just joined in through the protests of the last two days. At one point we started chanting, "Trump loves cops, cops love Trump, HELL NO! THEY ALL GOTTA GO!" Not everybody caught on to this chant right away, and there was even some opposition to it, while others loved it, including a young woman hanging out of one of the cars riding along in the protest who threw her middle finger up in the rhythm of the chant. Along the march people took signs with "We Say No More! Revolution—Nothing Less!" and taped them on their cars or bodies and grabbed the posters being distributed with BA's "Nothing Less!"statement and the history and significance of the racist violence in Tulsa and Trump's campaign starting there. People familiar with the Revcoms in different ways were finding us there, some joining in on the spot to help get out materials. 

When the march got to the Compton sheriff's station, the sheriffs were lined up in riot gear behind a metal fence and threatening people. Much of the youthful protest defiantly went right up to the fence, shouting and chanting in the face of the sheriffs, and Aztec dancers went to the front and danced. The father of Andres Guardado gathered his courage to speak briefly to the crowd, expressing his grief and pain and his appreciation for people being there together and the need to put a stop to this. This opened up a speak-out where four other families of people murdered by police got on the mic and told their stories, further painting a real picture of the pig nature of these murderous police.

As the rally was coming to a close, the sheriffs put their brutality and inhumanness on full display. On the other side of the building where they were also lined up in riot gear, they began shooting tear gas, rubber bullets, and flash bangs at people who were in their faces, refusing to back down. Over and over again they would shoot something and the small crowd would fall back and gather again.

At one point, a couple of young Latino guys went and stood up close directly in front of the sheriffs with their backs turned and hands behind their heads. They had already been tear-gassed and their faces were red and puffy. Some people have said that Andres was shot in the back with his hands up this way when he was killed. Some of us joined with them and gathered others to do the same and formed a line in front of the sheriffs, shouting out Andres' name. The sheriffs decided not to keep shooting at people in this circumstance. Instead, they started circling a helicopter overhead, threatening people with more violence and arrest. As this was happening, a second standoff was occurring back on the other side of the building. These standoffs went on for about an hour. 

As they were happening, there were other groupings of people who had been part of the earlier rally gathered on the sidewalk away from the building, talking and getting organized. Those in our crew who weren't in the middle of the standoff were able to talk to people there. A student who grew up in Compton said he wants to be part of an organization and he was attracted to the banner and asked how he could participate. From a report from a comrade: "I gave him the Tulsa statement and asked him to read the BA statement. He said I completely agree, I'm with this. He asked how can he start organizing now and I put the problem back to him that not enough people know about this revolution and its leadership, so spreading the word is an important way in going to work at that. He took a stack of flyers and we talked about the need for growing numbers of people to represent for this revolution and call on others to get organized into this revolution as part of accelerating the process of actually making revolution. We read the 5-2-6 and told him to get a shirt if he agrees, to begin to represent... He ended up buying three shirts (one for him and for his siblings)."

Lots of other important conversations were happening throughout the whole day, and some of these continued at a meeting the next day. More on that soon.
***
Los Angeles: Snapshot on the June 20 Protest
From a member of the Revolution Club, LA:
A snapshot and few insights from today's protest:
There were over 100 people on the march and about 140 out at the Trump star at the Hollywood Walk of Fame. It was important that the night before, leading into the event, the Instagram account with many thousands of people added this protest to the 25 events happening in LA today. This was the only event challenging Trump's KKKampaign rally in Tulsa. Some came off that. This action attracted people we really have to work to consolidate(!). For example, people who had just read Refuse Fascism material over the past couple of days, and the fascist description really resonated with them—they want to connect up from here on out (and want to learn more...). Or one young woman who by herself went to DC from June 6-10, who lives in a small town one hour away from LA, and who, when she and eight other friends protested Floyd's murder in her town, were set upon by fascists with guns (she has a video of it), and was wrestling with all of it, including why the police did nothing about it. My point at the top here is there were "fresh forces" at this event who were serious about Black Lives Matter AND serious about driving Trump and fascist regime out...
Read more

The action got framed well at the beginning, sharpening the crossroads and stakes and what Tulsa actually represented today, what this tells us about the fascists and their white supremacist genocidal program. Chantelle and Michelle MC'd and Noche spoke for the National Revolution Tour. Noche was particularly sharp on the nature of the U.S. and its history of violent white supremacy—"so don't tell me it can't happen here"—zeroing in on the moment we are in, which now powerfully has a NEW situation w/ mass resistance, which needs to be connected with Trump/Pence Out Now and with revolution. Noche did a call-and-response on the main slogan in BA's "Nothing Less!" statement and invited people to study BA on revolution, and he raised, "How can you get rid of white supremacy and police murder of Black and Brown people when you have an open white supremacist and fascist in the White House and who controls the levers of power?" This first rally also included a speech from Rich Procida, from LA Progressive and Bible Study for Progressives, which was a coherent presentation on how the Trump regime is going after voting rights, rigging the elections, attacking the Constitution etc.—it concentrated an important trend in the Trump/Pence Out Now movement.

The MCs did a good job training the crowd in new chants for the march, when the rally ended and march started. There wasn't a huge crowd out along the route, but definitely some of the stores and restaurants were open along the route, and there were people out and the march was tight and powerful. It picked up people along the way, including young Black youths on electric bikes who joined the march. There were cars following the march, people who were providing water and some food, and there with people hanging out of cars with posters. A big part of the march—most of the people—had the "#OUT NOW" Refuse Fascism sticker, which had a big impact. The Trump/Pence Out Now / RefuseFascism.org banner was held by seven people from the beginning of the rally to the end of the event.

Once the march got to the Trump star, media that had been there at the beginning and more were waiting: CNN, KTLA Channel 5, Channel 9 and KCBS 2; there were a lot of photographers, including from Getty and AFP. There was a galvanizing speak-out, with different people speaking to the murder of George Floyd and how the police murder us—"SO DON'T TALK TO ME ABOUT BLACK ON BLACK CRIME"—and people who made connections between Hitler and Trump. There was some sweet binational/bilingual singing by a woman who had a song about liars in office being no more. The videographers and photographers jumped on it when a whole bunch of people, one after the other, put OUT NOW stickers on the Trump star, which was covered up completely.

A number of these fresh new forces took up small stacks of the new Call to Act/Statement of Conscience from Refuse Fascism. The revcom.us statement about this crossroads and Tulsa was also passed out to the crowd. Some people were planning to come to Grand Park Sunday at 3 pm. During this last part there were brief speeches by the MCs on the fascist program of Trump/Pence and driving out the regime, and returning to the significance of this when Trump is in Tulsa, the site of the massacre of Black people 99 years ago. And that Refuse Fascism is in Tulsa too—challenging this fascist program with orientation of driving out.
***
Chicago: Out at the Juneteenth March
From a member of the Chicago Revolution Club:
As anticipated there were all kinds of Juneteenth events all over the city. I don't yet have a full picture of them and I don't think the local media is very clear on all that happened either. The front page of the print edition of the Tribune has an awesome picture of Black women with their fists raised and huge smiles on their faces (Kente cloth masks on their chins, a big sign saying "I'm here so my kids won't have to be" and a headline "Day Like No Other"). This photo is from what was actually a pretty staid protest of hundreds early in the day that included politicians Gov. Pritzker, Tammy Duckworth, etc. It was organized by ministers. Marched from Columbus and Roosevelt into Grant Park. They had snowplows block entrances on Lake Shore Drive...
Read more

Along King Drive and Cottage Grove early in the day there were small festivals, food giveaways and more. It was a beautiful hot summer day. Juneteenth was in the air all over. I don't know the results of other events but announcements included medical workers for BLM near the University of Chicago hospital. Car caravans from different parts of the city, a protest in Englewood that included the "Trump Resign" demand. Lots of events were planned on the West Side too.

Refuse Fascism and a few Club folks manifested at 10 am at a gathering at Union Park which was much smaller than anticipated—a few hundred people who are part of "fight for 15." There are beautiful photos of the Refuse Fascism presence on IG. Looked great and included a few drummers. Met some people there who had marched with the Club downtown.

The Club gathered in the Loop at 2 pm anticipating that there would be throngs of people still there from the various gatherings that were supposed to culminate there. We were wrong, but a Club core practiced drilling downtown with "We are the Rev Coms, the Mighty Mighty Rev Coms" and some of us briefly joined a small protest at ICE.

We were able to do a really good orientation, stepping back to the bigger stage and looking at the situation from the perspective of being "strategic commanders." This was really important because until then we were not in tune with the whole situation, including Trump's ugly threats on the protests in the Tulsa and the anticipation that we might need to be poised to act on Saturday or Sunday to meet a possible counter-revolutionary assault on those standing up for Black lives and against the fascist Trump/Pence regime in Tulsa.

Around 4:30 we headed over to hook up with the protest called for 6 pm at 2400 S State. (For non-Chicagoans, this is a grassy field where Ickes Housing project used to be in the South Loop which has been transformed over the past 20 years from a site of SROs and projects into a vibrant middle class community of condos and high rise NYC like downtown or just south of downtown, apartments and other living spaces, shopping areas, etc. It is pretty interesting community, diverse and young with many people who work in medical professions—white, Black, South Asian. It is also near the downtown colleges and when the schools are open has 1000's of college students. )

Traffic was backed up for blocks and people were walking along the streets holding homemade cardboard signs heading for this gathering. When the traffic came to a halt, we decided to exit our cars and march the rest of the way. Our crew with a Revolution—Nothing Less banner chanted and marched past people eating at outside restaurants who greeted us with fists raised.

The area was covered with beautiful posters from Revcom.us (Tulsa and BA's "Nothing Less!") and also posters for the RNL Show.

When we got to the park around 5:30, there were only a few people there. We set up near the entrance with our banner, the sound. People (mostly 20 somethings of all nationalities, including lots and lots of white people, kids in stroller, etc., most with homemade signs) began streaming into the park. This did not stop for an hour or more. We passed out 11x17 glossy 2-sided posters from revcom together with the "No More" statement. Hundreds took fliers. It was not a much of a "stop and talk to us" group, just streams of people–although a few folks did stop at the banner including a young man who said he had marched with us before in rainbow shorts who ran with the us the whole evening, helping to carry our banner. One of the people we had met with last week (19 years old) greeted us but did not stay to run with us.

This was a fresh newly awakening crowd. Most has no idea who we were unless they had marched with us earlier in the midst of this upsurge.

People fill this "green space." There was a rally but their sound system was not real good. Heard a little. One person did some very sharp exposure of Tulsa 1921. There were calls for CPAC (community control of police initiative that has been going on here for years and years.)

We were able to get hundreds of Refuse Fascism flyers for the Saturday protest to coincide with Trump's Tulsa speech and got them out widely while people were listening to the rally. The call to protest to coincide with Trump's speech was well received.

When the march finally poured out from the park (maybe 7:30 and an hour later than originally planned) it was huge. There were thousands—it was clearly "The Juneteenth Event" for Chicago. It was joyous and festive. People danced and drummed and chants rang out, "Say her name…," Say his name…," "Black Lives Matter" and more.

The Club led a wide array of chants picking up on those the crowd was doing and interspersing our own. Many joined in with "It's Time, It's Time, It's Time to get organized for an actual revolution." People around us also joined in with "We are the Rev coms." It was a very cool scene. An old friend and his partner joined with us for a while and helped lead chants but we were not successful in organizing on the spot. There were people around us who were "with us" in a way. Two young white women who chanted along with the "we are rev coms" held up their signs (ones we'd made that say "We say No More, We need Revolution").

CPD was everywhere but with sort of low-key presence. Just pigs and more pigs standing along the streets in summer pig gear. When we got up to Roosevelt Road which is sort of the main opening to the downtown Loop they blocked all entrances into the heart of the city. Unlike the night of May 30 when people fought the police in the streets, this crowd while defiant was not one to push through the police lines. We got bottlenecked for a while and then the south-bound route opened up and the march continued south and returned to its starting point. Joyous, defiant and chanting, the march finally ended around 10:30 pm. You could see people heading out on all directions, mostly north into the city, and everywhere people raised signs and chanted as they departed.
***
NYC: June 20 March from Union Square to Trump Tower
From a member of the Revolution Club, NYC:
There was a lot that had to do with standing up for justice going on this afternoon in Union Square. People doing art, chalking the sidewalk, making posters and painting on bed sheets the names (George Floyd, Breonna Taylor & Ahmaud Arbery especially); dozens of people riding bikes in a group decked out with Black Lives Matter signs and chanting George Floyd's name. Around 3 p.m. 150-200 people marched into the square and held a brief Black Lives Matter rally. People got on the bullhorn and called out to them not to leave because a Refuse Fascism rally that's demanding Trump/Pence Out Now is starting in a few minutes. "Stay and march with us to Trump Tower to deliver the message…" And most of the people did stay...
Read more

When the rally got started there were 400+ people there, some from the earlier rally and others who come to be part of the Refuse Fascism rally. (A thing to note here is that people go to a Justice for George Floyd list on Instagram to find out what's happening and pick what rally they're going to go to from it. Whoever has been getting events posted on this list has to keep doing it because it does draw people out.)

The Refuse Fascism (RF) speaker and the person repping the Revolution Club did a good one-two getting things started. The RF laid out what was at stake that this inspirational upsurge in resistance that had swept the country was in the cross hairs of a fascist onslaught that aimed to crush it and shut down people's ability to stand up against any of the horrors people are forced to endure. And that to stop that from happening, we needed to drive this regime out. The Club member built on this and took it to that reality that the horrors were baked into the very fabric of the system and that to end them you needed an actual revolution. He also spoke to the leadership we have for this revolution in BA. And wound up by calling on people from whatever perspective to join with RF to drive out the regime. They both spoke to Tulsa as a concentration point in the challenge we faced and how RF had people there among the protesters saying no to Trump at the scene of his KKK rally.

After a dancer performed to "Fight The Power," and another speaker, Carl Dix underscored a few of the points that had already been hit. He noted how determined people in Minneapolis and here in NYC were to see these horrors ended and told them, "Don't let anyone tell you that determination is just an idle youthful dream." We can end these horrors, and to do that we have to get serious and get organized. He urged people who wanted to do that to get into the leadership we have for this revolution, to check BA's work, especially the Why We Need An Actual Revolution And How We Can Really Make Revolution speech, and to connect with people wearing the Revolution—Nothing Less! T-shirts to get with the club. And to watch The RNL Show. And he urged people who saw how the regime was intensifying all these horrors to get with RF.

From there we did a fund pitch and gathered people up to hit the streets. By the time we were in the street, the protest seemed to have grown, maybe to as much as 700-800. The chants coming from the front of the march were pretty much the ones from RF, although given the size of the march there were other chants being done in the middle and the end of the march. The march went to the Trump Tower, where there was another rally, and from there people marched to the West Side Highway, down the highway and then came east back over to Union Square.
***
LA: Getting Out the Tulsa Poster
June 20, 2020
The following is from a Revolution Club member in Los Angeles, reporting on getting out the revcom.us poster on the Tulsa massacre and other revolutionary material at the Juneteenth march.
It sounds like at the end point at Sunset near Crescent Heights, people had some pretty good experience with the posters and impact of having it on the walls, people reading them, getting bundles, and donating. One store owner saying to leave the posters on his store (people had covered his wooden storefront in the morning because they mistakenly thought it was closed down).
Read more

We got out 600 English posters and 150 Spanish and raised $180 in donations.

A big question we heard was, "Where to from here?" One Club member said she told people they need to get into the revolutionary leader Bob Avakian and the strategy for revolution. We were consciously using the back of the 5-2-6 poster, with the article on BA being a radically different leader... and calling on people to watch the Revolution Nothing Less YouTube show. Many people took up the palm cards and really liked the BAsics quote on the back.

Many people got small stacks of the poster to get out and donated, because they didn't really know the true history of the Tulsa massacre and want others to know. Many read the whole thing posted up on walls and then got small stacks and donated.

We are summing up that we need to not just ask people to take stacks or donate, though we need to do that—but really we need to invite people into the revolution and as part of that, taking it up in a myriad of ways. There's more to develop, including maybe interviewing some store owners about why they are making the important contribution of keeping these posters up on their wall; or the Syrian store clerk who read the poster and said it was horrific—he is from Syria and said 2 million people there have been killed by the war started by the U.S. He took a small stack to let people know the truth.
***
LA: Revcoms Lead March, Speak Out For Black-Latino Unity
June 15, 2020
On June 12, 300 people came together to say "Black and Brown United Against This System" in a march led by the Revcoms through downtown LA to the Central American neighborhood near MacArthur Park. Some people heard about it in various ways and came to be part of it, and others just showed up downtown looking to see if people would be in the streets and found it. Many expressed appreciation that there were people continuing to lead people to stay in the streets...
Read more

The march started with the Revcoms talking about the ways people are oppressed by this system and then taught to hate each other, and the fight needed to put an end to the oppression caused by this system, including some vision of what a new society would be like. Latino comrades spoke very frankly about how masses of immigrants, as well as Chicanos, are turned against Black people. 

Slowly, others began to come up to the mic, including a woman from an organization celebrating the anniversary of the Loving v. Virginia decision of the Supreme Court that legalized interracial marriage and a Latina lawyer who spoke powerfully about the terror her father and family had been subjected to by the police as she grew up and even through law school. Many other people gave moving examples of internalizing the thinking of the oppressor—and breaking free of that thinking.

At different points Noche Diaz in particular strongly brought out the goal of revolution, and the importance of the work that's been done and the leadership being provided by Bob Avakian. He gave living examples of how things would be different in the new revolutionary society and challenged people there to be part of bringing that into being—and getting with the revolution NOW. From the sound truck came recordings of Bob Avakian, the most important revolutionary thinker and leader today, with short, hard-hitting commentaries on what's going on. 

All different nationalities of people marched and chanted together, stopping at Rampart police station with its notorious history of brutality and corruption. Then the march entered the stretch of neighborhood where people are everywhere in what feels like an outdoor street vendor shopping plaza. Before marching in, everyone had practiced chanting in Spanish and the whole march entered chanting together, "Afroamericanos y Latinos ahora unidos en contra el sistema." It was captivating. It was an immediate message to all those filling the sidewalks and they were stopped in their tracks, looking with wide eyes, some smiling and joining the chants.

The march ended in the center of all the vendors and took over the intersection for at least an hour with an open mic speak-out that changed something as people listened to each other. Joe Veale started it off, and when he spoke about what the U.S. has been responsible for in Central America and what it's done to immigrants, there was applause and deep appreciation from many who had been on the march, and his comments were also translated so the primarily Spanish-speaking people joining in and along the sides could understand. 

An Asian-American man spoke passionately about how this country was built on 400 years of the oppression of Black people. He said, "We are here together, we are one, we are humanity!... We are all human and we must protect our Black community, because they have taken the pain of centuries for us and now is the time that we alleviate that pain." A Latino man came up and spoke about the racism among Latinos, that he is not even Black but gets discriminated against for being darker-skinned and all of this has to stop. A Black man who said he lives where the rebellion of 1992 began, looked out at the crowd of marchers and all the Central American immigrants everywhere and said with a smile, "It's been a long time coming, look at this. This looks beautiful, this was Martin Luther King's dream, this is what he was talking about, all of us coming together, doesn't matter what we are, all walks of life, it just looks beautiful, man, this is what LA is supposed to look like every day."

Michelle Xai ended the rally with reading the Points of Attention for the Revolution in English and Spanish and calling on people to join the Revolution Club and get into the big questions with us of how to put an end to this oppression and how to take this struggle forward. Refuse Fascism spoke at the beginning and end of the march, urging people to demonstrate on Saturday to drive out the Trump/Pence fascist regime. 

Something of real importance was brought forward last Friday—the challenge now is to carry that forward.
***
From Revolution Club, Chicago: Marching Through Downtown on the Two-Week Anniversary of Police Murder of George Floyd — and "Growing" the Protest Right on the Spot
June 15, 2020
When the mayor finally reopened downtown last Monday, we expected someone or some group would call a protest. When no one had by Wednesday, the Revolution Club (together with some new friends we have an online chat group with) concluded that we should call on people from all over the city to converge on downtown Saturday at 3 pm. We set up a Facebook event, made a flyer and posted the event on various online sites...
Read more

Our demands were those put forward in BA's statement: "An End to Institutionalized Racism and Murder by Police—Nothing Less!" and "An End to Any Way People Anywhere Are Used, Abused, and Brutalized—Nothing Less!" We also put forward the demands "Trump Pence #Out Now" and "#Revolution—Nothing Less." The text of our call was BA's statement, which we printed on the back of our flyer and used as the text for our Facebook event.

As of Saturday morning, fewer than 20 people were signed up on Facebook as "going." We had no idea what to expect. In a pre-protest conference call we decided no matter how big or small, what we were doing was very important and that we would work to "grow the protest" on the spot no matter what happened.

Club members got to the gathering site at Millennium Park before the start time. One young man was already waiting for us. A group of about five friends came up and offered to help set up. By the start time, there were over 100 people (a young and diverse crowd, many with homemade signs saying "Black Lives Matter" and "Justice for George Floyd"); a helicopter hovered in the sky overhead and various media were there.

The club did a short rally where club members spoke, uplifting the crowd by bringing out the importance of this upsurge and their still being in the streets and making clear that what is needed to stop this is an actual revolution and calling on people to get into Bob Avakian. A member of Refuse Fascism drew applause from the crowd, which took up the chant "Trump/Pence Out Now!" and encouraged everyone to attend Trump's Bunker Birthday protest on Sunday [the next day].

The young man who was there at the start offered to help carry the lead banner: "This System Can't Be Reformed! It Must Be Overthrown!" The banner led as the crowd poured into the street. Two protesters volunteered to carry a Stolen Lives banner (with photos of people killed by police). We headed toward Trump Tower with the crowd taking up the chants led by the Revolution Club: "How Do We Get Out of This Mess? Revolution, Nothing Less!" and "It's Time, It's Time. It's Time to get Organized for an Actual Revolution!". Throughout the march these chants, along with "1, 2, 3, 4. Slavery, Genocide, and War. 5, 6, 7, 8. America Was Never Great" were interspersed with "Trump/Pence Out Now!" and "Say his name ... Say her name ... "No Justice, No Peace," and more.

While downtown is not yet fully open, the crowd swelled from people on the streets and late arrivals to the protest. The Chicago Sun Times wrote that it grew to hundreds. It rallied on the street outside Trump Tower, took off down State Street through the Loop and then took over Lakeshore Drive for 20 plus minutes.

It was covered by TV news and the Chicago Sun Times website led Sunday morning with an article titled "Revolution Club, advocates for police reform march downtown on 2-week anniversary of massive George Floyd protest" with a photo of club members in uniform.
***
Making the Most Out of Going Into the Struggle in Minneapolis
June 14, 2020
From a member of the Revolution Club, Chicago:
I was asked to go to Minneapolis last week. I took it as a duty to go and to make the most out of it. It was a great learning experience in regards to myself being a Revolutionary.
The importance of watching legendary Revolutionary leadership in action and the excitement of watching a comrade I came with step up to the plate. Seeing faces I haven't seen a while and realizing how much I truly missed them. Having wonderful conversations as I learned from the masses. Yet there were some heartbreaking stories I have been told by people who were either themselves or had family that were hurt by crimes done by the Minneapolis police department...
Read more

But there were successes and mistakes that were made. But learning from them scientifically to move forward to build the movement for Revolution is the real treasure.

Also try importance of the "5-2-6." I won't go into a deep analysis about it now, but my experience in Minneapolis after its uprising made me realize that the police cannot be reformed under capitalism. Basically there is no such thing as a "good cop." The police refuse to call each other out for the crimes they commit. Making them just as guilty. More importantly, the police are not meant to protect and serve. The police only protect and serve the system that exploits us. That is brought forth on a deeper scientific study done by Revolutionary Leader Bob Avakian.

To quote Bob Avakian from BAsics 1:24, "The role of the police is not to serve and protect the people. It is to serve and protect the system that rules over the people. To enforce the relations of exploitation and oppression, the conditions of poverty, misery and degradation into which the system had cast people and is determined to keep people in. The law and order the police are about, with all of their brutality and murder, is the law and the order that enforces all this oppression and madness."

It also made me realize the critical importance of upholding the 6 Points of Attention and what dangers it might have if we compromise on them just a little. All members of the Revolution Club need to hold everyone accountable in a respectable fashion and using possible mistakes as learning experiences without shaming.

My final thoughts are to those people that foolishly judged me for going. Fighting for a better world is something all of us should aspire to. If you judge me for what I am, then be scientific enough to research why I am who I am. You might learn something and realize your head was up your ass all these years....
***
"We Won't Be Pitted Against Each Other": Working to Forge Unity Between Black People and Latinos in LA
June 10, 2020
From a member of the Revolution Club, Los Angeles
Two of us in the Revolution Club joined with a Latinos for Black Lives rally of maybe 50 or so mostly young people. We worked with the organizer to kick off a speak out. The organizer seemed like she hadn't led a protest before, said she had seen a lot of fucked up things online coming from Latino people speaking about BLM, and saying some backwards shit, so she decided to act on it and call for this protest and march together to the City Hall protest, and to call for unity and to oppose the racism that she had witnessed. She shared that her family member told her that if she went out and protested, that she should not return home. So she left, really hurt but recognizing the need to be out in the streets in this moment...
Read more

Another young woman who was holding a sign she made, with written history of the oppression of Black people on it. She spoke to the outrage of the fact that people in Central America leave their homes to come to the U.S. seeking a better life, and then powerfully brought out that Black people were kidnapped and forcefully brought to this country and was forced to build the wealth of this country. She thought more Latino people needed to be educated on this history to recognize the oppression of Black people and not be played by the backward shit that many people are caught up in. 

There were a few people who saw themselves as showing up as an ally, and the extent of it for them was letting Black people speak in this moment and thought more Latino people and others needed to come out as allies and support. That wasn't mostly where people were coming from, a lot of people were responding when I spoke about the need to go to work on the fact that there is conscious efforts to de-legitimize the protests and try to pit people against each other, and the need to actually keep coming back with an even stronger movement, with much more Latino and other people coming out and standing with people in the streets. 

When I spoke I brought out some of what has been happening in Chicago where people are being pitted against each other and all the shit I've seen on social media. People were coming up to me during the march and expressing a lot of frustration because they were seeing the same things on social media and talking about their family members saying some ugly shit about black people and not supporting the protests, and repeating a lot of what they are seeing on TV which is that these are just criminals. Some people were digging the idea of a march through MacArthur Park (a large Latino neighborhood) but we didn't make any concrete plans.* A woman was there with her 2 daughters and was in tears thinking about her family that she said were ending relationships left and right because they were getting into arguments with her and her 2 daughters, saying some ugly shit about black people. She has been defending what is happening, saying people are right to be in the streets, people are tired of being treated like animals, and she expressed a lot of anger because these questions are tearing up families, but she knew she was on the right side. I asked her how she thought we needed to work on this problem, she thought we needed to have those kinds of arguments with everyone. She said she didn't mind losing ties with family members because she knew they had to be challenged and pick a side.

I learned a lot from what people were saying, the fact that people are forced to respond to what is happening, it cannot be ignored. One big problem, I've seen a lot of shit on social media saying shit like "Where were they when we needed to protest about children in cages" and calling on Latinos to, instead of being out saying BLM, they need to be in the streets "with our people." Pitting the struggles against each other. One thing I'm still not super clear about is what Univision and Telemundo are saying about the protest, I haven't had the time to watch anything on TV and hear what they are saying. I have seen a lot of things online where people are talking about how these two networks, in particular, are spreading anti-blackness. I saw one story by Jorge Ramos where he was reporting on the attacks on the media by the police. One thing he did do, which was AWFUL and untrue, was he said the police hadn't used force until "the looters" started the violence, and therefore, the pigs used violence on everyone including the media. As I'm sitting here writing this, Univision is airing a special called "No to racism" where they are talking about the protest and I haven't heard any backward shit so far. They haven't said anything on the looting, they are mainly focusing on the murders by police, and the brutality of the police on the protesters, and telling different stories of people who have been victims of police brutality and murder, and exploring "solutions" they had CHIRLA (Coalition for Humane Immigrant Rights, LA) on to talk about defunding the police and investing in communities, they had a pig talk about why the brutality from pigs keeps happening and if there could be discourse between pigs and the communities… BARF! But I haven't seen any backwards shit against Black people. What I was told and seen a lot of was that during the more intense times of the protests, when shit was on fire, they were running out some shit calling black protesters criminals and thugs, and a lot of people in Latino communities took up that narrative and kept repeating it.

So it was important what people came together to do, and there's some strategizing and talking the Club is doing together with some people about how to work further on the way Latino/Black people are pitted against each other. More to come soon!

---

* Since this was originally written, the Revolution Club and National Tour to Get Organized for an ACTUAL Revolution have joined with others to call for a march this Friday at 5 pm, starting from City Hall. [back]
***
Reflections on the First Week of the Battle...
and Reading BA
June 10, 2020
From a member of the Revolution Tour:
I wanted to talk about what I've been learning in terms of like talking to people and talking to some youth out on the ground...
Read more

There was one point when a number of people protesting were getting arrested, there were a lot of youth out there who were processing what was actually happening. There was some of them who were very very afraid, who were like, "What's going to happen to me? What's happening right now?" and a little bit like panicked, and a bit like, "Oh my god this can't happen to me!" But then there were other youth, who were friends with those same youth who were scared, who were like, "NO! I don't give a fuck! They can arrest me and I don't care! Because I want this to stop! And this is the only way that this is going to stop by us standing up to it!" So their friends are kind of like inspiring and challenging each other within that.

I talked to one youth, I asked her why did she come out here, and she was very uncorked on, like, seeing the need and seeing that the future is in her hands, and not just in her hands, but in all of these youth who are standing up. And she had gotten so tired and fed up with all of what's happening.

Someone was telling me the other night too that they've been seeing all of these videos on TikTok of youth challenging their parents, like challenging their parents, they didn't send me a link and I want to investigate more, but there's youth who are challenging their parents saying, "I don't care what you say, I'm going out." So that's really interesting, that there's a lot of fear, but there's also a lot of fearlessness. That they wanna go put some shit on the line and they're seeing this is actually larger than themselves and they see that the future is their responsibility and is up to them to decide where it goes. So that was one point I was learning from people.

I am also learning that there's a lot of anti-trump sentiment. There's a lot of "fuck Trump!" sentiment. You say that chant out there and people are like "YEAH, FUCK TRUMP!" but what I don't know is, do people understand that Trump went and did this whole speech in front of the White House in the rose garden while people were getting tear gassed like a few feet away, and he went to hold up that bible in front of St. John's church. I don't know how much people understand that this represents an actual leap to, like, a police state and calling in the military and that fundamental leap and advancing with their fascist program. I think there is a need to really lead people and bring them to understand that, about the whole regime and the need to drive it out, and the fact that people are in the streets every day and what that needs to be transformed into.

And then, also, the role of the police. I think there are some people getting swayed by the kneeling shit. "Take a knee!" (to the pigs) but once one of us went at that like, "No! don't take a fucking knee with the police! This is the role of the police, they don't serve and protect!" Some people were listening and like, "Yeah! Yeah! I agree!" We were able to break that shit down. I've even started seeing some people on social media like, "No don't kneel, these pigs are taking a knee and then 5 minutes later their beating you over the head with a baton." So I think there is a need to lead people on that because there is that point that without science you are at the mercy of being manipulated by this shit and be swayed by "good cops/bad cops" whatever, so that was also something I was thinking about.

Another thing is that, on BA's pieces, the way I understand and what I'm learning is that he's getting at the biggest questions that people are thinking about and aren't thinking about, and the biggest question of the reality. And in the "nothing less!" piece the clarity of and even the end of it, "Revolution, why should we settle for anything less?" and really putting that as the question to be think about and work on. And the clarity of the BA piece on the violence of the police… the sharpness of his piece on the "bloated bag of fascist feces"… there's a lot of short and sharp that he's modeling that I think we need to be really rooting ourselves in.

I was also really struck by that longer piece on revolution and Roger Federer. One, I really learned a lot about tennis and Roger Federer and I actually looked up Roger Federer and spent like 30 mins to an hour watching tennis matches of Roger Federer, which is really like actually fucking amazing watching him play like I was astounded and BA brings life to that in the piece and the need to actually appreciate the artistry of Roger Federer and what he's doing and to appreciate what's actually happening right now, and to appreciate the beauty of the diversity of people coming together and not being cowed by lowered sights. One thing that I was taking from and learning about Roger Federer was being really set on the experimentation of things. He's not so caught up trying to be consistent (which is not necessarily a weakness. BA talks about the other great tennis players Djokovic and Nadal, that their strength is consistency and they're consistently going at it), and sometimes Federer even misses a shot, but he's actually willing to take risks even if it means losing a game or losing a really easy point. And that kind of struck me in terms of what we need to be doing right now, a lot of experimentation and running without a safety net.
***
To Those Who Wish to Escape the Real
June 10, 2020
And still there are those who wish to escape the real by trying to act like these events never happened. 
Ahmaud Arbery, Breonna Taylor, George Floyd, Darius Pinex, Justus Howell, Alton Sterling, Mike Brown, Tamir Rice (12 years old), Aiyana Stanley-Jones (7 years old), just to name a few...
Read more

Police has murdered close to 2,000 people since 2019! And you wish to believe that it's not happening?! I was first to mention David Smith, who died very much like George Floyd and numerous others. 

What's so troubling is they didn't do anything to warrant a death sentence by Police! So many people believe that they can navigate through life in these BLACK BODIES UNSCATHED. Like Eric Garner... Sandra Bland... Philando Castile, whose mother said "he lived by the law, obeyed the law, loved the law, and the law took his life!" Manuel Ellis who 3 months ago said, "I CAN'T BREATHE!" before Tacoma police took his life! 

There is way for us to win against this system of death and destruction to our bodies! A Revolution based upon the science of Bob Avakian. Something that will change the conditions under which we currently live. Or we can continue to give up our bodies to them willingly, but yet unwillingly. Revolution Nothing Less. 

Go to www.revcom.us and check out "Why We Need An Actual Revolution And How We Can Really Make Revolution." Join the Revolution Club nearest you and let's work on getting the millions needed to make an all-out change to this System.

(I own these words.)

XXX from a Revolution Club member in Chicago who did 25 years in prison.
***
Correspondence 1, May 25, 2020:
We've gone out to trains running through South Central with signs for The Revcoms on YouTube and the "EMANCIPATION FROM MENTAL SLAVERY AND ALL OPPRESSION" article from BA, made simple stencils for The Revcoms that could be read from people's cars and put up at freeway exits.
In taking out the article from BA on "EMANCIPATION FROM MENTAL SLAVERY AND ALL OPPRESSION," we're also studying the article for both content and, fundamentally, for method. BA is leading people and there is struggle to fully appreciate that and take up the same method, including actually leading people to engage what he's doing. That is in contrast to old ways of approaching things that is our spontaneous go-to and leads people with something else. One simple example: you can start with the first question BA poses and initiate a discussion with that, but leave out the second question, which means it's a very different discussion. "When, and how, will Black people finally be free from all forms of slavery and oppression?" And this poses straight-up this big question: "When will Black people finally emancipate themselves from the mental slavery of religion?!"...
Read more

A few more examples. BA talks about the 1960s towards the beginning of the piece, but you can talk about it in a way that does something different than what he's doing. We can talk about the hope people had in the 1960s in a way that makes it seem as if we are trying to hold onto the past for hope. Instead, what BA actually does is mine the reality of what happened at that time to show, among other things 1) the present is not permanent and why and how people's conditions and thinking have changed, and 2) he's also showing something concrete about what is meant by getting free of slavery and oppression—which today is easily reinterpreted because so few people are thinking in those terms.

We can talk about how there is now a feeling of fatalistic hopelessness without talking about how retreating into religion is the logic of defeat that assumes these conditions can't be changed and the best you can do is endure it. You can ask the question "How can Black people be finally and fully emancipated from centuries of oppression, and how does this relate to ending all oppression, of all people, everywhere?" without also going to the answer given directly after that. You can even struggle with people to stop believing in imaginary beings, but outside of the questions of how to end this oppression and how and why the belief is part of and reinforcing oppression and how people have come to take this up but can break free of this and take up the scientific method to understand the real root of their oppression in this system and how this system can be overthrown through revolution and replaced with a different and far better system. If the "struggle" is divorced in that way, it's doing something else and going somewhere else.

There is a challenge of whether and how we are going to go deep to struggle with people "where they live" and why this is necessary. Does it matter if people hold onto religion as long as they will unite on the basis of fighting back against particular outrages? It does if you are working to make an actual revolution and trying to bring forward the leaders necessary for that. Does it matter when we struggle with people if people are able to confront reality and see societal patterns of why things are the way they are and why people think the way they do, and consciously begin to compare and contrast different approaches to understanding the world? It does if people are actually going to be able to break out of a whole framework that explains the world one way (imaginary beings directing and shaping the world and scriptures that promote and reinforce degradation and horror) and take up a whole different framework, a scientific approach—understanding the world the way it really is and how it changes and can be further changed.

While spreading this article we would tell people the title and then read the two questions to people. In one instance, there were no Black people on our team, and a number of the Black people we talked to would ask initially about why we were talking about this if we're not Black, or would ask if we were Black. Rather than opening up a whole discussion about that, we would go back to those first two questions, or even read the whole first paragraph. Another way some people responded was saying Black people are free, or "I'm free." Again, we would go back to those first questions.

A man who said "I'm free," when I went back and read the two questions, I asked him if he was saying those are not the questions we confront, if this has already been resolved. That changed what he was talking about. Another guy wanted to know what we meant by free from all forms of slavery and oppression and when we got into the part about the 1960s, he understood we were talking about a radical struggle of Black people against the system to get free of oppression. With a number of people we read about half the article with them, and with all those people they were really into hearing it.

In another conversation, we were talking with one man and then brought in another woman to be part of the discussion. He was wrestling with how we could even be talking about ending this oppression through a revolution in the year 2020 when the attempt at this in the 1960s was crushed and people are not even thinking about that now. The woman wanted to know why we were saying Black people need to free themselves from the mental slavery of religion, what that faith has to do with this.

The man said that the '60s accomplished nothing. How we answered at the time was to say the '60s produced BA, that we now have the approach and understanding and leadership we need to make revolution that they didn't have then. But, in thinking back on this, that is not what BA actually says in the article in the whole section when he talks about this. It would have been more consistent with the article from BA to draw from how he addresses what was, and was not, accomplished in this time, pointing to how Black people's courageous struggle against oppression not only forced the system to grant certain reforms (it matters whether people no longer live in a segregated South with Black and white fountains), which have been under attack ever since, but also this struggle of the 1960s brought forth a terrible beauty that inspired and raised the hopes of people not only here but all over the world. Now, thanks to the work of BA, the lessons of that time have not been lost but rather have been synthesized into a much higher understanding of how to make revolution—indeed, a breakthrough in the understanding of what it will take, and how to achieve, the emancipation of humanity. So this is another example of how we're learning and struggling to actually wield this article.

When the same man who asked about the '60s insisted it is impossible to put an end to this oppression, I asked him to respond to this paragraph from BA's article and tell us where it's wrong:

The answer is that the possibility of this is real, but it can happen only on the basis of a scientific approach to changing the world and the scientifically-grounded understanding that this oppression is rooted in and caused by the system of capitalism-imperialism—the same system that is viciously exploiting and murderously oppressing people not just in this country but all over the world and is plundering the natural environment—and that this system must and can be overthrown through an actual revolution and replaced by a radically different and far better system: socialism, whose final goal is a communist world, without any oppression or exploitation of anyone, anywhere.

The woman who was also in this discussion had a flurry of questions after this, wanting to know more about who BA is and if he's running for office and what we mean by scientific approach and not religion and what socialism is and is this something that BA has developed and everybody just needs to follow what he's saying. She was curious to learn more but couldn't stick around. Meanwhile the man we were talking to got more seriously engaged and asked if we could really see a million Black people coming together in this time to make revolution. I showed him the 5-2-6 and the basis in those five stops for millions of people, and not just Black people, to come forward to make revolution. But I also went back to the article and the struggle it is waging for Black people to emancipate themselves from mental slavery and take up this scientific approach and understanding, that it is precisely this kind of struggle that is needed in order to transform the people for revolution, and that he is needed to be part of that now. He was intrigued, didn't want to give a way to stay in contact, said he would watch the Revolution, Nothing Less YouTube show and took extra copies of the article to share with others he talks to.

A Muslim man started off saying he was in agreement, but at the same time was arguing Black people need Islam to free themselves, and was running out the NOI program of getting your own property within this system and men being patriarchs over women. He listened while we read through a large portion of the article—including the part about the logic of defeat and "if you suffer in this life but you 'get right with the Lord,' or submit to Allah, you will be rewarded in some 'next life.'" He again responded by saying he agreed and continued to say what he'd already been saying. Finally we skipped to the part about the harm of believing in supernatural beings that do not exist but which are said to control reality, and the scriptures that reinforce all kinds of degradation and horror (and added in, like that patriarchal domination over women!). Here something finally pierced through and he said, "wait, supernatural beings?" Then the train came and we didn't continue with him.

These deeper discussions tended to be with people who were older, though that wasn't always the case. However, there was something that more drew the attention of youth, even though we weren't able to do that much with it. That was when we were riding on the train and doing some agitation about the article. People of all ages reached for the article. On one train a young Black woman listened intently nodding to the agitation, but then didn't want to talk more. On another train a young Latino man took out his phone and started filming and was saying this was good to see, we need people doing shit like this, even though he also didn't stick around and said he has his own revolution going.
***
Correspondence 2, May 25, 2020:
Are we taking people to the crucial questions posed and wrangled with in the article or are we using the article to prove our point or answer people's questions? Are we interpreting what BA says or leading with BA? Are we ourselves going to where BA takes us to this crucial problem about the oppression of Black people? Are we afraid to challenge people's deeply held, religious belief? Also importantly, do people grab ahold that this is from the leader of the revolution, Bob Avakian?...
Read more

BA models a scientific method and approach, and in this article, as with all of BA's work, invites people, walks them thru the reality from beginning—title of the article—to the very end. BA reminds readers, keeps coming back, to the crucial question of how can Black people finally and fully be emancipated from all forms of oppression. Why? Because it is a pivotal question in society that everyone needs to engage with. Putting an end to the oppression of Black people is not a Black people problem, it is a problem humanity faces and we all need to be part of putting an end to it! He keeps coming back to the question because we tend to veer in different directions to avoid looking at the reality that Black people continue to be oppressed. Throughout the article, BA reminds the reader why he is struggling with them by posing and reposing questions.

In taking out the article, we've had to keep coming back to the first two questions posed because people don't initially go there. Some say they are religious, believe in Jesus and either don't take the flyer or don't want to engage. But they haven't engaged the questions! The question is not "Do you believe in Jesus or not"! So there has been a need to constantly return to the questions, to reset terms.

We noticed with the Spanish-speaking community, many are unfamiliar with the oppression of Black people and some put forth "what about our (Latinx) oppression?" There was a tendency to chase after this question by utilizing parts of the article to prove that we are talking about ending all forms of oppression. This, of course, is true but, again, it is not addressing the question being posed! This is not leading the masses to confront the reality of the oppression of Black people—not leading the masses to wrangle with what is in the article. This is a good example of how we can take a section, a fact from the article but then end up not talking about what is in the article after all! This is not wielding the article! This is simply utilizing the article as a salad bar, taking a section to prove your point.

BA makes an argument from beginning to end. It's a scientific journey of history, lessons learned, how to understand why Black people are still oppressed and the possibility for real change by taking up a scientific method and approach. It is a beautiful journey with Hard Truths—cling to the mental slavery of religion and remain oppressed—and Emancipating Truths—cast off mental chains of religion and be part of putting an end to all oppression! We should lead and walk with people through this journey. This is what it means to wield the article with the masses, not just take a section and go off in talking about whatever you or the masses bring up. People need to feel different from our initial encounter to the end of our encounter—people should feel provoked, challenged, and inspired!

People have directly or indirectly said, "Without religion, what will give people hope?" Hope comes from the reality that things are not permanent! The point is that Black people can and need to emancipate themselves as part of emancipating all of humanity by tossing religion and taking up a scientific approach! Hope comes from the reality that, unlike the '60s and '70s, today we have the science, strategy, and leadership to make revolution and actually win! And BA in this article walks people through HOPE on a SCIENTIFIC basis.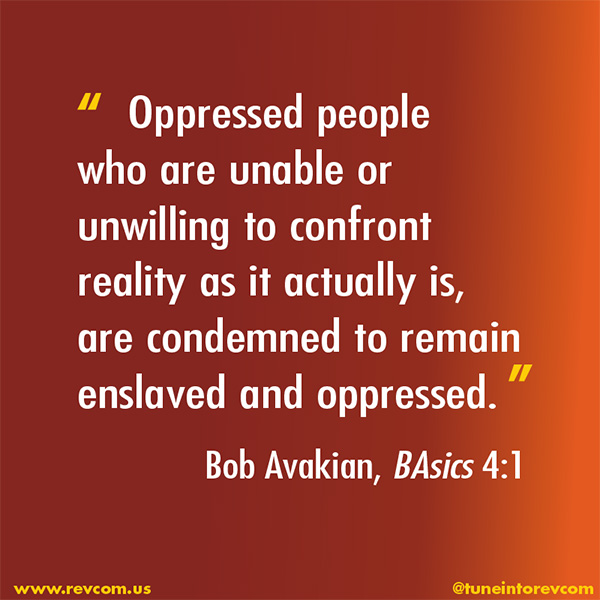 BAsics, from the talks and writings of Bob Avakian is a book of quotations and short essays that speaks powerfully to questions of revolution and human emancipation.
"You can't change the world if you don't know the BAsics."
Ways to Donate to the National Revolution Tour:
The National Revolution Tour now has Venmo: "@RevolutionTour"
Write in to getorganizedforrevolutiontour (at) gmail.com, let us know if you are taking up collections, or to send statements
Or call (323) 671-9839
Or send a check or money order, payable to RCP Publications and earmark it for National Revolution Tour. Mail to:

RCP Publications
Box 3486, Merchandise Mart
Chicago, IL 60654-0486

Volunteers Needed... for revcom.us and Revolution