The Outrageous Facts Brought Together Reveal...
The TRUTH About How Louisville Pigs Murdered Breonna Taylor
| revcom.us
Editors' Note: We recently posted a "Check it out" about a documentary by Yoruba Richen now streaming on Hulu and FX as a New York Times presentation—The Killing of Breonna Taylor. Here, a reader draws on the investigation brought alive in that documentary and news reports to pull together the story of Breonna's murder, and the cover-up by the police.
Breonna Taylor was a 26-year-old Black woman with big dreams for her future. She worked as an EMT, and was studying to be a registered nurse. Breonna inspired everyone who knew her, and her death has been crushing. She was sure 2020 would be "her year." But on March 13, three Louisville Metro Police Department (LMPD) cops crushed those dreams in a barrage of over 30 bullets.
Breonna and her boyfriend, Kenneth Walker, were in bed when, after midnight, they were awakened by a loud bang on the door. Kenneth says they were both "scared to death." Breonna yelled "Who is it?" but there was no answer. They both got up and heard a second knock on the door. This time Breonna yelled "Who is it?" at the top of her lungs. No response. Terrified, thinking they were about to be attacked, Kenneth grabbed his gun, which he was licensed to carry but had never used outside of a range.
Suddenly the door came crashing off its hinges, and Kenneth fired a warning shot, which may have hit the leg of one of the pigs that had just burst through the door. Then three plainclothes' pigs opened fire wildly, showering the apartment, and apartments nearby, with bullets. One neighbor heard a cop shout "reload." Breonna was struck six times, fatally, and fell to the floor. In the documentary The Killing of Breonna Taylor, you hear Kenneth, crying as he makes a 911 call to say Breonna has been shot and pleading for the police to help—not realizing that the police were the very ones who had just murdered the love of his life.
Breonna's body lay for hours in a pool of blood. Breonna's mother, Tamika Palmer, who came to the apartment desperately trying to find her daughter, was only told after 11 hours that her daughter had been shot to death. She had to watch the news to learn she'd been shot by the police. Kenneth Walker was arrested and accused of attempted murder of a cop—for firing his gun in self-defense. The charges were dropped at the end of May, without prejudice, meaning they can be reinstated at any time.
The three pigs who did the shooting weren't interviewed until 12 days after their invasion. They had gotten a "no knock" search warrant to break into Breonna's apartment, signed by a judge. Jonathan Mattingly, the pig who was shot, said without explaining that the "no knock" search warrant approved by a judge was changed verbally to a "knock and announce" warrant just before the raid. Mattingly admitted that the police knocked on the door twice without announcing who they were, just as Kenneth described. And while Mattingly goes on to claim they eventually identified themselves before smashing through the door with a battering ram, of all the people interviewed at the apartment building where the murder took place, only one could say he heard them say "police."
The LMPD's official "incident report," not released until three months later, was a lie and cover-up. The report was almost entirely blank. Breonna's injuries were listed as "None." And it said there was no forced entry.
Finally, after six months, on September 23, Kentucky attorney general Daniel Cameron announced the "result" of the grand jury investigation. No charges were brought against the three cops for killing Breonna. The only one charged at all was Brett Hankison, for "reckless endangerment"—not for the bullets he fired from the outside through the window into Breonna's bedroom, but the ones that struck the surrounding neighbors' apartments. Hankison has already been fired by the police department—and it came out after his firing that there were more than 20 complaints against him for excessive use of force and sexual assault complaints by a dozen women. None of these complaints had ever made it into his personnel file.
Why Was Breonna Taylor Targeted and Murdered?
Breonna's apartment was one of five targeted for "no knock" warrants issued for the night of March 13, allegedly for the search for one suspect, Jamarcus Glover, and drugs and cash. These warrants, issued by a judge, let cops smash down people's doors and enter private homes without warning. They're supposedly issued to prevent evidence of a crime from being destroyed, if there are security cameras that could alert the residents, or if they have reason to believe the cops' lives would be endangered because of nature of the crime or previous experience with the suspect. These were the justifications the judge signed off on to allow the pigs to smash into Breonna's apartment.
But none of these conditions existed.The apartment complex was not in a high-crime area, there were no cameras, and there was no reason for the cops to anticipate trouble. Further, Glover only had two previous arrests involving drugs—one 12 years earlier for dealing in another state, the other six years ago for possession—and no arrests involving violence. It also turned out Glover had already been picked up before they went to Breonna's apartment to find him. And no stashed drugs, or money, were ever found in Breonna's apartment.
In fact, the main targets that night were three apartments on Elliot Avenue in West Louisville, a whole other part of town. This is an area with a high concentration of poverty, terrible housing, and the crime and drugs that result. It's also an area city officials have planned for gentrification. Lawyers for Breonna's family link her killing to an LMPD operation aimed at clearing out a block of Elliot Avenue to make way for a "high dollar, legacy-creating" real estate project called Vision Russell. They allege in court documents that a controversial new police unit—Place-Based Investigations (PBI)—had "deliberately misled" narcotics detectives to target the home that Glover was renting on Elliott Avenue by convincing them that some of the city's largest violent crime and drug rings were located there. They believe Glover was unjustly targeted by PBI in order to evict him from the home so the city could buy it, which they have now done.
Breonna and her apartment became a target because Glover was a former boyfriend of Breonna's. The cops justified adding Breonna's address to the list of warrants by claiming they had evidence she was letting him use her place to receive and store drugs and money. The PBI cop who wrote the search warrant affidavit was caught lying about the crucial "evidence" he used, and is now on "administrative leave" until questions about "how and why the search warrant was approved" have been answered, according to a police statement.
The life of this young Black woman was perhaps most beautifully described by her mother, Tamika Palmer, who told the Cut: "I just think she was destined to be great. Breonna just loved life, and people gravitated towards her. She lit up a room and had this aura about herself."
Breonna Taylor, "Say Her Name!" Stop this system's genocidal persecution, mass incarceration, police brutality, and murder of Black and Brown people!
Georgetown law professor Paul Butler enacts a mock opening argument he would give if he were a prosecutor in the trial of the three cops who killed Breonna Taylor.
Download poster: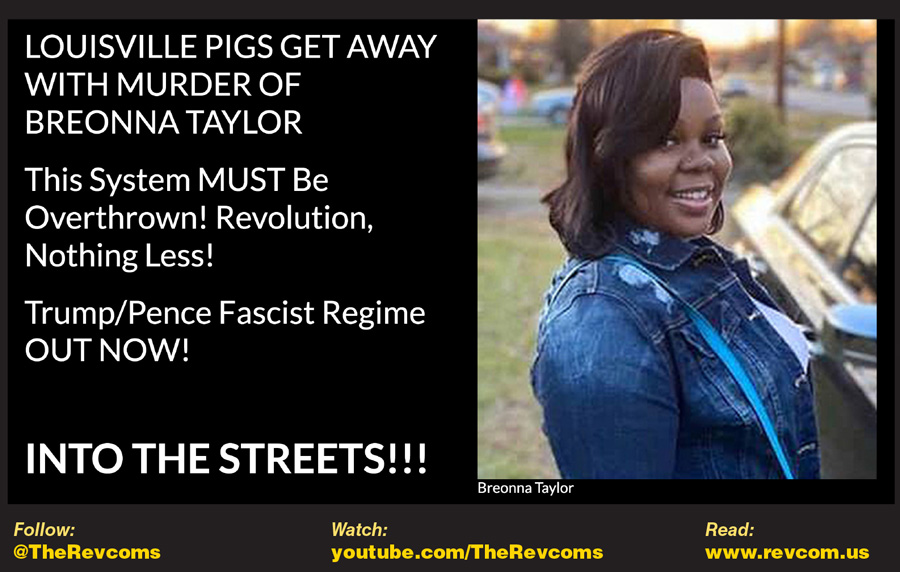 Volunteers Needed... for revcom.us and Revolution