Prepare the Ground, Prepare the People, and Prepare the Vanguard—Get Ready for the Time When Millions Can Be Led to Go for Revolution, All-Out, With a Real Chance to Win.
The RNL Show—Revolution, Nothing Less!
Special 2-Part Episode 5 of The Revolution, Nothing Less Show:
Trump's Fascist Power Grabs, COVID-19 and Capitalism-Imperialism
Part 1 Premiered on Thursday, April 23. Watch here:
Part 2 Premieres on Youtbe.com/therevcoms
Saturday, April 25
5 pm PDT / 8 pm EDT
On Episode 5, Part 1:
Sunsara Taylor will talk with Coco Das of the RefuseFascism.org Editorial Board about the Trump/Pence regime's fascist power grabs, the MAGA fascists marching in the streets, and the much-needed mission of RefuseFascism.org to drive out the Trump/Pence regime through mass, sustained, nonviolent protest.
Watch a clip from the Q&A that followed Bob Avakian's speech called Why We Need An Actual Revolution And How We Can Really Make Revolution. In this question, someone asks Avakian about there seeming to be a coming civil war between the Democrats and Republicans.
On Episode 5, Part 2:
Andy Zee will speak with Raymond Lotta, fellow spokesperson for Revolution Books NYC, about how the system of capitalism-imperialism sabotages humanity's ability to come together to solve international crisis and pandemics like the Covid-19 pandemic and why only revolution can fundamentally resolve this problem.
Earth Day 2020: A Planet "On Fire"
This is the 50th anniversary of Earth Day, an annual global event in support of the environment. Even as humanity confronts the COVID-19 pandemic, the destruction of the environment and ecosystems around the world continue at a rapidly accelerating pace...
At this moment, it is important to return to—and reground in—fundamental questions, and urgently go to work on that basis: What drives the plunder of the planet and global warming? Can this be resolved under this system of capitalism-imperialism, and if not, why not? What about reformist programs like the Green New Deal? What is the solution, what will it take?
"...we have two choices: either, live with all this—and condemn future generations to the same, or worse, if they have a future at all—or, make revolution!"

—Bob Avakian
The Get Organized for an ACTUAL Revolution Tour
"You Think You're Woke... But You're Sleepwalking Through A Nightmare —This System Cannot Be Reformed, It Must Be Overthrown!"
that aired on Tuesday, April 21
Livestream starts at 21:00.
Responses and Reflections from Members of the National Revolution Tour on Recent Articles From BA

From Chicago Revolution Club: Fighting the Power at Cook County Jail
In the Name of Humanity,
We REFUSE to Accept a Fascist America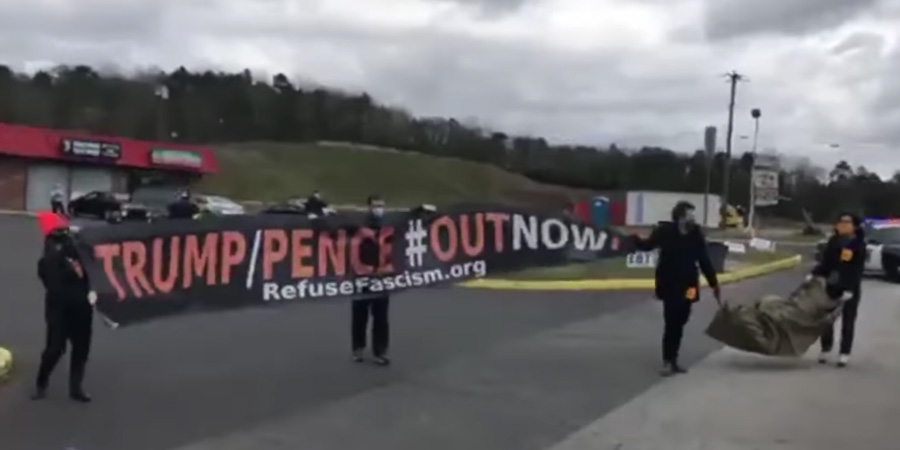 Delivering body bags to Trump National Golf Club in Pine Hill NJ and demanding Trump/Pence #OutNow, in the name of humanity. Photo: RefuseFascism.org
In a February 3, 2020 article, "Impeachment Protestors Call for 'Nonviolent Revolution' To End U.S. 'Fascism,'" in The Federalist..., Krystina Skurk attacks the diverse grouping of #OUTNOW! demonstrators calling for mass mobilization to demand the removal of the Trump/Pence fascist regime, and she especially targets those among the demonstrators who are advocates of the new communism brought forward by Bob Avakian (BA)...
To know and change the world...
get into Bob Avakian (BA),
the leader of the revolution.
To know and change the world... get into Bob Avakian (BA), the leader of the revolution.
BA has developed a new communism, a thoroughly scientific method and approach that charts a pathway to human emancipation.
This column features timely work from BA – a "living lab" of probing reality and grappling with advancing the revolution.
Read on to find BA's foundational work that gives a more overall understanding of why we need a revolution, what that revolution is all about, and how we can really make that revolution and build a whole new society.
Highlighting
About Bob Avakian
Bob Avakian and THE NEW COMMUNISM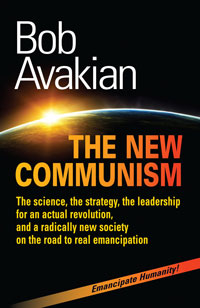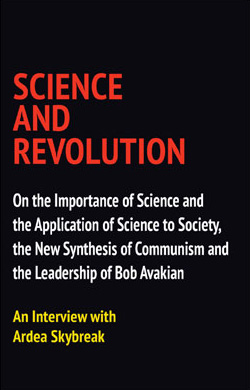 Updated prepublication PDF,
November, 2019
Read or download (searchable PDF)
Now also available in Spanish and in the journal Demarcations in these languages—English, Spanish, Farsi, Portuguese, German, and Turkish. The latter two are partial, and works in progress.
WWW.REVCOM.US/REVOLUTION NEWSPAPER brings alive a scientific analysis of major events in society and the world—why they are happening, how different events and developments relate to each other, how all this relates to the system we live under, where people's interests lie in relation to all this, how revolution is in fact the solution to all this and what the goals of that revolution are, how different viewpoints and programs relate, positively or negatively, to the revolution that is needed, and how people can move, and are moving, to build toward that revolution. Revcom.us/Revolution is the guide, the pivot, the crucial tool in drawing forward, orienting, training, and organizing thousands, and influencing millions—fighting the power, and transforming the people, for revolution—hastening and preparing for the time when we can go for the whole thing, with a real chance to win.
Subscribe to revcom.us | Donate to/Sustain revcom.us | Send your correspondence to revolution.reports@yahoo.com