Previous articles, campaigns, reports
The fate of women throughout the state of Texas, the futures of the courageous abortion providers who have struggled to keep their clinic doors open, and the direction of this fight for women's right to abortion and reproductive freedom across the country are still at stake. Now is not the time for complacency. It is time to step up! Read more
---
October 13, 2014. It is more critical than ever that the lessons and the accomplishments of the Abortion Rights Freedom Ride be built upon and that truly mass independent political resistance be built to STOP this war on women. In this light, Stop Patriarchy is sharing excerpts from the questionnaires that the Riders filled out reflecting on their experiences. Read more
---
October 6, 2014. Read more
---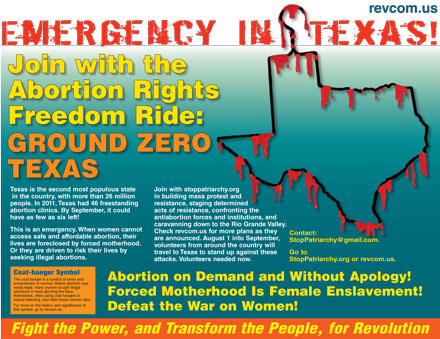 Download: PDF for print | JPG for web
December 18, 2014.
---
December 22, 2014.
In the bathroom at a McDonald's in Offenbach, Germany on the evening of November 15, two teenage girls were screaming for help. A 22-year-old German-born student of Turkish origin, Tuğçe Albayrak, heard their cries and alone rushed to their aid. She found several men harassing the two young girls and stopped them. Read more
---
December 5, 2014

by Sunsara Taylor. Each year on the anniversary of the legalization of abortion in this country, tens—perhaps hundreds—of thousands of people descend on Washington, DC and San Francisco to stand in public opposition to women's right to abortion. They call themselves the March for "Life," but what do these marches really stand for? What is the view of women they are promoting? What role are they playing in the larger political and legal landscape of escalating assault on women's right to abortion? And how must those of us who care about abortion rights and women's lives respond? Read more
---
---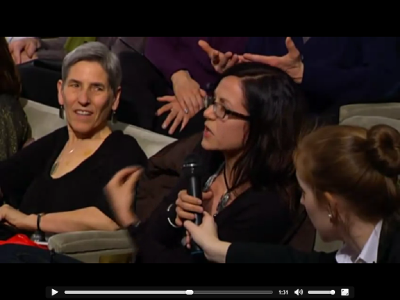 In the immediate wake of the Ray Rice/NFL scandal, this video clip of Sunsara Taylor's comments at a 2013 panel discussion has been picked up and re-blogged at many sites, and her comments remain timely today. Read more and watch the clip
---
September 29, 2014. In recent weeks in cities across the country (Los Angeles, Seattle, Berkeley, Chicago, and New York City), celebrations have been held to welcome back the courageous Abortion Rights Freedom Riders. These are over two dozen volunteers—ages 17 to 71—who put their lives on hold, traveled to Texas, and braved the blazing August heat, brutality and arrest, attack not only from anti-abortion forces but also from some very vicious "pro-choice" forces, to resist the greatest round of abortion clinic closures to hit a single state since Roe v. Wade legalized abortion in 1973. Read more
---
September 29, 2014. Read more
---
October 6, 2014. A talk given by Cecily McMillan at the August 2, 2014, New York City kick-off meeting for the Month of Resistance to Mass Incarceration, Police Terror, Repression and the Criminalization of a Generation. She had recently gotten out of Rikers Island prison after serving 58 days for an Occupy Wall Street case in which she was attacked and sexually abused by the NYPD. Read more
---
September 22, 2014. Read more
---
September 15, 2014. This correspondence addresses overall lessons in going out broadly into all streams of society and bringing out the need for revolution and the leadership of Bob Avakian, and it speaks in important ways to the question of violence against women and where it comes from, questions that are—or need to be—debated out and acted upon even more fully in the wake of the video of Ray Rice knocking Janay Palmer unconscious. Read more
---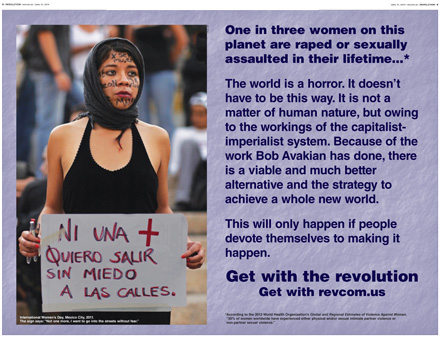 Download jpg for web | full size poster
---
September 15, 2014. For the Month of Resistance: A poem dedicated to Carl Dix and Cornel West. Read more
---
September 15. I protested because I feel responsible to act on what I know to be true. The closure of abortion clinics nationwide must be stopped because without the right to decide for themselves when and whether to have a child, women cannot be free. Read more
---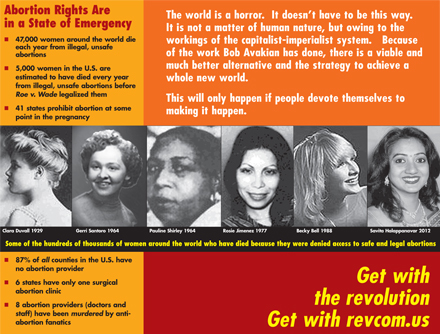 Download: PDF for print | JPG for web
---
Fact sheet from Stop Patriarchy:
Abortion rights are in a state of emergency, and headed for disaster
Updated August 31, 2014
It is urgent that everyone act now to stop this war on women. Forcing women to have children against their will is a form of enslavement.
Right now: Women across the country who cannot access safe abortions are attempting to self-abort using dangerous methods. Many more are forced to give birth to unwanted children and are trapped in abusive relationships, driven (deeper) into poverty, or are separated at birth from a baby they can't care for. This is the future for all women if these attacks are not resisted and defeated!
---
An important resource features 13 simple things that people can do—on their own or with others—to have a real impact in building this fight, along with step-by-step breakdowns of how to go about each of these things. And it encourages and provides a way for people to stay in touch with the movement, raising questions, making suggestions, and sharing and popularizing advanced experience across the country. Get started today
---
September 15, 2014. Rush transcript from the September 2, 2014 Project Censored Radio Show hosted by Mickey Huff and Dr. Peter Phillips (which airs on the progressiveradionetwork.com out of New York City). Sunsara Taylor is from StopPatriarchy.org and revcom.us and Dennis Trainor is from Acronym TV.

Listen to audio | Read transcript
---
This is not the first time women have been condemned to prison for protecting themselves or their loved ones. THIS MUST STOP NOW!
Posted September 19, 2014. Read more.
---
A statement from StopPatriarchy.org and the Abortion Rights Freedom Ride
August 29, 2014. Read more
---
To all those who truly do want to see an end to the outrages and abuses coming down on people... and to the slanderers, the haters, the opportunists, and worse. Read more
---
September 15, 2014. Read more
---
September 22, 2014. Read more
---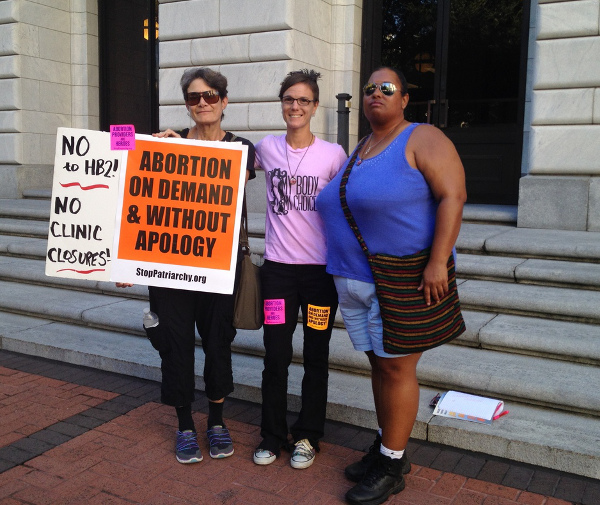 Posted September 18, 2014. Read more
---
September 15, 2014. Read more
---
Posted September 6, 2014. I got the call outside of Governor Rick Perry's mansion on Friday, August 29. It was nearly 5 pm. The clock had ticked incredibly slowly that day, and there we were, for the seventh time, at the culmination of weeks of struggle, protest, and exposure. The person on the other end of the phone said, "The judge ruled. He blocked the law. The clinics won't close on Monday, but the Attorney General is going to appeal it." I felt a combination of cautious relief and determination. Read more
---
Response from Sunsara Taylor to the unprincipled attacks on BA. Posted August 18, 2014. Read more
---
Percolation from a Reader:
August 24. Read more
---
by Sunsara Taylor
As a result of the Supreme Court decision on Monday, June 30, women across this country can now be denied the ability to safely and affordably prevent unplanned pregnancies because of the Dark Ages religious beliefs of their employers. Read more
---
Reports and photos from some of the protests following the June 30 Supreme Court decision. Read more
---
August 27. Sunsara Taylor and four other members of the Abortion Rights Freedom Ride: Ground Zero Texas 2014, were arrested on Wednesday, August 27, in Austin, Texas. Sunsara and other Freedom Riders courageously marched into the middle of Guadalupe St., bordering the campus of the University of Texas where 50,000 or so students just started class this week. When the Freedom Riders boldly went across Guadalupe St., a chaotic, swirling scene quickly disrupted the normalcy of business as usual as far as the eye could see. Read more
---
August 25 - September 1
Week of Defiance
Abortion Rights Freedom Ride 2014: GROUND ZERO TEXAS
---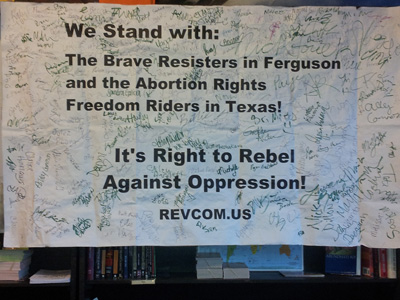 On Saturday, August 23, in Chicago close to 1,000 people came out to Slutwalk 2014.
Read more
---
---
Photos, Videos and Testimonials from Cultural Celebrations… Dinners… Picnics Across the Country, Hosted by BA Everywhere
---
Read more
---
Posted August 17, 2014. While talking to people in front of the Alamo in San Antonio, Texas a man started yelling at us from across the street, "Close your legs! Close your legs! Close your legs!" …..this is not the first time we have heard this sentiment, and these kind of comments. Across the country, from NYC, to Wichita, and now in Texas, we've heard this kind of argument against abortion. Things like "Women gotta be ready to have the baby every time they have sex" or "If you make a mistake, if you have sex, you have to suffer the consequences!" FUCK all that. Read more
---
In its decision June 26 banning sidewalk buffer zones outside abortion clinics—areas around clinic entrances where anti-abortion protesters are not allowed—the Supreme Court of the U.S. said that these zones impeded the rights of those who wish to "engage in personal, caring, consensual conversations with women about various alternatives." Read more
---
by Sunsara Taylor
In many cities across Texas, celebrations are being organized on July 25 to celebrate the one-year anniversary of Wendy Davis's filibuster of the anti-abortion bill SB5. Read more
---
The new film by Gillian Robespierre, which bills itself as "An Abortion Comedy," is a breath of fresh air and a lot of fun. Read more
---
from a reader
Read more
---
The Warped Tour is a music festival touring the U.S. this summer. Check out this video of images from the Stop Patriarchy booth—including on-the-spot statements of support for the Abortion Rights Freedom Ride.
---
Read online
| Download
JPG for web
.
Download full size poster: PDF for print
---
"Right now in this country, it is no exaggeration to say that the right to abortion is hanging by a thread. In many places it's out of the reach of women's ability to access safely or affordably or at all. And the momentum and the trajectory of the restrictions, of the stigma, of the laws that have been passed are such that the closure of clinics, the closure of access, the terror against abortion providers is escalating. And the future for all women's ability to access abortion is really being determined right now, it's really at stake." Read more
---
by Sunsara Taylor
---
by T. Redtree
The spring 2014 school year wound down with a mounting number of female students coming forward to testify about their experience with campus rape and to protest the callous failure of universities to acknowledge and address this. Then last week Elliot Rodger unleashed his murdering retribution against women, which also took the lives of four male students in Isla Vista, California. Read more
---
by Gail Dines
I have been a radical feminist for as long as I can remember. As I witness the marginalization of radical feminism in the cultural discourse, in publishing, and in women's studies programs, I see the feminist movement I once loved become powerless to explain what is happening to women—especially the horrific levels of violence against women. This failure has reached a new level following the massacre by Elliot Rodger of students at UC Santa Barbara. Read more
---
Updated June 7. Speak-outs, rallies, and protests were held in cities including Isla Vista, Los Angeles, New York City, San Francisco, Chicago, Seattle, Philadelphia, and Portland. We are posting readers' reports as they come in. Read more
---
from a reader
The blatantly woman-hating killings in Santa Barbara and the widespread outrage in response have shined a light on the misogyny that permeates the culture as a whole. There is a toxic strain about "human nature" in the internet circles which influenced Elliot Rodger's deadly rage towards all women. Read more
---
Various Voices from the Movement to End Pornography and Patriarchy: The Enslavement and Degradation of Women, posted on the Stop Patriarchy blog
---
from Stop Patriarchy • Friday, April 11
Recording of webcast streamed Friday, April 11, 7 pm EDT
---
On April 11, a "Spotlight on the Abortion Rights Emergency" at the Women's Building in San Francisco's Mission District, brought together professors, providers, artists, activists, the voices of women from both pre and post
Roe v. Wade
generations, and an audience of 60 people. Speakers included Dr. Malcolm Potts, an eminent reproductive scientist and scholar who has done extensive work in the Third World; Kelly Hammargren, curator of a recent prestigious art show about abortion rights and abortion stories; Somer Loen, president of SF NOW; Rachel Martin, history professor; Alexandria Petersburg, a Stop Patriarchy leader; and others.
Watch the video
---
Updated May 16, 2014. Recently, Revolution/revcom.us had the opportunity to interview Dr. Susan Robinson, one of the four heroic abortion providers in the U.S. who openly provide much-needed third trimester abortions. Previously we published the beginning part of the interview, where she discusses what people need to know about the importance of and need for third-trimester abortions. The full interview is now available here. Read more
---
by Sunsara Taylor.
At the end of April, the White House announced with much fanfare the results of a 90-day investigation into sexual assault on college campuses.
Read more
---
Any military is a concentration of the world it is fighting for. While some may say that the rampant abuse and violation of the bodies, minds, and reputations of female soldiers is somehow in conflict with the values of the U.S. military, in fact the opposite is true. The role of this military is to enforce and extend to all corners of the earth what that power is actually all about, including patriarchy, the systemic enslavement and domination of women by men.
Read more
---
Hundreds took part in speak-outs and protests organized by the movement to End Pornography and Patriarchy: The Enslavement and Degradation of Women in New York, San Francisco, Los Angeles, Seattle, and Cleveland to respond to the intensifying abortion rights emergency.
Read more
» San Francisco, April 11 & 12: "The Blood of Women Is on THEIR Hands!"
Read more

» Confronting the Abortion Rights Emergency in LA
Read more

» Pledging to RESIST the War on Women in Seattle
Read more
» The Pledge to Defend Abortion Rights and Defeat the War on Women was read by groups of people at these actions.
---
Recorded to be part of the Emergency Speakout for Abortion Rights on April 11, 2014 at Advent Lutheran Church in New York City, 7pm EDT and webcast nationally.
---
On March 3, All Families Healthcare, a Montana clinic that provides abortions, was so severely vandalized that it has been forced to close down indefinitely. This took place against a backdrop of the most relentless escalation of restrictions against abortion and clinic closures since Roe v. Wade Supreme Court decision legalized abortion 41 years ago. Across the country, the right and ability to access abortion hangs by a thread. Sunsara Taylor speaks with Susan Cahill, the owner and advanced-level clinician who provided abortions and other services at the family clinic. Read more
---
In a 5-4 decision, the U.S. Supreme Court ruled on May 5 that it is constitutional for legislative bodies to begin their meetings with religious prayers. This ruling overturned an appeals court decision against an upstate New York town council that had started every meeting with a ceremonious prayer—in almost every instance, an overtly Christian prayer.
Read more
---
Read more
---
Read more
---
---
---
Abortion rights are in a state of emergency, and headed for disaster. WE MUST ACT TO STOP THIS NOW!
---
Sunsara Taylor on the need to stop the assault on women's right to abortion, and the actions being called by Stop Patriarchy on April 11 and 12 to resist this war on women.
---
April 11: Public Programs
April 12: Bloody Coat-Hangers Street Actions

The Blood of Women Is on Their Hands!
Abortion On Demand and Without Apology!
Download PDF flier (updated March 21)
---
Don't Sleepwalk Through the War on Women!
Join in Emergency Actions to Stop the War on Women, April 11-12
Download PDF flier (with fact sheet on the back)
---
From Stop Patriarchy. We are engaged in a war here in this very country. Women's rights are undergoing a multipronged attack every day. Read more
---
---
In the case of Marissa Alexander, a Black woman in the state of Florida, the system sentenced her to TWENTY years in prison. Her crime? Firing off a warning shot, which killed NO ONE, in order to stop the attack against her by her abusive and estranged husband, who had threatened to kill her earlier that day. Read more
---
From a reader. Early in February a small group of students at Boston University took a very important and principled stand that is now having reverberations far beyond their campus. After hearing that Robin Thicke's "Blurred Lines" concert tour had been scheduled for Boston University's campus at Agganis Arena on March 4, the Humanists of Boston University said no. Read more
---
In May 2012, Equal Justice Initiative filed a complaint with the U.S. Justice Department, calling for a quick and thorough federal investigation into widespread sexual abuse of women prisoners by male guards at Tutwiler Prison for Women in Wetumpka, Alabama. Read more
---
Interview with Attorney Charlotte Morrison
Revolution speaks with Charlotte Morrison, senior attorney with the Equal Justice Initiative, about the widespread abuse of women prisoners by guards at Tutwiler prison in Alabama. Read more
---
International Women's Day, 2014
---
Li Onesto on the best-selling book and critically acclaimed Netflix series. Read more
---
The NFL (National Football League) released its "The Wells Report," on the Richie Incognito-Jonathan Martin bullying incidents, and we are finding out that it's even more outrageous than what we knew when this first surfaced several months ago. Read more
---
Michael Sam, the University of Missouri All-American and Southeast Conference Co-Defensive Player of the Year, came out two weeks ago. He's the first current football player to openly proclaim that he is gay, and he will be entering the National Football League next season. Read more
---
One Billion Rising, February 14, 2014
---
by Sunsara Taylor
Read more
---
A reader writes about the way Ardea Skybreak uses science as a method of getting at what is actually true, using all available evidence and drawing conclusions from that.  And this is something that is not just science that can be applied to this topic, but to be continuously utilized in understanding anything and everything else. Read more
---
Correspondence from Ardea Skybreak, author of The Science of Evolution and the Myth of Creationism: Knowing What's Real and Why It Matters, to the October 2013 Shulamith Firestone Women's Liberation Memorial Conference on What Is to Be Done. Read more
---
First-hand account about confronting fascist anti-abortionists at a clinic—not in a place like Mississippi but in New York City.
---
with Abby Martin on RT TV's "Breaking the Set" (starting at 20:26)
---
A reflection from someone who recently got involved in Stop Patriarchy
No, I don't have that much of an unusual life.  Pretty stereotypical in fact.  The crazy father, the abused mother, the favored older brother.  I can't remember a time where I didn't feel like something was just not right. Read more
---
I have to admit, when I first saw the previews I thought, "Oh great, another movie that normalizes porn by treating it like a joke: boys will be boys, men will be men, and cool girls understand." After all, way more porn comes out of Hollywood than feature films, and TV shows from "Friends" to "30 Rock" use porn as a punch line. Was I ever wrong. Read more
---
This article was sent to Revolution in response to the article "On the Idea and Promotion of Feminist Porn," and addresses the same topic. We are reposting it with permission from the author. Read more
---
For far too long, pro-choice people have looked at the courts in this country as the final "firewall" protecting abortion rights.... This is wrong on a number of levels. Read more
---
Standing Up for Abortion on Demand and Without Apology on Roe v. Wade 41st Anniversary

---
---
---
Pussy Riot and the global storm they stirred up reflects the depth and sweep of fury over the status of women in today's world, the state of that world overall, and a refusal to accept this.
---
---
by Sunsara Taylor
---
From a member of the Revolution Club and Stop Patriarchy. As the anti-abortion movement surges forward on a wave of recently passed legislation that leaves women across the country desperate and trapped in unwanted pregnancies, the movement to End Pornography and Patriarchy: The Enslavement and Degradation of Women (StopPatriarchy.org), led a loud and spirited, uncompromising protest against the 10th annual anti-abortion march in San Francisco.
---

Download: PDF for print | JPG for web
---
A polemic by Sunsara Taylor on a recent New York Times editorial on abortion
---
One Billion Rising for Justice is a very positive international manifestation against the abuse of women. It takes place on February 14 this year.
---
Stop Patriarchy called for people from all over the country to stand up for abortion rights in two key places in the country where the battle over abortion was most concentrated—in Jackson, MS from Oct. 29-Nov. 6 and in Albuquerque, NM from Nov. 15-17, 2013.
Read reports, see videos & photos.
Learn more and get involved!
---
From a Reader
Out of the cauldron of war, invasions, and occupations, Obama's drones & the rise of Islamic Fundamentalism—out of resistance to Islamic theocracy in Iran, the Arab Spring and the subsequent military coup in Egypt—comes an exhibition of brave and insightful work by 12 photographers.
---
From a reader
A really horrible situation has unfolded in Oakland, California, in recent weeks around the situation of 13-year-old Jahi McMath, who was declared brain dead after suffering cardiac arrest.
---
From a reader
---
by Carl Dix
We don't have to accept the terms of the system, with baby mamas & baby daddies becoming the norm for parenting. And millions of children raised in poverty and facing high drop-out rates with prison looming in too many of their futures.
Things don't have to be this way.
---