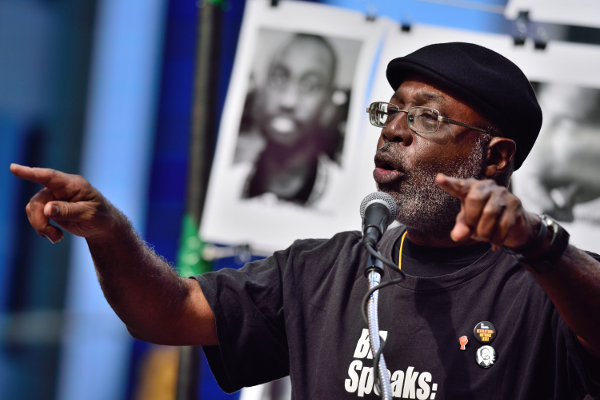 Photo: Eino Sierpe

Listen here
Carl Dix at the October 24 Rally: "Let's do all that we can to stop the horror of police murdering our people. And then let's do even more because we gotta stop this.
The following is a rush transcript.
Okay, Okay. You have seen the faces of the lives that have been stolen by the police. Beautiful lives that were cut down too short. This is unacceptable and our demand is very simple: police terror, police murder must stop. Not be reduced a little bit. Must stop!
Now sometimes people say well, your demand needs to be more concrete than that, Carl. So let me give you a concrete demand:
Indict, convict, send those killer cops to jail. The whole damn system is guilty as hell!
[chanting with crowd:]
Indict, convict, send those killer cops to jail. The whole damn system is guilty as hell!
One more time.
Indict, convict, send those killer cops to jail. The whole damn system is guilty as hell!
Now look, that's a simple and just demand. But we need to be very clear that when we raise that demand we gotta fight for it. Because there is a whole system that's behind those killer cops. It ain't just a few killer cops on the beat with some rogue DAs, or corrupt DAs, district attorneys. It's a whole system all the way up to the top, that arrested people en masse when we protested these killings over this last year, that demonizes our people, especially the young people to try to justify these murders.
Now when I say that, some people might be thinking, well wait a minute Carl, didn't Obama say he was going to do something about this a couple of days ago? Didn't he say that he supports Black Lives Matter? Well, let's be clear. The Obama who said something about Black Lives Matter six months ago said that the youth of Baltimore were thugs and criminals when they rose up in response to the police murder of Freddie Grey. So let's not get twisted by that. He's trying to rope us back in. He also said along with saying I'm gonna do something, it has to be incremental. Now what does that mean? It's gotta be small, slow steps to change things. That ain't going to cut it. This has got to stop. We don't want no small reduction of the people they warehouse in prison or the people that they kill. We want it stopped.
And look, we are going to fight to make that happen. Ain't no body going to do it for us. And we are doing that today. We've been doing that this week. Thursday, No More Stolen Lives/Say Their Name. Thursday afternoon, march and rally for the National Day of Protest to Stop Police Brutality. Yesterday, some of us put our bodies on the line to pose the demand, Shut Down Rikers Island—that debtors' prison and torture chamber. And that's what we're doing to do today and we're going to keep doing that.
---
October 24: Voices of Loved Ones of People Murdered by Police
Before and after the Rise Up October march through NYC on October 24, dozens of family members and other loved ones of people murdered by police shared the terrible loss they suffered, the outrage of lives stolen by police, and their solidarity with all victims of police murder. And over and over they declared their determination to continue to fight for justice—for their own loss, and to STOP all police terror. Following are just a few of those voices.
Lsana D'Jahspora is the father of Cinque "Q" D'Jahspora, killed by Jackson, Tennessee police, on November 6, 2014: Remember the name: Cinque, we called him Q. Q is here today I guarantee you. This young man's spirit was connected to mine even before he was born, and trust me, he is here. Cinque was gunned down—I say executed—in Jackson, Tennessee, just three months after Mike Brown. Lying on the ground, face down, and shot in the back. And not only that, Cinque caused so little threat these cops actually went to the car and then came back and shot him—in the back. You can see the execution on video. But even until this day they are in denial. They have even lied about the cop who fired the shot, this is how layered the conspiracy is, the cover-up. So I say to you families, I'm glad to be part of this justice train. I will go anywhere to stand with any family, but bring this justice train to the plantation in Jackson, Tennessee. Those of you who can, November 6 is the one-year anniversary. We got to take this train all around the country, but come to the plantation, because we need you there brothers. It's as bad as it was in the fifties and sixties.
Yolanda McNair, mother of Adaisha Miller, killed by an off-duty Detroit cop at a party at his house, July 2012: No investigation into my daughter's death. And they waited 25 minutes to call 911. They never checked him for alcohol or drugs. They stopped short of saying she shot herself. She had no gunshot wounds on her. She was shot in her lungs and it went through her heart. I don't think her going out that night to celebrate her life, her upcoming birthday, was her plan to end up dead. The last thing I told her was that I loved her. And I thank God that I got to hear her say 'I love you' back because I gotta keep that, I gotta remember that, for the rest of my life. But I'm here to fight for my daughter. I'm here to fight for everybody's child, parent, and grandchild. I'll be their voice. I'm gonna be here. And the police officer in Detroit who killed my daughter, I will be there when you go down too.
Venus Anderson, mother of Christopher Anderson, shot to death by Highland Park, Illinois, police in the hospital, November 3, 2014: My son was shot down in an emergency room by the Highland Park police station. Now my story might be a little bit different from y'alls considering my son did have a weapon on him, but it took them about two-and-a-half hours to realize he was armed. My son never pulled a gun out on the police. He was in the hospital for two-and-a-half hours before they discovered he had a gun on him. My son went walking through the hallway with his hands in the air saying 'Don't shoot, I surrender.' They put him back in a room and gave him forty-four seconds to put the gun down before opening fire on him, in 1.7 seconds, nine bullets at my son in a small closed in room in a curtain. My son was shot in cold blood. He fell over off the bed, and while his body was dead, they put handcuffs on him. And when they rolled him over, ladies and gentlemen, the gun was still beneath him indicating he never pulled a weapon on the police. This is injustice. So whether they have a gun or not, you have to look at the circumstances. My son didn't deserve to die that way, like none of your family, none of your kids deserved to die like this. We pay the police to serve and protect us, they are no longer hiding behind white sheets, ladies and gentlemen, they are hiding behind their shields. These are the new age police. Let's shut em down!