Received through the Stop Mass Incarceration Network:
This Call was issued by students at San Francisco State University
Join them in this effort! Endorse Here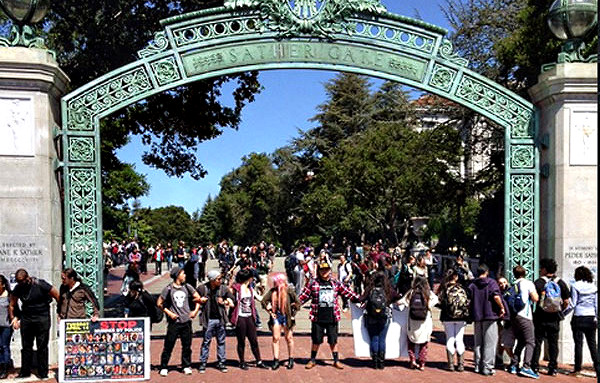 April 14, 2015 UC Berkeley #ShutDownA14 Sather Gate
Photo: melaniejaycee@Instagram
If you knew that a murderer was living next door would you do something? What if you witnessed the murder happen, would you demand for justice then? What if countless people were losing their lives every day at the hands of one notorious gang? We have all seen the videos of the crimes the police commit against humanity--killing people who are running away, have their hands up, are laying on the ground or doing nothing. People beaten, tased, stomped, choked and shot to death. If a photo is worth a thousand words, you would assume a video would be worth enough to indict, convict, and send these killer cops to jail. And yet they continue to get away with murder. If you are Black or Brown, you live under that threat every day of your life. If you don't, you probably know someone who does. There is a genocide happening right under our noses. It is a slow genocide now, but you look at people like Trump and you see how this genocide could escalate. The time to fight this is NOW!
#StopPoliceTerrorA21 Actions:
SF State: 12 Noon at Malcolm X Plaza
UCLA: 11:30AM Meet at Bruin Plaza Shut Down Bruin Walk!
UC Riverside: 11:15AM at the Bell Tower
University of Wisconsin, Madison: 11AM at Bascom Hill
Antelope Valley College: 12:30 by the library
Cal State East Bay: TBA
Cal State Monterey Bay: TBA, contact Izzy if you are in Monterey area 916-765-8593
Kent State, Ohio: TBA
College of Staten Island, NY: TBA
Agnes Scott College, GA: No More Stolen Lives Tour, 7PM at the Fire Place Lounge in the Alston Campus Center
Send your plans to students@stopmassincarceration.net
We the students are taking a collective stance in opposition to the mass murder of men and women from our communities. We have seen the United states government commit genocide against the indigenous peoples of the world, enslave and torture Africans as well as support and finance global terror through countless wars. What has changed? That's why we the students stand up in opposition to the perpetual terror and brutality carried out by the state via the police. The changes that we want to see in the world do not happen by hashtags and Facebook likes, they happen by rising up and fighting for the future you want to make a reality.
On Thursday April 21, we the students are calling for a national day of action—walkouts, protests, powerful manifestations of resistance on campuses across the country—in which we pose to each other the question: Which side are you on? If you are disgusted by the systematic murder of citizens by the state, if you oppose the targeting and disproportionate mass incarceration of Black and Brown people, you need to be a part of this strike and make a statement by standing with your fellow students as well as community members. However, if you feel that these issues do not pertain to you, know this: If they come for people of color but you are not, then they come for women but you are not, then they come for the poor but you are not, who will be left to protest in your name?
We as students have a crucial role and responsibility in standing up to STOP police terror. 50 years ago students took up the fight against the war in Vietnam, the Black and Chicano liberation struggle, the Women's liberation movement. And they helped to rock this system to its foundation. Today we need to do even more and go even further. Students always get asked what your major is, what career you want... but how often do we get asked what kind of world you want to live in? Everything in society is telling us to find our place within this messed up system. On Thursday April 21, we declare that we refuse to live in a world where law enforcement has a green light to brutalize and murder people.

STOP POLICE TERROR! WHICH SIDE ARE YOU ON?
---
---
The No More Stolen Lives Tour will go to college campuses and neighborhoods across the country saying the names of the 1000's of people whose lives have been stolen by those who are sworn to protect and serve. Family members of police murder victims will travel to these areas and connect with family from those areas to tell the stories of their murdered loved ones. This will powerfully put before all of society the reality that murder by police is a widespread, systemic problem, not a few isolate incidents or tragic accidents. It will recapture the humanity of the victims of killer cops who are demonized and criminalized in police reports and media coverage after their lives are stolen. This tour will challenge those who feel they can sit on the sidelines and be neutral in the face of this horrific injustice.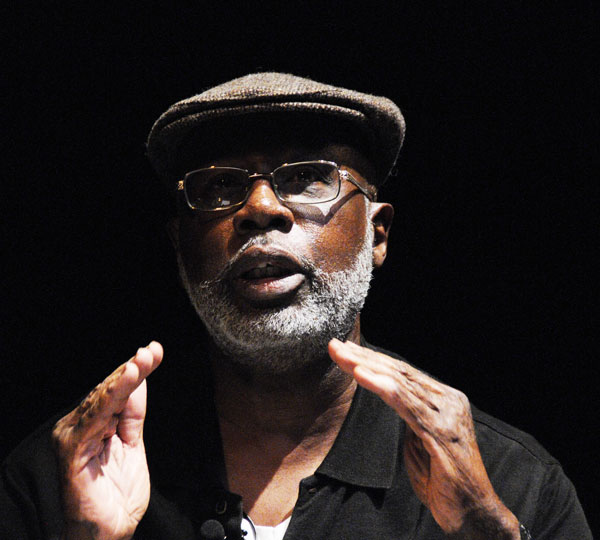 Reports from the
"No More Stolen Lives Tour"
March 10, 2016:
February 11, 2016: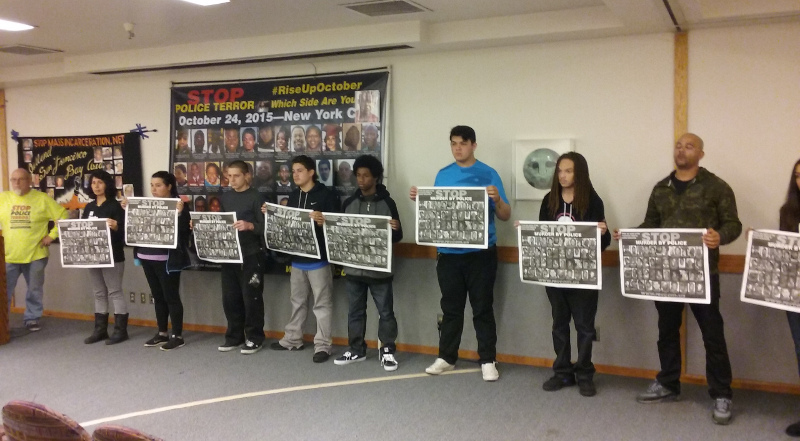 "No More Stolen Lives Tour" at San Francisco State.
Photo: Special to revcom.us/Revolution
---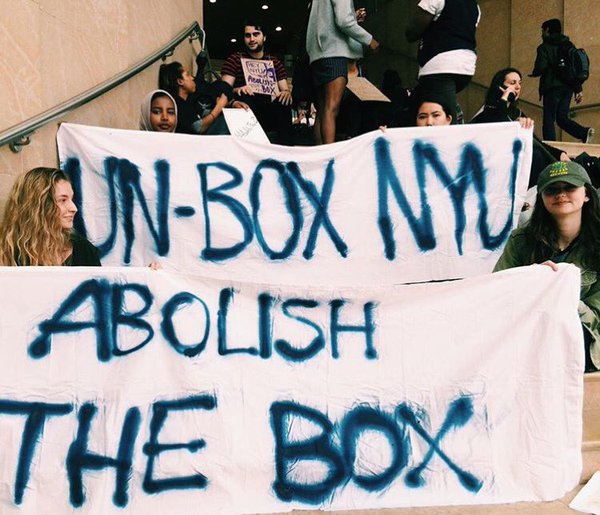 "Have you ever been arrested or convicted of a felony? Check yes or no." For three years the Incarceration to Education Coalition at New York University (NYU) has been organizing to abolish this checkbox from NYU's admissions application, and has aligned itself with similar groups at other universities who are trying to fight against the effects of systematic mass incarceration of Black and Latino peoples in this country, fighting against the New Jim Crow. With almost no response to their efforts, on March 25 about two dozen students marched into Kimmel Hall at New York University (NYU) in New York City and occupied the steps leading into the hall demanding NYU "abolish the box."
As one of the organizers wrote, "When we ask about criminal justice history in this country, what are we asking? Not about GPA or academic prowess. Not about ambition or drive. Not often enough about respect or morality. We find out if you've been marginalized." She went on to talk about NYU being in "A city that embraced racial profiling. A city whose blood boiled when stop-and-frisk was deemed unconstitutional in 2014. Blacks make up 25% of the city's population, less than 5% of the university student body, and over 50% of the city's jail population."
Students are determined that the "box" be completely abolished and will accept nothing less.
There is the potential for something of unprecedented beauty to arise out of unspeakable ugliness: Black people playing a crucial role in putting an end, at long last, to this system which has, for so long, not just exploited but dehumanized, terrorized and tormented them in a thousand ways—putting an end to this in the only way it can be done—by fighting to emancipate humanity, to put an end to the long night in which human society has been divided into masters and slaves, and the masses of humanity have been lashed, beaten, raped, slaughtered, shackled and shrouded in ignorance and misery.
Bob Avakian, Chairman, Revolutionary Communist Party, USA