From the Front Lines With the Revolution Club—Chicago
The Revolution Club is on a mission to make a major advance in organizing forces for an actual revolution, impacting all of society by people getting out of killing each other, changing what they are living and fighting for, taking up the leadership of Bob Avakian, and getting organized for a real revolution.
To do this, the club is out there most every day, doing all kinds of different things, trying to learn as much as we can so we can transform more, so we can learn more and transform better, so we can learn still more... and on and on... till we make a breakthrough... and then go further still. We're struggling with people's ideas, straight-up... and we're leading them to struggle against the enemy. We're fighting to get to a situation where millions can be led to go for revolution, all-out, with a real chance to win.
Revolution Summer is now the "Revolution Project" in Chicago. We are not backing off our mission. Volunteers sacrifice a lot. What will you give to sustain their work?
---
November-December 2017
Showing the BA Film at the Revolution Club Organizing Center in Chicago
November 26, 2017
From the Revolution Club Chicago:
At the Revolution Club Organizing Center in Chicago, people gathered Sunday, November 26 for a showing of the film of the speech and full Q&A from Bob Avakian, THE TRUMP/PENCE REGIME MUST GO! In The Name of Humanity, We REFUSE to Accept a Fascist America, A Better World IS Possible. About half of the people there were Revolution Club members and the other half were people at various levels of getting involved with the Revolution Club and/or the struggle to drive out the Trump/Pence Regime.
Everybody was into the film. People were hungry to hear what BA was talking about. People came in at different points, some were there for the whole thing, some came during the Q&A, but once they were there, they were inside the film. People responded vocally throughout, but there was also a real resonance in the middle of the Q&A when BA was talking about the situation in Chicago: the individualism of people saying "I'm good" and looking out for themselves while they and millions of others are being oppressed by this system… the role Obama played in the destruction of public housing in Chicago and how that was part of creating some of the madness happening now among the youth… the way "religious freedom" is being used by the Christian fascists to carry out their program and didn't count for shit when it came to Jeff Fort and the El Rukns.
After the film, a number of people recorded video messages of their response to it, speaking to what stood out to them and why they would recommend the film to others. The responses were very meaningful and insightful.
An activist who has been very involved in the protests to drive out the Trump/Pence regime had seen the speech from BA before, but this was his first time watching the Q&A. He was very moved by it. When asked what stood out to him about it, he said, "He … points out that we have to be willing to sacrifice some things, that's the key things that he pointed out, to me. In order for you to do a revolution, you got to be willing to go through some stuff and sacrifice some things, in order to fight, not only to have your rights in store and other people's rights in store, but to also drive out this regime to keep them from hurting and taking away the rights of other people."
A student who attended the Nov 18 protest watched the whole Q&A. When asked why he would recommend the film to others, he spoke specifically of recommending it to people who are caught up in the conditions BA spoke about when he talked about Chicago, "…so they will help open up their eyes to understand yes this is the war that's going on outside of you, not the war — what Bob was talking in the video, as far as territory, gangs, things that's going on in your city or state. Yeah, that's the war you're fighting, but that's not the right war that you should be in. This is the big war that's going on around you that you have no idea it exists because you're not educated about this, no one's telling you this, your parents, they don't know."
A member of the Revolution Club who has seen the talk a number of times said he gets more out of it every time and one of the things that stood out to him this time was the description of the Vietnamese girl running naked burning from napalm and imagining his own loved ones being subjected to that. He talked about how Trump has his finger on the nuclear button and this is a danger to the planet and humanity and everyone should be involving themselves in the struggle to drive out this regime.
After making the video messages, people stayed around talking to each other and then left with stacks of Refuse Fascism palm cards to distribute, with some also getting material about Bob Avakian and the Revolution Club. We invited everyone to next Sunday's Refuse Fascism potluck and told people about the upcoming showing of the film on a local public access station so they could watch with friends.
November 26, 2017
The Revolution Club in Chicago has been throwing all in with the movement of protests to drive out the Trump/Pence regime, moving with the urgency of stopping the consolidation of fascist rule. We have been part of all the major protests and events called by RefuseFascism.org, contributing to the organization and spirit of the marches, and organizing people from the oppressed neighborhoods as well as college students to come to these protests, with some running with the Revolution Club and wearing the REVOLUTION, NOTHING LESS! T-shirts. Read more.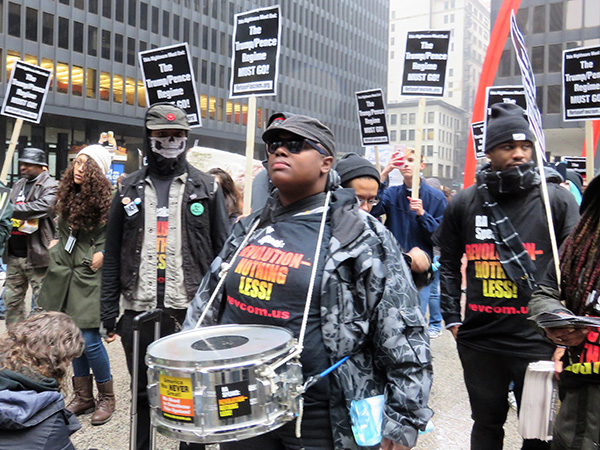 Chicago, November 4.
The weather won't stop us from bringing the noise #TrumpPenceMustGo #Chicago pic.twitter.com/J4lNnQwP6Q

— RefuseFascismCh (@RefuseFascismCH) November 18, 2017
Then, in the freezing rain on Nov. 18, we were part of the raucous, joyous BREAK THE SILENCE, BRING THE NOISE! march to break through the atmosphere of people normalizing a NOT NORMAL regime.
November 26, 2017
Whole families packed liked sardines into the trains to be shipped off to the camps, with only what they could carry. Not knowing where they were going. Not knowing when or if they would ever come back. Their property taken or sold off for next to nothing. Humiliated, demonized, and ordered to report for "relocation." No, I'm not talking about Jewish People in Nazi Germany.
Twice in the course of a week about 10 people with the Revolution Club went to the Alphawood Gallery exhibit in Chicago about the internment of Japanese Americans titled "Then They Came For Me," drawing from (and featuring in large letters at the entry way) the poem from Pastor Niemöller.
In the center space of the gallery there are suitcases piled up with photographs along the walls of people having to leave their homes, taking only what they could carry. "Only what we could carry was the rule, so we carried Strength, Dignity, and Soul (Lawson Fusao Inada)" appears along the top of some of these photos. A Black artist in our crew broke into tears. Seeing all these people, who had built their whole lives, they had homes and neighbors and they were just picked up, uprooted and sent off. "The photographs brought you there," another person with us said, "and you were in it, you could smell it, you could feel it." Read more.
For earlier articles on the Revolution Club in Chicago, click here.