---
Permalink: https://revcom.us/a/594/american-crime-us-enabled-genocide-in-east-timor-1975-1998-en.html

Case #20: The U.S.-Enabled Genocide in East Timor, 1975‑1998
| revcom.us
Bob Avakian has written that one of three things that has "to happen in order for there to be real and lasting change for the better: People have to fully confront the actual history of this country and its role in the world up to today, and the terrible consequences of this." (See "3 Things that have to happen in order for there to be real and lasting change for the better.")
In that light, and in that spirit, "American Crime" is a regular feature of revcom.us. Each installment focuses on one of the 100 worst crimes committed by the U.S. rulers—out of countless bloody crimes they have carried out against people around the world, from the founding of the U.S. to the present day.

See all the articles in this series.
THE CRIME
The U.S.-backed Indonesian invasion and occupation of East Timor resulted in the worst slaughter relative to population since the Holocaust. From 1975 to 1999, the Indonesian military bombed, massacred, tortured, raped, and brutalized the population of East Timor until nearly one-third of the original population of 650,000 had been killed. During this time, the U.S. continually gave the military the economic and diplomatic support that enabled this horrific genocide.
Letters smuggled from East Timor spoke of the U.S.-supported horrors they faced:
"Many elements of the population were killed under inhuman conditions of bombardment and starvation.... The waters of the river were filled with blood and bodies. Husbands, fathers, brothers and abandoned wives, sons and brothers all in the same agony."

"The mountains shake with the bombardment. The earth talks with the blood of the people, who die miserably...."

"Tell my son that for nothing on this earth should he return to Timor. I would rather die without seeing him again than to know he had returned to this hell."
East Timor is half of a small island, located between Australia and Indonesia. It was colonized by Portugal in the 1500s, which held the territory until April 1974, when a new government began the process of decolonization. Indonesia, ruled by a brutal military dictatorship that had come to power through a U.S.-sponsored coup in 1965, immediately began planning to take over East Timor. The U.S. repeatedly gave its OK to Indonesia for a full-scale invasion. President Gerald Ford and Secretary of State Henry Kissinger even paid a formal visit to the capital, Jakarta, and reaffirmed U.S. support immediately before the invasion. Ford told the military dictator Suharto, "We understand the problem you have and the intentions you have." Privately, U.S. officials told the Indonesians to invade "effectively and quickly," with the CIA advocating the use of "overwhelming force," and the U.S. doubled its military aid to ensure that this would happen. The main problem, as U.S. officials saw it, was how to get around various U.S. laws that the U.S. was about to violate with its support of international aggression.
On December 7, 1975, the invasion of East Timor began, an attack that one historian characterized as "one of the most brutal operations of its kind in modern warfare." Within months, the death toll was up to 60,000, while hundreds of thousands more fled into the mountains. The U.S. later claimed to have cut off arms sales following the invasion, but in reality it went out of its way to supply special weaponry to the Indonesians. Philip Liechty, the CIA station chief in Jakarta at the time, later stated that the U.S. tried to get as many weapons to Indonesia as quickly as it could out of fear that if the public found out about what was going on, the flow of weapons might be cut off.
The U.S. stifled international criticism of the invasion to prevent anyone from coming to the aid of the Timorese. At the time, East Timor was still under Portuguese rule but the U.S. told Portugal (a NATO country) that it was not allowed to defend the people of East Timor from the invasion.
U.S. Ambassador to the UN Daniel Moynihan later bluntly stated that he was instructed to "render the UN utterly ineffective," adding that the "United States wished things to turn out as they did [regarding UN inaction] and worked to bring this about." The UN did not get involved again until after the Indonesian dictatorship was overthrown in 1998.
Despite receiving no outside assistance, the Timorese resistance was popular and well-organized, fighting the invaders to a stalemate. After two years of unrelenting warfare, Indonesia began to run out of ammunition and weapons. The U.S. stepped in to sell massive amounts of weaponry, while doubling military aid (all of which, again, violated U.S. laws). Fully equipped, Indonesia launched a massive offensive in September 1977. Indonesian planes, reportedly aided by U.S. pilots and mercenaries, began daily saturation bombing of the interior, aided by defoliants, napalm, and chemical and biological weapons. This was combined with continuous large-scale ground assaults and a deliberate policy of starvation through a scorched earth campaign and the destruction of the agricultural system.
A letter from a Timorese captured the horror being rained down:
The bombers did not stop all day. Hundreds of human beings died every day. The bodies of the victims become food for carnivorous birds. If we don't die of the war, we die of the plague; villages have been completely destroyed, some tribes decimated. The barbarities, the cruelties, the pillaging, the unqualified destruction of Timor, the executions without reason have spread deep roots in Timor. Genocide will come soon....
The brutal offensive forced most Timorese down from the mountains, where they were put into hundreds of concentration camps built with money from USAID and modeled on the "strategic hamlets" used by the U.S. in Vietnam. Prevented from farming and kept in malaria-infested lowlands, famine and disease spread through the camps and throughout the rest of the country as well. Though the U.S. knew the extent of the famine, they conspired with the Indonesians to prevent any relief aid from being delivered until after the offensive was over. As a result, tens of thousands died of starvation and disease.
In addition to the weapons sales, the U.S. trained many of the officers who led the fighting in East Timor. One U.S.-trained elite unit, called Kopassus, became known in East Timor as the nangalla, or "knife-wielding killers." The U.S. also ensured that billions of dollars in economic aid were funneled annually to the Indonesian dictatorship through the World Bank and IMF.
For these 25 years the U.S. gave continuous support to what is arguably the worst invasion and mass slaughter since World War 2, all the while knowing exactly what was going on. Philip Liechty, the CIA officer mentioned earlier, stated:
I saw the intelligence that came from firm sources. There were people being herded into school buildings by Indonesian soldiers and the buildings set on fire; anyone trying to get out was shot. There were people herded into fields and machine-gunned. We knew the place was a free-fire zone ... Without the continued heavy U.S. logistical military support the Indonesians might not have been able to pull it off. They were able to stay there at no real cost to them; it didn't put any pressure on their economy and on their military forces because American taxpayers were footing the bill for the killing of all those people and for the acquisition of that territory, to which they had no right whatsoever. We were providing most of the weaponry, helicopters, logistical support ... all of the expendables the Indonesians needed to conduct this war. Why not just leave the Timorese alone?
East Timorese resistance and guerrilla struggle continued in various forms over the next two decades, but the people of East Timor continued to live in a situation of terror. Smuggled photographs and captured Indonesian military manuals showed that unspeakable torture was routine, as were disappearances, long-term imprisonment, massacres of protesters, and rape and sterilization of Timorese women. As one Timorese put it in 1994; "We the people in East Timor call it the biggest prison island in the world. You must understand that. For us who live here, it's hell." By 1998-99 the global terrain had shifted and Suharto was forced to resign, in part due to large-scale protests.
Despite a U.S.-backed terror campaign against them, which included an April 1999 massacre of 200 people who were seeking refuge at a church, the East Timorese voted overwhelmingly for independence in an August 1999 referendum. After the vote, the Indonesian military, along with paramilitaries they organized, went on a pre-planned, weeks-long rampage of murder and destruction which forced hundreds of thousands of East Timorese into detention camps. While this massive pogrom was taking place, the U.S. blocked international action to stop it. After it ended, East Timor was occupied by an "international peacekeeping force." When East Timor finally gained independence in May 2002, the country had been largely destroyed, and its people were still suffering the effects of decades of unspeakable horrors.
THE CRIMINALS
President Gerald Ford personally assured the Indonesian dictator Suharto of U.S. support for the invasion. The Indonesians were extremely concerned about what the U.S. response to an invasion would be and repeatedly sought approval in the months leading up to it from officials from the State Department, the CIA, and U.S. Congress.
President Jimmy Carter oversaw and supported the 1977 shift from aggression to genocide. His vice president, Walter Mondale, even flew to Indonesia to make unsolicited offers of weaponry specifically designed for the conditions the Indonesians were facing in East Timor. And during Carter's administration, the U.S. prevented the International Red Cross from entering East Timor, even though it knew of the catastrophic famines there.
President Ronald Reagan continued U.S. backing, selling nearly a billion dollars in weaponry, including in 1983 when the East Timorese resistance had forced the Indonesians to sign a cease-fire.
President George H.W. Bush continued American support and, if anything, was the most enthusiastic about it. When video footage of the Indonesian military massacring hundreds of nonviolent demonstrators was seen around the world in 1991, the White House response was to ask Congress for an increase in military aid to Indonesia.
When there was finally a referendum on East Timor's future, in 1999, the administration of President Bill Clinton insisted on the disarming of independence fighters even though they knew that Indonesia planned on destroying the country if the Timorese voted for independence. Following that vote, the Indonesian military went on a rampage of murder and destruction for weeks while the U.S. blocked international action. When East Timor finally became independent, the country was largely destroyed and its people suffered the effects of being subjected to unspeakable horrors.
Gen. Suharto, Indonesia's ruler, and his generals such as Benny Murdani and Wiranto were directly responsible for the genocide, while officials like Foreign Minister Ali Alatas did the work of whitewashing it to the world.
THE ALIBI
The U.S. claimed Fretilin (the Revolutionary Front for an Independent East Timor), which led the Timorese resistance, were communists out to destabilize Indonesia and the region. (In reality, there was no communist party in East Timor and Fretilin was open to being subordinate to Indonesia.) The U.S. also claimed Fretilin were no more than "desperate terrorists" responsible for "pillaging villages [and] murdering people." The U.S. even claimed that Fretilin was responsible for the famines and that they had "turned the country into a wasteland."
For the most part, however, the U.S. ruling classes were virtually unanimous on supporting the occupation, and on keeping quiet about it. As Florida Republican Congressman J. Herbert Burke, then ranking minority member of the House subcommittee on Asian and Pacific Affairs, put it: "It is in all our interests to bury the Timor issue quickly and completely." No U.S. president ever gave a public statement on the genocide or in any other way worked to bring public attention to it. Coverage in the New York Times, Washington Post, Time magazine and other media almost entirely disappeared as the violence reached genocidal proportions.
THE ACTUAL MOTIVE
With its huge population and strategic location, Indonesia had long had an important role to play for U.S. imperialism in the region. Following WW2, the U.S. identified Indonesia as part of a "Grand Area" whose role was to be a stable source of raw materials and cheap labor for the U.S., Japan, and other nations. The sheer size of this country of 200 million people—fourth largest in the world—means that what happens there has a profound impact on the whole region. The Pentagon has expressed much concern about instability in Indonesia—both because of the international shipping lanes that go through Indonesian waters and because the country has the world's largest Muslim population.
At the time of the invasion, the U.S. was facing a new situation, both locally in Southeast Asia and in the world as a whole. The U.S. had been defeated in Vietnam and had been knocked back on its heels in southern Asia. When Ford and Kissinger met with Suharto before the invasion, they were concerned with the possible spread of liberation struggles and Soviet influence in the region.
The Indonesian military was facing its own necessity, which the U.S. was very cognizant of. Indonesia is made up of thousands of islands, and though dominated by the Javanese it consists of many different nationalities, some of which have desires for independence. The Indonesian rulers invaded and used the most brutal violence in East Timor in part to send a message to all the other nationalities of Indonesia that separatist movements will be crushed. Indeed, the East Timorese struggle for independence was one of the sources of inspiration for protesters when Suharto was overthrown in 1998.
The U.S. supported the occupation primarily because it wanted to ensure the continued existence of the pro-U.S. government in Indonesia and strengthen its role as an essential geo-political cornerstone for U.S. imperialism in the region. Secondarily, as a State Department official stated shortly after the invasion, Indonesia "is a country we do a lot of business with." As for the people of East Timor, the U.S. simply did not care what happened to them. One of the architects of U.S. policy, Henry Kissinger, once put it, East Timor "was not a big thing on our radar screen." Kissinger, it should be noted, made this comment to a Timorese who had lost countless friends and relatives to the occupation.
Sources
Budiardjo, Carmel and Liem Soei Liong. The War Against East Timor, London: Zed, 1984.
Burr, William, and Michael L. Evans, eds. East Timor Revisited: Ford, Kissinger and the Indonesian Invasion, 1975-76, National Security Archive, Washington, D.C., 2001.
Chomsky, Noam and Edward S. Hermann. The Washington Connection and Third World Fascism. New York: Spokesman Books, 1979.
Dunn, James. Timor: A People Betrayed, Milton, Qld: Jacaranda, 1983.
Nevins, Joseph. A Not-So-Distant Horror: Mass Violence in East Timor. Cornell University Press, 2005.
Retbøll, T. and T. Aparicio. East Timor, Indonesia and the Western Democracies: a Collection of Documents. Copenhagen: Documentation Department of IWGIA, 1979.
Taylor, John G. Indonesia's Forgotten War: The Hidden History of East Timor. New Jersey: Zed Books, 1994.
Turner, Michelle. Telling: East Timor, Personal Testimonies, 1942-1992. Kensington, NSW, Australia: New South Wales University Press, 1992.
"U.S. on East Timor: Hypocritical Tears and Imperialist Concerns," revcom.us, September 19, 1999.
American Crime "Case #100: 1965 Massacre in Indonesia," revcom.us, October 20, 2017.
"East Timor ‒ Profile," BBC, February 26, 2018.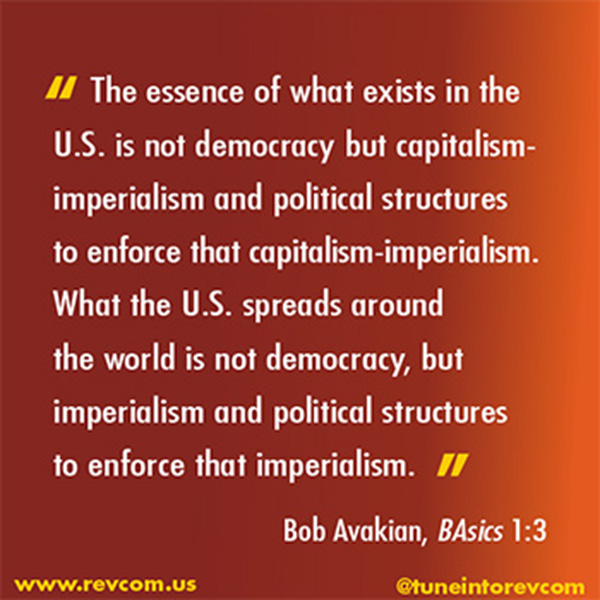 Reaching this goal is a real achievement and a victory for the people of the world, and it wouldn't have been possible without the dedicated efforts of many people working creatively and collectively to meet this pressing need: those who donated whether large or small contributions, who fundraised, who spread the campaign, who sent statements, who raised comments, questions, criticisms or suggestions – and of course those who worked so hard on modernizing and upgrading our web technology and presence. It all made a difference!
The Ongoing Need for Sustainers
During this four month fund drive, Revcom.us continued to incur thousands of dollars of costs each month for our office, maintaining our existing site and other expenses. But thanks to our existing monthly sustainers we were able to meet these expenses and use all the funds raised in the drive to transform the website.
So we encourage all our donors and those who've not yet donated to become monthly sustainers at whatever level you can afford.
Remember, humanity's fate truly hinges on millions taking up the revolutionary science, strategy, and new communism brought forward by Bob Avakian which they can find at revcom.us.
You've read this article and now you need to be part of making sure revcom.us is able to make an urgently needed leap and transformation.

---
Permalink: https://revcom.us/a/594/revolutionary-intervention-at-youth-climate-strike-in-chicago-en.html
A Revolutionary Intervention at the Youth Climate Strike in Chicago
| revcom.us
From the Revolution Club, Chicago:
Hundreds of high school students took off a school day and gathered in downtown Chicago to march and rally at the nationwide Youth Climate Strike on May 3. They were there because they felt an urgent need to fight for the future. They know that the UN report last October showed an environment accelerating towards horrific consequences for the world in 12 years or less if there are not drastic changes to greatly reduce the release of greenhouse gases. And they know that the current government in the U.S. is explicitly anti-science, denying the science of climate change, and making things worse. They organized their friends, made signs, and came from faraway schools by bus and train.
The students marched through downtown, held 11 minutes of silence for the 11 years left before catastrophe, and rallied at the federal building. The climate strike march and rally mobilizing these students shows something powerful in potential, especially when you pull the camera back to see that it is part of an international movement. But there are powerful forces, like the Democratic Party, working to channel that power into a dead end: the trap of electoral politics and the capitalist system that is the cause of this nightmare. The Chicago Revolution Club went to be part of this march and to have an impact on it with the revolution that is actually the way out of this nightmare, and to bring forward people on the spot to take up and organize for this revolution. This started out with us spreading the word a bit, but later that came together with a dynamic intervention that had a major impact.
At the beginning of the day, while people were gathering in Grant Park, we displayed an enlarged poster of the Points of Attention for the Revolution (POAs) and walked around showing it to groups of students, asking them to read it. Most didn't say too much about it but took the flyer we were passing out, which had the POAs on one side and on the other an invitation to be part of a fundraising party for the National Revolution Tour. Some discussions were going on in ones and twos. As more people started gathering, we spoke over the bullhorn to have a more mass impact. Even though some people listened intently, nodded along, filmed with their phones, and grabbed materials, still not many people said much. During the march a few people around us joined in when we chanted, "Revolution is what we need, there is no Planet B," and "This system can't be reformed, it must be overthrown."
Once the rally started, we posted up on one edge of it and listened to the speakers. A student spoke passionately about how the adults who are the responsible ones are not doing their jobs and it is up to us to demand a change. Then, after a few different youth representatives, the featured speaker was introduced with much fanfare, Democratic senator Dick Durbin. Dick Durbin, the "liberal" senator who has spent the last two+ years normalizing the fascism of the Trump/Pence regime and the Republican Party, like: meeting with Trump to "make a deal" on immigration, and going along with the farcical Kavanaugh hearings where he only protested procedural questions but never disrupted the process of confirming an outright fascist to the Supreme Court. THAT Dick Durbin got up and criticized the Republican Party for not believing in climate change, then told students what they can do is to start a campaign and get behind a candidate... In other words, the same exact bullshit that has gotten us exactly to the mess we're in!
A member of the Revolution Club, standing with three other members in Revolution Nothing Less T-shirts and next to the #BEB banner, interrupted Durbin's speech, calling out "BULLSHIT!" over the bullhorn. She then spoke about how these Democratic candidates are not doing anything for the people of the world, they are part of dominating over the people of the world and destroying the environment. While she was speaking, Durbin said a few more things and ended. A group of students began chanting "GREEN NEW DEAL" in response to the Revolution Club member and to try to drown her out. She responded with substance about what is actually in the Green New Deal and the American chauvinism embedded in it, including it doesn't say or do anything about the fact that the U.S. military is the single largest consumer of oil of any institution on the planet. The students got silent as they listened to this. Then a group of them began chanting "BULLSHIT" while some older people yelled at us to "be quiet" and some other students kept chanting "Green New Deal." Again the Revolution Club member took this on with substance. She said, read the Green New Deal and see what it says, see what it says about humanity, because that is not what it's about. A student shouted out "what's YOUR plan?" She responded that capitalism is the problem and we are working now for a revolution to overthrow capitalism at the soonest possible time, and she invited students there to become part of organizing for revolution.
This interruption and exchange, which lasted a couple of minutes and then the rally continued, changed something at that rally. Hundreds of people saw and heard contention that challenged their thinking and projected that there is a force that represents and is fighting for something radically different than politicians and legislation and American interests. Most of them had already gotten a copy of the Points of Attention for the Revolution that spell out the methods, goals and principles of this revolution.
What happened after this exchange is, first, a couple of students came up right away wanting to learn more about the revolution. A mother and daughter who had talked with us earlier in the day and had taken copies of the Points of Attention to spread in their area were upset about how closed-minded the students were who were yelling at us and they left soon after. Then, at the end of the rally, we got back on the bullhorn and invited everyone over to where we were set up to come talk with us, to get a copy of the article we have about the Green New Deal, and talk with us about how to really change all this.
A number of people right away came over to get copies of the article, and we distributed about 20 of them. And then groups of students came up to discuss and debate about what is the problem and solution and what can we do now. There were about six students from one high school, two from a college, others in ones and twos. A libertarian came over to argue against revolution. An activist supporter of the Revolution Club who is not a communist came over to join in the debate in defense of what the Revolution Club is about. There were about three or four discussions and debates happening at once and this went on for about an hour after the end of the rally, with students moving from one discussion to another.
The students wanted to hear what we were saying, how we see changing things, and it seems maybe some also came with some thinking off of having read our Points of Attention. One student came up saying his parents were from Russia and communism is no good. Another said his grandparents are from Poland and communism was no good there either. We started with, first of all, everything people think they know about communism is wrong, and there is a new communism developed by Bob Avakian that is concentrated in those Points of Attention. We talked with them about what is the root of the problem we now find ourselves in, how capitalism actually works and why it has given rise to this nightmare for humanity. How this can't be reformed or voted out and why it takes an actual revolution to do this. We showed them the display of the 5 STOPS to illustrate this. They had lots of thinking and lots of questions. The 5 STOPS really resonated with all or most of them, and they were not particularly attached to the idea that voting for the Democratic Party or anyone else, for that matter, is the answer to any of this.
A couple of the students at times broke off from the bigger debates to have deeper discussion. A snapshot of one of those discussions:
The student, whose grandparents are from Poland, was really challenged and intrigued by the whole discussion. He liked what it says in the Points of Attention and the idea of being able to have a new society based on those principles, but he wasn't sure there was any way to actually make that happen. I talked with him about how in starting to live by and fight for those principles now, he can be part of organizing thousands and influencing millions for revolution that is based on and fighting for this. In addition to posting and sharing the POAs, I walked through a couple of examples of how to live by and fight for this, including like when you are around people who are objectifying women or insulting people who are from other countries, calling that out and putting forward a different standard for what kind of world we should be fighting to bring into being. He asked if in the new society we are talking about, would the things we say we don't tolerate be outlawed and people punished for doing those things. I started to say the new socialist republic would not be a repressive society and he jumped in and agreed that it should not be, and said instead he thinks it should be a society where people will start to want to fight for those principles. I agreed with this and I told him about the Constitution for the New Socialist Republic in North America.
He was really struck by the fact that there is already a plan, that ideas have been worked out already about how to do this, and he took a promo card for the Constitution with the website on it so he could go read it online. He then said that he really wanted to think about all this, that he felt he had a lot to learn and look into. I said to him that he should look into all this more deeply, but that even as he does, he should know that it is not neutral to keep going along with the way things are. I opened up Revolution newspaper that shows the great crimes this country has carried out and continues to carry out against the people of the world. He was very moved by this and said he understands that if he does nothing, he is letting all that continue. However, he still was not ready to commit even to taking up the POAs or giving a way to get back to him.
By the time the discussions were ending, a group of the students debating and discussing decided they wanted to take a picture with the #BEB banner. One gave us a way to follow up with him.
In the next couple of days, we reached out to the people we had ways to follow up with. The woman who had left the rally early with her daughter was excited to hear about how things went with the students after they'd left. She and her daughter had felt that the closed-mindedness of the students yelling "bullshit" in response to our agitation was a frustrating indication of the situation we're in and how much we're up against in trying to make this revolution. She was animated to hear that something was opened up in all this and she wanted to know what those discussions were like and wanted her daughter to hear about it too. We sent them the picture the students took with the #BEB banner and then set up to meet with them to sum this all up further and talk further about how they can be part of organizing the people needed to transform the terrain and hasten revolution.

---
Permalink: https://revcom.us/a/320/Revolution-interview-Dr-Willie-Parker-doctor-at-last-abortion-clinic-in-mississippi-en.html
Revolution Interview
Dr. Willie Parker, Doctor at the Last Abortion Clinic in Mississippi
by Sunsara Taylor | October 25, 2013, reposted with new introduction May 9, 2019 | Revolution Newspaper | revcom.us
May 9, 2019: At a time when there is a wave of reactionary laws that are ripping away women's right to control their own bodies, the Alabama legislature is about to pass a law that would ban virtually all abortions, including possibly in cases where a woman becomes pregnant from rape or incest. The law, expected to be approved next week, will make performing an abortion a felony punishable by up to 99 years in prison. Earlier this week, Georgia became the sixth state to pass a "fetal heartbeat" law making abortions illegal after six weeks of pregnancy, before many women know they are pregnant. These laws are expected to be challenged in the courts. But the Christian fascists behind them, with the backing of the Trump/Pence regime, are aiming at nothing less than a complete ban on abortions across the country. This is a way of enslaving women to the dictates of a patriarchal male-supremacist system. In light of this situation, we are reposting a Revolution interview conducted in 2013 with Dr. Willie Parker, who performed abortions at the last abortion clinic in Mississippi—a true hero in the struggle for the right to abortion.
Revolution Interview
A special feature of Revolution to acquaint our readers with the views of significant figures in art, theater, music and literature, science, sports and politics. The views expressed by those we interview are, of course, their own; and they are not responsible for the views published elsewhere in our paper.
October 2013: From November 2–6, the Jackson Women's Health Organization (JWHO), the last abortion clinic left in Mississippi, will be besieged by one of the most woman-hating, Dark Ages, bigoted Christian fascist organizations in the country. Operation Save America/Operation Rescue, has been associated with clinic violence and terror over decades. Local activists have called for a week of action defending this clinic and StopPatriarchy.org is mobilizing people nation-wide to join with and link this up to the fight to win abortion on demand and without apology across the country. Find out more about this effort at StopPatriarchy.org or revcom.us/movement-for-revolution/stop-patriarchy.
In an effort to bring attention to the emergency that confronts the women of Mississippi, Sunsara Taylor conducted the following interview with Dr. Willie Parker, one of the two heroic abortion doctors who regularly flies to Mississippi to provide abortions. Earlier this year, Dr. Parker received the George Tiller, MD Award (named after the well-loved abortion doctor who was assassinated in 2009) for his leadership and courage and was presented with an Abortion Providers Are Heroes certificate of appreciation by the Abortion Rights Freedom Ride at the Unity Temple Unitarian Universalist Congregation, in Oak Park, IL.
Sunsara Taylor: I want to thank you for taking the time to speak with me today, I know that you're squeezing this into an extremely busy schedule, which includes a lot of travel across the country. So I wanted to maybe start with that and ask if you could talk a little bit about why it is that you do so much travel, in particular for your job providing abortions.
Willie Parker: Sure. My pleasure to be with you on the interview. As you know, I am calling you from the road, I'm en route to Montgomery, Alabama where I work as a traveling abortion provider. For me, making the decision to travel to provide this service, after making the decision to actually become a provider, is born largely of the fact that I realize that abortion as well as health care should be easily and readily accessible for the women and families who need it. But the reality is that 92% of counties in this country have no abortion provider, and that's for multiple reasons, but the more present ones are, besides the shame and stigma associated with abortion, there are the legal and legislative maneuvers to restrict access to abortion, despite it being legal via the Roe v. Wade decision. So my understanding of the need of women for abortion care, coupled with the fact that there's limited access, led me to conclude that I have a skill, I have a desire to provide the service, because I know what it means when women don't have it. And given that the distribution of this resource is limited, I decided that if I don't go to where the need is, increasingly all over this country, but for me particularly, I chose to travel to the South, where I'm from, to meet the needs of women, who, if I don't travel, they don't have access. And many of those are women of color and in poverty, and while those are issues that are often synonymous, they are not always the same, and I have to provide care for everyone, but being a person of color and coming from the ranks of poverty it became important to me to make sure that people from those key demographics have access to legal abortion, and that can save their lives, when they need it.
Sunsara Taylor: I noticed that you said, "I know what it means when women do not have access to abortion," and I wondered if you could talk some about who the women are that you mainly serve down in Mississippi and in Alabama, what their stories are, what their needs are?
Willie Parker: Well first and foremost, the reality is that all women who are of reproductive age and are sexually active are essentially at risk for unplanned pregnancy, given that 50% of all pregnancies that occur in this country are unplanned. Unplanned doesn't mean unwanted, but we know that fully half of the women that have an unplanned pregnancy will consider abortion. Even though unplanned pregnancy happens to all women that are at risk, women that seem to be disproportionately to be at risk are women of color and women in poverty. The reason for that is those are also the women that have limited access to reliable contraception, because most contraception is available through a person's healthcare and those kinds of women are disproportionately represented in the ranks of the uninsured and the under-insured. And the fact that women who are in communities of color and poverty are also not very well represented in ways politically that would allow them to demand access to services like accurate sex education, scientifically valid contraception, and access to abortion on demand and without apology.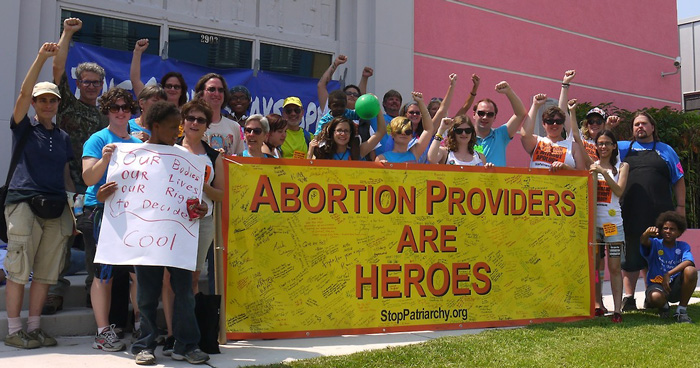 What I see where I provide abortion care are areas that are very hard hit by poverty and they're also areas that have high proportions of populations of color. So 20% of all Mississippians live in poverty, but then when you look at African-Americans, 42% of African-Americans in the state of Mississippi live in poverty. Again the link between poverty and abortion is women who live in poverty and lack access to healthcare have high rates of unintended pregnancy. Unintended pregnancies are where abortions come from, they don't come from people having particular religious beliefs or lack of belief. They don't come from the location of the clinic, as is alleged, that agencies build clinics in communities of color to make it easier for them to have abortions. They come from unplanned and unwanted, or planned but lethally flawed, pregnancies. So those are the patients that I see. They are largely women of color and poor women, because women who have means often have other ways to access abortion care, in a confidential and private way.
So for example, in Mississippi, there's one abortion clinic. There's one other doctor that travels into Mississippi to provide the care, because no doctor in Mississippi will work in the lone clinic open there. The women who are most reliant on that clinic are Black and poor. It also means that if that clinic closes, because its under assault, the people who will be most affected will be women of color and women in poverty. So my patients are women who, most of them have already had a kid, most of them are living in poverty under very harsh circumstances, all of them are pregnant, some of them with a desired pregnancy, but for either economic reasons or health reasons they cannot continue the pregnancy. Many of them also have no other recourse if they can't get to the clinic where we are. So women travel from all over the state, some women come two or three hours under very restrictive legal barriers to access abortion.
Sunsara Taylor: This is sort of encompassed in what you just spoke to, but I think maybe it would be helpful to surface it, and speak to it very explicitly. One of the charges the anti-abortion movement makes is that abortion is a form of genocide against Black people. To me, this is one of the most insidious, perverse, and outrageous accusations, given the actual history of this country's genocidal program towards African-American people, and given the current policies of mass incarceration, mass criminalization, all of this that's actually going on against Black people. But instead of targeting that, they vilify and demonize Black women, who, for all the reasons you described have the least access to healthcare, birth control, all of this, and—like all women—often choose to have abortions. To demonize them and criminalize them and shame them and scapegoat them for all of the horrors that are heaped down on Black people in this society, and to use that as a means to demonize abortion for all women, I think this is one of the most outrageous things. Yet, I think it has a lot of people confused, and so I wonder if there's anything more that you want to say about that explicitly?
Willie Parker: Well I'll say that as a human being that studied history and who knows the impact of the term genocide, but also as a person of color, as an African-American person who attempts to be a critical thinker, I am both appalled and offended that, for purposes that are not genuine in any way, anti-abortion forces will use the inflammatory language of comparing abortion to genocide. It's offensive because it implies that Black women aren't smart enough or thoughtful enough to make the tough decision to have an abortion. It revisits in a paradoxical way the control of Black women's fertility and of their bodies. In slavery women were forced to breed. Now they're being again forced to breed, or forced to bear children that they had no intention to bear. And to allege under some notion that there is a genuine interest in the well-being of either women in general or Black women in particular, or Black babies, that there is this interest that persuades them to try to block access to abortion while at the same time reducing access to education, housing, health care, food stamps, and the like, is hypocrisy of the highest order.
One of the most dangerous truths is a half truth. And while it doesn't take much persuasion to indict the intentions of racially bigoted people in this country who hold power who try to defamate or do things to Black people as a group, it is not in any way relevant to the fact that women who become pregnant, no matter what their color, need access to abortion. The odious history of racism in this country does not justify the denying of women their right to access abortion, whatever color they are. And to use that, to as you said, to vilify women, and to distract from the real problems that are plaguing Black people as a group is disingenuous at the best and downright evil at the worst.
Sunsara Taylor: Mm, I have to agree with you. Now, the Jackson Women's Health Organization, the last abortion clinic in the state, is currently only open because of a temporary order from a judge. There's a totally medically unnecessary law that requires abortion doctors to have hospital admitting privileges, and none of the hospitals in the area will grant those privileges, so this would close the clinic. There's a hearing on this in March and there are other restrictions on abortion in Mississippi. But on top of all of this, from November 2-6, Operation Save America, one of the most hateful fundamentalist, Old Testament, biblically fascist organizations which has been associated for decades with a lot of the incitations of violence towards the clinics and doctors, will lay siege to that clinic. And I think one thing they reveal is that the struggle over abortion has never been about babies, it's always been about control over women. I wondered if you could speak to how you see that, and also about the atmosphere outside the clinics, for the women, and for yourself and other staff who come in to serve these women every single day?
Willie Parker: To your point, any attempt to block a woman's right to be self-determining when it comes to procreation is absolutely an assault on the integrity and the autonomy and the humanity of women. As Dr. King said, you can take hate and call it love but it's a thin veneer. It's still hate no matter how much you try to dress it up. And the control of women's bodies, even under the premise that it's about the lives of fetuses or "unborn people," as they call them, or about the health and safety of women, doesn't make it so, because abortion is life saving when it comes to women. And notions about [fetal] pain and the like have the result that women are treated as if they are property. So I think it is a feigned concern that these organizations put on as they seek to deny women. They in a very real way imperil the lives of women because we know that when abortion is illegal and not accessible women take measures that result in loss of life and severe suffering. So there is nothing supportive of women in this position of anti-abortion.
And, toward that end the tactics and the strategies that people resort to in carrying out this ideologically driven agenda of what they call "pro-life" which is really pro-fetus does not have anything to do with the lives of babies after they're born or the women who bear them. They feel totally justified in terrorizing women by vilifying them, by trying to shame them, trying to make them feel morally conflicted about their decision, harassing them, both on their way into the clinic and coming out. Feigning baby sounds and calling out as if they were the fetus in third person to make the woman conflicted about the pregnancy and at Jackson Women's Health Center we only go to 16 weeks so there's never a viable fetus under any circumstances when we provide abortion services for women yet they cry out to women as if they are babies. So there is a type of terrorism that goes with what they do which they feel is justified in doing and again the shaming of women. That under these severe circumstances women persevere and they make it into the clinic, this is why I remain motivated. If a woman goes through all of that to get into the clinic, I want to make sure that someone cares for her.
Now, with regards to the provider, again in the same way they feel justified in depersonalizing women, they equally feel justified in dehumanizing providers and disregard the tremendous amount of passion, concern, and competency that people I know that provide abortion care bring to this aspect of healthcare. What that's meant to me personally as I've traveled is that I've been met with no shortage of barrages of outright racism, being called racial epithets, by being told that I'm killing my race, by saying that I am a bogus doctor, by saying that I have no medical credentials, by calling me a murderer. They think nothing of being dealing with me harshly and they feel morally justified. So it is not without a great deal of opposition, psychological and to some degree physical, that both women and providers persevere to ensure the basic human rights of reproductive self-determination for women all over the country but at this point in particular in Mississippi.
Susara Taylor: What you just described underscores why, as a big part of the Abortion Rights Freedom Ride, we raised the slogan that "Abortion Providers Are Heroes!" And it was our great honor to honor you and other providers during the course of the Freedom Ride. Now, when we were together for that in Chicago, you observed the arc of history since 1973 when Roe v Wade was decided, and you said since that time we've been going through a "devolution." Things have been going backwards. And there really is a need for people who support the right to abortion to confront how imperiled this right is, to get off the sidelines, to actually step into the fight to defend this right. Could you explain what you mean when you speak about that.
Willie Parker: What led me to declare that we are in the process of devolution, is that we are shifting down to the states the right to make decisions about the control of women's rights and bodies that the federal statutes were intended to insure. Due to a lack of vigilance or false security based on the presence of Roe v. Wade, we have allowed legislators who are well-funded and well-organized ideologues to hijack local and state government and introduce legislation by the volume of thousands so that there are annually somewhere from fifty to one hundred new laws going into effect nation wide at the state and local level that functionally gut the provisions of Roe. That that can happen in the face of people who claim to support reproductive rights and who support equality but due to lack of vigilance or lack of political action we allow these laws to pass into effect. And then under the guise of being a nation of laws we allow people to legitimize unjust, immoral laws, and we abide by them.
And so there is no outcry, there is no acting out, there is no making demands of the government to ensure rights to the citizens in the same way that there was with, for example, the Civil Rights Movement. When the issue was race, the moral authority, when people came in contact with racial discrimination people who otherwise had nothing to gain recognized the immorality of racism and discrimination and took on, or at least took a stand, to demand from the government and legitimizing bodies that we have access to equal rights based on race. So the fact that people are not making those kinds of demands now has allowed this devolution to succeed to the point where, for all practical purposes, Roe v Wade is not in effect, where a state can set abortion limits on pre-viable pregnancies with no scientific or moral rationale or justification. We are devolving, we are moving away, we are moving back from where we had risen to in 1973.
So it really becomes kind of mind boggling why, for me, I'm suffering right now from what I call "outrage envy." When we look at what was able to happen in Brazil, when they hiked the bus fares the people felt the insult in that action in the face of the building of stadiums to support the World Cup and the upcoming Olympics, people who could not absorb the impact of the simple raise of bus fare took to the streets and demanded accountability from their government and sought to change the law. We have laws put on the books now that literally compromise the lives of women, state by state, and I am struggling to find out where is the popular outrage, where are the mass uprisings, in ways that will make this country protect the rights of women. So I find that legally we are watching the evisceration of the provisions that we have in place to protect the rights of women and it's almost like you're watching with almost like an indifference. And that is hard for me to take when I know what it means when women don't have access to abortion. I know what the unnecessary loss of life will be, when I know what the loss of a parent to a child whose mother is, for the sake of her family, is deciding not to continue a pregnancy, because most women, again, who have abortions already have a child so the child that they already have becomes an orphan when that mother does not have access to safe abortion.
Sunsara Taylor: I feel that a big part of what's happened is that at least a couple of generations have come up never having heard anybody speak of abortion unapologetically, openly, non-defensively. Everybody has heard people call abortion "murder"—over and over again we hear that. But very few have heard abortion spoken about matter-of-factly as something routine, safe, necessary, perfectly moral. This is one of the reasons why we put such emphasis on the slogan "Abortion On Demand and Without Apology." I noticed you said that yourself earlier and I wonder what you have to say about this?
Willie Parker: Well, I think "on demand without apology" is assertive, and for some it might be problematic because the soft-pedal approach for some seems to be more gentle, collegial, more polite and I'm reminded of the Civil Rights Movement but in particular the Black Power aspect of the Civil Rights Movement. It becomes hard for some to feel like they should be begging or gently requesting something that should already belong to them. The whole notion of justice delayed is justice denied. I think it's become hard for people when they realize that, "Why should I have to accommodate the belief systems of people who don't have anything to do with me?" So moving and talking about abortion on demand is related to the agency that women should be able to exercise.
Demand doesn't necessarily mean walking in and saying "I will get an abortion, you will do it for me," but demand means active agency. It is volitional, it's powerfully volitional but it is, I think it is apropos—women when they are marginalized and relegated to second class citizenship—to think that they should be able to take for granted what is being denied to them. They have to demand it. You know, oppressors don't respond to polite requests. Frederick Douglass said power concedes nothing without a demand, it never has and it never will. That demand for abortion without apology means if you are active in your right as a human being, in the framework of your moral agency, and you are making the decision that should be between you and your provider who is going to provide that service for you, if you have the confidentiality and the privacy to make that decision, to whom should you have to apologize?
We only have the notion of having to apologize when we make abortion a public decision, it is made public by placing restrictions and requirements around women accessing it in a way that they have to engage with the thoughts and beliefs of people that should have no bearing on their personal decision making. So I think that abortion on demand and without apology is a two-part sentence that encapsulates where we ultimately should be on abortion and when we get to where we should be on abortion. When it is a non-issue, when it is considered health care and it's as valid a decision for a woman as a decision to continue a pregnancy and parent or to continue a pregnancy and opt for not parenting then there will be no need for demand. But there should never be a need for an apology. Apologize to who? When you are making decisions that are about your self-interest and in the context of privacy with yourself and your provider and from a spiritual standpoint or whatever higher being you believe in or don't.
Sunsara Taylor: Now, you know that I am an uncompromising atheist, and I will talk about that with anybody any time and promote that and I think an important part of the discussion on abortion is the role of religion and fundamentalist religion in particular. But I also think it is extremely important that there are religious voices speaking out against the Christian fascist movement and its attempts to ban abortion, to suppress the science of evolution, to deny climate change, to ban and demonize gay marriage, the whole package. It is extremely important that there are people who are of faith in all different traditions that they speak out against that and in favor of women's right to decide for themselves when or whether they will have children. So I wanted to know if you could share some of how you see the connection between your own faith and the services you provide and also the importance of people reconciling those and broad support exist among religious people for this right.
Willie Parker: Sure. Let me go on record in saying that one of the things I appreciate about our interactions since we met is that—once, as a struggling fundamentalist Christian one of the best compliments a person who helped me to work through and figure out what I thought myself was that, even when he met me as a fundamentalist born again Christian, he said, "You make the effort to hold your faith intelligently." And I must say about you, Sunsara, is as you make known your reality of being atheist, I would probably say you are a person who, you carry your atheism with quite a deal of integrity and in a very intelligent way. And I think probably the richness of our dialogue has been the mutual respect that we have had for one another and the ability to converse about this freely. And as you came to this dialogue you quite respected and understood the role that religion played in my decision to become an abortion provider.
My conscious decision not to give up a faith identity was critical to my reaching a place of compassion that allowed me to act on behalf of women and become an abortion provider. But I think the reason it is very important for that narrative to be placed in the public domain and that providers have to not relinquish their faith identity if they hold one is that the only way there is going to be a counter-narrative so that people can begin to think about abortion in a way that is neutral from religious identity and understand is that people who have a faith identity have to refuse to relinquish it and thereby concede the moral high ground to those who in the spirit of their narrow vision articulate an identity that would lend moral legitimacy to their position, i.e., that they operate from a place of religious understanding that makes it okay for them to deny other people their right to conscience and faith.
In the absence of that narrative it becomes impossible to rebut the notion that abortion is immoral. And in fact the pursuit of abortion in the context of compassion for the life, health and well-being of the woman on any level. But also to preserve the dignity of women simply because they are and they should be empowered as human beings and as moral agents to decide not to continue a pregnancy. On whichever plane you approach that, the safe-guarding of that humanity and dignity for women has to be central and core to a religious understanding of whatever rights, and for the people who hold a religious identity and reach that conclusion, they have to be willing to raise their voices because if they don't, they allow those who would compromise women's rights and dignity to appear to hold the moral ground. And, no matter how much we embrace the separation of church and state, even though we don't have an explicit theocracy, sometimes we have an implied theocracy, when people conflate their political and religious identity. And the people who tend to be most willing to do so seem to be fundamentalist Christians.
So I simply chose when I came into my understanding of religion and spirituality and faith, that for me the deepest expression of my religious understanding is compassion. And in the context of my chosen path as a women's health care provider, that compassion had to come to include making available abortion care. Given that that's how I came into my empowerment to do abortion care, it becomes important for me to articulate that. And that allows me to contribute, on a level that is also important, to causing the shift in the public discourse. The voice that has to be present has to be one of religious understanding in a nation that probably more than it should identifies with one particular religious tradition.
Sunsara Taylor: Okay, my last question for you is, I know that you are, as is clear to everybody who is reading this, extremely committed to providing women with safe abortions and doing everything you can to ensure that right. But this struggle is intimately bound up with the liberation of women in an all-around way. How do you see the connections between the struggle for abortion rights, and the struggle for the full equality and humanity and liberation of women in all spheres, including violence against women and rape. I know these are issues that you have been involved in opposing in a lot of ways. And what is your vision of the kind of society that you would like to see, that you are fighting to contribute to?
Willie Parker: Sure. Well, I think it's been said by many people in many different ways, that if a woman can't control her fertility, control her ability to bear children, then she can't control much else out of life. While in many ways people try to limit abortion to a moral decision or a health decision, abortion is both a moral decision, a health decision, a political decision and an economic decision. And all of those are spheres and arenas where women should be able to exercise the same degree of agency that men do. For me, I envision a society that is captured in the phrase of Abraham Lincoln when people tried to figure out what was his interest in abolishing slavery, he said quite simply, "As I would not be a slave, so I would not be a master."
Given that I cannot imagine not having agency that I experience as a man, even as a man of color in a racist society, I still experience a degree of agency that I cannot imagine having restricted, if my agency were restricted in the way that women's agency is restricted, simply [because] they are female. So I want for women what I want for myself. I want to be self-determinant, I want to be valued, I want access to equal pay for equal work, I want work with dignity, I want education, I want health, I want well-being. Given those are the things I want for myself and I consider it a rational and healthy self-interest, I started thinking that women want the same things for themselves. So to the degree that I recognize that those things are compromised for women I recognize also that I am either part of the solution or part of the problem. For me, to actively endeavor to bring about the type of world that I would want to live in and that I want to see is what shapes my choice of pursuing activities that allow me to stand with women in solidarity as they pursue their self-agency.
If that means providing abortion services for women, if that means as a man speaking out against violence against women in all forms but particularly to other men who are by and large the perpetrators of violence against women, if that means trying to do all that I can to reduce the reality that we live in a rape culture where men feel entitled to access women's bodies without their consent, that there's a notion that there is something that a woman can do to make herself "rape-able," those are all things that are counter-intuitive to me, they are anathema to my sense of dignity and spiritual understanding and for that reason I will actively endeavor to combat those things.
Sunsara Taylor: It's been a pleasure talking with you. Thank you for taking the time.
Willie Parker: Thank you. I always enjoy talking with you.