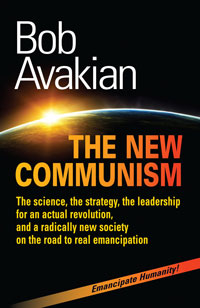 ORDER INFORMATION HERE
ABOUT THE BOOK HERE
Pre-publication PDF of this major work available here.
Watch the video of the Book Launch here
Featuring: Cornel West/Carl Dix, Moderated by: Andy Zee
Rise Up... Get Into The Streets... Unite With People Everywhere
to Build Up Resistance in Every Way You Can
Don't Stop: Don't Conciliate... Don't Accommodate...Don't Collaborate
Read more Reproduce & Distribute These! Leaflets, Posters HERE | Read about protests here
Everyone—get this statement EVERYWHERE, right now!  Click above, download a PDF (English and Spanish), make copies, get them to protests, and way beyond: churches on Sundays, neighborhoods, coffee shops, bodegas, campuses, schools, barber shops.  Leave stacks, give people bundles.  These must get everywhere!  

Bob Avakian & Cornel West
WATCH THIS & SHARE IT
On the Elections:
Video excerpts of BA speaking, memes, images
by Sunsara Taylor
October 31, 2016
by Sunsara Taylor
November 7, 2016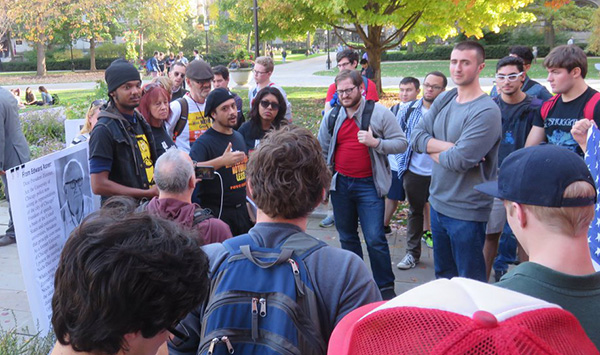 Defying ban at Univ. of Chicago
New developments, progress reports, videos, photos and more
November 7, 2016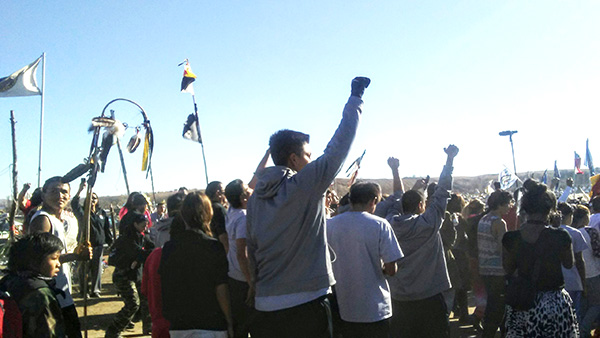 Photo: Special to revcom.us.
More on Standing Up at Standing Rock HERE
Faultline Stories
November 7, 2016
People's Tribunal Put Pigs on Trial
November 6, 2016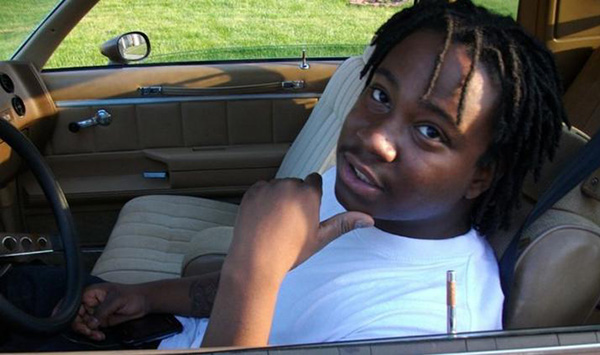 Joshua Beal
Updated November 2, 2016
(This is a shorter version of the original article, that people can duplicate or use to read aloud with people.)
Read more
NOW AVAILABLE: Download PDF for print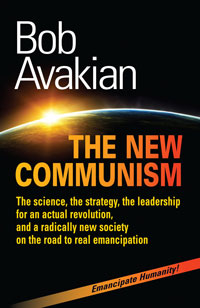 From the Publisher:
...This book is a masterwork and a master class—it is a living laboratory  of the new synthesis of communism developed by Bob Avakian. It is also  striking in its ability to combine high level revolutionary communist theory  and modeling of revolutionary leadership with a visceral, colloquial and  passionate style that will resonate with and be accessible  to a wide  variety of readers. 
This thought-provoking book is sure to challenge stereotypes and  conventional thinking.
ORDER INFORMATION HERE
ABOUT THE BOOK HERE
Pre-publication PDF of this major work available here.
See what people from different walks of life are saying about Bob Avakian and THE NEW COMMUNISM

Also in this Issue



November 7, 2016


November 7, 2016
October 29: Carl Dix Talks About Standing Rock at Chicago October 29 Rally
revcom.us Interviews at Standing Rock:
November 7, 2016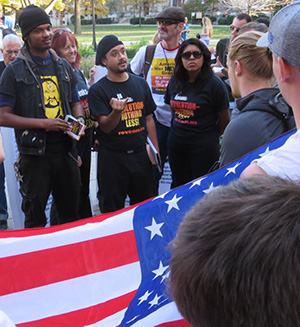 November 4, 2016
From the Revolution Club, Chicago
November 7, 2016
by Sunsara Taylor
August 25, 2016
by Sunsara Taylor
October 24, 2016
Important Publications and Media
WWW.REVCOM.US/REVOLUTION NEWSPAPER brings alive a scientific analysis of major events in society and the world—why they are happening, how different events and developments relate to each other, how all this relates to the system we live under, where people's interests lie in relation to all this, how revolution is in fact the solution to all this and what the goals of that revolution are, how different viewpoints and programs relate, positively or negatively, to the revolution that is needed, and how people can move, and are moving, to build toward that revolution. Revcom.us/Revolution is the guide, the pivot, the crucial tool in drawing forward, orienting, training, and organizing thousands, and influencing millions—fighting the power, and transforming the people, for revolution—hastening and preparing for the time when we can go for the whole thing, with a real chance to win.
Subscribe to revcom.us | Donate to/Sustain revcom.us | Send your correspondence to revolution.reports@yahoo.com
A Statement from the Revolutionary Communist Party: ON THE STRATEGY FOR REVOLUTION
Seen on the Walls of Your City
Now a Pamphlet!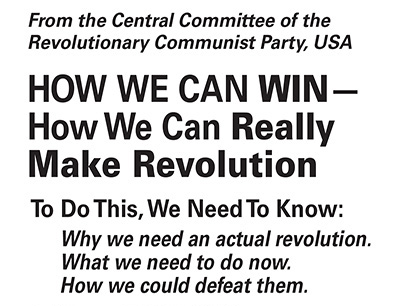 Read the entire HOW WE CAN WIN—How We Can Really Make Revolution HERE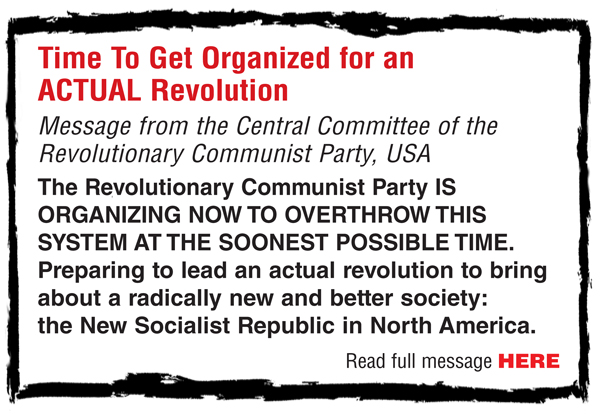 Downloadable PDFs for printing:
Updated November 13, 2016
November 12, 2016
November 12, 2016
by Raymond Lotta
November 13, 2016
Attn all Revolution/revcom.us readers:
• SEND US PHOTOS & VIDEOS of high school walkouts, street protests, and other forms of mass protest by people refusing to accept Trump and a fascist America!
• If you have experience getting out the revcom.us statement "In the Name of Humanity, We REFUSE To Accept a Fascist America," share that experience with us as well.
• Send pix and videos in any form, including dropbox links, to: revolution.reports@yahoo.com
• Spread the word widely: "Go to www.revcom.us!"
Article of Interest:
"The Republic Repeals Itself," by Andrew Sullivan
Editors' note: Andrew Sullivan is a well-known conservative writer and online commentator, currently a contributing editor to the New York magazine. We want to bring to our readers' attention a November 9 online article by Sullivan titled "The Republic Repeals Itself." While we have differences with Sullivan overall and with this particular article in certain dimensions, we think he makes important points that are worthy of reflection.
November 8, 2016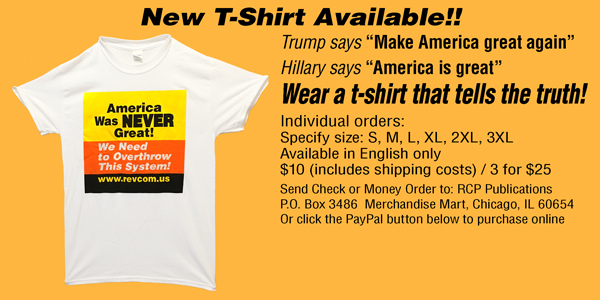 To order 3 shirts for $25, write RCP Publications at the above address.
An initial selection is available now. More will be added soon.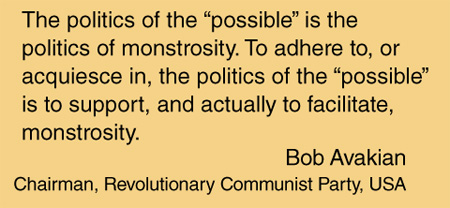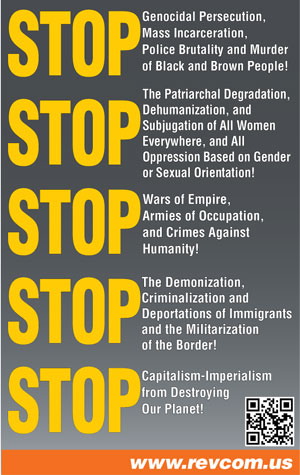 Copy these posters and distribute everywhere, especially on the campuses.
Black & White | Color
VOLUNTEER FOR REVCOM.US
» Confront the Actual History of the USA
Contribute to the "American Crime" Series
Updated August 25, 2016
» What it means to be a volunteer for revcom.us
Attention readers: Send in reports on protests, including photos and links to videos, to revcom.us/ Revolution newspaper at revolution.reports@ yahoo.com.