MUST READ BOOK... for everyone who cares about the state of the world...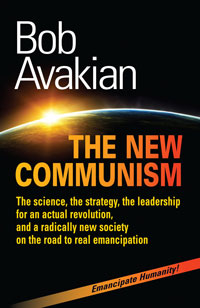 ORDER INFORMATION HERE
ABOUT THE BOOK HERE
Pre-publication PDF of this major work available here.
Watch the video of the Book Launch here
Featuring: Cornel West/Carl Dix, Moderated by: Andy Zee
See what people from different walks of life are saying about Bob Avakian and THE NEW COMMUNISM

Order SCIENCE AND REVOLUTION HERE
Download the full interview in PDF format HERE
Rise Up... Get Into The Streets... Unite With People Everywhere
to Build Up Resistance in Every Way You Can
Don't Stop: Don't Conciliate... Don't Accommodate...Don't Collaborate
Read more Reproduce & Distribute! Leaflets, Posters, Memes HERE
Make copies of this statement and distribute it everywhere.  Take it out at protests and programs. Get it to religious congregations, students and youth, cafes and laundromats, gatherings of every kind. Spread it on social media. Millions need to see and join with others to stop this direction and spreading this statement now will have a crucial impact on this.!  
This week the response to the Trump election was immediate and highly polarized, with people from both sides going into the streets. For more on these struggles go here.
New developments, progress reports, videos, photos and more
November 14, 2016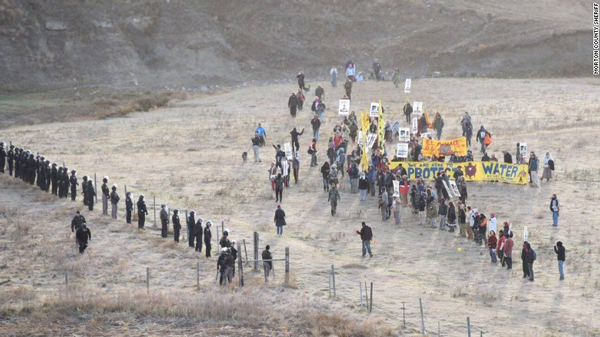 Photo: Special to revcom.us.
More on Standing Rock HERE
Internationalism—
The Whole World Comes First
Updated November 14, 2016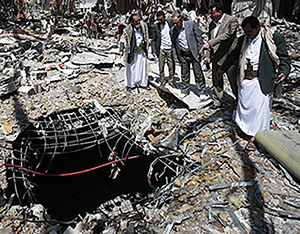 Rubble after a funeral hall was destroyed by a Saudi-led airstrike in Sana'a, Yemen, October 13. (Photo: AP)
Seen on the Walls of Your City
Now a Pamphlet!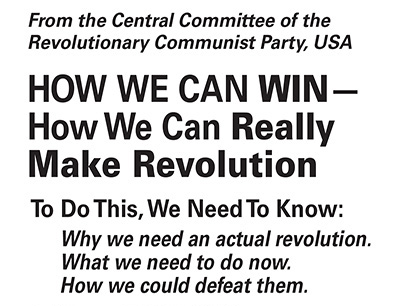 Read the entire HOW WE CAN WIN—How We Can Really Make Revolution HERE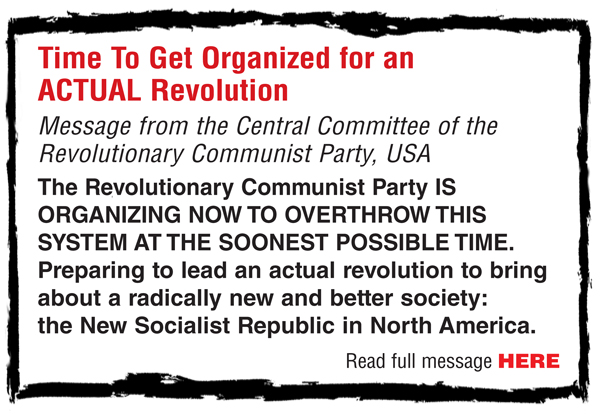 Downloadable PDFs for printing:
Updated November 20, 2016
2 PM (CST) Sunday (TODAY): Tune in to Carl Dix' Twitter feed for live coverage and commentary from the rally opposing white supremacy! standing up against racist mob threats in Mt Greenwood! (Chicago)
November 18, 2016
A new print issue of Revolution newspaper—the first after the election of fascist Trump—is out! This issue includes the statement "In the Name of Humanity, We REFUSE To Accept a Fascist America" and other timely and crucial articles and graphics. Tens of thousands of extra copies have been printed, and it's very important that this paper get out very broadly in society right now....
November 18, 2016
November 15, 2016
November 15, 2016
After Chicago Pigs Murder Unarmed Black Motorist on Way Home From Funeral...
People Stand Up Against Killer Cops and Neighborhood Trumpite Goons
Sunday, November 20, 2 pm
111th & Kedzie, Chicago
We Oppose White Supremacy!
We Will Stand Up Against Racist Mob Threats in Mt Greenwood!
Download Flier for protest
November 17, 2016
Download "We Refuse to Accept Racist White Supremacy in Mt. Greenwood FACT SHEET"
November 14, 2016
Attn all Revolution/revcom.us readers:
• SEND US PHOTOS & VIDEOS of high school walkouts, street protests, and other forms of mass protest by people refusing to accept Trump and a fascist America!
• If you have experience getting out the revcom.us statement "In the Name of Humanity, We REFUSE To Accept a Fascist America," share that experience with us as well.
• Send pix and videos in any form, including dropbox links, to: revolution.reports@yahoo.com
• Spread the word widely: "Go to www.revcom.us!"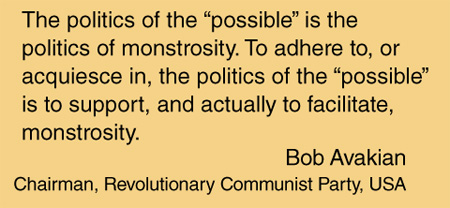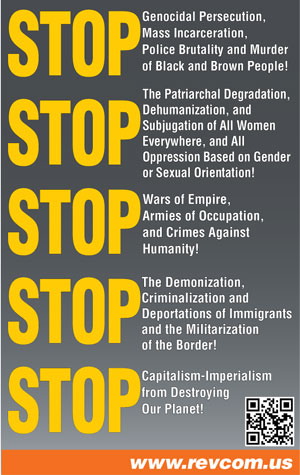 Copy these posters and distribute everywhere, especially on the campuses.
Black & White | Color
VOLUNTEER FOR REVCOM.US
» Confront the Actual History of the USA
Contribute to the "American Crime" Series
Updated August 25, 2016
» What it means to be a volunteer for revcom.us
Attention readers: Send in reports on protests, including photos and links to videos, to revcom.us/ Revolution newspaper at revolution.reports@ yahoo.com.